Happy Gilmore 25th Anniversary: How Bettors Would Have Backed the Overnight Golf Phenomenon
Credit:
Universal/Getty Images. Pictured: Carl Weathers (left) and Adam Sandler.
One of history's greatest comedic films turned 25 years old on Tuesday.
Over the past quarter-century, the internet has been flooded with Happy Gilmore content. Memes about gators biting your damned hand off and eating pieces of shit for breakfast. Images of the main character yelling for his ball to go to its home. Even retail websites selling actual gold jackets.
What we've never seen, though, is Gilmore's journey to a Tour Championship title broken down from a gambling perspective.
Until now.
Let's take a golf cart down memory lane as we relive each of Happy's known tournament starts — and how much you could've won by betting on him.
Waterbury Open
Apparently, the Monday qualifying process was much easier a quarter-century ago, because Happy literally went from hitting a few mammoth drives through his neighborhood — winning 40 bucks in the process — to taking people's money at the local driving range to playing in a pro event.
There's an excellent chance that as a complete unknown, Gilmore would've simply been listed as a "field" bet at this tourney, lumped in with all the other guys who showed up in hockey sweaters.
If he'd been listed individually, the books probably would've only posted him at 500/1 due to liability, rather than the 5000/1 or whatever he should've been, considering he'd, uh, never really played golf before.
Even so, if you had the foresight to bet him here – and I doubt even Chubbs Peterson himself would've done that – you could've made enough to buy Happy's grandmother's house back for her. You know, if you weren't so greedy.
Winning bet: Outright (500/1)
AT&T Invitational
Fresh off a victory in his pro debut, the books would've moved Gilmore at least into the second tier on the odds board, if not higher, depending on that week's strength of field.
And there's no doubt that the public — on what's going to become an ongoing theme — would've backed the new hero in droves, very much like the support for John Daly after he won the 1991 PGA Championship after starting the week as the ninth alternate.
Best guess is that Happy would've moved to somewhere in the 30/1 range for his second tourney, which would've been enough to keep some of that liability while still enticing the public to take a shot on the hockey player who was playing golf that day.
As it turns out, tailing Gilmore's first victory would've been a bad bet. He finished DFL at the AT&T, earning himself just a $2,400 paycheck and absolutely nothing for those who backed him.
Winning bet: Full fade (30/1)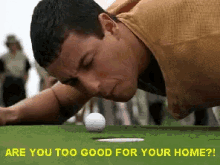 Cleveland Classic
Good luck being a handicapper after those first two starts. Following a win and a last-place finish, it was anybody's guess as to which Happy Gilmore would show up in Cleveland.
And you know what? After he opened at, say, 40/1, we're still guessing.
The results of this one were never revealed during the movie.
Winning bet: TBD (45/1)
Michelob Invitational
Here's guessing Happy stayed around 40/1 after any "no contest" wagers from the previous week.
At this point, the adoring fans still wanted to back him, so maybe a cautious prop would've been the way to go — and it would've hit, too, as he finished in 26th place that week.
Winning bet: Top-30 (-105)
Dallas Open
Following a decent result, though not a title contention, it's conceivable that Gilmore's odds might've actually inched a little higher, maybe to 45/1, as the books still tried to decide whether he had a legitimate chance to win again.
Instead, he dropped to 45th place — not terrible, but not cashing too many tickets.
Winning bet: Make cut (-350)

Visa Everglades Open
As Happy started to get into a bit of a groove, at least working his way into some sort of rhythm as a full-time professional golfer, his odds would start to work their way into a happy (so to speak) medium, as well.
Couldn't be easy traveling (literally) all over the country plying his craft for the first time and there's no telling how Gilmore would react to playing in Florida for the first time, while using that hockey stick on the Bermuda greens.
At 50/1, even though the fan support was still evident, it's likely the handle on Gilmore was notably muted after four starts without a top-25 finish.
They always say, though, that you've gotta find a little form before the Tour Championship and he at least started trending in the right direction here, finishing 21st.
Winning bet: Top-30 (+115)
Bell Atlantic Invitational
With a little more form, perhaps Gilmore slides to 45/1 again — and again, he continues trending in the right direction toward the season finale.
With an 18th-place finish, Happy cashes some prop bets at this one.
Winning bet: Top-20 (+175)
The Wilson
Even though the full name of this tournament is never revealed during the movie, we know the course must've fit Happy's eye.
Improving his result for a third consecutive week, Gilmore posts just the second top-10 finish of his burgeoning career.
Winning bet: Top-10 (+400)
Pepsi Pro-Am
As the ultimate high-ceiling, low-floor player, Gilmore's volatility should've been an advantage in this two-man format.
In a 50-team field, there didn't seem to be much synergy between Happy and his playing partner, Bob Barker, considering they only met on the first tee, minutes before the opening round.
Even so, Happy's penchant for making long holes-in-one certainly would've helped the team, while his inconsistent putting could be offset by perhaps a steadier partner helping him out.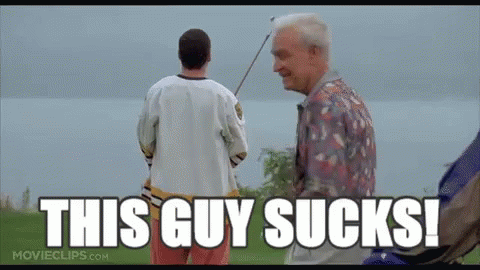 Undoubtedly, the books probably understood this, so in a short field, they would've priced the Gilmore/Barker team right around 18/1.
The price was wrong, bitch.
Things soon turned dark for Gilmore and Barker, who not only became engaged in a fist fight, but finished DFL for the week.
Winning bet: Full fade (18/1)
Tour Championship
Any momentum Gilmore garnered during those three individual events might've evaporated when Barker's right fist hit his face.
Even Daly in his prime wasn't as volatile as Happy, who could seemingly finish first or last on any given week.
Knowing that, the books likely kept him around 35/1 for this event. After all, the biggest tourney of the year brings the biggest handle, as those who don't normally bet golf events try their luck at this one — and as the public's favorite player, Happy probably had more wagered on him than even the favorite, Shooter McGavin.
If you thought it was tough to pick an outright before this one started, though, just think about the in-play odds down the stretch.
With McGavin already in the hole with an all-world three off Frankenstein's fat foot, Gilmore then faced the prospect of a car driving into a tower, which was then blocking his ball, knowing that he needed to make the putt to win in regulation and a two-putt would force a playoff for the gold jacket.
At this point, Gilmore's odds can't be better than +500 to even lag a putt through what has turned into a disaster area on the final green.
As it turns out, that would've been a shrewd play, as Gilmore pulls off what must be considered one of the best shots of all-time — if not the absolute best. He holes the putt, wins the Tour Championship, cashes those live bets, outrights and any pre-tournament props.
This moment easily is remembered as one of the greatest moments in sports gambling history.
Winning bet: Outright (+3500)
How would you rate this article?