Shadow Creek GM Breaks Down All 18 Holes Ahead of Course's First PGA Event, The CJ Cup
Credit:
Christian Petersen/Getty Images for The Match. Pictured: Tiger Woods
This story was first published before "The Match" between Tiger Woods and Phil Mickelson, played in Nov. 2018 at Shadow Creek in Las Vegas.
The CJ Cup has been played in South Korea for the last three years. But due to COVID-19 travel restrictions, it's made its way to Nevada in 2020.
Host venue Shadow Creek, an ultra-exclusive course in Las Vegas, is largely unknown by the masses, which can mean we're flying blind both when dissecting course fit and betting certain props.
Well, here's your rundown.
I spoke with Monte Montgomery, the general manager at Shadow Creek, who broke down every hole on the course, with an estimated yardage they'll be playing for each one.
Here's his expert analysis…
Shadow Creek Course Breakdown
No. 1: Par 4, 415 yards
"Off the tee, they've got to keep it to the right and in the fairway. If they're not in the fairway, it's a difficult approach shot. Anything left is dead. From the fairway, though, it's an easy birdie hole."
No. 2: Par 4, 435 yards
"This is a straightforward hole; they just have to be precise off the tee. Both left and right are dead. If they find the fairway, [they] should have about a 9-iron into the green. This should be one of the easier holes — one of their attack holes."
No. 3: Par 4, 486 yards
"This is a very difficult, long par-4. They'll have to find the fairway, which is uphill, but [it's] an easy tee shot. It's then a difficult approach to an uphill green. If they're not within 20 feet, this could be a tough two-putt."
No. 4: Par 5, 581 yards
"One of our best holes, this is a risk-reward hole. They can choose to play a tee shot to the right or try to bite off some of the dogleg and take it down the left side. The second shot will be about 250 yards to a tight green surrounded by water. If they go for it and don't hit the green, it's a difficult up-and-down. You're going to see somebody win or lose this hole, guaranteed."
No. 5: Par 3, 202 yards
"Normally, this is a 210-yard hole, but it'll be playing about 140. You're going to see a birdie here, for sure. There's an easy pin placement, and shots will funnel from the left to the right. You might even see a hole-in-one. I saw one sportsbook had 100-to-1 for a hole-in-one. This is the one they're going to be sweating out."
No. 6: Par 4, 507 yards
"This will be the most difficult hole of the day. The drives will shoot down the hill, but they'll still have 7- or 8-iron into the green. They've got to maneuver around the bunker on the right, but otherwise it's a pretty approachable green. A good iron shot into the green could lead to a birdie, but outside 20-30 feet, they'll be faced with a difficult two-putt."
No. 7: Par 5, 571 yards
"More fireworks here — it just depends on who the aggressor is. I know what Phil is going to do off the tee; Tiger will probably hit 3-wood. They've got to position themselves in the fairway here. They'll be looking at about 240 yards to a boomerang-shaped green. You're going to see birdie or maybe even eagle here. It's one of the more approachable par-5s, so somebody is going to get after this one."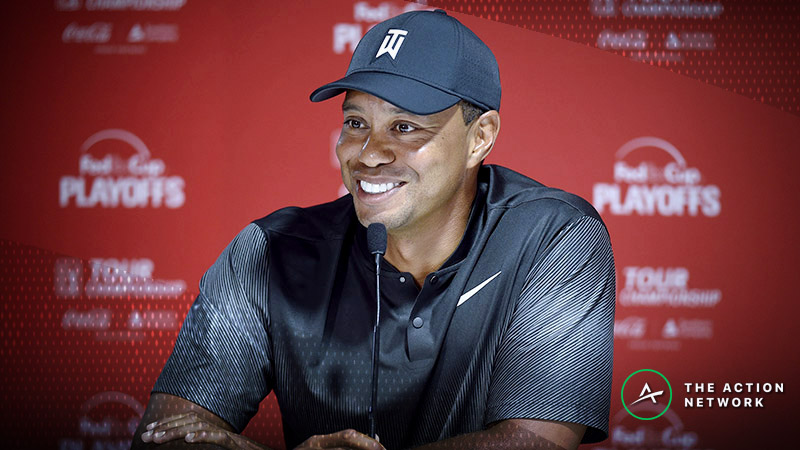 No. 8: Par 3, 200 yards
"The tee shot is downhill to the green. Again, the pin placement will be very accessible for their iron shot, but they can't go right. They'll have to stay left on this hole or else it's a very difficult up-and-down."
No. 9: Par 4, 460 yards
"I think this is probably the prettiest hole on the golf course; it overlooks Sheep Mountain. These guys will probably hit anywhere from a 5-wood to an iron; nobody will hit driver here. The widest part of the fairway is 280 yards, so they'll be trying to position their ball there. Then it's probably a 9-iron or wedge. They'll try to favor the right side of the green, because the ball will hit the hill and funnel toward the pin, but anything too far right is dead, and outside 20-30 feet is a difficult two-putt."
No. 10: Par 4, 437 yards
"This is a big dogleg to the right. This is a position hole. They'll probably need only about a 280-yard shot off the tee, so you won't see any drivers here. From there, it'll be an 8- or 9-iron into one of our smaller greens. Where the flag is, they'll have to be precise. Anything short right falls into the bunker, and anything left is a very difficult up-and-down."
No. 11: Par 4, 324 yards
"A driveable par-4. It's 300 yards to fly it on the green over some very difficult bunkers; you don't want to be in those front bunkers. If they go for the green, long is better. From there, it's a pretty easy chip shot. Someone will make birdie on this hole."
No. 12: Par 4, 405 yards
"Another attack hole where you'll see 3-woods or even irons off this tee. All they'll need is about a 270-300 yard drive. The green slopes back to front, so they'll want to be short of the hole. Anything long is difficult and very fast."
No. 13: Par 3, 224 yards
"This is probably our toughest par-3. It's our most difficult green; there's a buried elephant under there. They'll have to be within 20 feet. Where the pin is, they won't want to short-side themselves to the left. The right side is definitely better."
No. 14: Par 4, 493 yards
"Slight dogleg to the right. You'll see them hitting driver here. Because they can't go left, you'll see someone in the right bunker. From there, it's anywhere from 6- to 8-iron. But it's a difficult approach shot. The green slopes a little bit from the back to front, so they'll want to stay short of the flag. If there's a birdie here, it'll win the hole."
No. 15: Par 4, 482 yards
"Another beautiful hole toward the mountain. A good drive is key here. The creek meanders down the left and a very deep bunker guards the right. From there, they'll have anywhere from a 5- to 8-iron for a difficult approach shot. The creek slides back in front of the green, which is the quickest green on the course and slopes back to front. They'll want to stay short of the hole here. Par is a good score; birdie will win."
No. 16: Par 5, 622 yards
"The longest of our par-5s, this is a dogleg to the right and very narrow off the tee if they hit driver. They'll only be able to get home in two from the fairway. Even from there, it might be a 3-wood into a very difficult, narrow green. There's a false front that slopes into the bunkers. They absolutely can't be long on their second or third shot; they'll have to be short of the hole."
No. 17: Par 3, 154 yards
"This par-3 is downhill and just a wedge off the tee, but it's our smallest green on the course, which is heavily guarded by water and bunkers. If they miss the green, it's a very difficult up-and-down."
No. 18: Par 5, 529 yards
"Another risk-reward hole, this is a slight dogleg to the right. A bunker guards the left side of the fairway at 300 yards, and there's a lake to the right. They'll have to have a great drive here. There's a slope at 300 yards; if they can fly it, they'll get another 50 yards. So they can have anything from 4- to 9-iron here. The second shot has to carry the water; it's all carry. This is another green that slopes back to the front. It's an easy chip shot as long as you're over the water. This is an eagle or birdie hole, for sure."