Sobel: 10 Takeaways From the Most Low-Key Masters of All-Time
Credit:
Rob Carr/Getty Images. Pictured: Dustin Johnson.
Maybe it was always meant to be.
In the most low-key Masters of all-time, with no patrons on-site for the first-ever November edition of the tournament, we were treated to the most low-key champion in the event's history, as Dustin Johnson culminated his five-stroke victory with a slight fist-pump and mild grin.
There are plenty of talking points from the week that was, so let's get right to 'em, with 10 takeaways from a very different Masters.
1. From Good to Great
We've long known that Johnson is really good at his profession, but whether it's his ability to make the game look easy or his nonchalant attitude (more on that next), he probably doesn't get enough credit for just how really good he is. It's time we put Johnson's career into some perspective: He's an all-time great.
While still very much in his prime, there's no point in debating if he's the 14th-best golfer ever or the 19th or the 27th or even where he ranks among some of the other great players of this generation — those arguments should come at a time when we can review his accomplishments outside of the current bubble — but we should collectively acknowledge that DJ has separated himself from many other players, past and current. He's won in every PGA TOUR season since 2008, and his two dozen career wins ties him with Gary Player for 26th on the all-time list in an era when victories are tougher to come by than ever.
His major championship twofer at Augusta National and Oakmont is as strong a combination as anyone else with a pair of 'em. And for all the marveling we've done over his massive length off the tee, he remains one of the game's best iron players and an underrated putter. Did he need this triumph to propel from the ranks of the really good to great? It depends on your definition, I suppose, but a green jacket never hurts that argument.
2. 'Something to Admire'
Over the weekend, I tweeted out my favorite Johnson quote about the process he underwent to change his swing from a draw to a fade: "I said, 'I'm going to hit a fade,' and I started hitting a fade."
I've often thought DJ tends to look at those of us asking him questions about his career and his game much like a zoo animal looks at the people who show up every day to stare and point, as if to say, "Yeah, it's me. What's the big deal?" His casual demeanor toward superstardom has become meme-worthy. And for good reason. He was asked at the beginning of this past week about his favorite Masters tradition and simply answered: "Sandwiches."
We can poke fun at this attitude, but you'd better believe there are a ton of other pro golfers who would love to emulate it. One of the most astute comments I've heard a fellow player say about DJ came from Rory McIlroy this week, as he was asked if this is something to admire at times.
"It's something to admire all the time," he said. "I think he's got one of the best attitudes towards the game of golf in the history of the game. I don't know if I can compare him to anyone else, but the way he approaches the game is awesome." 
That said, it was at once staggering and striking to watch a guy who usually celebrates victories with a shrug start crying after receiving the green jacket. It just proves there's more going on with DJ than he often shows.
3. Don't Sweat the Technique
Bryson DeChambeau, the pre-tournament Masters favorite, finished in a share of 34th place. That result alone was the subject of plenty of hectoring. He insisted Augusta National should be a par-67 for him, then shot 18-over based on that number. He spoke about drinking six-to-seven protein shakes every day, then couldn't understand why he was enduring stomach issues. And yes, he swung as hard as he possibly could but in the first round tied 62-year-old Larry Mize, who was averaging nearly 100 yards less off the tee and finished behind 63-year-old Bernhard Langer, who outplayed him in the same group on Sunday.
All of that is fair game, but if you're jumping to the conclusion that Bryson's strategic efforts to hit the ball as far as possible are somehow misguided based solely on the fact that he didn't seriously contend this week, well, you're the misguided one. It might be unconventional, but the data proves that it's a worthy plan. Let's remember: He ain't gonna win 'em all. If the U.S. Open champion wins one out of every three majors — OK, even one out of every eight — he's going to be a Hall of Famer pretty soon. The strategy clearly didn't work for him this week, but that doesn't mean everything he's done to change his body and his swing is unwarranted over the long haul.
4. The Imperfect 10
Three-and-a-half days into what was a fairly nondramatic week for Tiger Woods, he gave us something entertaining to watch on Sunday afternoon. Tiger made the first 10 of his career, hitting three balls into the tributary of Rae's Creek on the 12th hole, later explaining he committed to the wrong wind. He then proceeded to birdie five of the final six holes to finish with some good memories. (As the guys I play with would call, whipped cream on, well, poop.)
The prevailing theme of Tiger's week, though, was clearly about sentimentality. In his Tuesday press conference, he got choked up and teary-eyed speaking about last year's victory, one of the few times he's become so emotional in such a public speaking forum. In the final round, he not only wore his customary Sunday red, but he wore a red sweater that looked uncoincidentally like the one he wore when winning this tournament for the first time in 1997. Overall, this was mostly a lost year for the 44-year-old, who posted one top-30 finish in nine starts. But it was a year in which we witnessed him more grateful and content about all of his career achievements than ever before.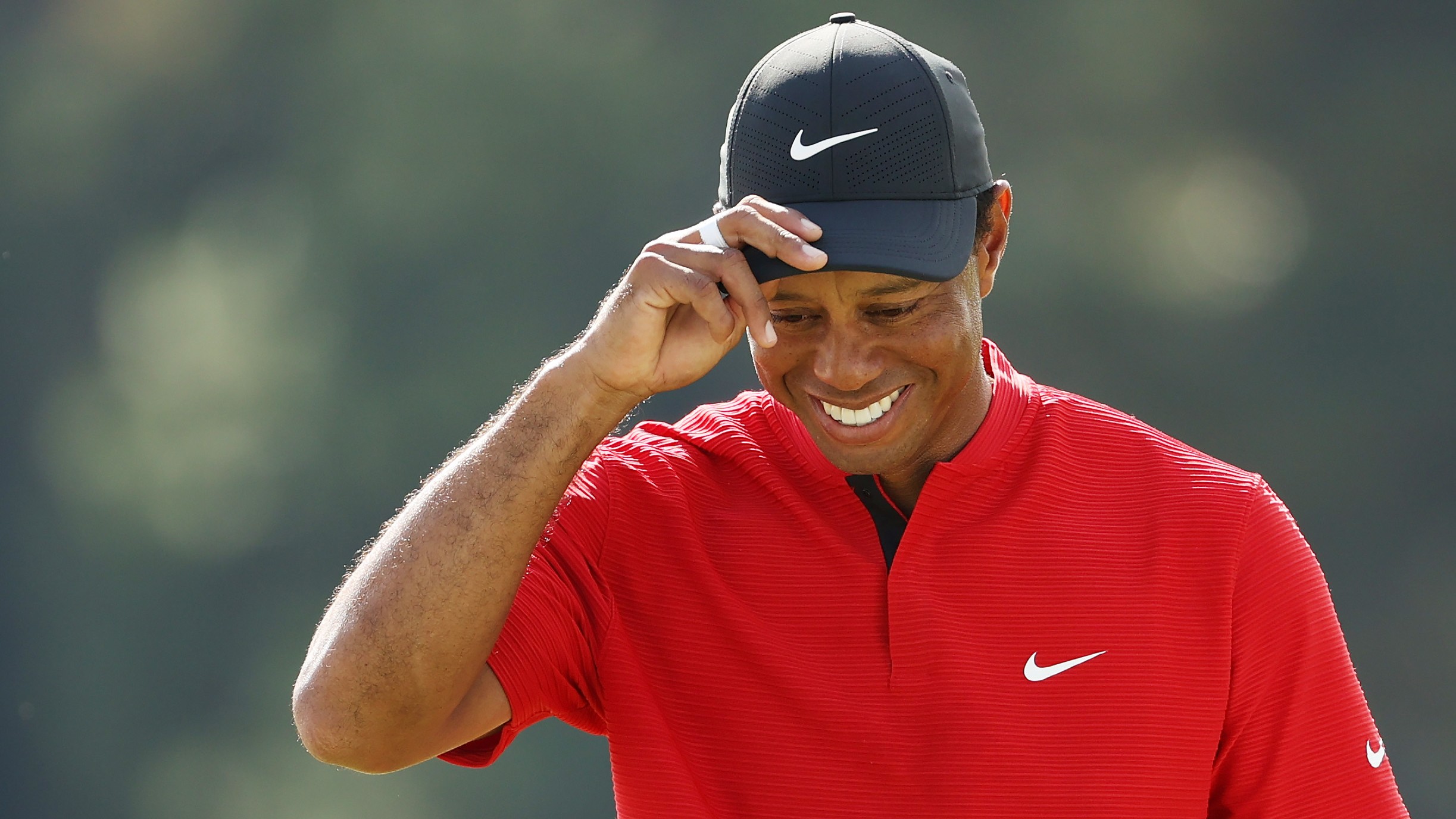 5. If the Pattern Holds…
My man Justin Ray of the 15th Club is a wealth of stats and information during every tournament, but he was on his game this week as much as DJ.
Among the myriad facts and figures that he listed on Twitter was this gem: Tiger curiously became the third defending Masters champion in the past seven years to record a double-digit score on a single hole. That's right: Bubba Watson did it in 2013, Sergio Garcia in 2018 and Woods this week. For those seeking a silver lining to that imperfect 10, though, he added this: Bubba won in 2012, carded a 10 on the 12th hole in 2013, then won again in 2014. Tiger, of course, won in 2019, carded a 10 on the 12th hole in 2020, and I guess we'll see if that pattern holds in 2021.
6. Kiss My Asterisk
For the past seven months, we collectively wondered what a November Masters would look like. The positives? Fall foliage is a strong foil for azaleas. Autumn twilight makes the course look downright mystical and less daylight meant more action in a smaller window. The negatives? Without spectators, the atmosphere was muted. The course lacked its usual April firmness. And long-standing scoring records were toppled.
More on that last one: Johnson broke the four-round scoring total by two strokes, Cameron Smith became the first player to post four rounds in the 60s and the field's scoring average was the lowest in history. It will all lead to some people asking whether or not there should be a handful of asterisks in the record book. My personal feeling on this is that while I completely understand the notion, a record is a record. The entire year of 2020 is a giant asterisk. We could've had the lowest-scoring Masters ever or no Masters at all, so I'm thankful it was the former instead of the latter.
If you want to throw your own personal asterisk on these records, go ahead. But for years to come, I think we'll see the year listed next to these and realize why they happened.
7. The Hypothetical Intangible
Prior to the start of the tournament, I was asked about the impact of no patrons at Augusta National, a place known for the weekend roars amongst the tall pines. I called it a hypothetical intangible. Basically, my point was that a lack of spectators could certainly have an impact, but there was no way we'd be able to analyze the leaderboard on Sunday evening and figure with any sort of certainty how or why specific players would've fared better or worse had there been fans in attendance.
That said, I can't imagine there would've been a different outcome at the top even if some 25,000 people were watching on-site. Johnson has won tournaments in front of massive galleries, and he's won tournaments in front of virtually nobody. With or without patrons this week, it's impossible to believe the final result would've been any different.
8. Im on Fire
Maybe it's because they didn't attend college and have been playing professional golf longer than others their age, but whenever the topic of great young players is broached with talk about the likes of Matthew Wolff, Collin Morikawa, Viktor Hovland and Cameron Champ, I try to offer a reminder that Sungjae Im and Joaquin Niemann should be included in the conversation.
Niemann unfortunately tested positive for COVID-19 and withdrew from this Masters, but he'll be contending in majors very soon. Im, of course, was right in the hunt all weekend, as the Honda Classic winner eventually finished in a share of second place with Smith. Despite his recent middling results, he shouldn't have snuck up on anyone this week, but he certainly won't be able to moving forward.
We all know about his smooth swing with that ultra-slow takeaway, but Sungjae showed us this week that he's got a world-class short game as well, chipping in three times from off the green. Where does the 22-year-old rank amongst the 25-and-under set? It's a competitive group, and while we should defer to Morikawa who's already won a major, Im is firmly entrenched in this debate.
9. Odds on Odds
I've written before about ways to improve upon the current state of golf betting — from matchups featuring any two players in the field to European each-way wagering becoming common in U.S. markets. Well, here's another one, and really, it could extend to all sports: Betting on futures. No, I don't mean actually betting on future events, which is obviously widely available already; I'm talking about betting on what the odds will be on a certain date.
In this specific instance, let's imagine we could bet on what each player's Masters odds will be on, say, April 5 of next year, the Monday of tournament week. Right now, there would be very low odds on DJ being the Masters favorite next year, but if you could find a decent number on Rory McIlroy or Brooks Koepka or Jon Rahm being the favorite in five months, would you take a crack at it?
I'll admit it's an idea that could be manipulated by specific books based on the volume and stakes of these kinds of bets, but even with a limit on them, it could be a fun way to lay down a future prop on the prop itself, rather than only betting on the tournament winner so far ahead of time.
10. Nothing Sweeter Than a Repeater
Speaking of next year's Masters — which is a mere 144 days away, by the way — odds are already available.
It should come as little surprise, but SuperBookUSA lists Johnson as an 8-1 favorite to successfully defend his title. Of course, nobody has won back-to-back Masters titles since Tiger Woods in 2002 (and before that, it was Nick Faldo in 1990).
Following DJ on board are DeChambeau (10-1), Rahm (12-1), McIlroy (12-1), Justin Thomas (12-1), Koepka (16-1) and Xander Schauffele (18-1).
Among those who, in my opinion, seemingly hold some early value if you're so inclined: Patrick Cantlay (30-1), Hideki Matsuyama (40-1) and Wolff (40-1).
How would you rate this article?