5 Reasons Why the Tiger/Manning vs. Phil/Brady 'Match II' Is Already Better Than the Original
Credit:
Christian Petersen/Getty Images. Pictured: Phil Mickelson celebrates with the winnings after defeating Tiger Woods as during The Match: Tiger vs Phil at Shadow Creek Golf Course in 2018.
Here's your admittedly impulsive hot take on the upcoming "The Match II" featuring Tiger Woods, Phil Mickelson, Tom Brady and Peyton Manning: Unlike most movie sequels, it's already better than the original.
Even with some of the details still fuzzy after The Action Network first broke the story Wednesday, that opinion isn't likely to change in the next month.
Lingering images from the initial edition of this event include Mickelson lording over a theoretical pile of $9 million in cash with a gimme-gimme look across his face and Woods framed in a similar photo with a contrasting demeanor that suggested he wasn't quite as enthusiastic about the festivities.
This one, though, will be anything but a rich-get-richer proposal. Instead, all of the proceeds — which we'd assume will include additional wagering like the first one — will benefit COVID-19 relief efforts, giving it an immediate upper hand in both optics and substance. While its predecessor reeked of vapid gluttony, the tone of this one will be uplifting around such a charitable component.
Sounds better, doesn't it?
That's not all. Here are five more reasons why "The Match II" should outperform the original.
[Tiger/Peyton Favored to Beat Phil/Brady in 'The Match II']
Better schedule
In case you hadn't noticed, there haven't been many sporting events airing on TV lately. OK, that's tongue-in-cheek, but the point remains: In the wake of all professional sports in the U.S. currently being suspended, we're starved for an athletic contest to not only take our minds off the state of the world, but perhaps help ease us back to some semblance of normalcy.
This match is sure to be played in advance of any major sports returning in the U.S. When Woods and Mickelson played each other a year-and-a-half ago, the match occurred on the Friday after Thanksgiving, wedged in between a few busy days of college and pro football. There's nothing to distract our attention from this one, though, as it'll be the biggest sporting of the day by pure default.
[Easy Money! Get 2-1 Odds on Joe Burrow to Go No. 1 … (Yes, We're Serious)]
Better side action
Let's face it: When Tiger and Phil challenged each other to a few off-the-board wagers last time — four of 'em, to be exact — they had all the recklessness of bets that were drawn up by their respective legal teams beforehand. Anyone who's ever played golf understands the impetuous nature of side action.
You might call out to an opponent who has a 230-yard shot over water and say, "Hey, 3-to-1 you can't put this one on the green." In turn, your opponent might offer, "OK, even-money says you can't get up-and-down from there." These bets are supposed to be fun, because they're made in the passion of the moment. It's a component that was severely lacking from the first match, but one that could be much improved with Brady and Manning offering — and getting offered — odds in these situations, too.
[Updated Dates for Every Major Event & League]
Better trash talk
Another major disappointment from the original was that even though Tiger and Phil were both mic'd up, they rarely uttered anything worth hearing. We wanted to hear Woods needle Mickelson for "only" having a mere five majors. We wanted to hear Mickelson tweak Woods for staying healthy enough to make the match happen.
None of this ever took place. They clearly needed a few other participants to goad them into some spirited barbs, and while Brady and Manning aren't exactly Charles Barkley and Michael Jordan when it comes to talking trash, just a few more warm bodies tossing some good-natured insults into the fray should be enough to keep us more interested.
[20% NFL Draft Boost! All DraftKings bettors get to boost the profit on 2 NFL draft wagers for FREE.]
Better entertainment
Not long after the first edition of the match, I had a conversation with Mickelson about future iterations, which he seemed to think would continue taking place. All of the main characters in golf were presumably in play — the likes of Rory McIlroy, Brooks Koepka, Dustin Johnson, etc. — but I told Phil that I had a different idea. We've all watched the world's best players compete at a high level under pressure before. What I wanted was a couple of 16-handicaps – getting strokes, of course – playing against Tiger and Phil under the intense scrutiny of the global population, with a chance to win some money that would actually mean something to them.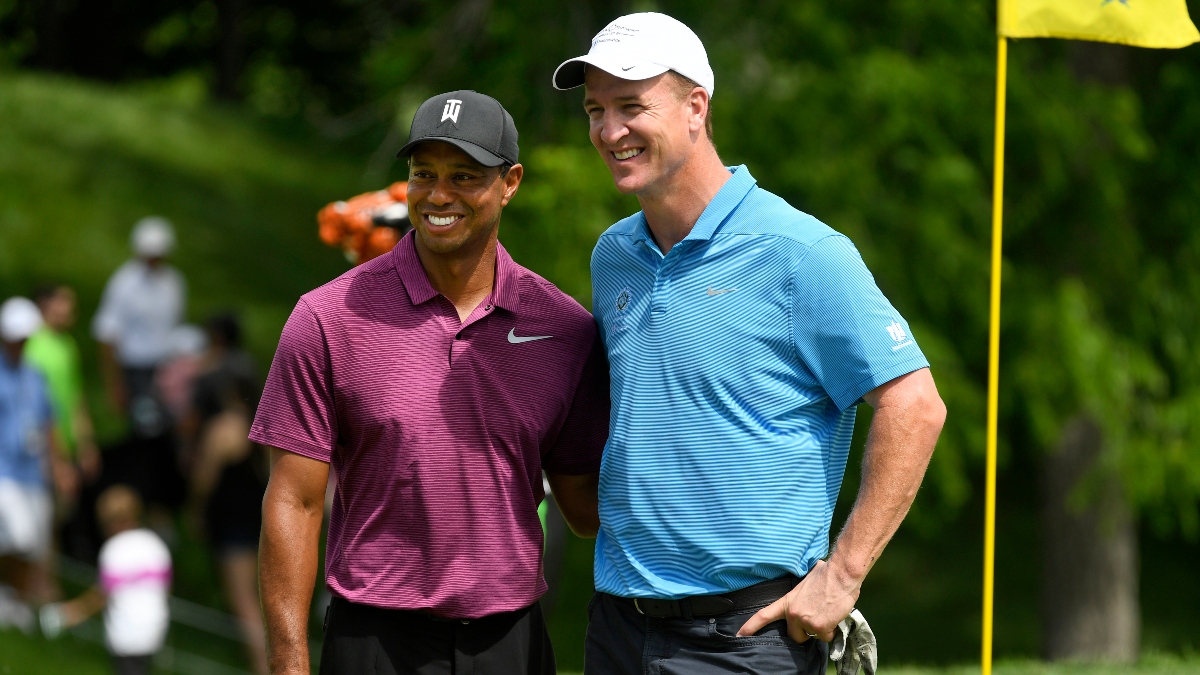 Granted, "The Match II" won't include that last ingredient – as mentioned earlier, they'll rightfully play for charities – but with non-professional golfers in the mix, it will offer a chance to watch players who more closely remind us of ourselves than anything we only aspire to be in our wildest dreams.
Manning is currently listed as a 6.4 handicap and Brady is an 8.1, so they're not exactly chops, but there's definitely an opportunity to witness a few shanks and skulls, which could help the entertainment value.
Better format
The first match was, well, a match — just what you'd expect from two guys playing against each other. There's not much they could've done to make that format more enticing. This time, though, whether it's a net best-ball or an alternate shot or a shamble — or some combination of all three — there's a possibility of watching a more entertaining match, one that extends beyond the same ol, same ol'.
Don't get me wrong: I'm a big fan of match play and enjoy watching two elite players slug it out in this format. But this event shouldn't be taken so seriously. After all, they're doing it for our amusement, so a more lively scoring setup should benefit everyone involved.
How would you rate this article?