Tiger Woods Season Preview: What to Expect from Golf's Most Unpredictable Player
Credit:
Christopher Hanewinckel, USA Today Sports. Pictured: Tiger Woods
Tiger Woods makes his 2019 debut at this weekend's Farmers Insurance Open at Torrey Pines.
Jason Sobel wonders which version of Tiger should we expect this season and whether or not he's golf most unpredictable player.
Tiger Woods isn't the G.O.A.T.
I've long maintained that if we're going to use major championships as the most relevant barometer for greatness — and more importantly, if HE is going to view them in that respect — then this title belongs to Jack Nicklaus, first and foremost.
Tiger will have to "settle" for simply being the most dominant golfer of all-time instead of the greatest.
That's not all he is, of course.
He's also the most polarizing, as everyone owns an opinion about him. And the most popular, though his Q-rating might never have been higher than Arnold Palmer's in his prime.
There's another role Tiger owns that often gets overlooked.
He's also the most unpredictable.
OK, so maybe during his best years, when he was winning at a 30 percent clip, his success wasn't all that difficult to prognosticate. These days, though? After four back surgeries and a career that many suspected was done? Tiger Woods is the ultimate great unknown.
Even now, when I'm asked whether he'll claim that elusive 15th major — an increasingly popular query, as you can imagine — I jump right on top of the fence and don't straddle either side. My coldest of cold takes: I have absolutely no clue.
In fact, even for this upcoming year, I can see a wide range of possibilities for Tiger.
As he begins his campaign at this week's Farmers Insurance Open, here are the four tiers of Tiger — each of which might become a reality this year.
TIER 1
This is Tiger at his best.
This is Tiger arriving at Torrey Pines this week conditioned and confident, proving why he's turned this venue into his personal playground over the years, claiming his ninth career professional title here.
On the bye week in between the NFL's conference championship games and the Super Bowl, this is the first weekend when golf owns the spotlight – and a Tiger victory can whip the masses into a hysterical frenzy like nothing else.
With so few tourney starts in his two-year window, the Official World Golf Ranking formula soon deems him the No. 1-ranked player once again, nearly five full years after the last time he held that honor.
He heads to Augusta as the prohibitive favorite for the Masters. Maybe he wins that week, maybe he doesn't. But that 15th major victory is inevitable this year, more than a decade after his 14th win.
By the time the season has ended, Tiger has racked up five or six wins, put some distance between himself and the pack for that No. 1 ranking and locked up every postseason award there is, from POY to scoring average.
At 43, he doesn't quite equal some of his feats of the early-2000s, but the year signifies vintage Tiger all over again – and with it, all the byproducts of TigerMania amongst even the most casual of golf fans.
Just like the old days.
TIER 2
This is essentially an extension of Tiger's performance in 2018.
You know the deal: A few ups and downs, but it's those brief moments of brilliance that really capture our attention. On any given week, we won't know whether to expect vintage Tiger or the 43-year-old who sometimes appears a decade older. His fleeting consistency, though, is offset by towering iron shots to tucked pins and clutch putts on Sunday afternoons – the type of play we've seen for so many years.
So yes, in this scenario, Woods will contend for tournament titles. Heck, he'll even contend for majors. And sure, he'll pick off a win, just like he did at last year's Tour Championship.
Will he retain his position as the world's No. 1-ranked player? Nope. But he also won't slide into oblivion, with some triple-digit number before his name on the ranking.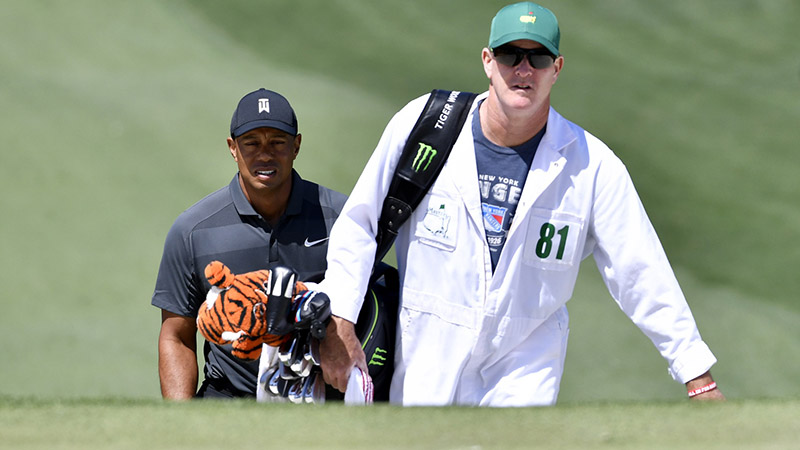 Instead, Tiger will remain amongst the game's elite players – capable of winning and outplaying any of his peers, but hardly dominant.
There will be times when he just doesn't have it. Whether his body is worn down from digging secrets out of the dirt for so many years or his mental fortitude isn't enough to keep him on the leaderboard, there will be weeks when Tiger seems downright ordinary.
Until … he doesn't. Until something clicks and he suddenly looks like one of the game's best once again.
It happens to every golfer. And while it rarely happened to Tiger during the early years of his career, this is the new normal, just as we witnessed throughout last year's return.
TIER 3
This is where it gets a little ugly.
In this scenario, Tiger just seems lethargic, shuffling down fairways like an elder statesman instead of bounding down them with the enthusiasm of a player ready to make a vaunted charge.
The debates will be heated: Some observers will maintain that he's injured, his back problems flaring up despite his insistence to the contrary; some will conclude that he's simply too old to keep up with the young studs of the current PGA Tour; others will guess that he's just lost the passion for the game, that there's little to motivate a player with 80 career victories already on his resume.
Maybe they'll all be a little correct.
It's not that Tiger can't play anymore – he's not struggling to break 80 or yipping chips like a few years ago – it's just that he looks so ordinary. Playing in marquee groups doesn't help, either.
Every week, he's paired with players such as Dustin Johnson or Brooks Koepka or Justin Thomas, and the dichotomy between their games and his continues to grow wider.
The worst part is that there appears to be no easy fix. It's not as if there's a singular issue with his game. If he was losing drives to the right every time or struggling with his distance control on approaches, those problems could be fixed. Instead, it's just an overall listlessness that's somehow inhabited his body.
The results prove what our eyes tell us: He finishes top-20 in a few events, top-50 in a few others and misses the cut in a few more. He competes in the majors, but the man who previously grabbed more attention than anyone is largely an afterthought.
Maybe this is the beginning of the end. Maybe this is the final act to the Shakespearean play of Tiger's career. Instead of a storybook ending or an abrupt retirement, maybe he just fades into oblivion, hiding in plain sight.
TIER 4
This is the end.
Or so we think. We've thought this before, believing that Tiger was done for good, those numerous surgeries too much to recover from. But how many times can he keep coming back? It's a question that will hang over the entire golf season, an underlying theme while he's notably missing from the proceedings.
It might happen instantaneously. The one swing he's always feared – the one which finally tweaks his back in such a way that he can no longer continue. It could happen in the middle of an early-season tournament, while the world is watching, and we collectively know the long-term prognosis before he even gets carted away from the course.
Or it might happen gradually. Maybe it's the constant wear and tear on a body that simply can't take that sort of physicality anymore. He'll withdraw from an upcoming event, telling us he just needs a little rest. Then another, and another. The updates are brief and infrequent, as we continually question when – or if – we'll see Tiger play again this year.
It's not his fault, of course.
Tiger did everything possible to return from those surgeries and regain his status as one of the world's best players. He wanted to continue; he wanted to see how much success he could have in this latest iteration of his career.
It's just that his body wouldn't let him anymore. And so, instead of debates around whether Tiger will finally win that 15th major, we spend the year debating whether he'll ever play again or whether we've finally seen the ending.