Tiger Woods vs. Phil Mickelson: Who Has The Edge in the $10 Million Match?
Credit:
Credit: Rob Schumacher-USA TODAY Sports
Highlights
Unlike many sports debates, Tiger Woods vs. Phil Mickelson can, and likely will, be solved on the field of play.
While career accomplishments matter, they don't guarantee success in a head-to-head matchup.
Woods has the advantage in driving distance, but Mickelson is the far superior putter. 


---
One of the great things about sports is that comparing athletes of different eras is an exercise in futility, allowing us to forever embark on debates.
Michael Jordan or LeBron James? Sandy Koufax or Clayton Kershaw? Joe Montana or Tom Brady? There's no right or wrong answer, which makes every argument compelling.
That notion, of course, extends to golf. We can endlessly sit in the 19th hole and debate whether Old Tom Morris could beat Jordan Spieth, or if Bobby Jones could keep up with Dustin Johnson. We'll never know the answer, so neither side can be proven correct.
All of which leads to another great thing about sports: Arguments over current athletes can be settled on the field of play.
In the last quarter-century of using our observational skills – let's call all those Sunday afternoons spent on the couch "field research" – we know that Tiger Woods is more accomplished than Phil Mickelson. He owns three dozen more PGA Tour titles, nine more majors and is one of only two players who can make a legitimate claim of G.O.A.T. in the game's history. Even Mickelson readily admits that.
What we've also learned during those Sunday afternoons is that the more accomplished golfer – or even the "better" one – sometimes doesn't win. In fact, he usually doesn't win. It's rare when a tournament favorite actually plays to his odds and wins an event.
Even in match-play circumstances, you're as likely to own a winning record by predicting results with a coin flip as taking the oddsmaker's favorite each time.
All of which leads right back to Woods, Mickelson and the proposed high-stakes match that is reportedly an impending certainty.
Already there are questions about what they'll be playing for (just how high stakes is high stakes?) and where they'll be playing (Shadow Creek in Las Vegas has been rumored as a possibility). The biggest question, though, is the same one we continually ask of any competitive event: Who's going to win?
Just as we've confirmed during so many of those Sunday afternoons, the better player doesn't always win these things. There are multiple variables, from location to current form to the all-important intangibles. (We'll get to those soon.)
Let's break down this match between Tiger and Phil, based on these varied categories:
Driving Distance
Why it matters: On a longer golf course (Shadow Creek stretches to 7,560 yards from the tips), the ability to pound driver as far as possible is always an asset. That counts double in match play, as the longer hitter owns the advantage of getting to watch his opponent hit the first approach shot, then strategizing accordingly.
How they've done: Not going to lie, I was a bit surprised to learn that Tiger is actually outdriving Mickelson by a half-dozen yards this season, ranking 27th on the PGA Tour compared to his opponent's spot in 72nd. That might sound like a lot, but on the golf course, the distance between 304.9 yards and 298.6 is negligible.
Advantage: Tiger, but it's a small one.
Driving Accuracy
Why it matters: Just as distance off the tee gives a player an inherent advantage of watching his opponent play first, continually peppering fairways is a smart way to keep frustrating the other guy. Aggressive golf often wins tournaments, but conservative play can win matches.
How they've done: Big surprise! Neither guy is very adept at keeping his ball in the short stuff, nor have they ever been. Tiger actually ranks a few percentage points higher than Phil, but not even enough to consider it an advantage.
Advantage: Let's call it a push.
Iron play
Why it matters: Pretty self-explanatory here. Hit the ball close to the hole, and you'll give yourself more birdie chances.
How they've done: Tiger and Phil each rank among the game's best in the strokes gained category to measure proficiency in this area, but, again, Tiger clips his counterpart. Woods is currently third on the PGA Tour, with .949 strokes gained per round, while Mickelson is 16th at .658. That might not sound like much, but it means Tiger picks up more than a full stroke on Phil with his irons over four rounds each week.
Advantage: Tiger.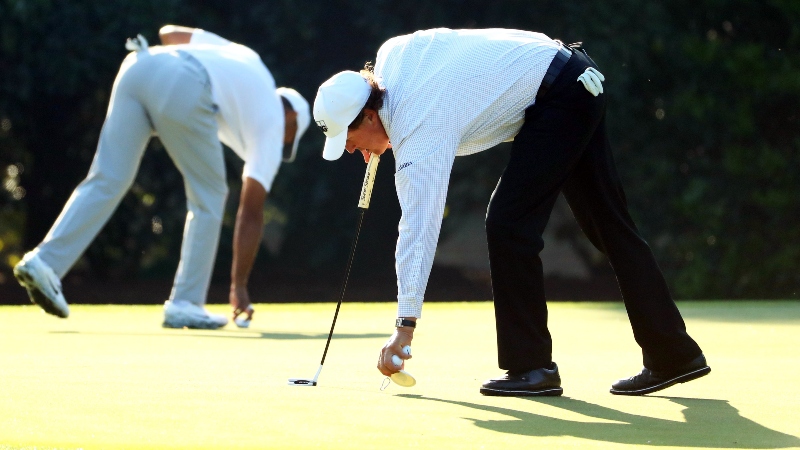 Rob Schumacher-USA TODAY Sports. Pictured: Tiger Woods and Phil Mickelson.
Putting
Why it matters: Again, this isn't rocket science. Even understanding the analytics, which have proven that the long game can better separate a player from his competition, you've still got to be able to get the ball into the hole.
How they've done: If you were waiting for the category where Phil held an advantage, congratulations. You've finally come to it. Mickelson's putting has been surprisingly great this season, as he ranks second overall, picking up more than a stroke per round over the field. Meanwhile, Woods' putting has been, well, not so great, although not nearly as poor as most people would believe. He ranks 57th this season, but that still means he's giving up more than three strokes per week to Phil on the greens.
Advantage: Phil, and it's really not close.
Intangibles
Why it matters: There's more to match play than meets the eye. Unlike medal play, statistics often can't predict results, because they don't account for things like gamesmanship or tactical strategy.
How they've done: According to adamsarson.com, Woods' career singles record is an astounding 50-16-2. That includes the WGC event, the Ryder Cup, the Presidents Cup and a few other assorted silly season-type matches; it doesn't include his six USGA amateur titles all won in this format.
As much as we can argue Tiger is the G.O.A.T. overall, it might be an even easier argument that he's the greatest match-play competitor ever. Meanwhile, the same site lists Mickelson's individual pro record at 33-24-4. What he lacks in tournament success, though, he might make up for in nontourney experience, as the reigning commissioner of the PGA Tour's most ballyhooed Tuesday money game.
Advantage: Phil is no stranger to playing high-stakes matches, but Tiger owns the competitive intangibles over anyone, just based on his experience and success.