How to Bet on the 2023 Kentucky Derby Online: Best Apps, Horse Racing Explanations, Picks, More
Credit:
Getty Images. Pictured: Longshot Rich Strike, right, wins the Kentucky Derby at 80-1 odds.
When you ask "how can I bet on the Kentucky Derby," there are a few different things you might mean.
How do I sign up for a horse racing betting site?
How do I place a bet, and what do all these numbers mean?
I know how to sign up and make bets, but which horses should I bet on?
We'll cover all three for the 2023 Run for the Roses below.
Online horse racing is legal in many more states than online sports betting, meaning most bettors across the United States can wager on the 2023 Kentucky Derby with ease.
How to Bet on the Kentucky Derby
1. How to Sign Up
We'll use TwinSpires as an example. They have a best-in-market offer right now, giving users $400 in bonus bets if they wager $1,600 over the next 30 days. $100 of the bonus funds will be unlocked for every $400 wagered.
Use TwinSpires promo code ACTIONRACING or use the module below to start your sign-up.
There are three parts to the sign-up. You must enter all your real info, because TwinSpires (like all legal sportsbooks) tie the account to the last four digits of your social security number. This is to prevent you from creating multiple accounts with fake email addresses.
Step 1
Enter your name, email and offer code ACTIONRACING.

Step 2
Next, enter your real address. Like with sports betting, it's perfectly legal to sign up if you're traveling in a different state, just don't use the address of a friend you're crashing with, or your AirBNB's address. Even if you live in a non-TwinSpires state, use your real address.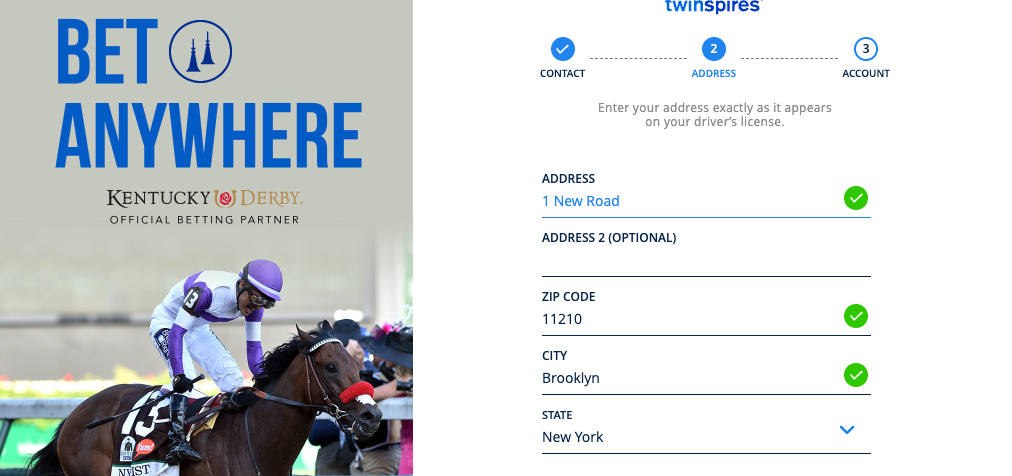 Step 3
OK, here's where it becomes obvious you can't fudge your information. You must enter your date of birth and the last four digits of your SSN to verify your identity. If you use fake info, TwinSpires won't verify you, and you won't be able to deposit (and therefore, bet).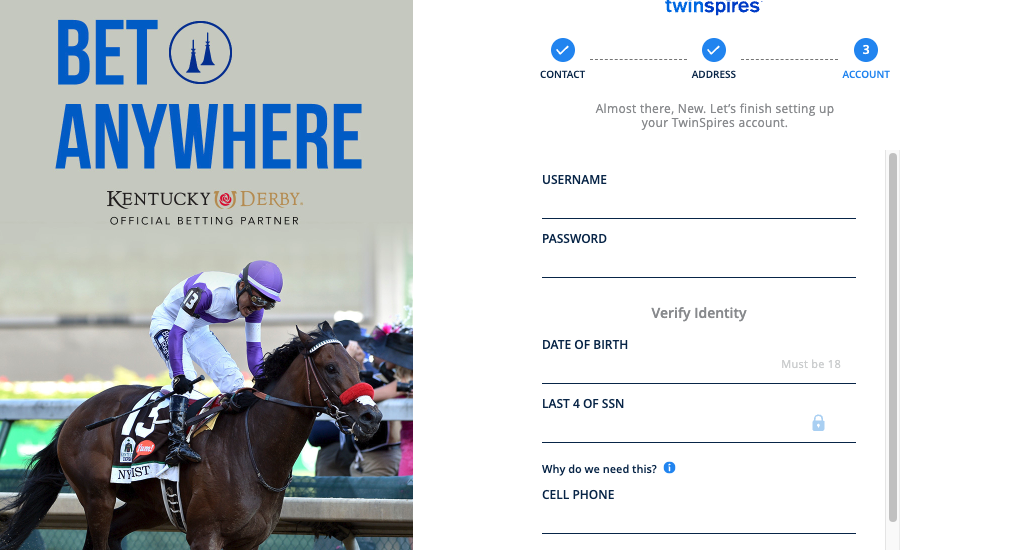 2. What Do All These Terms Mean?
OK, you're all signed up. Now what?
There are dozens of horse races going on across the country at once, and many loyal horse bettors don't just want to bet on the Kentucky Derby. So you may have to sift through the platform a bit to find it. It should be under "Churchill Downs, Race 12" or "Kentucky Derby Day, Race 12" depending on your platform.
First, let's take a look at the "odds board" from TVG (I'm in New Jersey, so I don't have access to TwinSpires, and TVG powers 4NJBets, an NJ-only horse racing platform.
Here's the top of the 2023 Kentucky Derby board. The far left column is the horse's post position, meaning where they'll start from. In big races (and depending on the horse's preferences), certain posts are more advantageous. While the No. 1 horse technically has the shortest trip around the track, it's always a possibility they get pinned along the rail early and fall behind.
Next, you have the horse's odds to win. For Hit Show, that's 34/1. Below that is the morning line, which is where their odds opened. So Hit Show opened 30/1, and due to betting action on the race, has now been moved to 34/1.
The rest of the info isn't essential to betting — you have their parents, trainer, jockey, and depending on the site, some other details.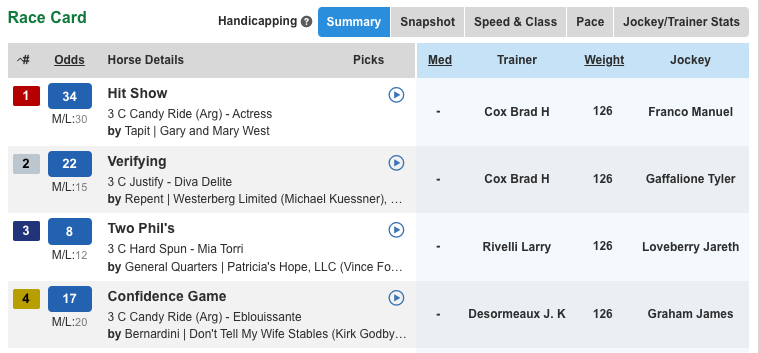 It feels like there are an infinite number of ways to bet on a horse race, but most people can stick to just a few keys options.
At TVG, once you navigate to a race, you'll have all the betting types along the top rail.
Win
You're simply picking the horse to win. Your potential winnings will be the amount you bet in the bottom left, multiplied by the odds for that horse.
Win/Place/Show
With a place (second) or show (third) bet, you're wagering on a horse finishing in the second or third positions. If you're betting $2 on a horse to win & place, you're essentially doubling your wager to $4, and place two separate bets on each
The payout amount is a bit confusing, though. Because horse racing uses pari-mutuel betting (meaning you're betting directly against other bettors, not a "house" like a sportsbook, the amount of the place and show payouts depends on how many other bettors wagered on that horse, and how they did it. You can read more about how to calculate your payouts here.
Exactas, Trifectas & Superfectas
Exactas, trifectas and superfectas — also known as exotics — are the same game parlays of horse racing. They allow bettors to pick the top 2 (exactas), top 3 (trifectas) or top 4 (superfectas) horses in the race in the correct finishing order. Because it's so difficult to pull off, they can offer huge payouts.
Here's how to bet an exacta. Simply navigate to the exacta screen along the top menu, and pick a first-place horse and a second-place horse. If they finish 1-2, you'll cash the bet. But like place/show bets, you won't know your payout until all betting has been completed.
So in this example, I'm betting Two Phil's to finish first and Tapit Trice to finish second, in that exact order.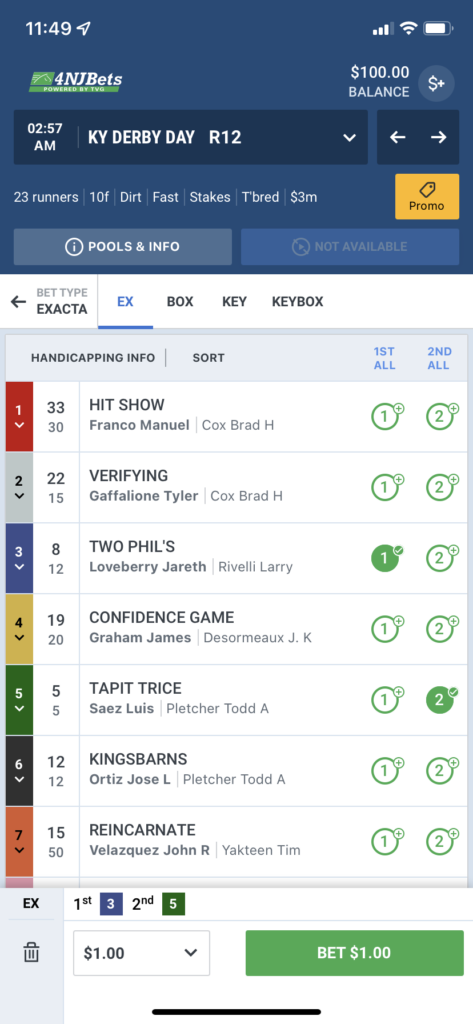 Box: With a box, you're betting all possible combinations of your selections — like a round robin in sports betting.
So if you bet Two Phil's and Tapit Trice in an exacta box instead of just an exacta, you've made two wagers — one wager on Two Phil's to win and Tapit Trice to finish second, and one on Tapit Trice to win and Two Phil's to finish second.
With trifectas and superfectas, the concept is the same, but it requires more bets. A trifecta box requires you to place six total bets to cover all the possible combinations of three horses finishing in the top 3 — 1-2-3, 1-3-2, 2-1-3, 2-3-1, 3-1-2, 3-2-1.
Here's how it looks at TVG. Just select "box" along the top menu, then pick two horses, and it will automatically create those two bets.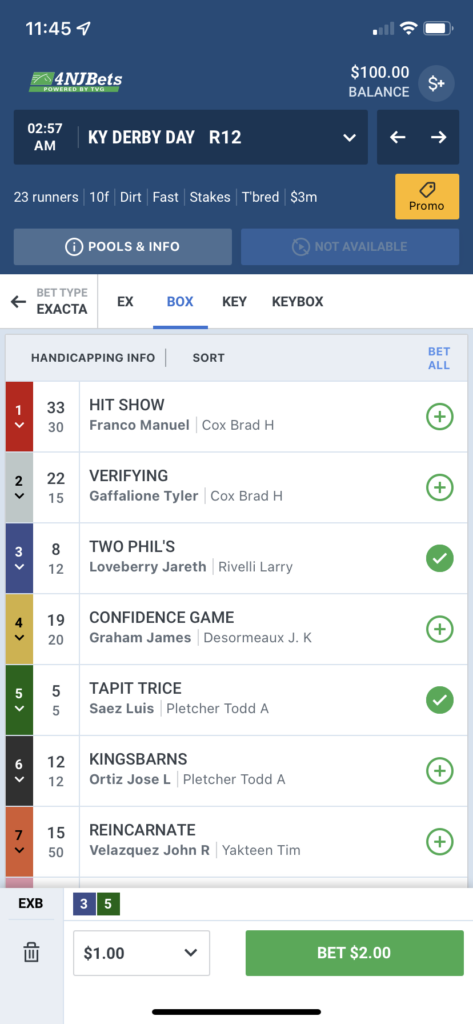 Key: A key is an exotic wager used if you like one particular horse, but want to sprinkle a bunch of other horses in other finishing positions.
In this example, I've selected Two Phil's as the "key" win spot, and then three other horses in the No. 2 spot. So I've made three bets:
Two Phil's 1st, Tapit Trice 2nd
Two Phil's 1st, Kingsbarns 2nd
Two Phil's 1st, Reincarnate 2nd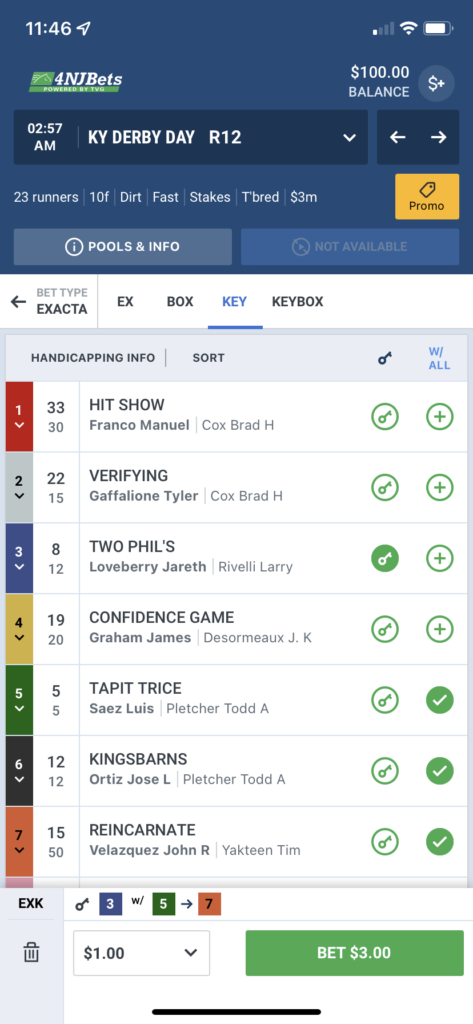 Keybox: Like a key, I'm picking one horse as my "staple" and then boxing them. So in this scenario, I'm creating six bets — all with Tapit Trice involved because hes' the "key."
Tapit Trice 1st, Confidence Game 2nd
Tapit Trice 1st, Kingsbarns 2nd
Tapit Trice 1st, Reincarnate 2nd
Confidence Game 1st, Tapit Trice 2nd
Kingsbarns 1st, Tapit Trice 2nd
Reincarnate 1st, Tapit Trice 2nd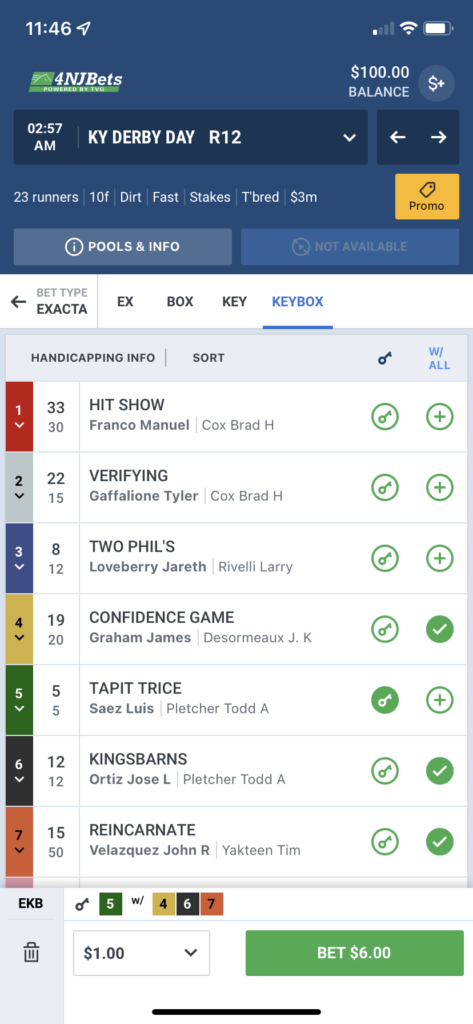 Pick 3, Pick 4, etc.
The Pick 3, Pick 4, Pick 5, and Pick 6 wagers are truly the lotteries of horse racing.
They require you to pick the winner in consecutive races — so a Pick 3 you'll need to nail the winner in three straight races, and the Pick 6 in six straight races.
Depending on the day, only certain races will fall into these pools. For example, there's a Pick 3 on Friday for the Kentucky Oaks with that race, plus races 12 and 13 at Churchill Downs. You can't pick three random winners across the board that day.
You can choose multiple winners in each race and it will create more bet combinations — increasing your chances of winning, but also increasing how much you need to wager.
3. How Should I Bet the 2023 Kentucky Derby?
I'm far from a horse racing expert, so I'll let the guys who know what they're doing fill you in.
Here's why Sean Zerillo likes Derma Sotogake:
"Derma Sotogake has a far better chance against a relatively weak American 3-year-old crop, with a versatile running style, proof that he wants the distance, and a solid outside draw. He is my top win contender for the race. He can get to a lead and wire the field, or sit in the second flight behind a fast pace and pass horses in the stretch.
After the final workouts this week, I also like the No. 14 Angel of Empire (who has the best closing kick in the race) to come running late. No. 11 Disarm should outrun his 30-1 morning line odds, too.
I'll bet Derma Sotogake across the board (Win/Place/Show) at odds of 8-1 or better."
How would you rate this article?
This site contains commercial content. We may be compensated for the links provided on this page. The content on this page is for informational purposes only. Action Network makes no representation or warranty as to the accuracy of the information given or the outcome of any game or event.