2020 MLB AL and NL Cy Young Betting Odds and Picks: Can Walker Buehler Challenge Jacob deGrom?
Credit:
Rob Leiter/MLB Photos via Getty Images. Pictured: Walker Buehler
Similar to MVP voting, baseball writers have traditionally relied upon basic statistics, including Earned Run Average (ERA), strikeouts, wins, and innings pitched (IP) for Cy Young voting.
Still, the improvement of sabermetric analysis – with the development of Wins Above Replacement (WAR) and Fielding Independent Pitching (FIP) – has altered the landscape of awards analysis.
More recently, Cy Young winners have trended downward in regards to total wins, strikeouts and innings pitched, but have seen an uptick in terms of strikeouts per nine innings (K/9) –  thanks to changes in the game; an increase in strikeouts league-wide, but also larger pitching rotations (the four-man rotation was standard until the 1970s) and reduced pitch counts per pitcher.
---
Looking to bet some MLB Futures? Check out DraftKings. Get up to a $1,000 sign-up bonus at DraftKings today or see more offers and reviews for the best online sportsbooks.
---
Cy Young winners in the 1950's had a mean of 22.8 wins, and 260 innings pitched with a K/9 of .579.
In the past decade, Cy Young winners have nearly doubled their strikeout rate (higher than 1.05 K/9), but are winning roughly three fewer games and throwing 30 fewer innings.
Listed odds via Westgate SuperBook
Cy Young and WAR
There is a clear upwards trend with regards to WAR and Cy Young winners – which mirrors the trend between WAR and MVP winners.
Until 2003, the Cy Young winner finished at least 1 WAR below the pitching WAR leader (for that league) 48% of the time.
Since 2004, that difference has only occurred five times – roughly 17% – a decrease of 31%.
In the past four seasons, seven of the eight Cy Young winners finished in the top three in their league in pitching WAR – the only exception being Blake Snell (2018).
Cy Young Award voting, like MVP voting, is entirely subjective – but modern writers seem to be paying more attention to sabermetrics when making their awards assessments.
Other Cy Young Data Points
Historically, four basic statistics correlate most strongly to Cy Young winners: Wins, ERA, Strikeouts, and Walks and Hits per Inning Pitched (WHIP).
But a 2018 study, which incorporated advanced metrics, weighted WHIP and wins behind WAR, ERA, and ERA+ as the five most important factors in selecting Cy Young winners, with IP and FIP close behind.
As a result, let's evaluate some top Cy Young contenders for 2020, using Steamer projections and the following data points:
Wins
WHIP
ERA
FIP
IP
Strikeouts
WAR
National League
In 2019, Jacob deGrom became the 11th pitcher to win back-to-back Cy Young awards, and he now has a chance to become the first pitcher since Randy Johnson (1999-2002) to win three in a row.
He's a deserving top choice, pacing all NL pitchers in projected ERA, FIP, IP and WAR – though he's mostly neck and neck with three-time Cy Young winner, Max Scherzer, who bests deGrom in WHIP and strikeout projections, and is the only pitcher within 1 WAR of the Mets' ace.
Walker Buehler (+700)
My top NL selection is the 25-year-old Dodgers' ace, who enters his third full big-league season after ramping up his inning count (including minors) from 81.2 to 153.1, and 182.1 over the past three seasons – while compiling a 3.12 ERA (3.10 FIP, 3.32 xFIP) at the MLB level.
Amongst pitchers who have compiled more than 300 combined innings in the past two seasons, Buehler ranks sixth in FIP and ninth in xFIP.
Based upon pure stuff, per Driveline Baseball, Buehler has the fourth-best arsenal in baseball, behind a couple of guys named Gerrit Cole and Tyler Glasnow.
He ranks in the 87th percentile in fastball velocity, 93rd percentile in fastball spin, and 96th percentile in curveball spin.
And combined with his command and demonstrated results, Buehler is a top-five starter.
By win projections, he pitches for the best team in baseball – and should have ample opportunity to rack up wins for his stat line; but as we have seen in recent history (Felix Hernandez, 2010) a nearly .500 won't preclude a pitcher from winning the award.
And Buehler could continue to improve in 2019 while crossing the 200 inning threshold for the first time in his career – a benchmark that would allow him to stay up with deGrom and Scherzer in terms of counting stats.
Buehler fully intends to cross 200 innings in 2020, even though the Dodgers haven't had a pitcher surpass 185 innings since 2015.
However, Dodger's manager Dave Roberts has also remarked that "you just really don't know how good Walker Buehler can be…but I think for all of us it's exciting to see what's next."
One note of particular interest is Buehler's home/road splits in his short career:
Home: 2.66 ERA, .567 OPS,  .244 wOBA
Away: 3.66 ERA, .659 OPS, .285 WOBA
Perhaps this is short term variance, or maybe he's extra comfortable pitching on the Dodger Stadium mound – but it's a split worth watching going forward.
On paper, Buehler is the third most-efficient starter in the National League and seems ready to take a step forward, both in terms of performance and usage, as he enters his prime.
He's just outside of the top three in the NL in terms of projected pitching WAR, but an extra 15-20 innings could help to close that gap – especially after recording 5 WAR season in 182.1 IP in 2019.
With the quality of this Dodgers team, 20 wins should be within Buehler's grasp, and I fully expect the Kentucky native to be in this Cy Young race to the end.
I would bet him down to +500.
Trevor Bauer (+5000)
If you're skeptical about the Reds' chances of competing in 2019, notice that 60% of their rotation made this Cy Young shortlist, and they have some exciting breakout candidates at the back of their rotation in Anthony DeSclafani and Tyler Mahle.
Amongst the Reds' top three pitchers, Trevor Bauer has the highest WAR, IP, and strikeout projections. He owns the best peak season in the bunch: a Cy Young worthy 2018 campaign (5.8 WAR) where he only finished behind Justin Verlander (6.6 WAR) and Gerrit Cole (6.0 WAR) in WAR but ranked sixth in voting thanks to just 175.1 IP.
Bauer is one of just four NL pitchers projected to reach 200 IP in 2020, and he owns the second-highest strikeout projection in the senior circuit.
His 2018 campaign was an outlier – and he overperformed with a 2.21 ERA (3.31 xFIP). Still, he remains one of the naturally gifted pitchers on the planet, with his ability to manipulate spin (90th percentile fastball) and velocity.
In 2018, Bauer was a top-ten pitcher by hard-hit rate (29.1%), strikeout rate (30.8%), expected slugging (.313), weighted-on base (.260), and expected weighted-on-base (.264).
He fell to league average by nearly every metric in 2019, regressing to rates that are much more in line with his career average.
Frankly, it doesn't matter which of those metrics (hard hit, wOBA, xwOBA, etc.) I choose to show you – pretty much all of those charts look like this: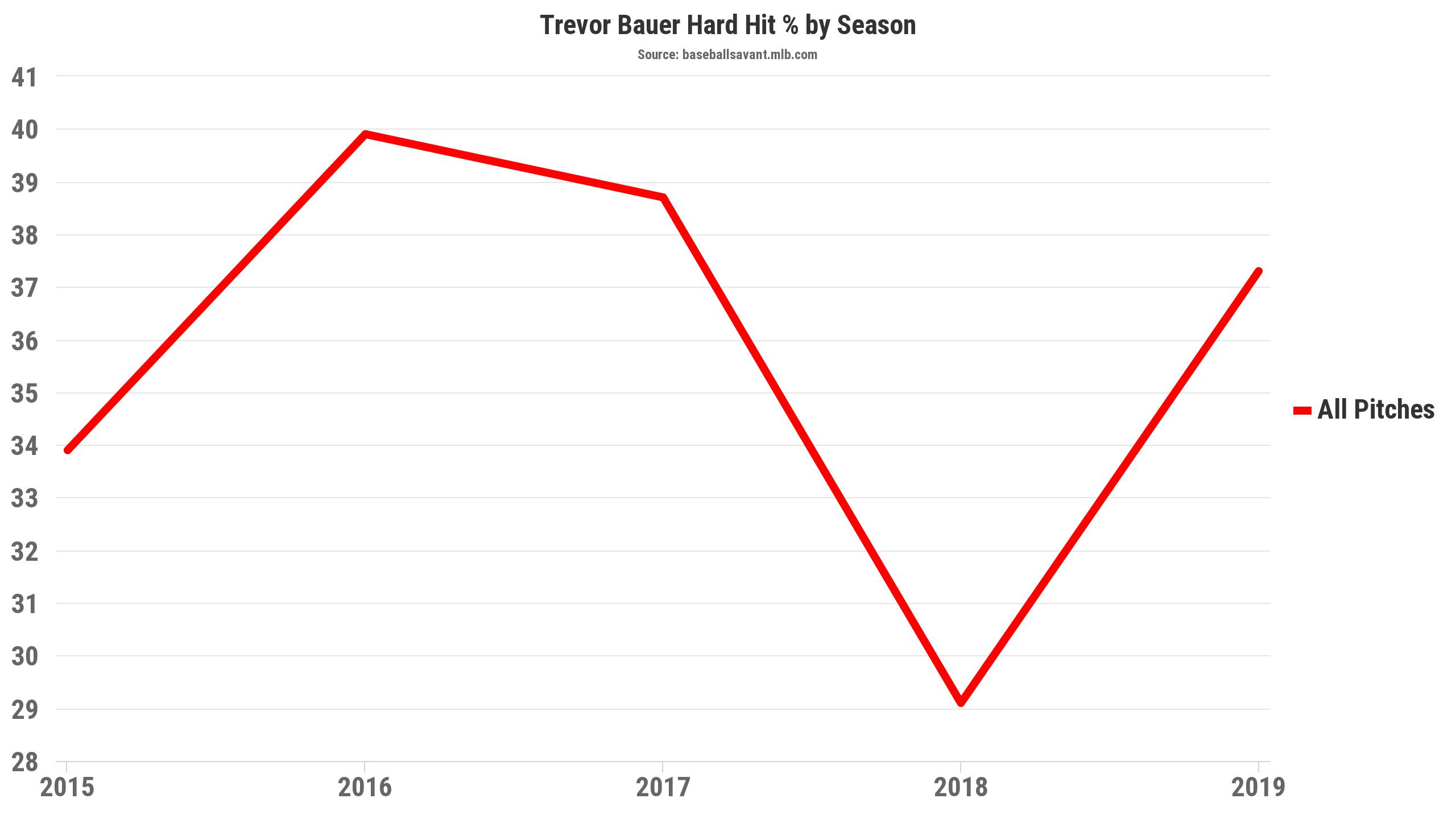 But once someone displays a skill, they own it – even if that looks like a significant outlier compared to the rest of their career.
And when you can spin a baseball like a Wiffle ball, I'll continue to believe that you might find that peak form again:
Bauer tossed a career-high 213 innings in 2019 (6.26 IP per start), and he has made at least 26 starts for six consecutive seasons – showing a level of durability that few other pitchers in this era have been capable of.
He also changed his pitch mix slightly after joining the Reds last July:
March-July: 41% Fastball, 20.5% Curveball, 15% Slider, 15% Cutter, 8.5% Changeup
August-September: 45% Fastball, 20.5% Cutter, 18% Curveball, 11.5% Slider, 5% Changeup
And the Reds brought in Driveline Baseball founder Kyle Boddy this offseason, who has tutored Bauer in pitching science since 2013.
Hiring Boddy could potentially be revolutionary, as the Reds go deeper down the rabbit hole in using advanced data for pitching development than any team has before.
Boddy could be the most significant non-player signing of the entire 2020 offseason, and perhaps of the whole decade.
Bauer has been a proponent of Boddy's methods for a long time, and they have helped him, like other Driveline prospects, to develop better mechanics, throw harder, and stay healthier than their competition.
Does Boddy's hiring mean that we will see a resurgent Bauer, who re-approaches his 2018 level? By itself, of course not.
But it can only help, and Bauer already has the base that you look for in a Cy Young candidate: 200+ projected innings and strikeouts, the fifth-best WAR in the NL, and substantially longer odds than his peers.
The polarizing righty is worth betting down to 25-1.
American League
Taking a walk down narrative street, this is Gerrit Cole's Cy Young to lose.
The newly-minuted highest-paid player in baseball ($36 mil AAV) led MLB in pitching WAR (7.4) in 2020, the second-best AL pitching season since 2010, but lost the Cy Young vote by a narrow margin to his teammate Justin Verlander (6.4 WAR).
The pair are two of three AL pitchers projected to surpass the 200-inning threshold this season, and Cole easily paces the AL field in ERA, FIP, strikeouts, and WAR.
I would imagine that awards voters will likely bypass Astros players this season as a result of the cheating scandal – and Verlander got his award last year. This is Cole's award to lose.
However, there's a couple of pitchers at longer odds who intrigue me, besides Charlie Morton – who sported a 2.81 FIP in 2019 and remains the Rays' most durable pitcher.
Uncle Charlie is worth a small wager at 25-1, but these are the other pitchers I'm backing in the AL:
Shane Bieber (+1600)
When Shane Bieber gets hit, the results have not been pretty – allowing a 90.4 mph exit velocity and 43% hard-hit rate in 2019, which were both within the bottom five percent in baseball.
But he rarely gets hit.
Bieber finished in the 86th percentile in strikeout rate, and in the top five percent in walk rate, with the fifth-best strikeout-minus-walk rate (25.5%) in MLB in 2019 – within one percent of Jacob DeGrom (26.2%).
He owns three pitches (fastball, slider, curveball) that returned an above-average pitch value while displaying impeccable command – with a walk rate (4.7%) on par with Kyle Hendricks (4.4%) and Max Scherzer (4.8%).
And as the healthiest member of Cleveland's rotation, following the Corey Kluber trade and a preseason injury to Mike Clevinger, Cleveland will look to lean on their 24-year-old ace to rack up another 200+ inning campaign in 2020.
Bieber established himself as a top of the rotation arm with a 5.6 WAR season (4th in AL), which was backed up by his underlying metrics (3.32 ERA, 3.25 FIP, 3.17 xFIP).
Look for him to maintain that level, and to potentially take another step forward this season.
I would bet Bieber's Cy Young odds down to 10-1.
Lucas Giolito (+2500)
Like Bieber, Giolito also ranked near the top of the strikeout-minus-walk rate leaderboard (24.3%, 6th), in his long-awaited 2019 breakout campaign.
Baseball's former No. 1 pitching prospect made some mechanical adjustments last offseason and combined that with some changes to his pitch mix and sequencing; thereby refining his command, optimizing his approach, and allowing his whiff rate to explode: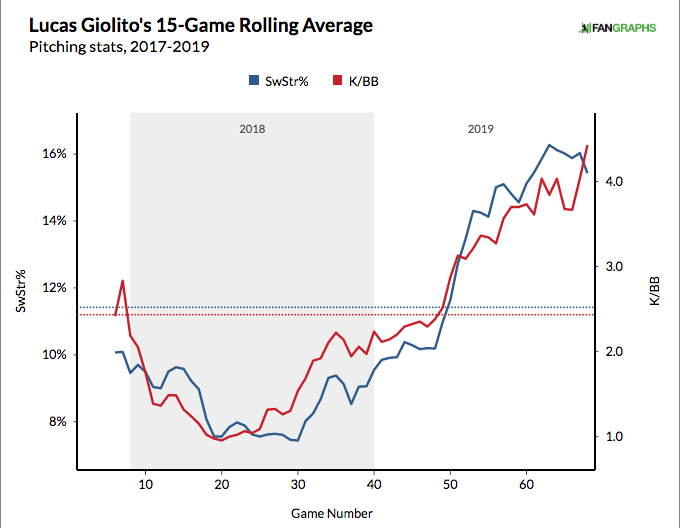 His 15% swinging strike rate ranked sixth in MLB, just behind deGrom (15.4%) and just ahead of Patrick Corbin (14.3%).
And Giolito's improvement only continued as the season went on:
1st Half: 3.21 FIP, 3.94 xFIP, 3.16 K/BB, 20.6% K-BB%
2nd Half: 3.72 FIP, 3.28 xFIP, 5.68 K/BB, 29.1% K-BB%
The 6-foot-6, 245-pound righty looks every bit the part of a Cy Young winner, and his ceiling is virtually unlimited, heading into 2020 coming off of a 5.1 WAR campaign.
However, he has yet to cross the 200-inning barrier (173.1 IP in 2018, 176.2 IP in 2019), and durability will be the first hurdle he needs to clear in entering the Cy Young discussion.
Giolito is worth a Cy Young wager down to 12-1.
Jesus Luzardo (+30000) 
When we last saw Luzardo, aka the Baby Lizard, he was mowing down MLB hitters out of the A's bullpen in October with his triple-digit fastball, deadly changeup, and nasty slider:
Luzardo, who idolized Johan Santana growing up, is a future ace in the making – with his incredible stuff (three plus pitches) and elite command.
He also will not face an innings limit in 2020, but I remain slightly concerned about a couple of injuries (strained rotator cuff, strained lat), which delayed his arrival to the majors last year.
Will the 22-year-old rack up enough innings to put himself in position for this award? Almost certainly not.
However, Luzardo is my No. 1 choice for AL Rookie of the Year – and at 300-1, I can't help but make a small investment on a pitcher who I think can win a couple of Cy Young awards throughout his career.
Health provided, the Baby Lizard should rack up at least 150 innings with excellent ratios and nearly 200 strikeouts.
Johan Santana 2.0 has arrived – and his presence is a big reason why I'm so high on the Athletics chances this season.
How would you rate this article?