Marky's Tuesday Forecast: Watch Out for the Windy City
The Highlights
Globe Life Park in Arlington is taking care of the nice weather while we get a short Coors Field hiatus.
The Windy City may very well live up to its name this evening, with flags blowing in at a nice pace.
A handful of games in the mid-Atlantic region tease us with slight chances of showers.
---
We're back with a nice full slate of baseball after a paltry Monday schedule. However, Tuesday isn't going to bring a bunch of lovely June weather.
Today's forecast is rather uneventful to be honest, with many of the games on tap posting Weather Ratings in the 40-60 range.
Highest Weather Ratings
Athletics at Rangers: 86
Rockies at Reds: 69
Rays at Nationals: 65
After a nice stretch of Coors Field games, the Rockies head on the road for a few games. Don't worry, though, Arlington is going to be picking up the slack as far as the high Weather Ratings go.  Despite a 10-mph wind blowing in, thermometers will be close to cartoonishly erupting, as temps will be over 90 degrees at first pitch.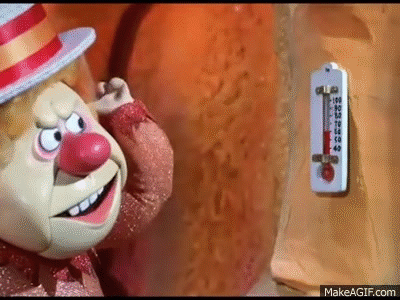 Watch out for dangerous Mercury spills if you're at the ballpark.
Houston would also be boasting a rating above 80, but it appears those at Minute Maid Park will be putting the top up for the game. Babies.
With that said, Cincinnati is holding the second-best spot. Great American Ball Park will be partly cloudy with a chance of skyline chili* and varying winds blowing out. Despite this nice hitting weather, the total has seen some sharp action on the under. Nearly 70% of dollars have caused the total to drop from 9 to 8.5 despite the fact that Anthony DeSclafani is making his first start of the season.
*Spaghetti with chili on top, likely not to fall from the sky.
Lowest Weather Ratings
Diamondbacks at Giants: 37
Phillies at Cubs: 37
Braves at Padres: 44
Tigers at Red Sox: 44
There's nothing too crazy on the low end, but a couple of games will be decent for pitchers.
The baseball gods decided to give Madison Bumgarner a break for his return from the DL, as he gets a pretty standard game at AT&T that will feature temps in the high 50s and winds blowing out, as is almost always the case.
Wrigley Field will be touting some of its famous wind, and tonight it happens to be blowing in from left. We've tracked more than 140 pitchers who have started at Wrigley with a Weather Rating of 40 or below and similar winds, and they've done rather well, posting a Plus/Minus of +1.38 on DraftKings and a consistency of 62.4%. In those same situations outside of Wrigley, they've averaged a Plus/Minus of just +0.45 with a 52.9% consistency, which solidifies the Windy City's impact.
This total has gone from 8 to 7.5 at Pinnacle, but remains at 8 with heavy juice on the under at the majority of offshore sportsbooks.
Rain
I doubt there will be any rainouts, and it's possible that there won't even be a delay tonight. However, a few games do have a chance of a shower or storm passing through:
Dodgers at Pirates
Rays at Nationals
Tigers at Red Sox
Rockies at Reds
Both Pittsburgh and Boston could see rain on the earlier side, while Washington and Cincy would likely see rain later in the game.
How would you rate this article?