Christi's Betting Diary: Balancing Babies and Betting on Baseball
Credit:
Quinn Harris-USA TODAY Sports. Pictured: Chicago Cubs starting pitcher Jose Quintana
Can betting on a sport one doesn't like make it more interesting, even for a stay-at-home mom?
Christi Walsh, a wife and mother of two, intends to find out whether it's possible to balance the duties of a stay-at-home mom while betting for action, starting with Friday's Brewers-Cubs matchup.
This is her sports betting diary.
As you've probably surmised, I am currently a stay-at-home mom. I say currently because I spend a good portion of my time denying that I am a stay-at-home mom, trying to find a job to get away, then realizing I miss my kids and decide that I do want to be a stay-at-home mom.
I'm a minivan away from being Carol Brady and in full denial. It works for me.
But I'm not JUST a stay-at-home mom. Among other things, I'm an avid NFL fan, a fantasy football player, a NASCAR fan and someone who enjoys betting, like so many (probably you since you're reading this article). While I wouldn't consider myself a fan of basketball, I do enjoy betting and sweating all that is March Madness as well.
Sometimes, when I'm feeling exceptionally adventurous, I'll throw a bet down on the NBA. Talk about living on the edge. I'll even grab a beer (or six) and watch the whole game. I can get into basketball, I swear it.
Do you know what I can't get on board with? Baseball. I just can't do it. It's like watching paint dry, or grass grow or my 3-year-old son pick his nose for an hour straight. You get my point.
I don't know why I have such a hard time settling in for a baseball game. Even watching it live does nothing for me. By the second inning, I'm four beers deep and counting down from seven … or is it nine innings? F***, I don't know.
I have such a hard time watching baseball that I have avoided gambling on it altogether. I understand the basic premise of baseball, I just can't get excited enough to want to put money down and then have to be somewhat aware of what's going on in the game.
I mean, I guess I could just throw money around on something that I have absolutely no understanding of, but I'd prefer to leave that to the Redskins.
So here we are. It's a random Friday afternoon and I'm coming around to the fact that I am going to be a stay-at-home mother for the long haul [insert mixed emotion emoji here]. But I NEED something for myself and I honestly couldn't think of a better way to do that than by betting. It's slightly concerning that gambling was my first and best idea, but that's a problem for another day.
Since baseball is on during the day, and there are what feels like 10 million games a season, it looks like I'm just going to have to buck up, put on my big girl pants and jump right into the deep end … watch as I dive in (sorry, "A Star is Born" joke).
Here are my two biggest questions:
Can betting on a sport that you don't generally watch make you a fan?
Is it even possible to be a stay-at-home mom, take care of kids, gamble, watch the game AND know what the hell is going on in said game?
Call me crazy, but I intend to find out.
My first foray into my new adventure was Friday's Brewers-Cubs game, which I decided to bet after reading a piece from The Action Network's Mark Gallant on why money was flowing on the under.
This is my story:
1:30 p.m.: (50 minutes until gametime) Some jackass named Todd put the wrong order in for my 3-year-old's grilled cheese.
I don't know if you know this TODD, but 3-year-olds don't generally eat sourdough Gruyere and tomato grilled cheese.
2:18 p.m.: I feel like I'm supposed to be doing something right now but I have no clue what it is. The game is on ESPN+, but the last time I saw the remote my 10-month-old was chewing the buttons off of it.
2:30 p.m.: So … I missed the first 10 minutes of the game for what I'm now dubbing "The Grilled Cheese Incident of 2019."
2:40 p.m.:  PJ (my husband): How did the first inning go? Me: IDK, I guess everyone struck out. Hey, do you want a gourmet grilled cheese I ordered just for you?
2:45 p.m.: It's the top of the second inning and I am already BORED. On a scale of 1 to AA, how bad would it be if I put RumChata in my coffee?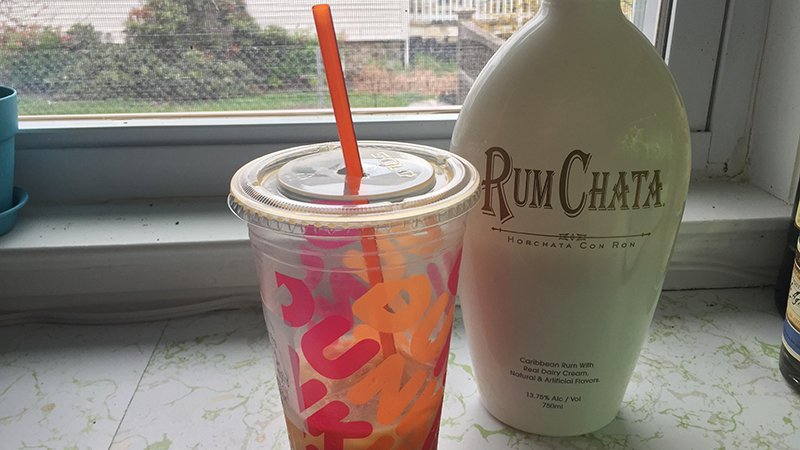 3:00 p.m.: Quietly bribes 3-year-old with marshmallows so I can watch the game and drink my "coffee" in peace
Like a true lunatic, said 3-year-old decides to chug the bowl like Clint Bowyer shotgunning a beer, instead of eating them one by one like every other normal child.
3:15 p.m.: RumChata is effing awesome. The more I drink, the more I like baseball.
3:30 p.m.: I accidentally channeled my inner grandpa and nodded off in front of the TV. No more RumChata for me.
4:15 p.m.: Crap, someone scored and I totally missed it.  Apparently, baseball makes me a better napper. Shocking.
4:16-4:40 p.m.: NOPE. This doesn't look good. YESSS, strikeout. WAIT, nooo. Repeat.
4:41 p.m.: I just remembered I'm babysitting two of our neighbors' kids this evening. I've heard of helicopter parenting, but not sure about the scientific term for sweating baseball bets reeking of RumChata parenting.
>4:45 p.m.: LOOKS LIKE ITS FROZEN CHICKEN NUGGETS FOR DINNER KIDS. Mommy's baseball game is getting interesting.
5:15 p.m.: The 3-year-old girl from across the street tells me she wants mac and cheese with her nuggets.
5:16 p.m.: The 3-year-old girl from across the street tells me that she doesn't want cheese on her mac and cheese.
5:30 p.m.: WHO THE HELL IS THIS PITCHER?
5:35 p.m.: I wonder what ever happened to those kids who where here.
5:45 p.m.: Holy shit! A double-play with two men on base ends the game at 7-0, cashing my under 8.
And back to reality. I may have won the battle of my bet, but our playroom lost the war: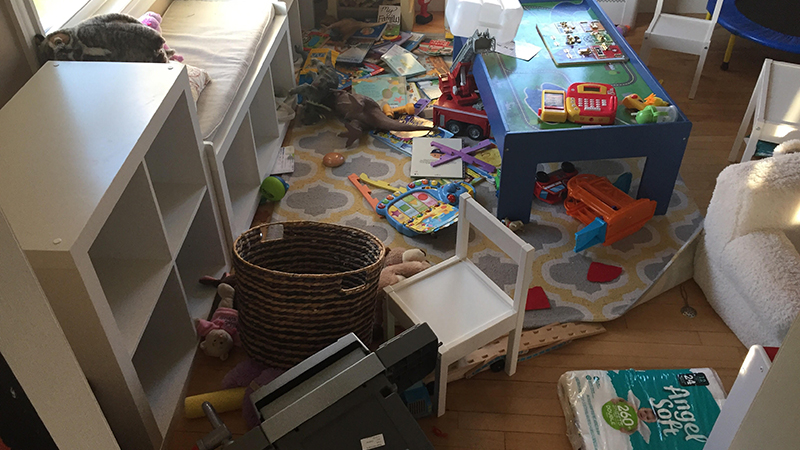 All in all, I would call this experiament a success. I watched more baseball today than I have in my entire life, combined, the kids are still alive and I won my bet.  Here are a few takeaways from my first day baseball game:
-There are, in fact, nine innings in a regular baseball game.
-Baseball is so long, that it can't be all boring, especially when you're sweating the game by one point (is it runs or points?) in the bottom of the eighth.
-Paco Rabanne is probably bankrupt from all the money he put into buying commercial space .
-PJ Walsh is getting Paco Rabanne cologne for Father's Day.