MLB Betting Trends: Surprises From the First Half & Whether or Not They'll Continue
Credit:
Elsa/Getty Images. Pictured: Edwin Diaz and Francisco Lindor.
Congratulations, baseball bettors! We've made it to the All Star break, which means we've reached the midway point of the "labor of love" that is betting this sport.
To commemorate the first half and look forward to the second, I wanted to analyze the most unusual, profitable and avoidable betting trends from the season so far, while looking into whether following or fading those would be strong indicators of things to come.
My biggest helper in this analysis was The Action Network's Sports Insights subscription, which allowed me to build the systems you'll read about below. Action's Bet Labs has the data and tools to analyze historical betting trends from every possible angle.
Unusual 2021 MLB Trends
Mets Home Unders
The National League East is a slog, but the Mets are the kings of it so far. At the halfway mark, New York is clearly the class of the division, and it has stayed on top by winning low-scoring games at home.
At Citi Field this season, the Mets are 28-14 straight-up and 28-13-1 to the under. They combine the best home defense and pitching in baseball — allowing just 2.26 runs per game — with the worst home offense in baseball — scoring just 3.32 runs per game.
Bet or Fade: Between Carlos Carrasco, Noah Syndergaard and David Peterson, the Mets are going to have an army of arms coming off the injured list in the second half. The pitching at home will continue to be the team's strong point, and I'm going to bet this trend until the playoffs.
Rockies Home/Away Splits
The Diamondbacks recently set the record for most consecutive road losses in MLB history at an unimaginable 24. Despite that, Colorado somehow has a worse road record than Arizona, having lost an incredible 34 of 43 away from Coors Field this season.
However, at times, the Rockies have been a competent baseball team. Those times were seemingly all at home, where the Rockies are 31-17 with a +41 run differential.
Colorado has been the most profitable home team in baseball while being the least profitable away team in baseball:
Bet or Fade: The totals for Coors Field are always jacked, and Vegas hasn't adjusted despite the success of the Rockies' starters at home. In 2020, the Rockies were 22-8 to the first five under at Coors, making the total profits from the last two seasons…
It's clear there is an edge here, and I'm going to bet this trend until either the pitchers start to regress or books start to adjust.
Tigers Since May 1
It's impossible to believe, but the Tigers have been a competent baseball team over the past couple months.
But it's also difficult to see. Due to a godawful month of April — during which Detroit went 8-19 with a -58 run differential behind the worst offense, defense and bullpen in baseball — the Tigers' season-long numbers have been dragged down.
So Detroit is almost always the underdog, but it has been a winning team since April ended. That's a winning combination if you're a baseball bettor.
In fact, if you had bet the Tigers in every single one of those games during that stretch, you'd be having a great summer:
Bet or Fade: All the Tigers have done is play league average. While, again, their season-long numbers are depressed, Detroit's numbers since May 1 have been solid. During this stretch, the Tigers rank 15th in wRC+ (101) and 20th in FIP (4.41).
I think the Tigers will continue playing "league average" and betting them will be profitable. However, I have two worries.
The first is that sportsbooks will adjust lines accordingly based on Detroit's recent success. The second, meanwhile, is that the public will start to heavily back the Tigers, thus pushing lines their way. Either situation would take a lot of the value out of backing them.
Underdogs in the Second Game of Seven-Inning Doubleheaders
MLB's decision to stick with the seven-inning doubleheader has been hit-or-miss with most fans. Some love the shortened games, while baseball purists find it infuriating. Personally, I just think fans whose teams tend to win those shorter games are happy with the rule and vice-versa.
That begs the question: Which types of teams win those shorter games?
In short, underdogs.
Author's Note: Using the aforementioned Bet Labs systems, I was able to analyze how underdogs have performed in only the second game of a doubleheader, and unfortunately not the first.
At first, I theorized that 'dogs would perform really well on the +1.5 run line, given that there's two fewer innings for the favorite to extend its lead. That theory turned out to be true, as underdogs have gone 26-10 in the second game of a twin bill this season, and they're 30 games over .500 since the new rules were put into effect:
But while it hits at a high rate, the odds on the run line in shorter games are generally juiced. Instead, just betting the underdog on the moneyline in these situations has been more profitable.
This season, underdogs have gone 21-15 on the moneyline in the second game of seven-inning doubleheaders. Expand that range to the start of last season, and the trend becomes too apparent to ignore:
Bet or Fade: Past pure speculation, I can't speak as to why underdogs have an edge in this situation. My best guess is it has to do with bullpens, wherein underdogs often have a poor relief staff. But, again, that's nothing more than an uninformed assumption.
Personally, however, I'll be betting this trend until they change the rules again.
2021 MLB Team Trends
Most profitable teams at All-Star break
SF 57-32, +20.1 units
SEA 48-43, +19.2
BOS 55-36, +15.0
TB 53-37 +10.6
HOU 55-36, +6.0

Least profitable
NYY 46-43, -10.0
KC 36-53, -12.9
MIN 39-50, -18.3
BAL 28-61, -18.7
ARI 26-66, -33.9 units

Data per @Bet_Labs

— John Ewing (@johnewing) July 12, 2021
Most Profitable Team: San Francisco Giants
This one is obvious.
The Giants' preseason win total was set at 75, and they won 50 of their first 75 games.
Because the Giants are full of surprises, they've been undervalued all season. Kevin Gausman magically turned into an NL Cy Young candidate, Evan Longoria and Buster Posey have turned back the clocks on their career, and Brandon Crawford leads one of the better defensive teams in baseball.
If Mike Yastrzemski could start producing like he did last season, the Giants' offense could become even more dangerous, and the team even more profitable.
Interesting enough, betting them on the run line has been even more profitable. The Giants are 57-32 overall but also 57-32 on the run line. That has added up to a lot of potential winnings for Giants bettors:
Least Profitable Team: Arizona Diamondbacks
I have nothing to say about Arizona. The Diamondbacks will sell at the deadline and still be bad. There's probably only going to be value in betting them to sometimes win at huge plus-money. I'd evaluate Arizona on a game-to-game basis.
Most Profitable Under Team: Washington Nationals
While the Nationals have been getting on base a lot (sixth in batting average at .253, seventh in OBP at .325), they haven't hit for power (21st in ISO at .156) and haven't been driving guys in (23rd in RBI at 349). The Nationals also rank among the bottom-10 teams in runs per game.
However, I don't believe Washington unders will continue hitting at this rate. The offense has been unlucky (.319 wOBA, .336 xwOBA) and there's no reason to have faith in the pitching staff when Patrick Corbin has been horrible (5.40 ERA, 1.40 WHIP, 5.58 xERA) and Stephen Strasburg has been hurt.
Behind Kyle Schwarber's huge surge lately, the Nationals are 11-8 to the over since June 23. Look for more high-scoring Nats games in the second half.
Most Profitable Over Team: Minnesota Twins
The Twins have been a massive disappointment this season. The pitching staff is to blame, having posted the seventh-highest WHIP (1.37) and third-highest FIP (4.71) this season. José Berrios has been fine, but J.A. Happ and Kenta Maeda have not.
Meanwhile, Byron Buxton (when healthy) and Nelson Cruz have been leading a team of mashers. The Twins pace the league in barrel rate (10.3%) while being third in hard-hit rate (42.1%). Thus, they rank third in ISO this season (.186) while being top 10 in both OPS (.748) and wOBA (.323).
I'm expecting the Twins to be sellers at the deadline, so I'm not sure what to expect from them in the second half. The pitching probably won't get better, but could certainly get worse, and Cruz, who's on a one-year, $13 million contract, and others could be moved.
The Underdog Report
MLB underdogs came out of the gates firing. Between Opening Day and May 6, underdogs went 220-242 (47.6%) for a $5,199 profit. Betting only underdogs up until mid-May would have netted you a ROI of over 10%.
But since then, favorites have taken over. Between May 7 and the All-Star break, underdogs have posted a 335-549 record for a $9,892 loss.
Here's that roller-coaster represented graphically: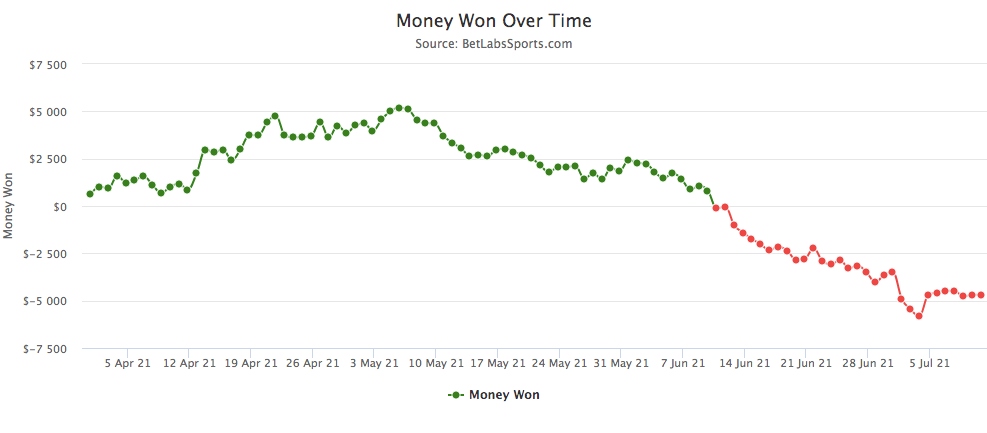 Despite the drastic ups and downs from underdogs as a whole, there have been a few teams that have been consistently profitable as 'dogs this season:
| | | | |
| --- | --- | --- | --- |
| Team | Underdog ML Record | Profit | ROI |
| Mariners | 38-34 | +19.83 units | 27.5% |
| Red Sox | 21-12 | +13.98 units | 42.4% |
| Giants | 21-16 | +11.26 units | 30.4% |
The Red Sox have been wicked profitable in most situations. Not only are they the second-most-profitable underdog, but they're also the third-most-profitable team overall (54-36, +15.01 units) and the most profitable road team in baseball (27-17, +11.17 units).
The biggest question for the Red Sox is the rotation, and there's two sides to that coin. They'll either insert Chris Sale into the rotation and continue rolling, or the starting pitching will heavily regress.
I'm leaning towards the former. The back-half of the rotation is highly questionable (cough Garrett Richards cough), but Nathan Eovaldi has been a legit No. 1 starter and Eduardo Rodriguez is due for some positive regression (5.52 ERA, 3.54 xERA).
If I'm a Red Sox backer, I'd feel comfortable with those two plus Sale as the top three guys.
2021 Starting Pitcher Trends
Most Profitable Pitchers
| | | | |
| --- | --- | --- | --- |
| Pitcher | Team | ML Record | Profit |
| Chris Flexen | Mariners | 12-4 | +9.58 units |
| Casey Mize | Tigers | 10-7 | +9.42 units |
| Logan Gilbert | Mariners | 8-2 | +9.37 units |
| Aaron Civale | Indians | 12-3 | +8.14 units |
It's wild that two Mariners pitchers made the list. Logan Gilbert and Chris Flexen have been pitching better than expected, but I believe this is a product of the Mariners as a whole outperforming their expectations (ex. Most profitable underdog team in MLB this season). It'd be wise to keep an eye on the whole team in the second half.
Meanwhile, the Tigers strike again.
Casey Mize has been so profitable mostly because the Detroit is a massive underdog when he pitches. But he has been serviceable (3.59 ERA, 1.14 WHIP) and the Tigers have been playing well, which is a winning combination.
However, I would expect regression from Mize. He pairs his ERA with an xERA of 5.09, mostly because his batted-ball statistics are poor (9.5% barrel rate, 41.2% hard-hit rate). I'd tread very lightly with Mize in the second half.
Least Profitable Pitchers
| | | | |
| --- | --- | --- | --- |
| Pitcher | Team | ML Record | Profit |
| Jorge López | Orioles | 4-13 | -8.94 units |
| JT Brubaker | Pirates | 4-12 | -7.81 units |
| Luis Castillo | Reds | 6-13 | -7.12 units |
| Carlos Martinez | Cardinals | 5-11 | -7.10 units |
Luis Castillo has been the biggest underperformer of the season, bar none. But it seems Castillo has figured it out recently. Over his last five starts, Castillo has posted a 1.62 ERA and a 1.05 WHIP while holding his batting average against under the Mendoza Line (.197). I will definitely not be fading Castillo any longer.
I was 100% sure that Carlos Martínez was going to make this list. Martínez has been the easiest pitcher to fade all season, and the Cardinals' offensive issues make doing so all the better. Unfortunately, Martínez was recently placed on the injured list with a torn ligament in his thumb, and we shouldn't see him for a significant period of time.
Most Profitable Over Pitchers
| | | | |
| --- | --- | --- | --- |
| Pitcher | Team | Over Record | Profit |
| Andrew Heaney | Angels | 12-2-1 | +9.32 units |
| Julio Urías | Dodgers | 12-4-2 | +7.40 units |
| Jeff Hoffman | Reds | 8-1 | +6.62 units |
It's a bit surprising to see Julio Urías on this list. The Dodgers' lineup is outstanding, but it hasn't been otherworldly and Urías is pitching great. He's walking fewer than 5% of batters faced and has posted just a 1.06 WHIP to complement his 3.64 ERA. Urías has been an unimaginably important and effective piece of the Dodgers rotation, but overs continue to hit for him.
I believe the Dodgers are due for a huge second half offensively, and there's question marks on their pitching staff. I'm expecting Urías will get a lot of opportunities in higher-scoring games, and I'd look to bet this trend — albeit cautiously.
Under Pitchers
| | | | |
| --- | --- | --- | --- |
| Pitcher | Team | Under Record | Profit |
| Casey Mize | Tigers | 12-3-2 | +8.02 units |
| Joe Ross | Nationals | 11-3-1 | +7.67 units |
| John Gant | Cardinals | 11-3 | +7.00 units |
John Gant is an amazing case study. Gant has been the biggest regression candidate all season, combining his 3.57 ERA with a 6.11 xERA. The difference between his ERA and xERA (2.54) is the fifth-largest among qualified pitchers.
Gant walks as many batters as he strikes out (6.62 BB/9, 6.75 K/9) and has posted a ridiculous 1.60 WHIP this season. Gant allows a lot of traffic, but he continues to escape every jam he gets into. As a Gant fader and over bettor, he's been infuriating to watch.
The regression machine was supposed to come for Gant by now, but it hasn't. I want to fade him every chance I get, but I simply refuse until I understand what is happening.
It's worth mentioning this trend is partially due to the Cardinals' offensive woes. Since June 1, the Cardinals have posted the third-worst OPS (.648) and second-worst wOBA (.284). Gant can allow seven runs, but it doesn't matter if the Cardinals can't plate anyone.
First Five Innings Starting Pitcher Trends
While looking at full-game trends for starting pitchers is interesting, it's often not reflective of the pitcher's performance or influence on the result. However, pitching performance on first five innings bets can often tell us more.
Three pitchers stood out in particular.
Yusei Kikuchi: I have long been a Kikuchi fan, and it was gratifying to know that he's been the most profitable pitcher on the first five moneyline this season:
Kikuchi has been on a roll. He struggled in early 2021 and had a poor outing his last start, but has otherwise been fantastic. In seven starts between May 24 and July 1, Kikuchi posted a 1.87 ERA and a 0.94 WHIP while the Mariners went 7-0 in the first five innings.
His cutter-fastball mix is working, as he's allowing a wOBA under .300 on the two pitches. With the rumor that the Mariners won't be moving him at the deadline, I'm all-in on Kikuchi having a huge second half and continuing to cash for Mariners first-five bettors.
Jake Arrieta: On the complete opposite end of the spectrum, the corpse of Arrieta is having a miserable year. As such, Arrieta has been the least-profitable pitcher on the first five moneyline this season:
There's no choice but to continue to fade Arrieta. He's among the bottom nine percent of qualified pitchers in:
Average Exit Velocity (91.4 mph)
Hard-hit Percentage (47.7%)
xBA (.285)
xSLG (.521)
xwOBA (.379)
xERA (6.18)
He's also walking more batters than he ever has in his illustrious career (10.4%). Arrieta simply shouldn't be in the Cubs' rotation. But if they continue to throw him out there, we have to capitalize on it.
Sandy Alcantara: Personally, I believe the Marlins are a good team. However, the pitching staff is entirely responsible for their success, with the rotation proving to be overwhelmingly solid.
Perhaps the best Marlins pitcher has been Alcantara. He isn't just pitching well, but he's also pitching deep into games, having thrown at least six innings in 15 of 19 outings and eight innings in four of his last nine starts.
Considering he's pitching well and deep into games, it's easy to see that Alcantara is 13-5-1 to the first five innings under this season.
Combine Alcantara pitching well for so many innings with the Marlins offensive struggles, and the first half under becomes very interesting. This is a trend I'm willing to bet until the Fish figure it out offensively.
How would you rate this article?
This site contains commercial content. We may be compensated for the links provided on this page. The content on this page is for informational purposes only. Action Network makes no representation or warranty as to the accuracy of the information given or the outcome of any game or event.