Zerillo's MLB Daily Betting Model, 8/9: Dodgers, Buehler Overvalued vs. D-Backs?
Credit:
Ron Chenoy-USA TODAY Sports. Pictured: Walker Buehler
Sean Zerillo's MLB model helps you find edges when betting moneylines and over/unders for the full game and first five (F5) innings.
He analyzes Friday's slate of games, including how to bet Angels-Red Sox (7:10 p.m. ET) and Diamondbacks-Dodgers (10:10 p.m. ET).
Plug in your odds to the spreadsheet at the bottom of this article to see where you might have an edge.
Two struggling offenses will take the field in Boston on Friday when the Red Sox (61-56) and Angels (56-60) continue their four-game series into the weekend.
Boston won 3-0 on Thursday on the back of 13 strikeouts from Chris Sale, but they have averaged just 3.9 runs scored per game over a 2-9 stretch since the Yankees demolished sale on the July 28 edition of Sunday Night Baseball.
The Angels have gone into a 2-11 tailspin after sweeping the Dodgers on July 24, scoring a meager 2.3 runs scored per game amid a seven-game losing streak. With the current state of the Halos offense, they'll need another strong outing from Jaime Barria on a Friday to win at Fenway Park.
First, let's recap Thursday's wacky slate, which featured Reds infield Kyle Farmer throwing the ball so slowly that it wasn't registering on the stadium gun:
Reigning NL MVP runner-up Javy Baez decided to take things easy on Farmer, turning into a switch hitter for one night only:
NBA legend Bill Walton was a delight in San Diego on Grateful Dead Tribute Night:
Though he did cause a bit of a non-weather related delay:
Recapping Yesterday's MLB Model
At writing yesterday, the model would have gone 3-1 against full-game moneylines and 1-1 against moneylines for the first five innings (F5).
As of writing, the 3.5% trigger threshold officially marked the Blue Jays, Giants, Marlins, and Padres as full-game plays. The model also likes the Blue Jays and Marlins as F5 plays.
My plays went 3-2, and I finished up 0.83 units for the day.
It was a mixed day in terms of generating Closing Line Value (CLV).
I only gained one penny overall against the four sides that I played, losing as much as 10 cents against the Marlins moneyline (+175 to +185), while gaining 13 cents against the Blue Jays moneyline (+183 to +170).
I also finished even with the one total that I played in Miami; under 8.5 (-110), which the Marlins covered on their own in a 9-2 victory.
MLB Betting Model for Friday, August 9
All odds as of Friday afternoon (view live MLB odds). Stay tuned on Twitter or follow me in The Action Network App for my entire betting card for Friday. 
Today, the model recommends seven full-game moneylines and six moneylines for the first five innings (F5).
As of writing, the 3.5% trigger threshold officially marked the Angels, Blue Jays, Giants, Marlins, Orioles, Padres and Tigers as full-game plays. The model also likes those same teams, except for the Marlins, as F5 plays.
A couple of plays that I had locked in at better prices narrowly missed the cut as of writing.
I played the Mariners F5 moneyline at the opening number with a couple of lefty starters going in that game.
For the season, the Mariners rank seventh in wRC+ against lefties while the Rays rank 13th. Since the beginning of June, the Mariners are fifth, and the Rays are ninth.
Marco Gonzales is also a steady F5 pitcher, going 32-23-6 (58.2%, +$900, 15% ROI) over the past three seasons. More importantly, all of that profit has come as an underdog (19-12-2, 61.3%, +$1,073, 32% ROI), and this is only the eighth time that Gonzales will be an F5 underdog at home
I played the Diamondbacks near their peak value, but they still fit several profitable trends on Friday, and I would consider them to be playable down to about +160.
As for the model recommended plays, I opted to combine the Orioles with a profitable underdog spread system instead of playing their moneyline against the Astros:


Despite their loss yesterday, I had no reservations about playing the Blue Jays against the Yankees once again. Thursday's loss might put Toronto in an even more profitable spot on Friday:
Blue Jays starter Sean Reid-Foley is also an intriguing arm to watch. The former second-round pick has big swing and miss, with his plus fastball topping out at 97 mph:
However, in addition to high strikeout rates in the minor leagues, he has also walked 76 batters in 103.2 innings between Triple-A and MLB this season, so his command remains a significant issue; but he does have mid-rotation upside.
The Marlins are in a super contrarian spot today coming off of a win against the Braves but with their best starter in Caleb Smith facing Julio Teheran. In a head-to-head battle, I'll take Smith every time:
Caleb Smith: 3.35 ERA; 4.19 FIP; 4.16 xFIP; 3.93 SIERA; 13.9% SwStr%
Julio Teheran: 3.46 ERA; 4.47 FIP; 5.26 xFIP; 5.13 SIERA; 9.4% SwStr%
Though Smith's fastball velocity is down from 2018, he has increased the swing and miss rate on his fastball by over four percent this season, and batters have increased their chase rate on his changeup by 12%:
Jaime Barria is a pitcher who I have watched closely since his premature MLB debut in early 2018. The 23-year-old Panama native has an  illustrative pitch usage chart: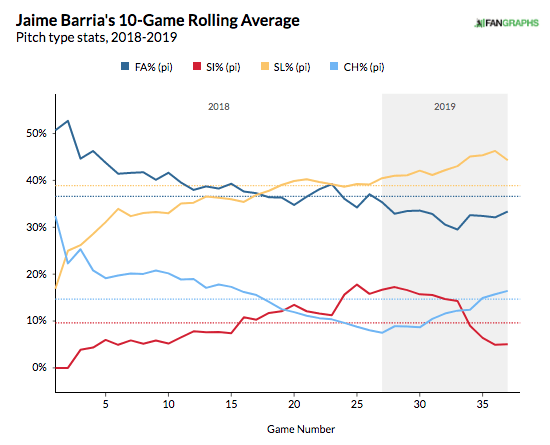 Barria has good command, but his fastballs (average 91.7 mph) are subpar, so he has thrown his four-seam fastball less and less since his debut (all but eliminating his sinker in the process too) while increasing his rate of sliders – making it his dominant pitch.
In his past seven outings (five starts) Barria has had the following pitch mix:  slider (43%), fastball (39%), changeup (18%); posting a healthy 17.6% K-BB% in the process.
In 2018, Barria outpitched his underlying metrics, with a 3.41 ERA (4.58 FIP, 4.99 xFIP) in 26 starts. In 2019, his 6.36 ERA should regress towards his 4.92 xFIP – which is likely Barria's current talent level.
Allowing 2.31 homers per nine innings on a 19% HR/FB rate has crushed Barria's bottom line this season, but he's still a young kid with plenty of runway to improve.
His opponent, Brian Johnson, is 28-years-old and has comparable numbers to Barria through 147 MLB innings. With a career 8.4% swinging strike rate he will need his control to be pinpoint against the offense that strikes out least (17.9%) and walks the third-most (10.1%) often against left-handed pitchers.
Bets (So Far) for August 9
Arizona Diamondbacks (+180) Game Moneyline
Baltimore Orioles (+1.5, +155) Game Spread
Los Angeles Angels (+150) Game Moneyline
Miami Marlins (+134) Game Moneyline
Oakland Athletics (-1.5, -120) Game Spread
San Diego Padres (-141) Game Moneyline
San Francisco Giants (+102) Game Moneyline
Seattle Mariners (+125) F5 Moneyline
Toronto Blue Jays (+141) Game Moneyline
Under 9.5 (-120), Tampa Bay at Seattle
Under 10.5 (-110), Houston at Baltimore
Under 12 (-115), LA Angels at Boston
Stay tuned on Twitter or follow me in The Action Network App for my entire betting card for Friday, August 9.
Zerillo's Full MLB Model, 8/9
Download the Excel doc with my projections to input odds from your sportsbook. These projections cover the full game and First 5 moneylines and over/unders. A sample of one of the sheets is below.
How would you rate this article?