Zerillo's MLB Daily Betting Model, Aug. 20: Will Aaron Nola Defeat Red Sox at Fenway Park?
Credit:
Eric Hartline, USA Today Sports.
Sean Zerillo's MLB model helps you find edges when betting moneylines and over/unders for the full game and first five (F5) innings.
He analyzes Tuesday's slate of games, including how to bet Nationals-Pirates (7:05 p.m. ET) and Phillies-Red Sox (7:10 p.m. ET).
Plug in your odds to the spreadsheet at the bottom of this article to see where you might have an edge.
The moneyline for the Phillies-Red Sox clash on Tuesday night is essentially set as a pick'em, which I found as a surprise with Aaron Nola going up against Brian Johnson.
Who knows where the Red Sox motivation will be, six games out of a wild card spot, now that Chris Sale has been shut down for the season. And his rotation replacement leaves much to be desired.
Johnson has a 6.45 ERA, 5.95 FIP, and 5.99 xFIP in 22 innings in 2019; only slightly worse than his career numbers: 153 IP, 4.90 FIP, 5.05 xFIP.
While Aaron Nola struggled earlier in 2019, he has a 5-1 record and 2.47 ERA since the beginning of July.
Are those struggles behind him, and is he worth backing on the road in Boston?
Recapping Yesterday's MLB Model
At writing yesterday, the model would have gone 2-0 against full-game moneylines and 0-0 against moneylines for the first five innings (F5).
My plays went 3-3, and I finished up 0.47 units for the day.
It was a mixed day in terms of generating Closing Line Value (CLV).
I gained 21 cents against the Padres moneyline (+151 to +130) and a combined 105 cents on the two legs of my parlay (Arizona from -170 to -210; Houston from -370 to -435), while losing 10 cents against the White Sox moneyline (+190 to +200).
I lost 10 cents each on the Angels-Rangers and Nationals-Pirates unders but did see the Mariners-Rays under drop from 8.5 to 8.0.
MLB Betting Model for Tuesday, August 20
All odds as of Tuesday morning (view live MLB odds). Stay tuned on Twitter or follow me in The Action Network App for my entire betting card for Tuesday.
Today, the model recommends four full-game moneylines and two moneylines for the first five innings (F5).
As of writing, the 3.5% trigger threshold officially marked the Diamondbacks, Marlins, Phillies and White Sox as full-game plays. The model also likes the Diamondbacks and Tigers as F5 plays.
Numerous other teams, including the Athletics and Nationals, just missed the cut; showing edges between two to three percent when I played those games.
The Diamondbacks are my favorite bet for today, as I played them both on the F5 and full game moneyline.
Note that both the Diamondbacks and Rockies are throwing left-handed starters, and while Arizona has a top-three offense against southpaws, Colorado ranks in the bottom 20. Diamondbacks hitters also have a combined OPS over .950 against Kyle Freeland.
---
You can read about that pick in further detail as part of our Staff Favorite Bets for Tuesday.
---
I'll be on the White Sox for the second consecutive day at big plus-money. I discussed Reynaldo Lopez (and Arizona starter Alex Young), in my full writeup on August 10.
In that article, I noted how Lopez's fastball velocity has trended upwards throughout the 2019 season. In his two starts since then, his fastball averaged 97.0 mph, and 97.9 mph; a career-high and a full 2.5 mph above his 2019 average.
Since the All-Star break, Lopez has averaged 96.8 mph on his fastball, tied with Jacob deGrom for the third-best mark amongst starters; behind Noah Syndergaard (98 mph) and Gerrit Cole (97.5 mph) and ahead of Walker Buehler (96.5 mph)
However, Lopez throws his secondary stuff significantly slower than those aces, likely impacting his overall effectiveness. Lopez's slider, curveball, and changeup are 2.0 mph, 3.1 mph, and 4.1 mph slower, respectively, to their closest counterparts thrown by Buehler, Cole, deGrom, or Syndergaard.
Heres how these pitchers stack up in terms of fastball vs. changeup velocity difference:
Buehler: 4.9 mph
Syndergaard: 6.2 mph
deGrom: 7.2 mph
Cole: 7.6 mph
Lopez: 11.3 mph
Lopez's changeup is his worst pitch on a per-pitch basis, as there is far too noticeable a velocity gap from his fastball.
That being said, his swinging strike rate is up 1.5 %, and his rate of contact in the zone is down nearly 5% since the All-Star break; so if Lopez can continue to live at this higher velocity he will remain effective regardless of his changeup quality.
He owns one of the best fastballs in the game, and with further refinement, his arm retains All-Star potential.
Aaron Nola has had an up and down season for the Phillies. He was getting a lot of Cy Young hype coming into 2019 but struggled early with a 5.68 ERA, 5.49 FIP, and 4.38 xFIP through April.
Over his past 11 starts, Nola has a 2.09 ERA, but that still comes with a 3.56 FIP and 3.72 xFIP; a step back from his two year run through 2017-2018 (2.89 ERA, 3.13 FIP, 3.29 xFIP).
Nola's first-pitch strike rate has fallen by 8% from 2018, and his swinging-strike rate is down by 2.4%, but I don't see any truly concerning signs in his skills or velocity.
At the beginning of the 2019 season, opposing offenses were refusing to swing at his pitches, both inside and outside of the zone: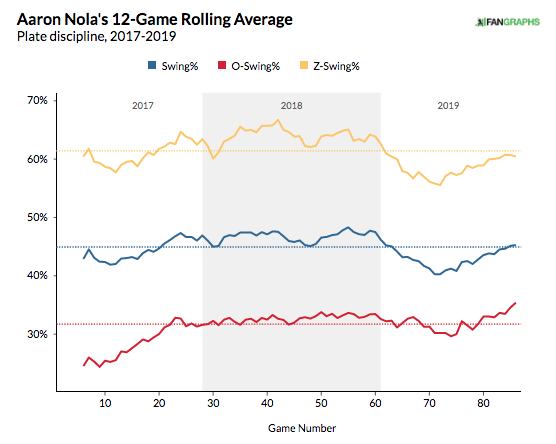 As you can see, that trend started to turn in the middle of this season, leading to the recent uptick in performance.
On a per pitch basis, Nola's curveball still ranks as a top 10 curveball this season; though it has declined slightly in pitch value after ranking second for each of the past two years.
However, over the past two months, Nola's curve is back to 2017-2018 pitch value levels:
I don't know if Nola will ever hit the Cy Young caliber level that many people expected in 2019, but I do think that he is going to remain a consistent Top 25 starter in this game for quite a few years.
The Phillies have a big edge in the pitching matchup, and I have their fair odds set at -125.
Lastly, I would note that if the Angels take Game one of their doubleheader, I will be looking to bet them as a favorite in Game two, regardless of whether I see line value.
Playing the chalk in game two of a doubleheader is an optimal betting strategy, per my colleague John Ewing;  particularly if the favorite is on the road.
Bets (So Far) for August 20
Arizona Diamondbacks (-140) F5 Moneyline
Arizona Diamondbacks (-147) Game Moneyline
Chicago White Sox (+205) Game Moneyline
Kansas City Royals (+107) Game Moneyline
Philadelphia Phillies (-109) Game Moneyline
Oakland Athletics (+129) Game Moneyline
Washington Nationals (-150) Game Moneyline
Under 10 (-105), Brewers at Cardinals
Under 9.5 (-110), Tigers at Astros
Stay tuned on Twitter or follow me in The Action Network App for my entire betting card for Tuesday, August 19.
Zerillo's Full MLB Model, 8/20
Download the Excel doc with my projections to input odds from your sportsbook. These projections cover the full game and First 5 moneylines and over/unders. A sample of one of the sheets is below.
How would you rate this article?