Zerillo's MLB Daily Betting Model, 8/3: Trust Bumgarner vs. the Rockies?
Credit:
Kyle Terada, USA Today Sports. Pictured: Madison Bumgarner
Sean Zerillo's MLB model helps you find edges when betting moneylines and over/unders for the full game and first five (F5) innings.
He analyzes Saturday's slate of games, including how to bet the Yankees-Red Sox doubleheader.
Plug in your odds to the spreadsheet at the bottom of this article to see where you might have an edge.
The Red Sox opted to start Chris Sale against Domingo German in the first leg of a rivalry doubleheader on Saturday afternoon, pushing Brian Johnson to the Saturday evening game against Chad Green and the Yankees bullpen.
Sale and German squared off on July 28 on Sunday Night Baseball in Boston, with Sale surrendering six runs on two homers in a 9-6 loss.
With the Red Sox sitting 11.5 games behind the Yankees, the AL East is likely out of reach; but the wild card is slipping away too. Tampa Bay is four games clear of Boston, with Oakland on their tail by a half-game; so the Red Sox are going to need to leapfrog a couple of good teams to make the postseason with a chance to defend their World Series crown.
One of the best moments of the 2019 season happened last night.
The Phillies mostly ran out of players in a 15-inning game against the White Sox, forcing pinch-runner-pitcher Vince Velasquez into the outfield, with center fielder Roman Quinn going to the mound.
The result was nothing short of magic:
The game-saving outfield assist in the 14th inning came in at 94.7 mph – Velasquez averages 94.5 mph off of the mound.
It looked like he had another game-saving throw in the 15th inning (it looks above like the catcher got the runner on the arm), but the call was too close to overturn.
The diving grab on the next play had a catch probability of 15% – as Velasquez had to cover 33 feet in 2.8 seconds.
The odds of all of these things happening in the same game? I'd say about one in 220,000 – because that's roughly how many MLB games have been played in history; and it could be another 150 years before we see something like this again.
Recapping Yesterday's MLB Model
At writing yesterday, the model would have gone 2-2 against full-game moneylines and 2-2 against moneylines for the first five innings (F5).
My plays went 3-3, and I finished down 0.22 units for the day.
It was a mixed day in terms of generating Closing Line Value (CLV).
I lost a couple of pennies on Pittsburgh's moneyline (+102 to +104), the only side that I played.
The Dodgers-Padres under moved against me, rising from 8.5 to 9.0, but the Red Sox-Yankees under dropped from 10.5 to 10.0, and I both gained five cents and lost five cents on the other two totals that I played.
MLB Betting Model for Saturday, August 3
All odds as of Saturday afternoon (view live MLB odds). Stay tuned on Twitter or follow me in The Action Network App for my entire betting card for Saturday. 
Today, the model recommends five full-game moneylines, and six moneylines for the first five innings (F5). 
As of writing, the 3.5% trigger threshold officially marked the Giants, Mariners, Orioles, Royals, and White Sox as full-game plays. The model also likes the Mariners and Royals, in addition to the Cubs, Marlins, Red Sox (Game 1), and Tigers as F5 plays.
I was also able to lock in the Diamondbacks and Reds at prices where they triggered as recommended plays by the projection. Those lines have come down, and while I do think each still makes for a viable underdog on Saturday, I would offer a word of caution on both.
The Nationals rank 6th in MLB with a 112 wRC+ against southpaws. Meanwhile, the Diamondbacks rank 21st against righties with a 90 wRC+, so Stephen Strasburg (3.18 xFIP, 4th in MLB) certainly has the better matchup than Robbie Ray (3.67 xFIP, 20th)
Trevor Bauer will make his first start with the Reds after being traded, and who knows where his head will be at:
I think we see Bauer in full shove it mode today,  with him looking to make a big statement with his new team now that the pressure of wondering whether he would be traded has finally passed.
It's been a rough season for Bauer, but his velocity and pitch mix is very similar to 2018.  In case you forgot how dominant he could be at his peak, here's a reminder:
That being said, I also bet the over 8.5 in that game, as I projected the total for 9.5 runs.
As for the Red-Sox-Yankees doubleheader, if you want a preview for the Game 1 pitching matchup, you should go back and read our July 28 Sunday Night Baseball Betting Guide.
I trusted Sale in the revenge spot here and showed some value on him on the F5 moneyline.
The Yankees lineup was near its peak (sans Giancarlo Santon) a couple of weeks ago with Luke Voit and Gary Sanchez both in there – but without those two power hitters, they lose a lot of length to their lineup.
With Cameron Maybin, Kyle Higashioka, and Bryce Valera batting sixth through eighth against Sale, this Yankees lineup isn't nearly as fearsome as what they sent to London.
Unfortunately, this doesn't look like this will be a doubleheader that fits ideal doubleheader betting strategy, since the Yankees look like a clear favorite in Game 2.
Note that Chad Green is 6-0-2 against the F5 moneyline, and the Yankees are 8-0 (+$618, 77% ROI) when he has served as an opener.
Brian Johnson has typically shuttled between Pawtucket and the Red Sox MLB roster depending on pitching depth needs. The 28-year-old lefty has compiled a 4.54 ERA (4.79 FIP, 4.96 xFIP) over 144.2 MLB innings.
Considering that his fastball is below 90 mph, it's probably smart that he throws his curveball and slider a combined 60% of the time.
The fastball (-10.3) has produced a high negative value in his career, while the breaking balls and changeup each show slightly negative value.
If Sale gets hit in Game One and the Red Sox have to empty out their bullpen, I would look to bet the over in Game Two as they will need pure length out of Johnson by that point – Boston's next off-day is August 15.
In addition to Robbie Ray and Chris Sale, I backed three other lefty starters ones today Cole Hamels, Madison Bumgarner, and Matt Boyd.
Hamels had a blip in 2017 with the Rangers, where he posted a 4.62 FIP by striking out fewer than 20% of batters, with a swinging strike rate below 10% for the first time in his career.
His numbers rebounded in 2018, and have carried over into 2019, as most of Hamels' metrics, including his FIP (3.59 vs. 3.66) and K-BB% (15% vs. 16.2%) align with his career averages.
He returns from an oblique injury on Saturday, serving as a pseudo-trade-deadline addition for this Cubs rotation – who has struggled to find depth with backend starting pitching from their minor leagues.
His money-pitch is his changeup, which has netted him a value of +202 throughout his career.
Johan Santana (+132) and Felix Hernandez (+131) are his closest offspeed contemporaries.
Similar to Hamels, Madison Bumgarner had one blip season in 2018, where his swinging strike rate fell below 10% for the first time since 2013.
I think it's safe to say that he has been trending in the right direction since that time: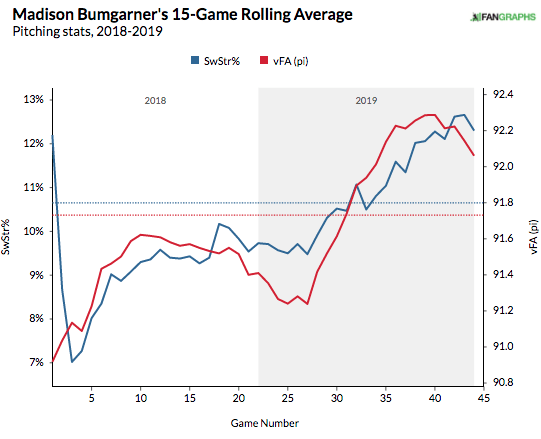 I'm going to continue to back Matt Boyd on the F5 moneyline, despite the fact that the Tigers are now 10-41 since the beginning of June.
Boyd is 8-10-4 on the F5 moneyline this season, and 11-11 against the F5 spread (7-6 as an underdog), but I was very extremely surprised to see him as a more significant underdog on the F5 moneyline than the full-game moneyline for Saturday.
Boyd ranks as a top 10 starter by xFIP and top 20 by FIP and xWOBA. Rangers starter
Rangers starter Adrian Sampson has a wild home (3.36 ERA, .323 wOBA) vs. road (7.91 ERA, .427 wOBA) splits, but projection systems and his career FIP suggests than he is a pitcher who should own an ERA of around 5.30.
So, I backed Boyd and the Tigers both on the F5 moneyline and spread, and I'll hope to go 1-0-1 at worst.
Bets (So Far) for August 3
Arizona Diamondbacks (+135) Game Moneyline
Boston Red Sox (-125) F5 Moneyline
Cincinnati Reds (+126) Game Moneyline
Chicago Cubs (-120) F5 Moneyline
Detroit Tigers (+115) F5 Moneyline
Detroit Tigers (+0.5, -120) F5 Spread
San Francisco Giants (+120) Game Moneyline
Over 8.5 (-115), Reds at Braves
Over 9.5, (-110), Tigers at Rangers
Under 10.5 (-115), Mariners at Astros
Stay tuned on Twitter or follow me in The Action Network App for my entire betting card for Saturday, August 3.
Zerillo's Full MLB Model, 8/3
Download the Excel doc with my projections to input odds from your sportsbook. These projections cover the full game and First 5 moneylines and over/unders. A sample of one of the sheets is below.
How would you rate this article?