Zerillo's MLB Daily Betting Model, Aug. 19: Count On Zac Gallen's Arm in Diamondbacks-Rockies?
Credit:
Ron Chenoy-USA TODAY Sports. Pictured: Zac Gallen
Sean Zerillo's MLB model helps you find edges when betting moneylines and over/unders for the full game and first five (F5) innings.
He analyzes Monday's slate of games, including how to bet Rockies-Diamondbacks (9:40 p.m. ET).
Plug in your odds to the spreadsheet at the bottom of this article to see where you might have an edge.
The Astros (79-46) and Tigers (37-84) begin a series today; a matchup between the World Series favorite and arguably the worst team in baseball; both by record and offensive production.
Respectively, the two teams have the second-highest (+178) and second-lowest (-237) run differentials this season, behind only the Dodgers (+210) and Orioles (-261).
AL Cy Young hopeful Gerrit Cole (14-5, 2.87 ERA) was originally slated to start against Edwin Jackson (3-5, 8.62 ERA) this evening; and if so the Astros might have been the biggest moneyline favorite in baseball history with a line north of -500.
Instead, lefty Wade Miley (11-4, 3.11 ERA) will take the ball for the Astros, who are listed as a -400 favorite by some books.
Though the Tigers have an abysmal 101-182 (35.7%) record since the beginning of 2018, they are 29-39 (42.6%) against left-handed starters and have turned a three-unit profit on the moneyline against southpaws over that span.
They do hit lefties (86 wRC+, 25th) slightly better than they hit righties (74 wRC+, 30th) but Miley has been one of my favorite pitchers to back over the past two seasons (29-12, +$1,065, 26% ROI) and I'm willing to use the Astros against Jackson (8.13 FIP) as a parlay piece.
Who should we pair them with?
Recapping Yesterday's MLB Model
At writing yesterday, the model would have gone 1-3 against full-game moneylines and 0-2 against moneylines for the first five innings (F5).
My plays went 6-2, and I finished up 2.23 units for the day.
It was a mixed day in terms of generating Closing Line Value (CLV).
I gained four cents overall against the sides that I played, netting as much as 20 cents against the Astros spread (-110 to -130) while losing as much as 15 cents against the Reds moneyline (+149 to +164).
MLB Betting Model for Monday, August 19
All odds as of Monday morning (view live MLB odds). Stay tuned on Twitter or follow me in The Action Network App for my entire betting card for Monday.
Today, the model recommends two full-game moneylines and zero moneylines for the first five innings (F5).
As of writing, the 3.5% trigger threshold officially marked the Padres and White Sox as full-game plays.
I selected both of those plays, but I first want to finish off that Astros parlay.
The two candidates that I looked closest at were the Diamondbacks and Rays, but I ultimately settled on Arizona due to the big discrepancy in their pitching matchup.
I won't continue to harp on Zac Gallen, but he is proving to be a polished young arm (3.37 FIP in nine starts) who I really enjoy betting on due to his consistency.
Meanwhile, Chi Chi Gonzalez has pitched in 23 career MLB games and the results have been uninspiring (5.03 ERA, 5.51 FIP, 5.53 xFIP). He has allowed 14 walks against 16 strikeouts in 24.2 IP this season while allowing one home run for every four innings pitched.
Chi Chi's 5.53 xFIP this season matches his 5.31 xFIP over 16 games earlier this year at Triple-A. I was able to play Arizona at -170 but would have them lined at about -190 or higher; and a parlay with the Astros came out around even money.
As for the model recommended plays, the Padres made the cut ever so slightly, but I'll take another shot against Trevor Bauer in what has been a strange 2019.
Through three starts with Cincinnati, I can't detect any noticeable change to Bauer's arsenal: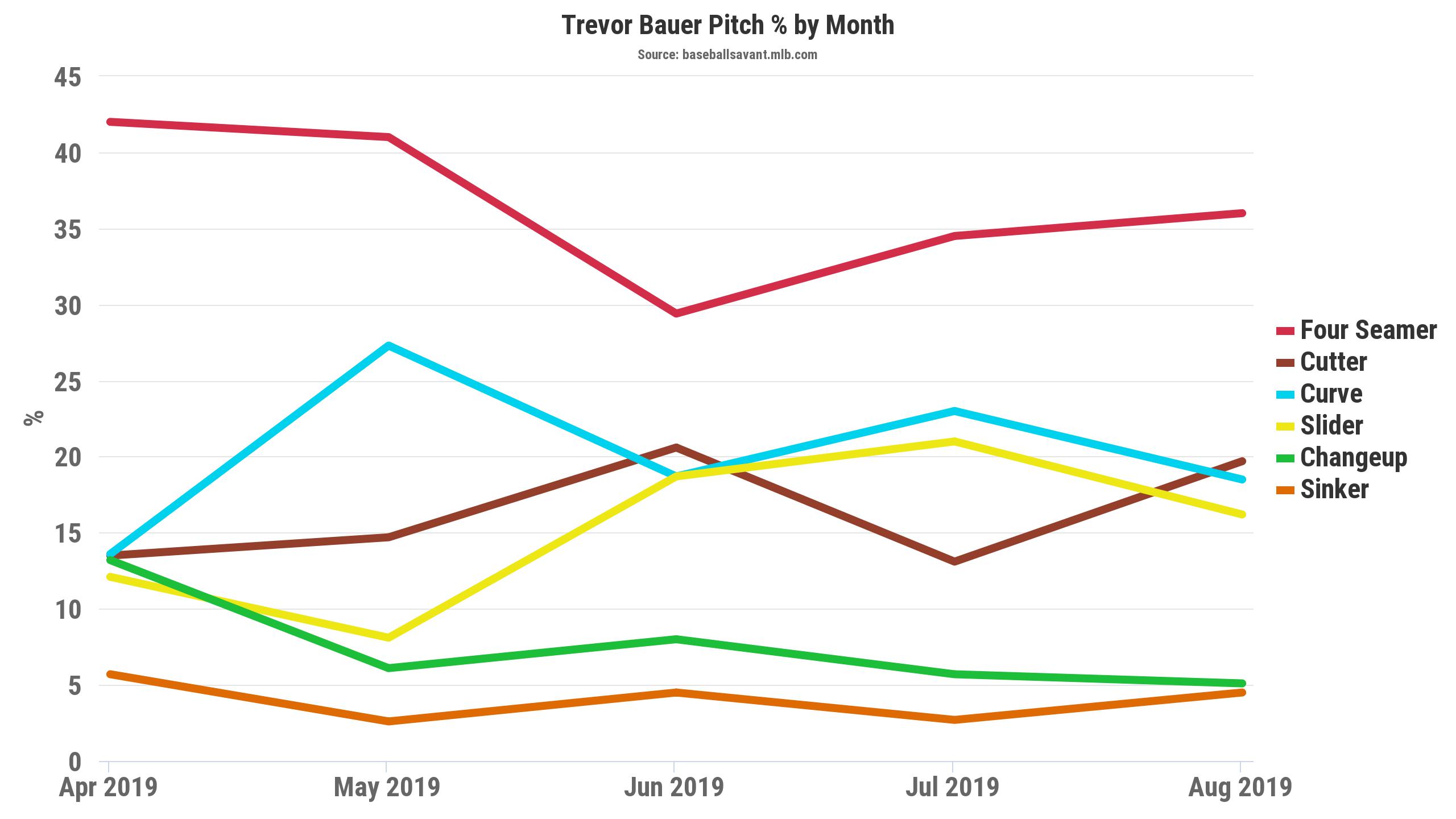 He had one quality start against the Cubs on August 9 (7 IP, 11 K), but has also had two poor outings against the Braves and Nationals where he failed to make it out of the fifth inning.
I have said it many times this season, but will say it again here: Bauer's 2018 season is the clear outlier year amongst his career trajectory: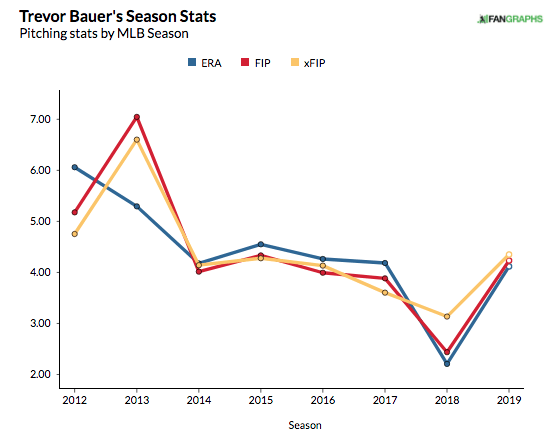 2019 looks awfully similar to 2014-2017, right?
Bauer is as enigmatic of a pitcher as I can remember since A.J. Burnett was in the league.
Burnett, you might remember, threw a no-hitter in 2001 while allowing nine walks and a hit by pitch.
I think he's an apt comparison for Bauer; effectively wild with a high strikeout rate, but oft-victimized by his own stuff that is so nasty it's tremendously difficult to control. And wouldn't you know it:
Burnett's career ERA and WHIP: 3.99, 1.32
Bauer's career ERA And WHIP: 3.97, 1.30
So yes, Trevor Bauer might be the new A.J. Burnett; an enticing but overvalued underachiever.
As for the White Sox, we're riding with Ivan Nova on a hot streak. Nova has two complete games and another eight-inning start in his previous five outings, generating a 3.73 FIP in 37 innings pitched.
In typical Ivan Nova fashion, he has just 17 strikeouts in those 37 innings and is living and dying with the White Sox defense, but when Nova gets into a groove like this I like to ride with it.
His ground-ball rate is up from 47.4% to  51% over this stretch, and his hard-contact rate is down from 33.5% to 24.8% over the same period; so it's not as though he's forcing his defense into difficult plays – it's a lot of weakly-hit grounders.
Nova used a slider earlier in his career, and he's brought it back this season – bringing its usage in line with his changeup: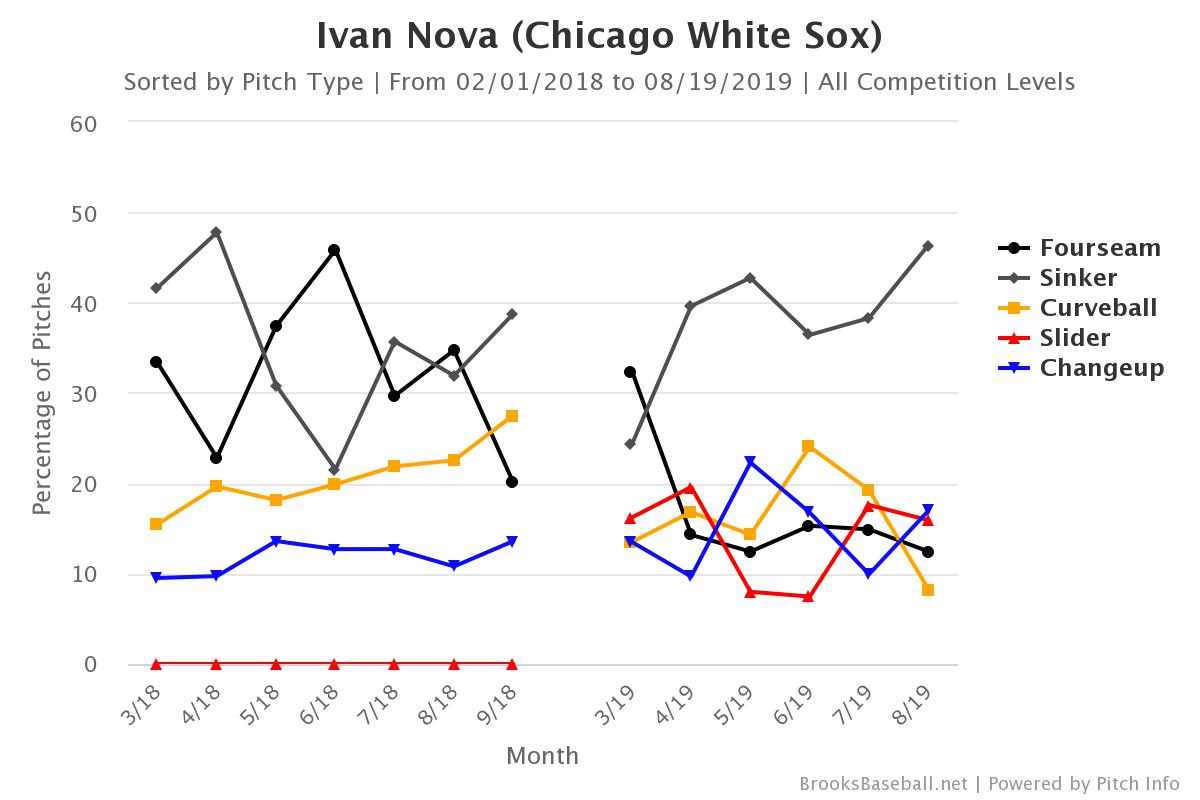 As you can see, Nova has also regained confidence in his sinker throughout this season, using it more frequently since this hot streak began in the middle of July.
Coming off of a complete-game win against the Astros, I couldn't imagine his confidence being any higher:
Bets (So Far) for August 19
Chicago White Sox (+190) Game Moneyline
San Diego Padres (+151) Game Moneyline
Parlay (+102): Astros (-370) and Diamondbacks (-170)
Under 8.5 (-115), Mariners at  Rays
Under 10 (-115), Nationals at Pirates
Under 11.5 (-120), Angels at Rangers
Stay tuned on Twitter or follow me in The Action Network App for my entire betting card for Monday, August 19.
Zerillo's Full MLB Model, 8/19
Download the Excel doc with my projections to input odds from your sportsbook. These projections cover the full game and First 5 moneylines and over/unders. A sample of one of the sheets is below.
How would you rate this article?