Red Sox vs. Yankees Odds & Pick: Value on Boston Moneyline
Credit:
Elsa/Getty Images. Pictured: James Paxton.
Betting odds for Sunday night's marquee matchup between the Red Sox and Yankees list Boston as a +190 dog.
However, Sean Zerillo sees value on the Red Sox moneyline, especially due to the strength of Boston's bullpen.
Check out our full betting preview below for odds, picks, and comprehensive analysis.
Boston Red Sox vs. New York Yankees Odds
---
Odds as of Sunday afternoon and via DraftKings. Get up to a $1,000 sign-up bonus at DraftKings today or see more offers and reviews for the best online sportsbooks.
---
Both the Boston Red Sox (3-6) and New York Yankees (6-1) benefitted from the delayed start to the 2020 MLB season.
The extra few months of rest and expanded playoff format allowed a loaded but banged-up Yankees roster to heal, and all but assured their presence in the postseason.
The Red Sox were expected to be in rebuilding mode after the Mookie Betts trade and Chris Sale's injury — but their roster and front office only has two months of deep scrutinization ahead of themselves, rather than six.
Both clubs are mostly fulfilling their preseason expectations. The Yankees lead the AL East in scoring differential (+12), with the fourth-highest mark in MLB, while the Red Sox (-9) are the division trailers, with a pitching staff that has allowed 5.3 runs per game.
The Yankees already took the first two games in this weekend series (5-1 on Friday and 5-2 on Saturday) and will look for a sweep against their rivals on national TV on Sunday night.
Can Boston's bullpen keep the Yankees' potent offense in check for nine innings?
---
Advanced Stats Glossary
FIP or Fielding Independent Pitching measures what a pitcher's ERA would look like if the pitcher experienced league-average defense and luck. xFIP is a regressed version of FIP that adjusts or "normalizes' the home run component based on park factors.

wRC+ or Weighted Runs Created Plus takes the statistic Runs Created and adjusts that number to account for critical external factors — like ballpark or era. It's adjusted, so a wRC+ of 100 is league average, and 150 would be 50 percent above league average.
wOBA or Weighted On-Base Average is a catch-all hitting metric with more predictive value than on-base percentage. An average MLB hitter can be expected to post a .320 wOBA. xwOBA is a regressed version of wOBA that accounts for variables like park factors.
---
Projected Starters
I know that it's only one start, but James Paxton's fastball velocity should be a bit of a concern: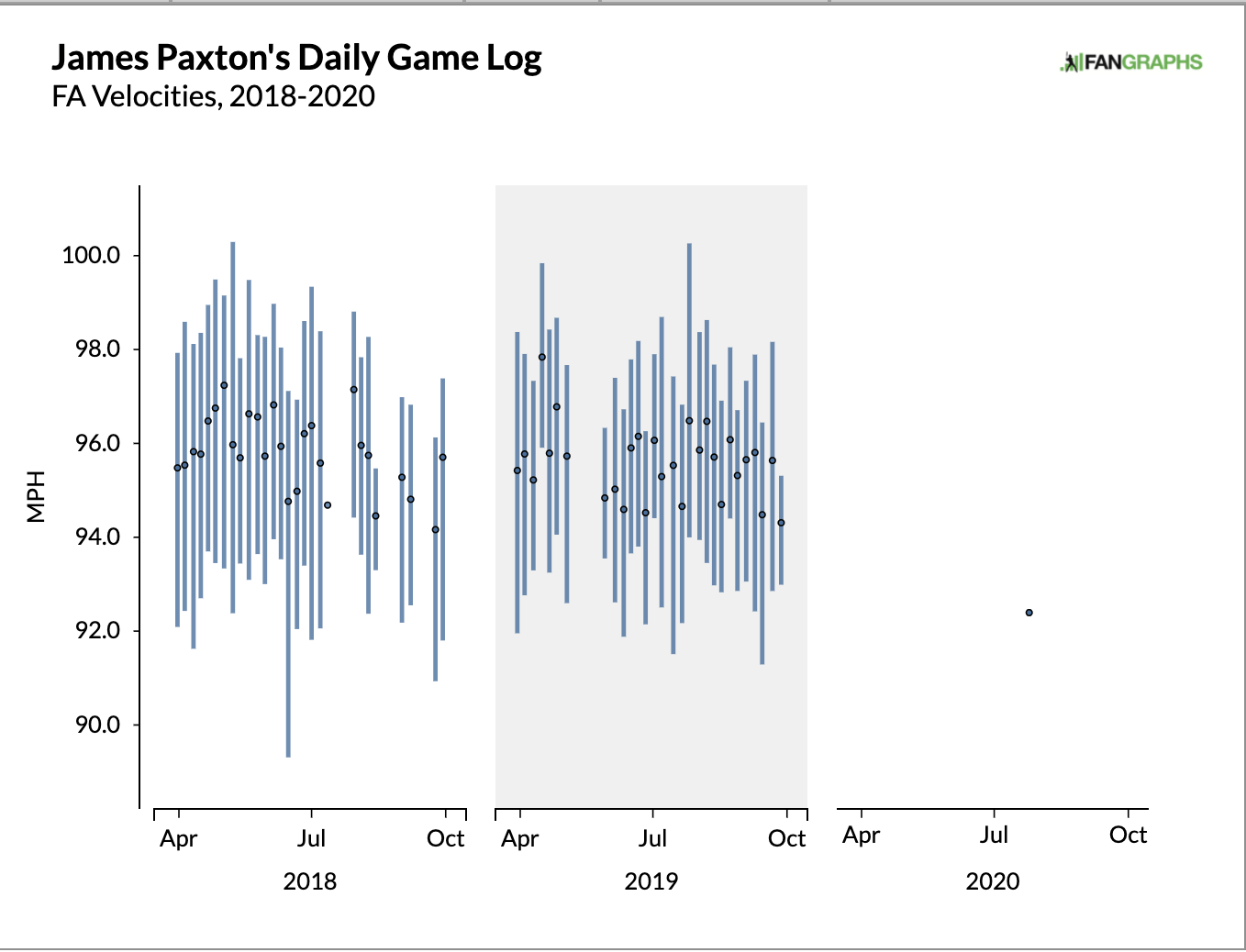 His fastball sat at 92.4 mph in his July 25 outing against the Nationals – a full three mph below his career average – before he was pulled after one inning of work (41 pitches, 5 H, 3 R, 1 BB, 1 K).
The velocity was also down on his cutter (-2.7 mph), curveball (-1.2 mph), and changeup (-3.3 mph), so I'm seeing some major red flags.
He sustained a glute injury last September but returned strong in the postseason (13 IP, 13 H, 5 R, 7 BB, 20 K). Paxton underwent back surgery for a herniated disk in February, however, so there is potential causation.
Nevermind the fact that Paxton saw his xFIP (4.03 in 2019) increase by a full run after moving from Seattle: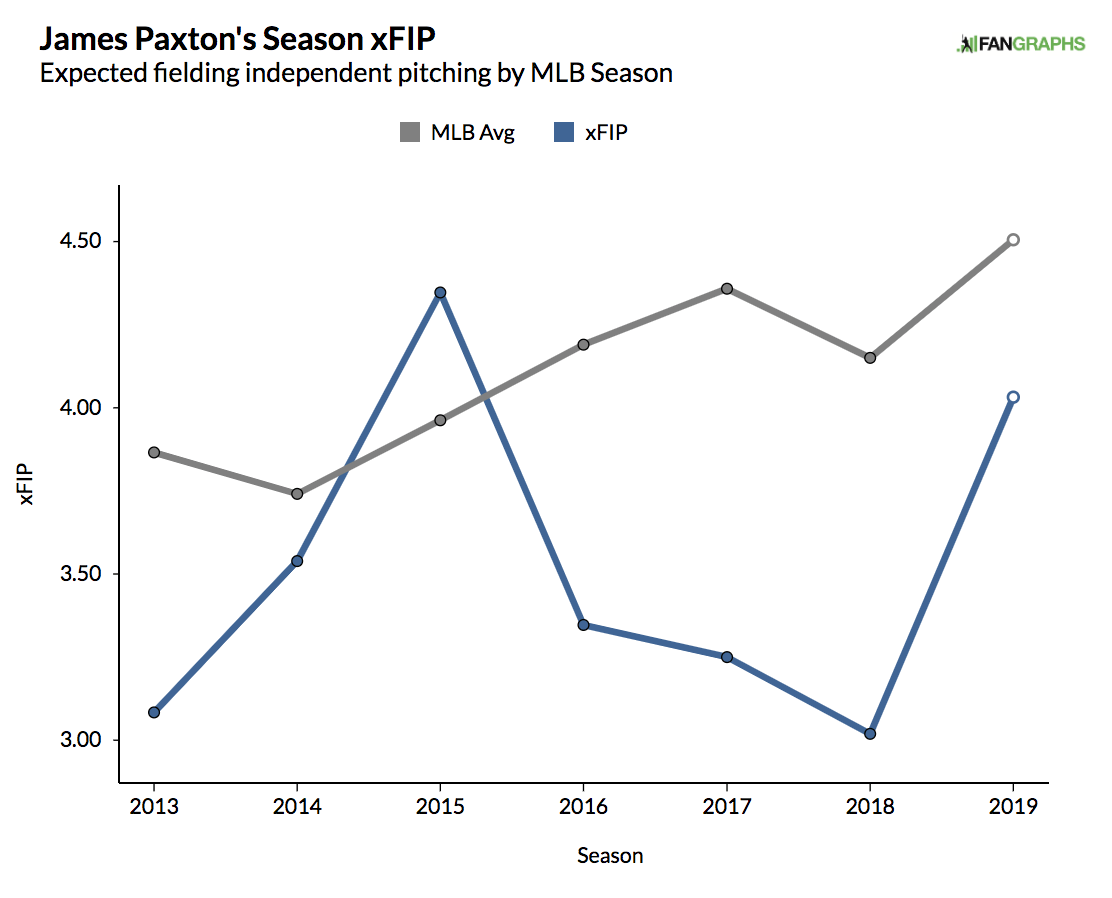 Perhaps he is significantly sharper on Sunday, but you're taking a leap of faith against a 3-mph velocity drop.
Austin Brice (career 4.41 xFIP) will serve as Boston's opener on Sunday. New Red Sox GM Chaim Bloom is credited as one of the inventors of the opener during his time in Tampa Bay, so you can expect the Red Sox to deploy more unorthodox game management strategies moving forward.
Brice has a home run problem (career 1.75 HR/9) — allowing 26 over 133 career innings — which isn't exciting to bet on in this park. But he started throwing his breaking ball more than 40% of the time in 2019, bumping his strikeout rate from 19% to 23%, with more than one K per inning.
He also fares significantly better against righties (career .298 wOBA) than lefties (.351), so Boston likely hopes that he can turn over Aaron Judge, DJ LeMahieu, Gleyber Torres, Giancarlo Stanton and Gary Sanchez once without sustaining much damage.
The Bullpens
In 2019, the Yankees' bullpen ranked 9th in FIP (4.15), 4th in xFIP (4.15), and 6th in K-BB% (17%). By the same metrics, the Red Sox ranked 8th (4.14), 10th (4.43), and 11th (15.5%).
In the small 2020 sample, the Yankees rank 10th in xFIP (3.96) while the Red Sox are first in MLB (3.35), with a 1.2% advantage over their opponent in strikeout minus walk rate (20%, 5th in MLB).
Note that the Yankees recently lost key reliever Tommy Kahnle (2.69 xFIP in 2019) due to an elbow injury. While Aroldis Chapman was just cleared to return after a COVID-19 quarantine, Yankees manager Aaron Boone said he, "doesn't know when he will be ready for game action."
The Red Sox will deploy their bullpen aggressively behind Brice. Matt Barnes (2.93 xFIP in 2019) and Brandon Workman (3.33) are a formidable duo, and if Heath Hembree (3.1 IP, 1 H, 0 BB, 4 K) stays sharp and gets back to his 2018 form (3.79 xFIP) —  in addition to Ryan Brasier (3.78) — their bullpen should be a strength.
In 2019, Brandon Workman threw 1,244 pitches. Of those, 135 were batted balls. Of those ONE was barreled.

Brandon Workman gave up ONE barrel in 2019.

Here are 10 of my favorite Ks from him. pic.twitter.com/GJwp8RCw5y

— Alex Fast (@AlexFast8) January 18, 2020
Projected Lineups
Data via FantasyLabs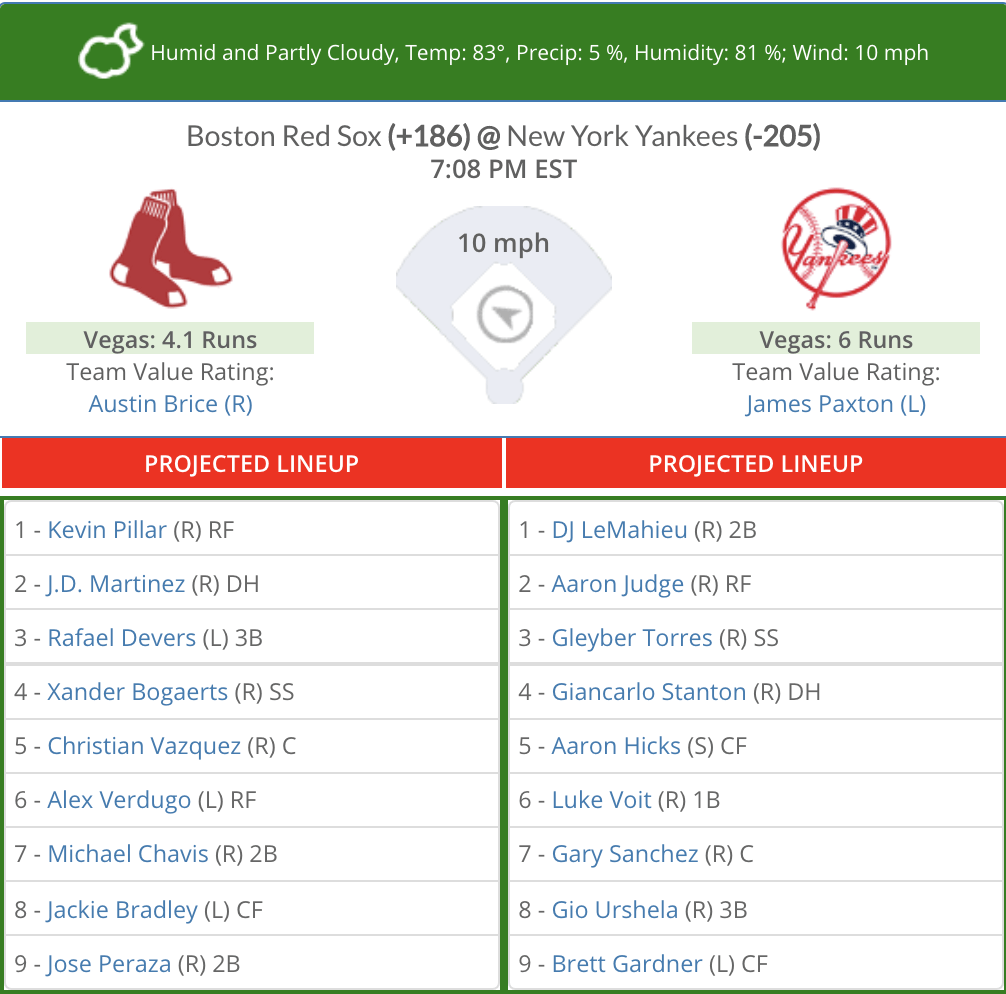 Stadium, Umpire and Weather Report

Despite its reputation for increasing home runs — which it does by about 7.5% — Yankee Stadium suppresses run-scoring by a couple of percentage points, relative to the league average.
While there are more home runs due to the short porch, the odd dimensions also create less surface area for the outfielders to cover in general, leading to significantly fewer extra-base hits overall.
In these weather conditions at Yankee stadium (greater than seven mph wind, blowing out or to the left), the over is 99-74-11 (57.2%, +20.7 units, 11.2%) ROI.
Umpire James Hoye has seemingly shown small lean to pitchers, however. Run-scoring goes down by about 3% when he is behind the dish.
Trends to Know
This game fits the following Bet Labs system for Under Streaks, which has returned a positive ROI for 15 of the past 17 seasons:
Favorite Bets
I projected the Yankees as a -152 favorite (implied 60.3%) in this game, and I set the total at 9.1 runs. Therefore, I see actionable value on the Red Sox moneyline and no value on the total.
At listed odds of +190 (implied 34.5%), I see a 5.2% gap in expected value from my projection at 39.7% for Boston.
I would play the Red Sox moneyline down to +180 (implied 35.7%), a four percent gap in expected value. However, I will wait until closer to game time to see if their moneyline pushes up closer to +200.
[Bet now at DraftKings. CO, NJ, PA, IN and WV only.]
How would you rate this article?