NASCAR Cup Series: Top Bets for Sunday's Quiktrip 500 at Atlanta
Credit:
Adam Hagy-USA TODAY Sports
The NASCAR Monster Energy Cup Series visits the 1.5-mile quad-oval at Atlanta Motor Speedway for the Folds of Honor Quiktrip 500. I'm going to use my machine learning statistical model and the RotoViz Driver Sim Scores to find the top bets for Sunday's race. With weather on the horizon, the race has been moved up an hour to 1 p.m. ET. The possibility of a rain-shortened race adds some uncertainty to the finish and places a small premium on strategy.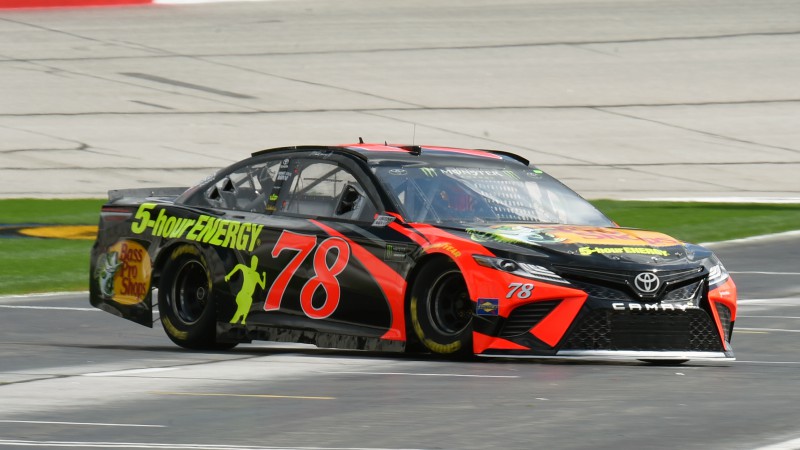 Atlanta has an old, abrasive track surface that causes significant tire wear. As a result, tire management and strategy more so than speed are often important factors in determining the race winner.  The driver to lead the most laps has failed to win all five of the races at the track since 2013 — the year that NASCAR first introduced the Gen-6 car.
Martin Truex Jr.: +850
It's not often you get the defending series champion at this price, let alone one who had an average finish of 3.0 at the large ovals and 2.5 at the 1.5-mile tracks the previous year. The only reason Truex's odds are this long is because of his 35th-place starting position. That doesn't worry me much. Jimmie Johnson overcame a 37th-place starting position three years ago to take the win at Atlanta.
My model gives Truex the second-best average finish (7.65), while the Sim Scores give him a median finish of 3.5, with five of the 20 situation-similar drivers most comparable to Truex winning the checkered flag (25 percent). Truex posted the fifth-best 10-lap average in final practice, so there's plenty of speed in his car.
I think the possibility of weather may even play into his favor, as his crew chief Cole Pearn could decide to shake things up with strategy thanks to the 35th-place starting position.
Denny Hamlin: +1200
Hamlin doesn't have the strongest history at Atlanta, but he does have a number of statistical trends going for him. The past five drivers to win at Atlanta had a driver rating above 93 and a quality pass percentage above 50 over their last 18 races as well as a driver rating above 85 and a quality pass percentage above 50 at their last eight races at Atlanta. Hamlin's numbers are 101, 68, 93, and 64, respectively, putting him well above the thresholds in each stat.
My model gives him the third-highest average finishing position (7.66), while the Sim Scores gives him a ceiling of first place. Five of the 20 drivers most similar to Hamlin in quality and situation won their races (25 percent), including the three most similar comps not to crash out.
Brad Keselowski: +1650
Keselowski wasn't super comfortable with his car after final practice, which is likely the reason for this line moving from +1200 at open to +1650. However, there are several things to like.
First, the Sim Scores show that four of the drivers most comparable to Keselowski in ability and situation won their races. However, three of those were the 18th-, 19th-, and 20th-most similar comps. The fourth was Keselowski himself last year at Atlanta from the same fifth-place starting position he'll take off from this weekend.
Tire strategy and weather also play into Keselowski's hands thanks to crew chief Paul Wolfe, who is renowned across the NASCAR garage for his bold strategy calls that have led to several stolen wins for Keselowski over his career. The extra cloud cover may also play into Keselowski's hands by diminishing the negative impact from an ill-handling car in the warmer final practice.
Don't Bet — Kevin Harvick: +500
Harvick has absolutely dominated Atlanta over the past four years, leading the most laps in each race. Yet Harvick has zero wins over that time frame, showing the variable nature of Atlanta.
My statistical model gives him the best average finishing postion (7.64), while the Sim Scores show that Harvick's 20 closest comps won four times (20 percent), but that essentially makes him a break-even bet in the long run. If we add in some weather uncertainty, this bet is unlikely to be profitable in the long run.
So while Harvick is the most likely winner according to my model and the Sim Scores, it's not a bet you should make for long-term profitability.
Photo Credit: Adam Hagy-USA TODAY Sports
How would you rate this article?