Aaron Gordon Has Already Reshaped the Denver Nuggets' Playoff Aspirations
Credit:
Garrett Ellwood/NBAE via Getty Images. Pictured: Aaron Gordon #50 of the Denver Nuggets.
The Denver Nuggets' trade for Aaron Gordon at the deadline was, at its heart, a move made out of optimism.
Denver knew on paper that Gordon would fit with the Nuggets. He's a 6-foot-9 forward with elite athleticism who is shooting 40% from behind the arc this season, so he can't be left alone on the perimeter; with good cutting instincts next to Nikola Jokic and excellent defensive fundamentals. All that made sense.
"It's all about the buy-in," a source close to the team said as trade negotiations with Orlando were ramping up before the deadline.
The question was whether Gordon would be willing to take a step back in role, touches, and production, to help a contender win. Gordon had worked hard in Orlando to showcase a diversity of skills, but the efficiency had simply never been there.
With the Nuggets, Gordon has bought in more than anyone could have anticipated. Gordon is averaging 1.18 dribbles per touch, down from 3.45 dribbles per touch when he was with the Magic.
This is a complicated issue and one that deserves to be explained clearly as not to get overwritten by narrative.
Part of the reason Orlando struggled during Gordon's time there was because of Gordon's approach, trying to score off the dribble too much and attempting a poor Kawhi Leonard impersonation. It's fair to suggest that if Gordon put the kind of effort into defense and off-ball movement that he has in Denver, he might have been viewed differently.
Then again, the Magic simply didn't have the creators to afford that. Gordon was higher on the usage list because he wanted to be, but also because he had to be.
Still, it was on Denver's mind as it weighed what would eventually become a franchise-altering trade at the deadline. The Nuggets had an educated guess about Gordon's willingness to adapt and how he could fit, but even they didn't expect things to start this well.
In the four games since adding Gordon, the Nuggets have been as dominant with Gordon on the floor as you can be in four games. The Nuggets' new starting lineup — Jamal Murray, Will Barton, Gordon, Michael Porter and Nikola Jokic — is 4-0, with wins over the Philadelphia 76ers (without Embiid) and the Los Angeles Clippers (without Patrick Beverley and Serge Ibaka).
They have outscored opponents by 33.9 points per 100 possessions with that starting lineup on the floor. In layman's terms, they have scorched the Earth with fire from the heavens.
It's not just offense, either. Denver has held a 100.0 Defensive Rating with that starting lineup on the floor while holding opponents to the fourth-lowest expected shot quality via PBPStats.com.
So what exactly has Gordon brought to the Nuggets  and what does it mean for their status as Western Conference contenders?
---
GORDON'S IMPACT
Here's a good example of the problems that Gordon presents. The Nuggets are running a lot of action with Murray back-screening for Gordon.
If you don't switch it, then Gordon is running completely free. If you switch it, he still has a size advantage on Young. If you try and go under, sending two at the cutter, Murray's open for a corner three. If you send the weak side help, Michael Porter Jr. is completely open.
The Nuggets are also running this set with Murray setting the back screen for Gordon, only then Murray curls into a dribble hand-off. It's a nightmare to try and defend.
In this week's One Mo Thing, I broke down a play the Denver Nuggets are using that is putting defenses in difficult switches. Hope you enjoy it. pic.twitter.com/JSgTHI8sH1

— Mo Dakhil (@MoDakhil_NBA) April 6, 2021
The Nuggets have been great with Nikola Jokic the past three seasons. But typically the threats were very two-dimensional. Gary Harris could slash for a hand-off or spot-up.
Paul Millsap could hit short floaters from the dunker spot or spot-up. But the combination of Gordon, MPJ, and Barton means the Nuggets have those skills and athleticism.
There's just no good answer here. You have to send help or Jokic is scoring on the undersized Morris in the post.
If you send help from Porter, Jokic can still pivot and hit him as he reverses, especially with his wizardry at one-handed sidewinder passes. Reggie Jackson goes to rotate to the helper's man (Porter) and that leaves Barton open, freezing Paul George, which opens up Gordon.
The chemistry between Jokic and Gordon simply shouldn't be as good as it is already. There's a learning curve with playing next to Jokic and it usually takes time to get fully acclimated.
Instead, the two have had instant understandings from the start. This is the only real play the Nuggets have installed with Gordon involved in the primary action.
How about the 6-foot-11 center running point as the ball handler in pick-and-roll with the super-athletic small forward?
They've run that twice and gotten points off it both times.
Meanwhile, the Nuggets' offense was surging even before the addition of Gordon. Over the past 15 games, here's what the previous Big 3 brought to the table per game:
Last 15 games

Jokic: 24.7 points, 10.8 rebounds, 8.7 assists, 57-48-80 splits

Murray: 20.5 points, 3.5 rebounds, 5.4 assists, 48-42-8-97 splits

Porter: 20.5 points, 8.6 rebounds, 59- 53-73 splits

— Hardwood Paroxysm (@HPbasketball) April 5, 2021
If you're getting 65 points, 22 boards, and 14 assists per night from your top three players, you're tough to stop. Gordon only adds to that. Porter and Barton have both had nights leading the team in scoring in the four games.
Jokic makes it possible for everyone to eat. Everyone gets easy, efficient shots, and in turn, everyone's helping each other.
---
THE SWITCH-UP
For playoff purposes, the addition of Gordon has added something that has to be reckoned with in any analysis.
Denver's basic pick-and-roll scheme is to play "up to touch." They bring the screener's man up to the level of the screen to apply pressure and get the ball out of the ball handler's hands.
This has been, and remains, the scheme Denver uses in 1-5 pick and roll with Nikola Jokic's man. It allows Jokic to use his quick hands to disrupt plays and keeps him from having to contest on both guard jumpers and lobs which he can't, because, well, he doesn't jump.
And it works pretty well:
Denver is the ninth-best team defending pick-and-roll ball handlers this season. However, in the playoffs, you have to have more versatility, and Gordon has provided that.
Before the trade, the Nuggets switched against 16% of on-ball screens, allowing 1.08 points per chance. Since the trade, they've switched on 28% of all on-ball screens, allowing just 1.02 points per chance.
If Jokic isn't defending the screener, they're switching 44% of the time.
This subtle change in distribution matters a great deal. Gordon showed he could capably defend Leonard (in as much as you can defend one of the best tough-shot makers in the league). Their Defensive Rating with Gordon on-court has been 101.3, which would be best in the NBA over a full season.
But this matters even more for the postseason. If the Nuggets face the Portland Trail Blazers, for example, they won't want to switch because Damian Lillard will dominate in those instances and Jusuf Nurkic will slip the switch to the rim. Ideally they would want to put two on-ball, which is becoming more difficult as the Blazers run screens for Lillard farther away from the basket.
You want to change up the coverage so that the Blazers can't anticipate it.
Against the LA Lakers, you don't want to put two on-ball because LeBron James is big enough and a brilliant enough passer to reverse the ball to the weak side corner for threes consistently.
You want to be able to switch in those instances, and while James will always get his, having Gordon's strength to put on his primary screen threat (Davis) helps matters.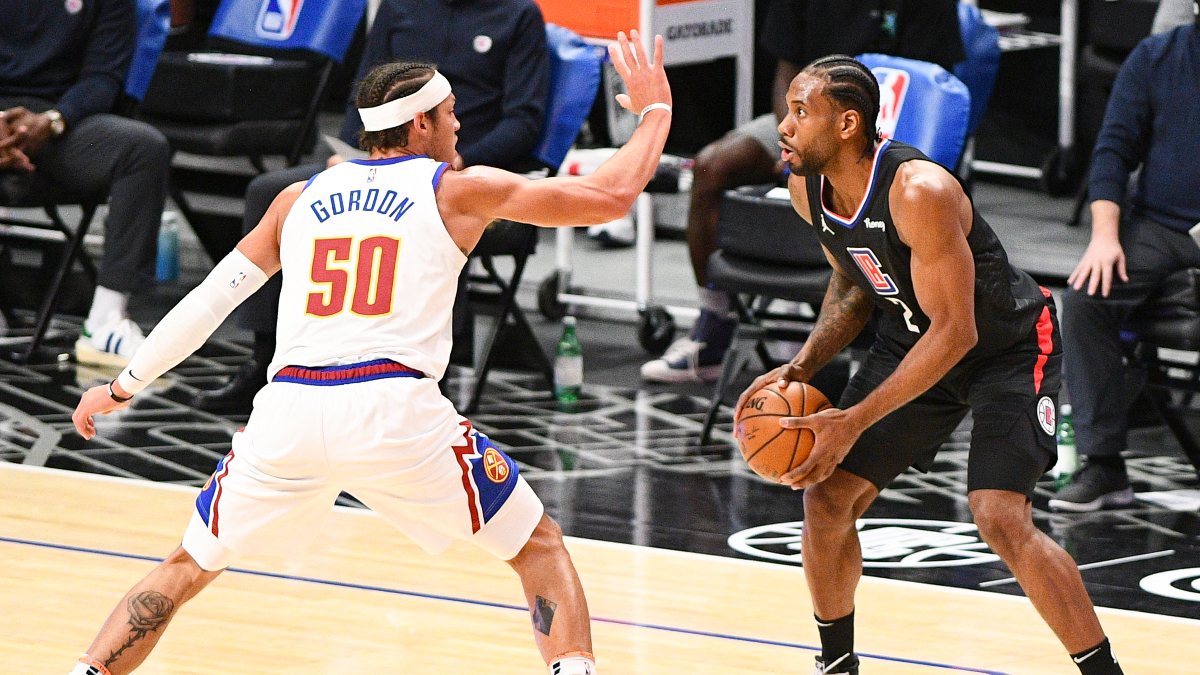 Against the Clippers, it's all isolation, and you simply need better length and athleticism on the perimeter — Gordon brings that.
He also is a better help defender, able to shut off possessions with closeouts without having to run the shooter off and give up a drive. That means more opportunities to help on "naked" doubles.
Denver has been brilliant the past three seasons, and especially in last year's playoffs, because of what they did well. Now, they're expanding that menu of options.
---
SO WHAT DOES THIS MEAN?
Well, first off, let's slow down. It's been four games. They beat the Sixers without their best player, the Clippers without Ibaka or Beverley and with Paul George on a minutes restriction, the Atlanta Hawks and the Magic.
Their schedule picks up over the next few weeks, with two games against the San Antonio Spurs this week, then the Golden State Warriors and Miami Heat next week. They will lose some games, this is not a new superteam.
However, if the playoffs are determined by star firepower, the Nuggets presently boast the most in the Western Conference. The Lakers are driven almost entirely by LeBron and Davis, the Clippers by Kawhi and George.
The Utah Jazz are more team-centric, but there's reason for skepticism about Rudy Gobert's impact in the playoffs. The Phoenix Suns have a healthy, well-rounded roster, but most of it has zero major playoff experience, save for Chris Paul and Jae Crowder.
The Nuggets have four players capable of scoring 20 or more who are all willing passers. Jamal Murray's defense has improved by leaps and bounds to where I'm willing to call him good in most instances, and Michael Porter Jr. has cut down on his bone-headed mistakes enough to where his athleticism and effort make up for his deficiencies.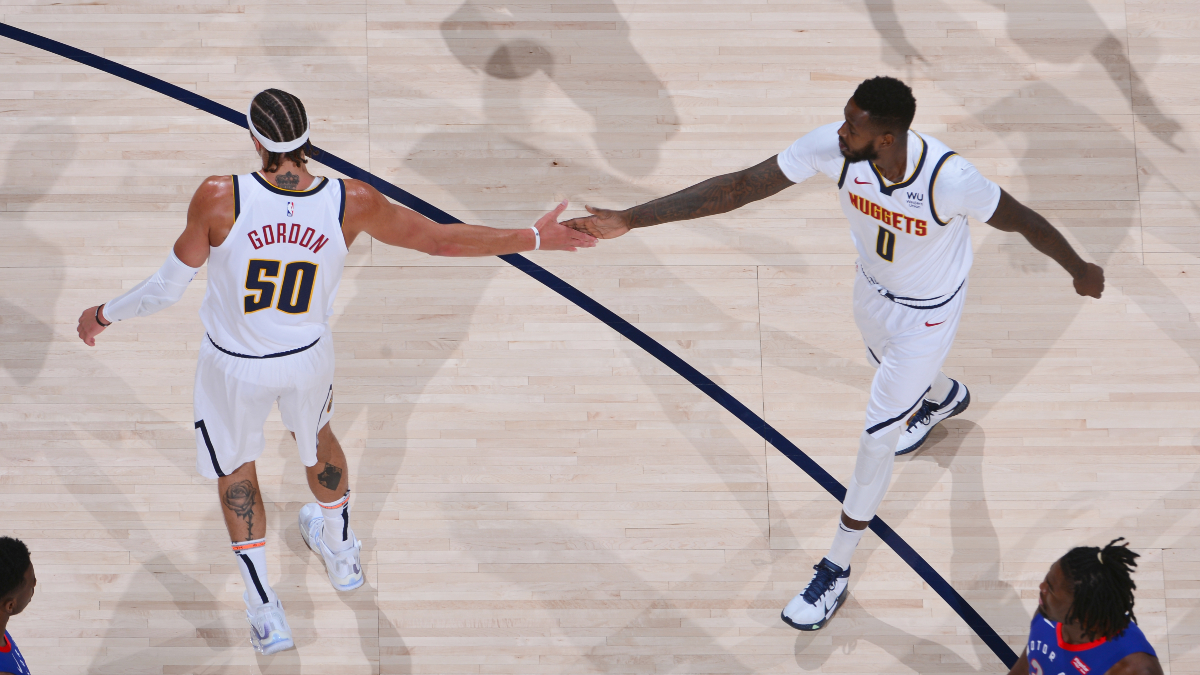 The Nuggets were playing well before the trade. They had stabilized, put their early-season struggles behind them, but they weren't really a threat. They didn't have the athleticism and scoring punch, after losing Jerami Grant in the summer, to make another Western Conference Finals run.
Now? The Nuggets have a serious claim to the second-best team in the conference.
Who is Denver scared of?
The Lakers? They should be, but the Nuggets absolutely feel that they could have won that series last year and their own mistakes were what doomed them, not the Lakers' superiority.
The Clippers? Already beat them, after being down 3-1. The Jazz? Same. The Suns? Great team, but not scary. The Blazers? Damian Lillard is scary, the Blazers are not.
Denver is as vulnerable to an upset as anyone; a Denver-Dallas series would be close to disastrous for the Nuggets. However, they are also maybe better primed.
If you are betting based on the ceiling, Denver has moved into prime position to once again play spoiler in the Western Conference.
Sometimes it pays to be an optimist.
How would you rate this article?
This site contains commercial content. We may be compensated for the links provided on this page. The content on this page is for informational purposes only. Action Network makes no representation or warranty as to the accuracy of the information given or the outcome of any game or event.