'Lack of Physicality Obviously Hurts': NBA Scouts Analyze Why Anthony Davis Isn't More Dominant
Credit:
Bart Young/NBAE via Getty Images. Pictured: Anthony Davis #3 of the Los Angeles Lakers.
Anthony Davis was voted first team All-NBA this season, finished second for Defensive Player of the Year and his Lakers are four wins away from the NBA Finals.
Despite his accomplishments, some wonder if he should be having a greater impact in the postseason.
Matt Moore spoke with NBA insiders about where Davis can improve entering the Western Conference finals.
Life is only as easy for Anthony Davis as the opponent makes it.
Davis was frustrated in New Orleans, unable to consistently make the playoffs, and dispatched quickly in the second round the one year he managed to escape the first round. He hired Rich Paul and Klutch Sports to facilitate his escape from small market hell.
He landed Los Angeles, and the dynamics of that were always of some debate. Some executives wondered if Davis preferred the Lakers because it allowed him to look the part and live the lifestyle of a star while having LeBron James to manage the spotlight. Others thought he really felt like the Lakers gave him the best chance to win (a pretty good line of thought) and Paul presented that convincingly.
The Lakers enter the Western Conference finals with the best record of the remaining teams. Davis enters as the runner-up for Defensive Player of the Year, who got some MVP buzz at times.
He's a top-10 player for sure, and you can make an argument he's top-five. Davis is averaging 27.6 points and 10.9 rebounds per game, shooting 58% from the field and 39% from 3-point range. The Lakers are giving up just 101.4 points per 100 possessions with him on the floor.
But there are cracks in the veneer. Every player has limitations. That's not abnormal. But what's interesting about Davis is how he's discussed and the perception of him vs. the reality, and what that means for the Western Conference finals.
The biggest takeaway? He's movable.
When I asked a scout about Davis and his impact on the Lakers, the comments were pretty blunt.
"[Davis] is the big version of point guard, he grew up as a point guard before his growth spurt," an NBA scout reminded me. "Good most of the time but when you really break it down, there are things that hold him back. The lack of physicality obviously hurts him. If he could be the 5, and be more forceful, he'd obviously be more impactful."
What The Tape Shows
Usually, I would start with numbers, but I feel like there will be pushback if I don't show up front exactly what I'm talking about.
The Lakers trucked the Rockets in five games and Davis was phenomenal as previously stated. This is just something to notice. Watch this Eric Gordon drive and remember that he's 6-foot-4, 218-pounds.
Here's 6-foot-3, 201-pound CJ McCollum.
There are a lot more plays like these. Davis is a good isolation defender because he's able to reach over with those pterodactyl wings of his and block it.
Here's Gordon again.
Notice that Gordon is able to knock him off his space to get the angle to the rim. But Gordon is shorter, so Davis' super-long arms are able to deter him from the first shot, which allows him to recover, reach, and block the shot attempt:
But in terms of absorbing contact and maintaining space, he loses that battle more often than you'd think.
"He falls down a lot," a scout reaffirmed. "I don't know if he's doing it to embellish contact to draw the call or because he's got an equilibrium problem. But you see it consistently."
This isn't a new thing, he has talked about it before. His Lakers teammates even said he needs to learn to "tuck and roll" when he lands because it occurs so often.
A lot of players fall trying to draw a whistle, and it's easier to just fall and absorb the impact of landing than risk landing awkwardly and spraining something. But with Davis, it's just readily apparent that contact knocks him off his spot.
Maybe the more impactful thing you'll notice when you watch, however, is that while he's great at corralling and deterring shots in space, when you bring him out on the edge to blitz opponents, he gives up the edge.
There's a lot of this when you watch the clips of Davis on the perimeter:
James Harden is one of the best perimeter offensive players in league history. But you see this consistently when watching clips: you can get the edge on him.
Here's where the eye test only goes so far. You can see where he makes an impact defensively by watching. It's those long arms. But the overall presence, and the physicality a block represents — violent, swift– belies the fact you can body him a bit.
If you're strong, you have a great chance against him. If you are small, or wiry, you are going to get blocked into oblivion.
What the Stats Show
I told you there would be stats.
In order to get to the meat of the thing, you have to take certain caveats into consideration.
In the regular season, the Lakers actually had a better Net Rating with Davis on the bench than with Davis on the floor. The defense gave up two more points per 100 possessions with Davis on-court.
In the regular season, with James on the floor next to Davis, the Lakers gave up 103.2 points per 100 possessions. That's awesome. With LeBron off the floor and Davis on, that number jumped to 109.4.
In the playoffs, it's been fine, since Davis and James are playing more minutes individually and as a duo. The Lakers' defense has been 12.4 points better per 100 possessions with Davis on the floor.
But let's be honest, the Trail Blazers were completely outmatched and probably aren't there if not for a hot shooting stretch from Gary Trent Jr. in the seeding games.
But against the Rockets, the defense was still 2.3 points better. So case closed!
Wait, I have one more caveat, and it's a reasonable one. We can all agree Houston quit in Game 5, right? Before that game, the Lakers' defense gave up 110 points per 100 possessions with Davis on the floor, and just 104.8 with him off-court in the series. The Lakers were actually outscored by 0.7 points per 100 possessions with Davis on the floor for the first four games of that series.
Compare that to James, with whom the Lakers were +8 when he was on-court, and -7.4 off-court.
But here's the big thing: the overall picture for Davis is great, because the Lakers put him in an awesome position. Their help defense is perfect to accentuate his strengths and cover for his weaknesses.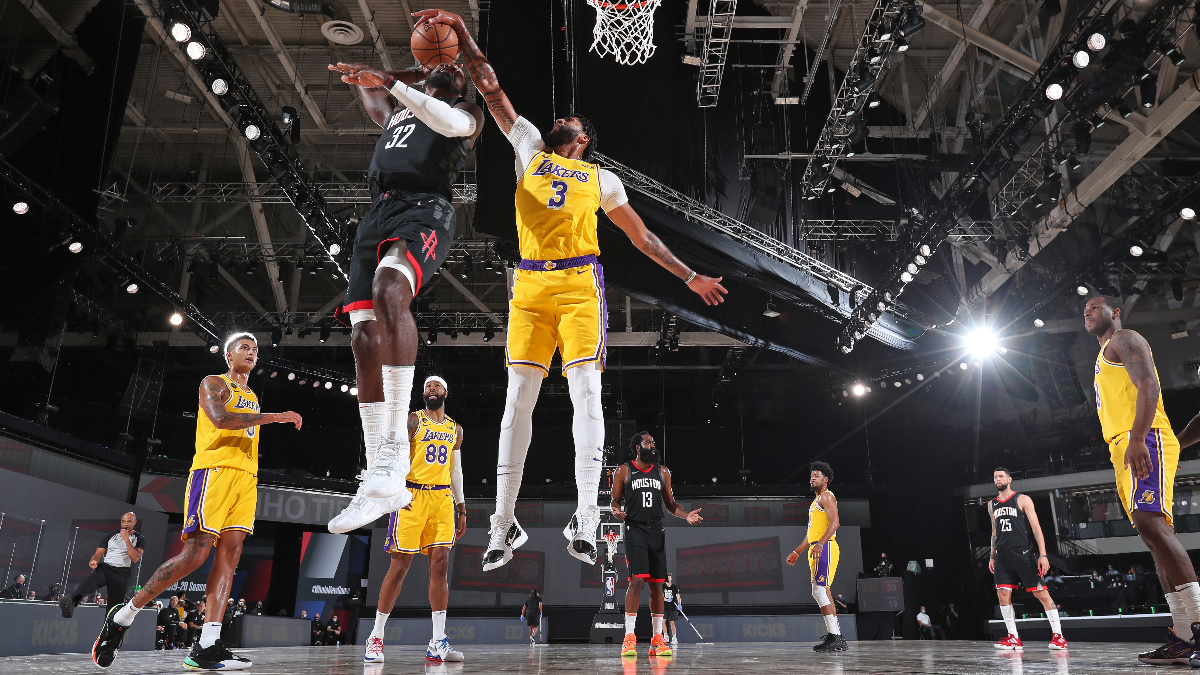 Davis doesn't have to worry about a big, bruising matchup, because the Lakers have JaVale McGee and Dwight Howard. There are quick-handed wing defenders on the perimeter to bother drives and LeBron to make those plays only he can make.
And Davis himself is a monster defensively. He's 85th percentile defending the rim in the playoffs per Synergy Sports. He's 47th percentile overall, but you also notice how rarely teams challenge him
Offensively, he dominated the Rockets' small-ball approach in isolation. Houston did well early with PJ Tucker, but by the end of the series, Davis had shot 57% on Tucker and scored 44 points against him across the five games.
Davis is averaging the fifth-most free throws per game in the playoffs. This is crucial. Davis can absolutely put up 30-plus points without free throws, but more times than not, the connection between the two is strong.
In the playoffs, Davis has drawn free throws on 19% of his post-ups. The Rockets and Blazers were uniquely incapable of defending Davis in the post. That's a problem because it's a relatively weak spot in his game. He shot 45% in the post this season.
The Lakers don't need Davis to post-up to be successful. He's great as a pick and roll finisher. But it fundamentally changes how much of a priority he is and how other teams who aren't playing small-ball and aren't the defensively-incapable Blazers will attack them going forward.
Davis vs. Denver
Let's talk about the Nuggets.
This is a nightmare matchup for Nikola Jokic, who struggles with hyper-athletic guys with long arms (you know, like the guy I've been describing this whole time). Throw in Davis' jumper and it gets worse.
But a big key in this series will be whether Davis can score in the post.
"You want to use 3/4 pass denial on him to push him out of his spot, push him out as far as possible. If you can push the catch out further, that lowers his chances. If you let him just turn and hit, he's going to get it every time."
Two scouts said Jerami Grant might actually have some chance based off his length. If Davis can't bully Grant inside, which is a low percentage chance based on the above, there's a chance they can at least force contested fadeaways. "If he hits them like he did vs. Houston, you just have to live with it," one scout said.
None of this addresses where Davis is awesome: in pick-and-roll. If he's just using his athleticism and catching lobs, the Nuggets lack both the verticality and athleticism to counter him.
Paul Millsap can't jump that high. Grant will have to sell out, leaving open corners if he's on a wing. Michael Porter Jr. isn't a good enough help defender. Jokic doesn't jump … ever.
Davis will likely have a huge series for the Lakers, there's a reason they're favored.
"28.3 — The Lakers outscored the Nuggets by 28.3 points per 100 possessions in a little more than 56 minutes with Anthony Davis at center (no JaVale McGee or Dwight Howard on the floor) in the regular-season series. Those 56 minutes accounted for just 38% of the 150 minutes Davis played against Denver."
But if the Nuggets can muscle up, they might have a chance, at least vs. Davis. Putting a body on him might be the only way to counter him.
How would you rate this article?