Moore: Why the New Orleans Pelicans Should Refuse to Trade Anthony Davis
Credit:
Ed Szczepanski-USA TODAY Sports. Pictured: Anthony Davis
Everyone seemingly wants the New Orleans Pelicans to trade Anthony Davis ... but why?
Matt Moore explains why the franchise is betting off hanging onto Davis until his deal runs out.
Here's basically the view from the Pelicans' front porch:
The vultures are circling for Anthony Davis. With the Pelicans under .500 and Davis 18 months from being a free agent (which we're going to get to in a second), the conversation will not stop about him being traded.
Not from Davis, mind you. He's never requested a trade, of course, nor have the Pelicans been reportedly exploring such trades.
There's just this overwhelming sense of him being traded, so that's the conversation. Especially to the Lakers. Or the Celtics. You know, teams with reasonable fanbases and low media influence that would benefit from the higher profile of a top-five player joining their teams.
Theoretically.
So let's talk about the Pelicans' situation, even as it's possible Davis' hand injury could carry him past the trade deadline.
SOMETHING HAS TO CHANGE
First off, let's address how absurd it is that 18 months out is now the new standard. This is like how presidential election campaigns begin a full two years away, right after the midterms.
The Pelicans signed Davis to a max extension in the summer of 2015, less than four years ago. There's a full season and a half left on his contract. So when the Pelicans signed him to a five-year deal, they actually signed him to a 2-and-a-half year deal, which of course is not what they wanted.
Back before the 2011 CBA, the last year of the deal used to be a big thing. You could do an extend-and-trade deal (like Carmelo Anthony's) so even if that player wanted out, you could wait until the last season, and then trade him by the deadline on an extend-and-trade to his preferred team.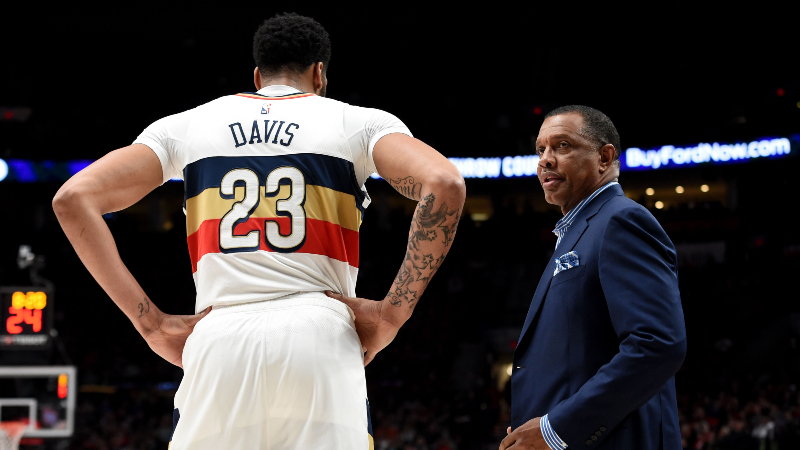 That stipulation was removed in the 2011 CBA to try to prevent star players from leaving; it's had the opposite effect.
Now, without the ability to extend guys in trade talks, teams have almost no leverage if their stars are willing to walk away from the super-max contracts. We always wondered "how much is so much money that people won't want every cent?" And it turns out $200 million vs. $150 million is that line.
So in the next CBA, they really need to bring back that extend-and-trade option. But it is what it is.
THE PELICANS CAN'T WORRY ABOUT DROWNING, BUTCH, THE FALL'S GONNA KILL YA
If we read the tea leaves from Davis' comments so far, we have a pretty clear picture. He's not forcing his way out. He's not asking to be traded. He wants to win now. I think he even would like to win in New Orleans.
But if he can't, he knows he has the option to move on. Maybe he's secretly just biding his time to join the Lakers as fast as possible. Maybe he's waiting to join the Warriors in free agency the year after Durant leaves. Maybe he's banking on a trade to Boston.
The point is, Davis, to his credit, has played this right. He hasn't boxed himself in by saying "I'm a Pelican for life, I want to retire here." He's just stayed focused on trying to play the best he can.
Here's the thinking on why basketball intelligentsia wants him traded: If you don't trade him, he's going to leave and you get nothing. What this is really code for is "I want to see Davis on a higher profile, big-market team, and this is a convenient reason to say New Orleans should trade the best player in franchise history."
Here's the problem. Worrying about what you have after you trade a generational player who is a 7-foot monster shooter with every conceivable skill is very much Butch Cassidy worrying about drowning if he jumps off the huge cliff:
Nothing you get back in a trade for Anthony Davis is going to help you get where you want to go. You just lost your best chance at winning a title until you draft another generational talent, and guess what?
There aren't a lot of those floating around.
The Pelicans should trade Davis now instead of holding out hope to make sure they get, what exactly? Two sub-25 role players who might wind up as borderline All-Stars once or twice and a few picks in the 20s?
Is that really going to help them recover? You can go the route the Pacers did with Paul George but you have to find a really good team looking to get over the top that has multiple young players of value … and then you have to hope those players return the absolute maximum value imaginable.
"So, what, then?" you ask. What should New Orleans do?
Risk losing Davis for absolutely nothing?
Yes.
That is 100 percent what the Pelicans should do.
The best plan for the Pelican would be for ownership — once it gets over that Saints roughing the passer non-call vs. the Rams in about a billion years — to put out a statement that says something along the lines of the following:
Anthony Davis has been the heart and soul of our team, and of basketball in the great city of New Orleans, since he arrived here seven years ago. We've watched Anthony grow from a slender rookie still finding his way to one of the best players the league has ever seen. We've tried, from Day 1, to put a team around him to compete, not just for a playoff spot, but championships. In that effort, we've fallen short time and time again. 

In July of 2020, Anthony will be an unrestricted free agent. At that time, he can and should make whatever decision is best for his career, his livelihood, and his family. We hope, along with all the great fans of this great city, that he will decide to remain with our franchise. If he doesn't, that is his choice and we will wish nothing but the best for him as he continues what will surely be a Hall of Fame career.

There are those that say that because of this risk, this danger, of Anthony leaving as a free agent in 18 months, that we should trade him now. We are here to say point-blank, end-of-discussion: We will not trade Anthony Davis throughout the duration of his contract. We are all-in with Anthony. We don't want to look out for our franchise and mitigate our hopes and dreams. We want to reach for the stars, and prove that New Orleans is where he can fulfill his basketball promise, and do it on his terms, with his team, in his city. If Anthony decides to move on, there will be no hard feelings, but that does not mean we will stop fighting to keep him here. 

He is THAT special as a player, but more importantly, as a person. He is that important to our franchise, to our players, coaches, and staff. If he decides to move on, we will turn our attention to whatever we can do to make the best team for the city long-term, but until we have exhausted every possible option, we are not giving up on Anthony Davis. He is simply too great for us to choose to do anything else. Don't bother calling. Don't bother asking. We're New Orleans. And we will continue to #DoItBig. 
Will this get Davis to stay? No. Probably not. But in an era where players from Jimmy Butler to Paul George are asking for their franchises to go all in on them, this is the surest sign.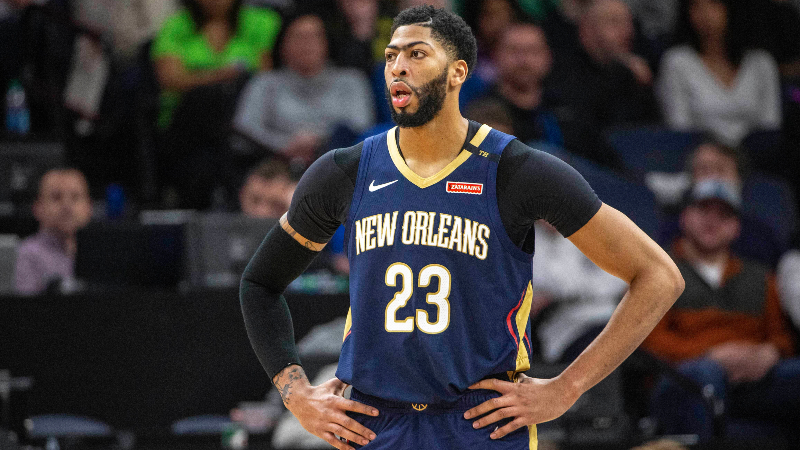 There's no hedging. There's no covering yourself. It's complete and total surrender of power to Davis, letting him make that choice.
If you trade Davis tomorrow, your best return is a young player or two and future picks, so that you can begin tanking and have more assets to try and build a good, young team.
But if Davis leaves, you will have the opportunity to trade players like Nikola Mirotic, Jrue Holiday, and other veterans to get lesser returns as you tank and try and build a good, young team.
You're not actually missing out on that much.
Unless the Knicks win the lottery, and then know they're getting Kevin Durant, and are willing to trade you the No. 1 pick and Zion Williamson for Davis — an extremely unlikely scenario in that it involves the Knicks pulling off something really great — then there's no return you get that sets you up.
Lonzo Ball, Brandon Ingram, and a mid-level pick? The Lakers won 35 games last season.
Jaylen Brown, the Memphis, Clippers and Boston picks in a top-heavy draft?
Do either of these options set you up long-term?
Like I said, there's the possibility of some team going in for a rental to try and convince him to stay. A team like Denver with young players, a transcendent star in Nikola Jokic and big contracts to move could offer something like that, though there's been no indication the front office would consider breaking this team up after all its success.
A lot of teams have the capacity to put together a deal built around a sub-25 star like Indiana did, if they're willing to risk it.
Even then, though, is Indiana better than a fully optimized team built around Anthony Davis? The Pacers are a great story, tough as hell, and very well could make a ruckus in the East playoffs. But they are not a contender.
Anthony Davis affords you the chance at a contender. Losing Anthony Davis means losing a chance at a title for at least five years. But trading Anthony Davis does the same.
If you set the bar there, especially with the stakes for what it means for New Orleans as an NBA market, there's reason to stay the course.
Everyone wants the Pelicans to trade Anthony Davis.
Which is why the Pelicans should tell everyone else to screw off.