The Celtics go out and beat the Bucks in Game 1, and what do you know, they open as smaller favorites in Game 2. Go figure.
Meanwhile, the Raptors break their Game 1 curse and have seen their line move significantly against them. Go figure.
Here's what you need to know before betting Day 4 of the NBA playoffs. — Mark Gallant
All info as of Tuesday afternoon. Check back during the day and keep an eye on our Twitter handle for any updates.
If there's a specific matchup you want to jump to, click the quick links below. For live spreads and bet percentages, check out this page. Follow the latest injury info on our industry-leading news feed. To get access to our premium betting tools, subscribe here.
---
GAME 2: WASHINGTON WIZARDS AT TORONTO RAPTORS (-7) | O/U: 213.5
7 p.m. ET | NBATV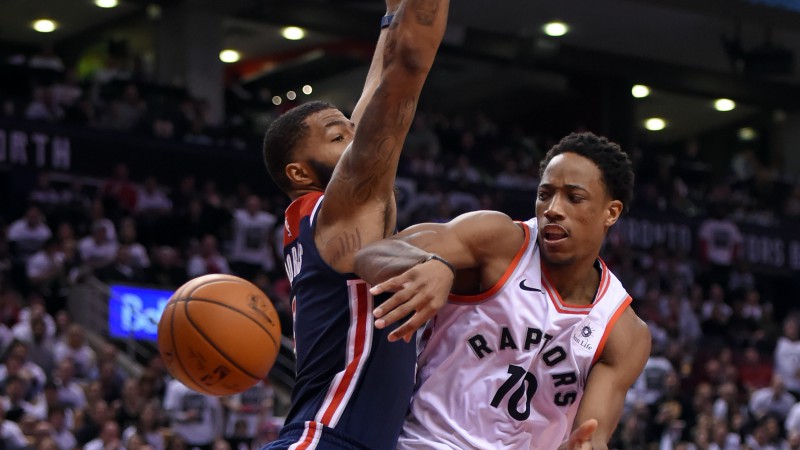 Dan Hamilton-USA TODAY Sports
What I'm watching for: If you're looking at how to evaluate Washington, start here: How much do you trust John Wall?
Wall had his best season last year in 2016-17. He was a demon, pushing the ball, getting to the rim, playing defense (for most of the year) and whipping up assists constantly. This year he wasn't the same, and his knee was clearly the problem. After having two surgeries in the summer of 2016, that knee soreness prompted another procedure that kept him out until late in the season.
Wall's Game 1 line of 23 points, 15 assists and four steals looks great. But he shot 6-of-20 from the field with five turnovers. He was dismal in transition, scoring seven points on eight possessions. The worst part about his night was that his 3-point jumper was falling, which means there was actually a high probability of this game being even worse than what it was for him.
The Raptors also played Wall perfectly. Because Marcin Gortat can't space the floor, they were able to defend the pick-and-roll 2-on-2 and prevent him from getting the outside pass. Wall had 15 assists, but many of those came on tough shots. Otto Porter was 4-of-4 on assist attempts off Wall passes, which makes you wonder why Porter wound up with only seven shots.
Watch how DeMar DeRozan stays plugged to Porter on the weakside corner (bottom) here, and how Serge Ibaka doesn't help down until it's too late for Wall to make the kick pass to the corner.
Wall was obsessed with drawing contact and was freaking out at officials most of the game for noncalls. He was forcing the issue, as seen here, and then was upset when the calls didn't come.
Those sequences almost always ended with him falling down or stumbling, which gave the Raptors opportunities to get back and find buckets.
If Wall improves? The Wizards still have enough matchup advantages to even the series in Game 2. They were within range even with Wall's bad night. But Wall has to take a page from Toronto and trust his teammates more for that to happen. — Matt Moore
START MY FREE TRIAL
model helps you find edges when betting moneylines and over/unders for the full game