Wizards-Celtics Angles: Can Stevens Rally Without Kyrie and Horford?
Credit:
USA Today Sports. Pictured: Bradley Beal
The Celtics are dropping faster than bison in the 1800s.
No Kyrie Irving, no Marcus Smart, no Jaylen Brown, no Daniel Theis, and no Al Horford now, too! The shorthanded Celtics play host to the Wall-less Wizards on a measly four-game Wednesday slate. What type of opportunities do these injuries open up for you? Our experts have the four things you need to know about tonight's game. — Mark Gallant
1. The Celtics Are Very Reliant on Kyrie and Horford
Take the Celtics' season-long metrics and throw them out the window. These Four Factors . . .
. . . largely don't apply given all of the Boston injuries. The Celtics have been absolutely atrocious offensively without either Kyrie Irving or Al Horford on the floor this season, scoring only 102.1 points per 100 possessions. I wrote a piece a couple weeks ago about the Moreyball MVPs — the players who have had the most outsized impact on their team's shot profile and overall offensive efficiency — and Horford ranked No. 1 in the stat. Kyrie was close behind. This season, when Horford has been on the floor, the Celtics have improved their overall effective field goal mark by 6.9 percent, their field goal mark at the rim by 7.9 percent, and their 3-point field goal mark by 9.8 percent; those are all in the 96th-plus percentiles of all players this year. The most-used lineup this season without Kyrie and Horford is a combination of Terry Rozier-Marcus Smart-Jayson Tatum-Marcus Morris-Daniel Theis. That lineup has posted a -35.1 net rating in 77 minutes together, and they've scored only 83.1 points/100. And that's mostly against other bench lineups. AND two of those guys aren't even playing. This could get ugly. — Bryan Mears
2. The Celtics Don't Always Bounce Back
It's not all sunshine and rainbows in Beantown. The Celtics lost their previous game, 99-97, to the Pacers on Sunday. With three days to prepare for the Wizards, this looks like a bounce-back spot for Boston even with the injuries. However, under Brad Stevens, the Celtics have struggled in this situation, going 12-24 ATS with three or more days off following a loss. — John Ewing
3. Boston Wings Get a Boost Due to Injuries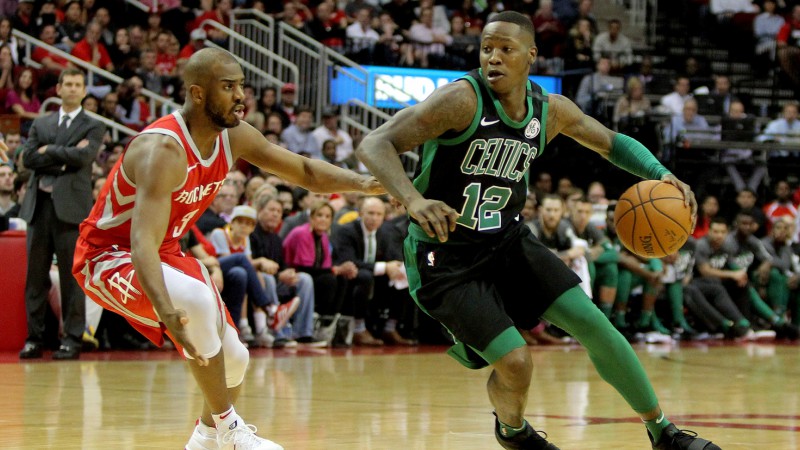 Given their injury situation, the Celtics will be an obvious DFS target for most on today's slate. Jayson Tatum and Marcus Morris might be the two most appealing options at $5,700 and $5,600, respectively, on DraftKings. The former has averaged 1.13 DraftKings points per minute and paced the Celtics with a 30.6 percent usage rate with Irving, Smart, Brown and Theis on the floor this season, while the latter has averaged 1.06 DraftKings points per minute in that situation. Both should see well over 30 minutes tonight. That said, there are questions as to how effective the Celtics can be without Irving in particular: They've averaged roughly 1.5 fewer possessions and 9.4 fewer points per 100 possessions with Irving off the floor this season. — Matt LaMarca
4. Stevens Dominates Teams on Back-to-Backs
The Wizards are coming off a home loss to the Timberwolves last night and are headed to Boston to play the Celtics. This season, Brad Stevens and the Celtics are 11-0 SU and 8-2-1 ATS when facing a team coming off a back-to-back. In the 11 games, Boston is crushing its opponents by 13.9 PPG and covering by 8.1 PPG.
Sticking with the theme: In the same situation (opponent coming off a back-to-back), the Celtics are 9-1-1 SU and 9-2 against the first half-spread, winning and covering their past seven games in the spot. — Evan Abrams
Photo via Brett Davis-USA TODAY Sports