Cavs-Celtics First Look: Horford's Struggles, Tatum's Rise and … LeBron
Credit:
David Richard-USA TODAY Sports
The Highlights
Tristan Thompson, for whatever reason, has owned Al Horford. In the best season of Horford's career, this is his biggest test.
Marcus Smart might be Boston's best option to guard LeBron James. 
The Cavaliers' ability to go big and small gives them the lineup flexibility that the 76ers lacked vs. Boston.
---
Boston, against all odds, has made the conference finals. No Kyrie Irving. No Gordon Hayward. And still, their execution and discipline carried the day over the Sixers and ended the Process for this season.
Meanwhile, the King stay the King. LeBron James carried the Cavaliers in a grueling first-round win over the Pacers, but instead of running out of magic, the Cavs thrived on what was supposed to be their last gasp, and swept the Raptors back into humiliation.
So now it's LeBron vs. his old friends, the Celtics … only they're mostly made up of new friends. Will the Cavs go up by 50 again? Is this Boston team wired differently and made of the stuff of destiny? Is Aron Baynes going to hit 3s? Who's going to fight this time? (Spoiler: It's JR Smith and Marcus Morris.)
Here are five quick thoughts to get started with our coverage of the NBA's Eastern Conference Finals.
EASTERN CONFERENCE FINALS
Boston Celtics (+200) vs. Cleveland Cavaliers (-250)
1. AL'S BIG PROBLEM
Al Horford needs a drastic change from years past. He has gotten clobbered in every matchup he's had with Tristan Thompson since 2015, and in that magical year, Atlanta got swept by LeBron & Co. It's one thing for Horford to lose to James, but Thompson, a lesser player by any standard, gives him fits.
In 2015 the Hawks were outscored by 4.2 points per 100 possessions with Thompson on the floor vs. Horford. In 2016, that number jumped to 16 points per 100 possessions in favor of the Cavs. In 2017 with Boston? Try 33.1 points per 100 possessions.
Horford has to find a way to win this matchup, not just vs. James, but to outduel Thompson, who is suddenly back in the rotation. This has been Horford's best season of his career, but he needs more if the Celtics are to have any shot in this series.
2. ALWAYS OPTIONS
The Cavaliers turned to Thompson in the starting unit to provide a spark, then went back to Kevin Love vs. Toronto. The Cavs have to know that their best chance of success vs. Boston is making it an offensive series. But having the ability to play big with Thompson or small with Love helps.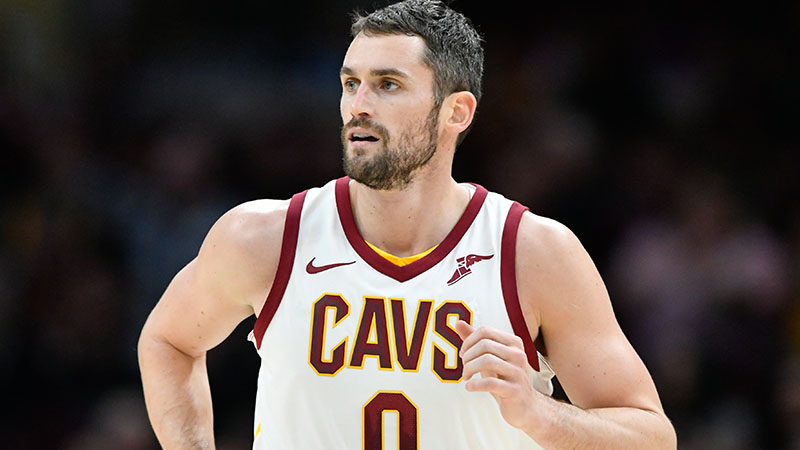 Pictured: Kevin Love. David Richard-USA TODAY Sports
Boston was able to get Philadelphia out of its comfort zone by spreading the floor not only with Horford but with Baynes. The Cavaliers are much more comfortable going small, however. Boston may not have the firepower to withstand the human whirlwind of James, but at least the Celtics have different options with their roster (what's left of it after so many injuries, anyway) to counter if things start to go south.
Cleveland similarly has found a few different mechanisms that work. Jeff Green's minutes have been helpful, and the four-shooters-and-LeBron lineups are always devastating offensively. Both teams have counters to use; it's just whether the Celtics can land any real punches with theirs.
3. SMART SECURITY
Marcus Smart typically has a terrible box score and great plus-minus. But vs. the Sixers in his return from injury, he actually logged a negative Net Rating thanks to the Celtics' offense being nine points worse per 100 possessions with him on the floor.
It turns out it's easier to scout out Smart's offensive limitations in a playoff series when he has injury issues. However, Smart's play, particularly in the fourth quarter of Game 5, helped the Celtics get past Philadelphia despite the negative stats.
So now Boston has to decide when and how much to deploy Smart. There may be no better option for Boston vs. LeBron James. Smart is big enough to manage LeBron in the post, fast enough to contain him on the perimeter and active enough to bother him and prevent him from getting to his spots. Another option: Putting Smart on Kyle Korver or Love to contain the Cavs' ability to force helpful switches in pick and roll.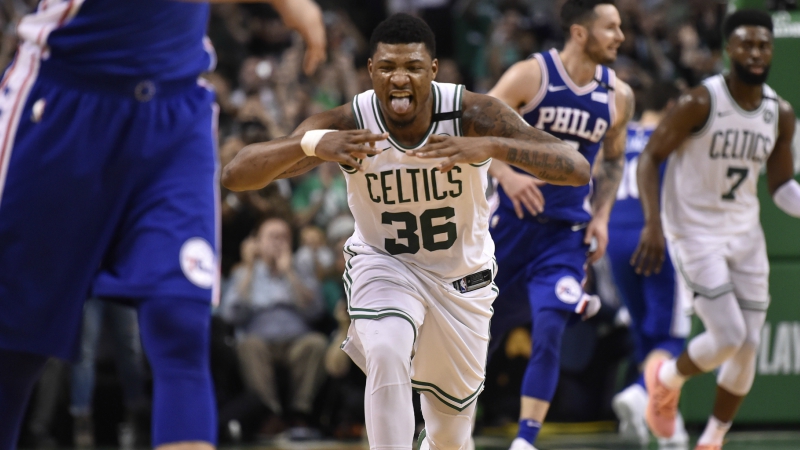 Pictured: Marcus Smart. Bob DeChiara-USA TODAY Sports
4. KORVERING FIRE
If you had told me the 37-year-old Korver would be the Cavs' third-best player in the playoffs, I would have told you they had an early exit (which they nearly did vs. Indiana). But Korver has been lights out, not only with his usual array of off-screen spot-ups but catching defenders overplaying his 3-pointer with cuts to the rim.
However, the reason Korver has caused so much damage is the inability of the Cavs' opponents to manage keeping with him. It's not just a matter of not helping off, as Zach Lowe wrote for ESPN, it's how Korver and Love manipulate space. The Celtics, however, have one of the best off-ball switching mechanisms of any team I've seen. It's part of why they had the No. 1 defense in the league this season, and part of why they're so good at home — they can hear better to make those switches.
If Boston cuts off Korver, it's like Joe Ingles with Utah; a huge slice of the Cavs' offense suffocates. Then the Celtics just have to stop the world's best player playing what may be his best offensive basketball, ever.
5. RUMBLE, YOUNG MAN, RUMBLE
Jayson Tatum has risen to every challenge presented to him. He's been a prolific scorer for an Eastern Conference finalist in his rookie season. Brad Stevens — part out of confidence in Tatum, part out of necessity due to injuries — has let Tatum face every challenge head on.
It will be interesting to see how Tatum responds to the LeBron challenge. James tends to guard more off-ball shooters these days, it conserves his energy and allows him to play free-safety defense. He'll likely spend a large amount of time on Marcus Morris and Jaylen Brown. But there will be times James will challenge Tatum. I'd expect Tatum to go right back at him; it's how he's wired.
Tatum guarded James for only 12 total possessions in the regular season. If James forces a switch to get him one on one, how will the rookie react? Can he guard without fouling? How James responds to this young challenger will be fascinating.
---
ARGUMENTS FOR CAVS (-250): LeBron James. Boston was able to take advantage of mistakes the Sixers made, but the Cavs aren't likely to repeat those same mistakes. Philadelphia's offense was dependent on inconsistent shooters; Cleveland's is built on reliable ones. George Hill's play fundamentally makes the Cavs a lot more stable and less prone toward erratic swings. Did I mention LeBron James, who hasn't lost to the Celtics since 2010 and is the all-time leading scorer in NBA history vs. Boston?
ARGUMENTS FOR CELTICS (+200): You're getting a 2-1 return for a team with home court that has beaten both the Bucks with Giannis Antetokounmpo and the Sixers with Joel Embiid. The Cavaliers' defense remains suspect — bad even. Cleveland gave up the second-highest effective field goal percentage of all second-round teams (behind the Raptors). Oh, and Brad Stevens.