NBA Betting, DFS Angles for Every Game: What to Expect in Celtics-Rockets
Credit:
Dec 28, 2017; Boston, MA, USA; Boston Celtics forward Marcus Morris (13) is guarded by Houston Rockets shooting guard Eric Gordon (10) during the second half at TD Garden. Mandatory Credit: Greg M. Cooper-USA TODAY Sports
The Rockets and Celtics face off Saturday night in ABC's Primetime NBA Showcase, and it's a doozy. The No. 1 team in the West vs. the No. 2 team in the East, both of whom have been at the top of the conference the entire season. Boston knocked off Houston on Dec. 28, coming back from 26 points down in a game that pretty much defied all laws of logic and order, as many Boston wins have this season.
This one's different, however. Chris Paul, Luc Richard Mbah a Moute, and Clint Capela are back for the Rockets. That should change things considerably.
Here's everything you need to know about Celtics-Rockets 2.0 — and every other NBA game on Saturday's slate. — Matt Moore
All info as of Saturday morning. Check back during the day and keep an eye on our Twitter handle for any updates.
If there's a specific matchup you want to jump to, click the quick links below. For live spreads and bet percentages, check out this page. Follow the latest injury info on our industry-leading news feed. To get access to our premium betting tools, subscribe here.
BOS-HOU | Quick Hits on the Rest of the Slate
---
BOSTON CELTICS AT HOUSTON ROCKETS (-8) | O/U: 213
8:30 p.m. ET | ABC
Five things I'm watching for
By Matt Moore
1. An outlier maelstrom: Any time you have a crazy comeback like Boston's 26-pointer vs. the Rockets earlier this season, it takes an uncommon amount of strange events. However, what befell Houston was exceptional even given those parameters. The absence of Capela meant more minutes for Nene, which contributed to the Celtics out-rebounding the Rockets 25-19 in the second half, grabbing nine offensive rebounds in the final 24 minutes alone.
For context, the Celtics have only grabbed nine or more offensive rebounds in an entire game 27 times this season. They are, once again, one of the worst rebounding teams in the league. But vs. Houston, they just tippy-tapped their way to second-chance points like this:
Abdel Nader has eight offensive rebounds on the season … total.
He had three vs. the Rockets.
It was that kind of game.
The Rockets shot 0-of-9 on unguarded catch-and-shoot attempts in that game via Synergy Sports. The absence of Paul allowed Boston to load up on and wear down James Harden. The absence of Mbah a Moute allowed more opportunities for the Boston wings. On and on.
This doesn't mean the Celtics can't win this game. It means that it's unlikely they can win it the same way.
2. The return of Marcus Smart is a P-R-O-B-L-E-M for Houston: When Smart was out with his lacerated hand after punching a picture frame, the Celtics had the worst of both worlds. Their offense wasn't better, much to the chagrin of those who love to identify Smart as this major offensive liability when 1) his playmaking matters and 2) there is no data, whatsoever, that the Boston offense as a whole struggles with him on-court.  And the defense fell off a cliff. He's back, and it matters.
Watch this transition sequence.
This kind of flip pass from Harden is prototypical. He doesn't ram the ball down the opponent's throat like Russell Westbrook because the defense will key in. Instead, he tries to catch it in mid-transition, asleep and unaware. When Smart turns, the ball is in the air, and his back is to it.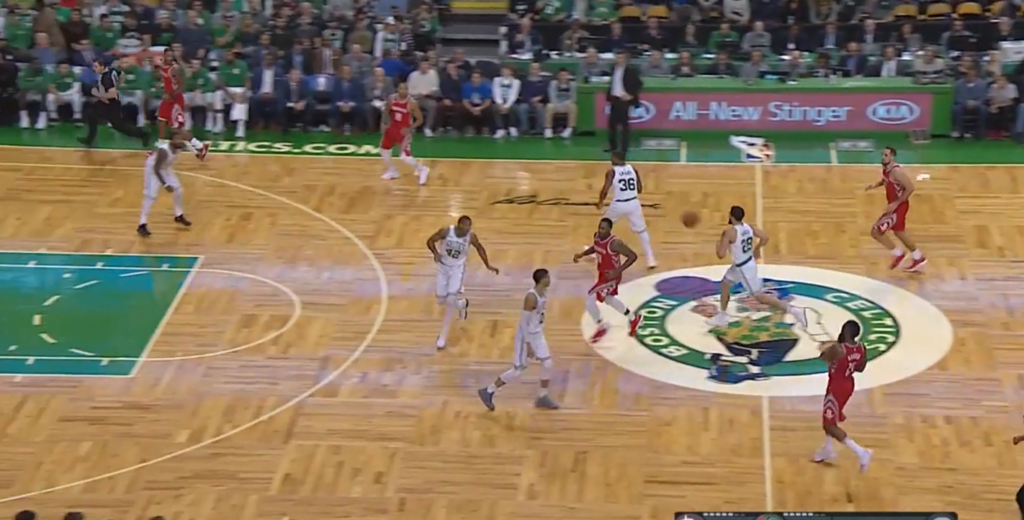 And yet, it's a steal.
Smart does a million little things like this. He flops to draw charges, often in grotesque manner. He gets under guys' armpits to distract them. He pulls on them off-ball. He finds all sorts of ways to make you miserable, and he's able to effectively defend any player he's switched onto.
His return is key for Boston's chances here.
3. Inflation is unfortunate: This is just the second time, all season, that Boston has been a dog of more than seven points. The line opened at Rockets -7.5 and bumped to -8 almost immediately. That's a lot of points.
The Celtics are 5-3 straight up on the road vs. West teams. That's surprising, mostly because it means the Celtics have to cram seven West road games into the final 19 games.
The Rockets are 7-13-1 this season at home ATS when favored by 7.5 or more. There's not a lot of reason to think there's value in playing Houston.
4. The isolation problem: The Celtics have had the No. 1 defense throughout almost the entirety of the regular season. Their one area of weakness? They're 18th in isolation defense. That's typically not an issue as most teams don't use it that much any more, and it's an inherently inefficient playset to begin with.
Houston, however, is No. 1 in isolation offense with one of the best isolation marks we've ever seen. The problem defenders for Boston are Jaylen Brown on account of a series of tough assignments and Kyrie Irving. Irving has given up a 47.6% eFG in isolation. With Paul back, it's going to be difficult to effectively hide Irving. The Celtics can move him onto Mbah a Moute, Ariza or one of the other spot-up shooters, but the Rockets, if they are serious in this matchup, will just hunt him down by forcing switches in pick and roll.
Irving needs to be able to provide coverage but more than anything, he needs to stay out of foul trouble in those situations. Harden and Paul are going to score, that's what they do. But the Celtics offense will crumble like cookie bits if Irving gets in foul trouble.
5. Watch your six: Houston has a nasty habit of buidling huge leads and watching them tighten. Even against the Clippers on a back to back earlier this week, the Rockets built a huge lead after Harden ended Wesley Johnson's career, only to see LA get it back to single digits before Houston righted the ship.
Part of having an explosive offense like Houston's is how it is hard to maintain. Eventually the energy runs out and that opens the door. The Celtics, on the other hand, are experts at double-digit comebacks this season, having done it double-digit times.
All of this sets up a standard where if Houston jumps out to a big first-half lead, it's going to be worth keeping an eye on that second-half line.
What the metrics say
By Bryan Mears
We saw quintessential versions of these teams when they first met in December. The Celtics took that one at home 99-98, and they did it by protecting the rim, holding the Rockets to just 40.6% shooting at the bucket, their lowest mark of the season. That didn't stop the Rockets from being themselves, however: They were in full Moreyball mode …
Harden struggled, going just 7-of-27 from the field and 5-of-15 from the 3-point line. But that was without Paul, who could certainly change the complexion of this game. For starters, the Rockets shoot better with him on the floor, especially from the 3-point line; his presence adds 2.9% in efficiency. Further, CP3 can match up defensively against Irving, who had a solid 26 points on 18 shots in the first meeting. But honestly, it may not matter with how these teams are playing currently: Houston has won its past 10 games, posting a +14.1 net rating in the process. Boston, meanwhile, is just 6-4 in that time frame, posting a +0.4 net rating. If Boston isn't sharp, this may get out of hand.
DFS nugget
By Matt LaMarca
Harden seems slightly riskier than usual on today's slate. The Celtics are obviously an elite defensive team, and the matchup results in an Opponent Plus/Minus of just 0.77 on FanDuel. The total on this game has also decrease by 4.5 points since opening, which could be a bad omen for Harden's fantasy prospects: Comparably priced players have historically struggled to exceed salary-based expectations when the total drops so much. He's especially tough to trust on FanDuel, where he only has a Bargain Rating of 33 percent.
Trends to know
By Evan Abrams and John Ewing
1. The Rockets enter this game on a 14-game winning streak. In his career as coach of the Celtics, Brad Stevens is 35-18-2 against the spread (66%) when facing a team on a winning streak of three games or more. Since 2013, only Mike Budenholzer is more profitable against teams on a winning streak. The Celtics are 6-0 straight-up and ATS in this spot this season (including their last game against the Hornets). 
2. Stevens' career ATS by days rest:
3+ days: 28-40 ATS (41.2%)

As an underdog: 8-18 ATS (1-10 ATS in past 11 games)

1-2 days: 176-136-6 ATS (56.4%)

As an underdog: 82-55-3 ATS (59.9%)
Boston hasn't played since Wednesday.
3. Stevens' career ATS as an underdog (including the playoffs):
By more than 5 pts: 59-39 ATS (60.2%)

2-1 SU and 3-0 ATS this season

By more than 6 pts: 48-27 ATS (64%)

Since '13, Stevens is the most profitable coach in NBA in both spots
Boston opened a 7.5-point underdog.
4. The Celtics have the best record against the second-half spread in the NBA this season at 38-24-1 (61.3%).
5. When two of the league's best teams (win rate of 65% or better) play, the under is 424-345-4 (55%) since 2005. And when the closing total is 200 or higher, the under is 212-146-2 (59%). 
---
Quick Hits on the Rest of the Slate
MEMPHIS GRIZZLIES AT ORLANDO MAGIC (-7.5) | O/U: 210
7 p.m. ET
DFS nugget: The Grizzlies look like they'll be pretty shorthanded in this contest, especially at the PG position. Mario Chalmers is one of the better value plays of the day at just $3,500 on DraftKings. He played 33 minutes in a similar situation yesterday, and the Magic have been shredded by opposing point guards all season. — Matt LaMarca
Trend to know: Under J.B. Bickerstaff, the Grizzlies are 2-8 SU and 7-3 ATS on a back-to-back. Since 2010, the Grizzlies are 89-54-1 ATS (62.2%) on a back-to-back — the most profitable team in the NBA. — Evan Abrams
DENVER NUGGETS AT CLEVELAND CAVALIERS (-4.5) | O/U: 227.5
7:30 p.m. ET
Trend No. 1 to know: The Cavs lost 108-97 on Thursday to the 76ers. Since LeBron came home, Cleveland is 15-36 (29%) ATS following a double-digit loss. — John Ewing
Trend No. 2 to know: Over the past two seasons, the Cavaliers are covering 39.3% of their games during the regular season. That said, the numbers are very different depending on opponent defense. The Nuggets rank 25th defensively this season, allowing 108.3 points per 100 possessions. Here's how the Cavs have performed in the betting market by opponent defensive efficiency… — Evan Abrams
Less than 105.0: 48.8% ATS, -1.6 PPG
105.0 or higher: 35.1% ATS, -4.0 PPG
DETROIT PISTONS AT MIAMI HEAT (-5.5) | O/U: 203
7:30 p.m. ET
Trend No. 1 to know: When it comes to covering the spread at home, the Heat just can't get out of their own way. The night Dwyane Wade hit the game-winning shot at home, Miami pushed the one-point spread. In their last game against the Lakers, the Heat got blown out by 18. The Heat are 8-17-4 ATS at home overall this season. — Evan Abrams
Trend No. 2 to know: Stan Van Gundy coached the Heat and Magic before the Pistons. In his career, he is 6-10 ATS playing on the road against the Heat — his second-least profitable opponent, ahead of just the Spurs. Since 2011-12, Van Gundy is 2-6 ATS in Miami, including 1-5 ATS as an underdog. — Evan Abrams
Trend No. 3 to know: The Pistons (28-32-1 ATS) are on a back-to-back and have played three games in five days. In the second half of the season, it has been profitable to fade bad ATS teams (covered less than 50% of games) that are fatigued (on a back-to-back and have played at least three games in five days). Fading them has gone 670-550-28 (55%) ATS since 2005. — John Ewing
LA LAKERS AT SAN ANTONIO SPURS (-5) | O/U: 218.5 — NO LINE YET
9 p.m. ET
DFS nugget: This sets up as a smash spot for the Spurs. They are currently implied for 111.5 points against the Lakers, which represents an increase of almost 10 points when compared to their season average (102.2). They will also be without their two highest usage players, with LaMarcus Aldridge joining Kawhi Leonard on the sidelines. Rudy Gay and Pau Gasol stand out as the top two options on the team today, but virtually everyone projected to see minutes is in play. — Matt LaMarca
Trend No. 1 to know: The Spurs lost their last game against the Lakers 93-81 in January. Since 2005, San Antonio is 45-30-3 (60%) ATS avenging a loss to an opponent with a losing record but just 1-5 ATS in this spot this season. — John Ewing
Trend No. 2 to know: Since the beginning of last season, the most profitable NBA coaches in the regular season are Brad Stevens, Luke Walton, and Kenny Atkinson. Walton is 21-11 ATS (65.6%) against above-.500 opponents, covering the spread by 4.6 PPG. — Evan Abrams
OKLAHOMA CITY THUNDER AT PORTLAND TRAIL BLAZERS (-5.5) | O/U: 214.5
10 p.m. ET
DFS nugget: The Thunder are on the road for the second leg of a back-to-back today, but that shouldn't scare you off Russell Westbrook. He's actually been better in those situations than when coming off rest over the past two seasons, exceedin g salary-based expectations by an average of 5.66 points on FanDuel. — Matt LaMarca
Trend to know: The Thunder are 5-2 SU and ATS as underdogs this season. In those seven games, Russell Westbrook has done some really, really impressive things. I mean look at his first-quarter marks… 
Game: 

28.3 PPG, 11.0 RPG, 10.7 APG

1st quarter: 10.1 PTS (58.7%), 4.4 REB, 3.7 AST — Evan Abrams
UTAH JAZZ (-6.5) AT SACRAMENTO KINGS | O/U: 202
10 p.m. ET
Trend to know: Sacramento won and covered its last game against Brooklyn on Thursday. Bad teams (win rate of 33% or worse) after a win and cover late in the season (March-April) have gone 164-206-6 (44%) ATS in their next game. — John Ewing
Top photo: Celtics forward Marcus Morris (13) and Rockets shooting guard Eric Gordon (10); credit: Greg M. Cooper-USA TODAY Sports