Why You Can't Bank on the Cavs Improving Defensively
Credit:
David Butler II-USA TODAY Sports
There was a brief moment, during a few weeks in November, when the Cavs' anti-alarmists felt good. Cleveland allowed a defensive rating north of 110 just once in a 17-day span. They went 12-3 in November, and started 9-2 to begin December. All those silly early-season problems were gone.
It was a nice few weeks.
As of this writing on Jan. 10, the Cavaliers have the 29th-ranked defense in the NBA per 100 possessions. In the past month, they are 28th; in the past five games, 22nd. Monday night, the Minnesota Timberwolves threw them up on the carving table and butchered them with the kind of ruthless efficiency that would make Hannibal Lecter proud, as the Cavs surrendered a 130.3 defensive rating, their worst of the season. Even more alarming: Their defensive rating was highest when LeBron James was on the floor.
So we're back to the standstill. Don't overreact to the regular season vs. don't ignore new trends developing with a new team. "They'll be fine when the playoffs come," is the refrain. I'm not so sure. Here's why.
THE HABITS QUESTION
Teams are a product of their habits. Good habits mean discipline. Bad habits mean weaknesses. Let's say you believe the Cavaliers are just coasting and that they'll be a different animal by the playoffs. That's fine, but it's also extremely optimistic, since you're counting on them to be a team they've never been.
Keep in mind how new this roster is. Four of their top eight players weren't on last year's team. This unit is learning how to play together for the first time this season. So if the habits this team follows are built on bad play, what model will they use to correct it?
LAST YEAR'S REALITY
There's this weird perception that the Cavs somehow "always get the defense fixed before the playoffs." This just isn't true — at least it wasn't last year. The Cavs ranked 22nd overall in defensive rating last season. After the All-Star Break, when they should have been "rounding into form," Cleveland was the second-worst defensive team in the league.
The Cavs improved in the Eastern Conference playoffs (as they should have given who they played), posting a 105 defensive rating, down three points from their regular-season mark. That was the third-best mark among playoff teams, which you would expect for a team that went to the ECF. What's shocking is that they were still four points behind the second-place team (Milwaukee) and seven points behind Golden State (first). The Cavs defense wasn't good; their offense was just transcendent.
Is that a formula that can win them the East? Sure. Is it foolproof? No. This model runs the risk of being upended by some team with offensive firepower and the defensive structure to disrupt James.
THE PERSONNEL PROBLEM
The Cavaliers rely on significant minutes from Dwyane Wade, Channing Frye, Kevin Love, Kyle Korver, and you can toss in Jose Calderon at this point. For some reason, this gets overlooked, as if the Cavs have this identity full of defensive stalwart veterans. Among those guys, who would you classify as a 50th-percentile-or-above defender at this point in their careers?
Wade has been good; there's no reason for complaint there.
Korver, unfortunately, is a big liability. This Kyrie Irving-Jayson Tatum dribble hand-off is a tough matchup for him, but he's given Tatum because it's not one of the tougher ones, and yet Korver has zero shot here:
Korver's effort defensively is good, and as I've said a million times other places, Korver was a wildly underrated defender four years ago. That was four years ago.
Frye has been better than you'd expect this year, but he's still in the 18th percentile defending shots at the rim. If he's challenged in one-on-one situations, there's not much he can do, even against 40-year-old half-man, half-retiree Vince Carter:
SCHEME (BAD) DREAM
Some of it's personnel. Some of it's communication, where guys just don't have any sense of what the assignment should be. These frustrations lead to body language that will just about make you break out in hives. Watch Tristan Thompson and Korver's reaction to this sequence:
Please note that all five Cavs are back in transition defense here. This isn't some confusion built off pace. It's all effort.
I don't even want to know what film room was like after that one.
But a lot of the Cavs' issues, honestly, are built upon scheme. The Cavs are obsessed with stopping the pick and roll at the rim. They drop their bigs to help them contain, which is a big reason why they're giving up a 1.065 points per possession via Synergy Sports on high pick-and-roll jump shots, an astronomically high mark, and why they rank 23rd in defending jump shots off the dribble.
To try and help manage this, the Cavs send help. Lots of help. Oodles of help. Watch J.R. Smith here. He leaves Evan Fournier wide open in the corner so he can go help on an Aaron-Gordon-Bismack-freaking-Biyombo pick and roll. What's more deadly, Biyombo rolling or an Evan Fournier corner 3?
Now, this is a problem for all NBA teams. If you can't just switch everything like the Warriors and Celtics, you have to make some of these decisions. Hedge with the big to control the ball, and have someone "tag" the roll man. Isaiah Thomas isn't going to help there anyway, but that's beside the point, as most times, the Cavs send that corner man to tag the roller anyway, like here:
The problem is A) the Cavs' rotations are way too slow, and uncertain, with no one helping the helper, and B) the rotations require older, slower, or smaller players to cover ground to make up for it.
As a result — and this will not shock you — the Cavaliers have given up the second-most makes and the worst field-goal percentage on corner 3-pointers in the NBA, per Cleaning the Glass.
It's not just a personnel thing. It's not just an effort thing. It's not just a scheme thing. It's everything.
THE ISAIAH DISRUPTION
Isaiah Thomas was never going to help the Cavs' defense. That's not why they traded for him. But Thomas' insertion into the lineup after his injury does mean things for their defense. Thomas is small and defenders routinely shoot over him.
It makes teammates uneasy watching him, and trusting him to handle those assignments is something the Celtics never really learned to deal with until the playoffs last year.
The below clip is from Thomas' first-game back, so grain of salt, but this is noted behemoth C.J. McCollum in transition and Thomas might as well not be there:
Playing Thomas more is just another challenge. It's worth it because of what he can do offensively … but it doesn't solve this huge issue for the Cavs.
THE SMITH LESSON
We'll get to where LeBron James fits in to all this in a second, but there's no ignoring the elephant named Earl in the room any more. J.R. Smith had an unbelievably tough year last season. He had a daughter born with health problems and anyone that's gone through that can tell you it's almost impossible to do anything else. He also battled injuries all year.
That said… Smith's been really bad this season. His rotations are late, he struggles to contain, there's constant miscommunication. It's all bad. And if you're skeptical, this is the strongest proof I can give you, via NBA.com:

Those are LeBron James' ratings per 100 possessions with Smith on and off the floor. The Cavs defense is 8.1 points better when Smith doesn't share the court with James. That's a huge chunk of time where you're losing with the planet's best player on the court. That can't happen.
Smith can turn it around. But until he does, he's actively hurting one of the few players capable of good defense on the Cavs.
LEBRON'S SUDDEN LACK OF BUOYANCY
I wrote extensively on LeBron's issues defensively over at my old haunt earlier this season. A lot of those same problems, like his lack of attentiveness on spot-up shooters, remain issues. He underestimates guys, especially the younger dudes, often:
But look, I can sit here and throw down clip after clip of James missing rotations or closing out shooters for the drive instead of the shot, but you know James is capable of greatness defensively.
The problem is that he's no longer the tide that lifts all boats, at least, not on this Cavs team. That J.R. Smith stat above works both ways. LeBron's not able to mitigate for Smith's struggles or the struggles of any other Cavs player. Take a look at the defensive ratings for each player when James is on and off the floor; remember a lower number is better here:
Cavaliers defensive rating with and without LeBron James
Player
On-court minutes
LeBron on-court
Off-court minutes
LeBron off-court
Wade
520
107.9
353
102.2
Love
1052
113.7
79
98.9
Smith
1042
113.4
121
99.9
Crowder
930
112.8
102
99.8
Thompson
228
111.8
148
100.9
Green
508
106.8
395
103.6
Korver
547
104.8
351
104
Frye
179
108.2
221
101.3
Those off-court minutes are tiny because James is one of the league leaders in minutes (which is a whole separate disaster to talk about sometime). The point in all this is not to suggest that the Cavs are better when LeBron's off the floor. As so many will point out, the majority of those minutes without him are vs. bench players, weaker lineups and in garbage time.
But all of those on-court numbers are high, really high. Even if you believe that James isn't a problem defensively, the overall picture suggests one of two things, and potentially both:
James is no longer able (or wiling) to provide the defensive performance necessary to impact the rest of the unit and be the tide that lifts all boats
The Cavs roster is so bad defensively that not even James can keep it within reason.
Either way, that's a legitimately concerning development for a team that is entirely built around James.
The Cavaliers have a lot of concerns, and there's no saving grace when it comes to the defense.
ATS AND DFS IMPACTS
Action Network fantasy analyst Justin Phan sent me the graphic below, and it absolutely blew my mind. See that number in the third column? Here's what that means: Wing players score 4.2 more fantasy points than their DFS salary would suggest when playing the Cavaliers.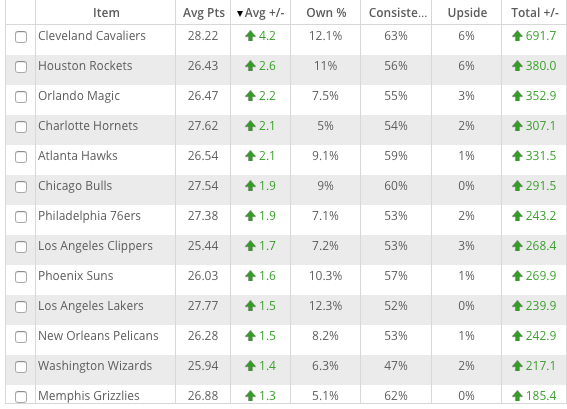 Are you kidding me?! 4.2, when the next-worst defense allows 2.6?! All of that stuff we talked about earlier with pick and roll contain and the corner shooters? You can see the impact right there. If a wing scorer is playing the Cavaliers, jump on board.
Additionally, The Cavaliers are an atrocious 3-15 as a home favorite ATS this season, and a league-worst 12-27-1 overall. It is, quite simply, insane how much they've underperformed relative to Vegas expectation. So much so that Evan Abrams has more info on why that almost assuredly has to turn around in the second half of the season.
The one place bookmakers haven't miscalculated Cleveland is with the over/under, as those are right around .500 for the season. It seems Vegas has properly inflated the Cavs' totals, knowing their offense will be great and their defense will be absolutely horrible.
How would you rate this article?