Friday NBA Betting Guide: Can the Rockets Take Back Home Court?
Credit:
Pictured: Clint Capela and Chris Paul. Photo credit: Troy Taormina-USA TODAY Sports
Oh boy, do we have ourselves an actual series?!? Probably not, but let's hope we do.
Houston better #TakeNote of the Jazz because Utah meant business last game. Was it a fluke? Well, I don't expect Joe Ingles to go 7-of-9 from deep again, and I don't expect the Rockets to shoot 27% from 3 either, but what do I know?
We also have the Warriors heading to NOLA, where the Brow and co. find themselves in a semi-must-win game. They covered in Game 2; can they win Game 3? — Mark Gallant
All info as of Friday morning. Check back throughout the day and keep an eye on our Twitter handle for any updates.
For live spreads and bet percentages, check out this page. Follow the latest injury info on our industry-leading news feed. To get access to our premium betting tools, subscribe here.
---
GAME 3: GOLDEN STATE WARRIORS (-4.5) AT NEW ORLEANS PELICANS | O/U: 232.5
Golden State Leads 2-0
8 p.m. ET | ESPN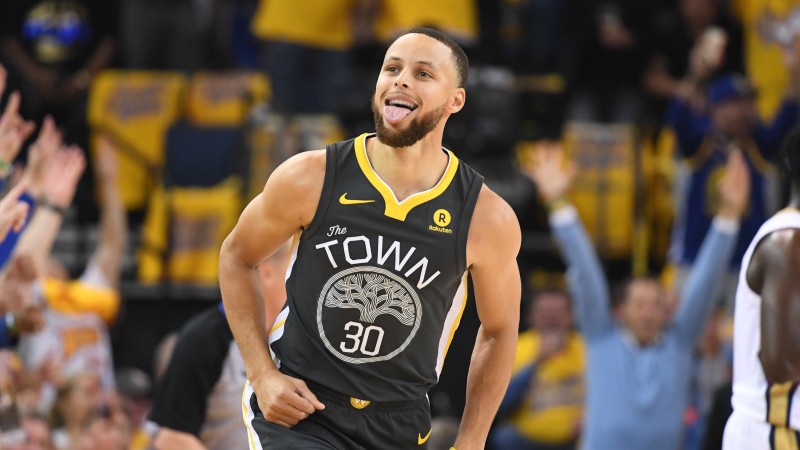 Kyle Terada-USA TODAY Sports
What I'm watching for: OK, so with the preface that it's the Warriors and I find fading the Warriors to generally be suicide once the playoffs come, I did find some … curious stuff.
For example:
The Warriors have just six points on 20 possessions where they shot out of the pick and roll. Maybe that number is due for some positive regression, but it does signal something odd going on with Golden State's offense.
The Pelicans have shot 5-of-21 on the road when chucking unguarded catch-and-shoot jumpers. Some of them are at least somewhat contested (these things are always a little fuzzy in logs) but most are clearly genuinely open: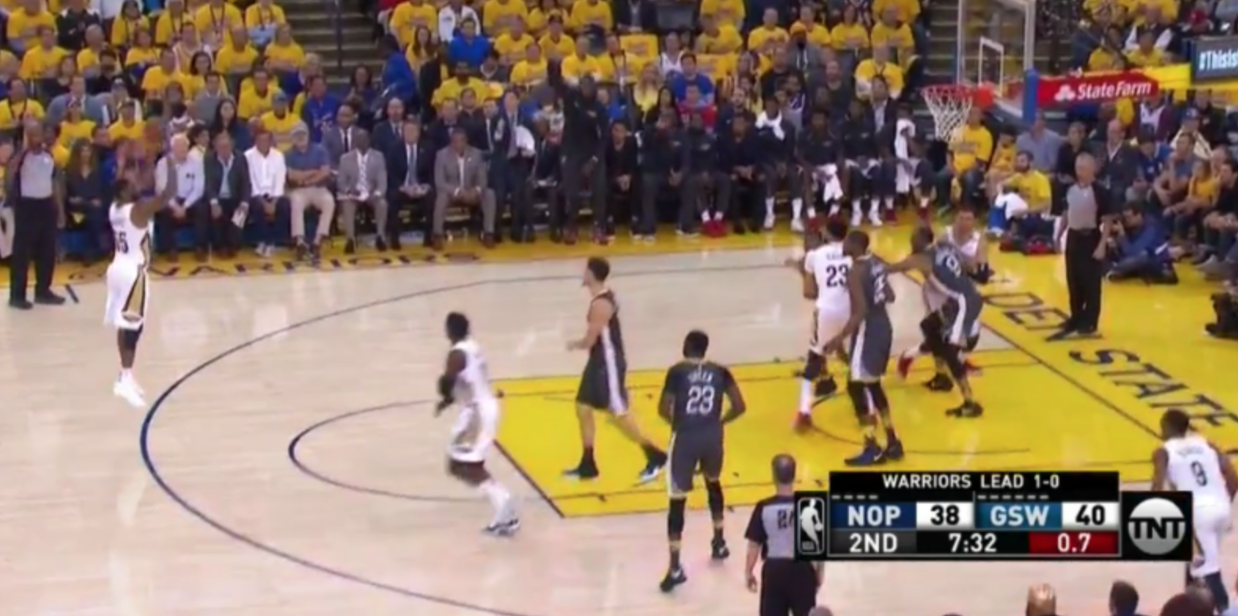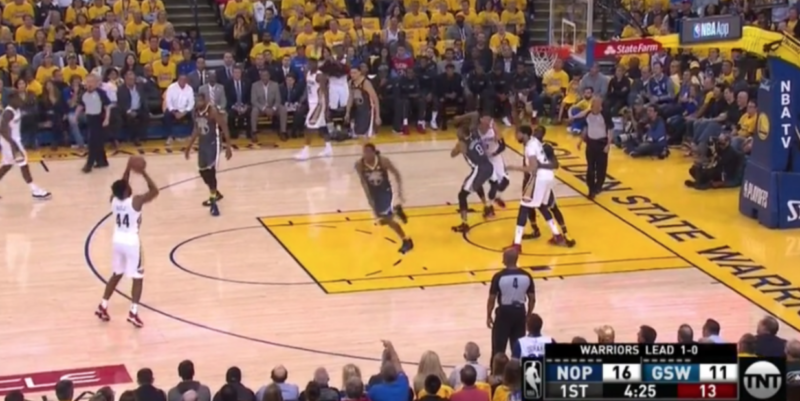 Sure, leaving Solomon Hill open is fine, but E'Twaun Moore (43% from 3-point range) and Nikola Mirotic? Even if some of this is OK, the role players will likely shoot better at home as the series shifts to New Orleans.
The most possessions the Warriors have generated in the half-court are on shots off screens. They killed the Pelicans with those in the regular season. It's one reason the Pelicans are getting shredded on cuts in this series; they're jumping all the off-ball screens to prevent those shots. Except, Golden State is 14-of-39 on those shots off screens.
And finally, the Warriors have the largest share of their points off transition. What's the best way to stop transition shots? Score, so the opponent has to take the ball out of the basket while your guys get back. What helps scoring? Being at home.
So you have the Warriors not scoring in areas they're usually great at, the Pelicans missing shots they should knock down, and the series shifting back to New Orleans.
Again, this is the Warriors, so proceed with caution, but it's at least something to keep in mind. — Matt Moore
What the metrics say: We've written all year that Stephen Curry affects his team's pace more than any other player in the league. That was very obvious in Game 2, and now the opening total in Game 3 is a monstrous 232. I'll let Locky discuss that angle in just a second, but I do want to hit on just how important Steph is to this team. He didn't start in Game 2, and the main lineup without him scored just 78.7 points per 100 possessions and posted a -28.0 net rating in 11 minutes. The Pelicans easily won those minutes. When he came in for Nick Young, the game swung: In the nine minutes with the Hampton Five, the Warriors scored 117.0/100 and posted a +17.0 net rating. With the four main guys and Kevon Looney, the Dubs scored 69.3/100. Put in Steph for Klay, and they scored 150.4/100. You get the picture: The Warriors may have been vulnerable in the first round, but now they're back to invincible with the former MVP. — Bryan Mears
What Locky is betting: Wow, we really don't see playoff games like Game 2 very often. Although my Pelicans lean somehow luckily came through thanks to Klay Thompson's late-game brain farts, the thing to really note was the pace. Again, we just don't see playoff games like that very often, hence the total for Game 3 coming in at an astronomical 232 as of this writing. 232! In a game that figures to be that much of a frenzy, and where scoring is astronomical, points in the spread are much less valuable, so I'd say if you're thinking of taking the Pelicans, just take the +160. It's so much of a better bet than +3.5 or +4 in this sort of game.
As for me, I'm taking the under, which is the bet that no human planning to watch the game should ever make. It will be awful to watch; there will be running and shooting and running and shooting. But the amount of pace and offensive efficiency required to hit that number in a playoff game is difficult to attain — more difficult than what is now essentially being made a 50/50 proposition. The totals in the first two games finished at 223.5 and 229.5. It's not like we didn't know the Pelicans played fast when the series started. This is an overreaction. Under 232, and I'll bet some MLB props to help me pass the time while I watch something else. — Ken Barkley
Trend No. 1 to know: Teams down 0-2 have gone 77-41-2 (65%) ATS in the first half in Game 3 since 2005. The Pelicans are +0.5 in the first half on Friday after losing the first two games of the series. — John Ewing
Trend No. 2 to know: Golden State has won two of the last three championships, but they have struggled as small favorites (less than six points) since the 2015 playoffs. In this spot, the Dubs are 8-11 straight-up and 7-12 against-the-spread, failing to cover on average by 7.0 points. In all other playoff games, they've gone 33-17 (66%) ATS. — John Ewing
Trend No. 3 to know: The total for the Warriors-Pelicans game is among the highest we've tracked over the past 15 seasons, at over 230 points. Under Steve Kerr, the Warriors have played 72 total road games, including the playoffs, with a total of 220 or higher. The under in those has gone 42-30 for a profit of 10.3 units. When the Warriors have faced a home team with a win rate above 50%, the under has gone 21-14, going under the total by 3.3 PPG. — Evan Abrams
Trend No. 4 to know: The Warriors have a nice 69 assists over their past two wins against the Pelicans, dishing out 30 or more helpers in both games. Under Steve Kerr, the Warriors have gone just 14-21-1 ATS after putting up 30 or more assists in consecutive games, including 8-16-1 ATS over the past two seasons, failing to cover the spread by 3.9 PPG. — Evan Abrams
---
GAME 3: HOUSTON ROCKETS (-4.5) AT UTAH JAZZ | O/U: 209.5
Series Tied 1-1
10:30 p.m. ET | ESPN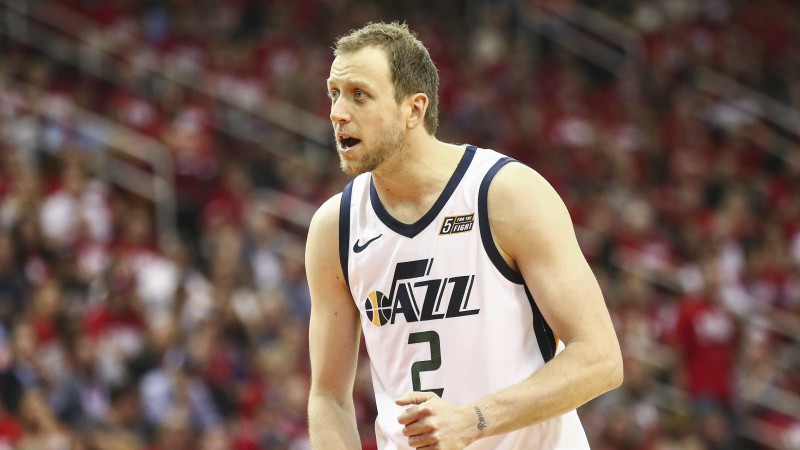 Troy Taormina-USA TODAY Sports
What I'm watching for: I don't know how many teams Utah's going to have to bury with Joe Ingles before they start guarding him appropriately. The Thunder put Russell Westbrook on him for long stretches. Houston in Game 2 put James Harden on him. Harden has legitimately improved the last two seasons; he's given appropriate effort and is a physical player.
However, he was back to being a mess vs. Ingles, and that was a big part of how Utah tied the series.
Ingles is the oxygen that lets the Jazz offense catch fire. Without him, they suffocate; with him, they burn through you. It's pretty simple.
Houston's understandably vexed by Donovan Mitchell, and Rudy Gobert is killing their small-ball units. If Houston continues to play Harden on Ingles, momentum will shift downhill for Utah. Houston's defense simply doesn't have enough advantages when Utah is getting the little edges it will at home. Game 3 is a legit danger zone for Houston on the moneyline. — Matt Moore
What the metrics say: The bad news for the Rockets: They missed almost  every mid-ranger they took in Game 2 and shot just 27.8% from the 3-point line. The good news: 20.0% of those 3-pointers were considered "wide-open" by the NBA — a defender six-plus feet away — and Houston made just 6-of-18. The Rockets shot 40% on those during the regular season. That said, it's probably not fair to attribute the Game 2 loss just to poor shooting. The Rockets did take a lot of contested shots, and the Jazz are obviously excellent defensively. Houston ranked first during the regular season in frequency of 3-pointers considered "tight" at 7.7%. That was up to 10% in Game 2, and they hit just 1-of-9. It's unlikely James Harden and Chris Paul will go a combined 4-of-15 from beyond the arc again, but the Jazz are making them take more contested shots than normal. That may not matter in the long run, but it does make this series at least somewhat interesting. — Bryan Mears
What Locky is betting: I had three different people text me at some point in the second half of Game 2 with some version of "I can't believe this," or "I never saw this coming." I was right there with them. And now here I am saying I'm taking in Houston in Game 3. Fool me once, fool me twice… whatever.
(I will say that something interesting may be happening here. The prevailing NBA playoff wisdom is that the best team wins nearly 100% of the time, but because THIS version of Utah has only existed for such a small part of the season due to Rudy Gobert's injuries, would a Utah win really be counter to the age-old axiom? What if this version of Utah is the best team? It's at least possible, and sort of scary since Ricky Rubio isn't playing but maturing Dante Exum sure is. Anyway, back to the game.)
It's not so much that Houston had the best road record in the league, or that its offensive efficiency just on the road would still be No. 1 overall in the NBA in the regular season, or that Utah's shooting in Game 2 was an outlier that is borderline unsustainable in back-to-back games. It's really a mix of all of those things. This was Utah's highest high combined with Houston's lowest low. It's sort of a perfect storm in that way. Oh, and when those two things happened, Utah won by only eight and trailed in the second half. I'll take the Rockets at a small number on the road to bounce back, although my long-term confidence in them for this series took a decent hit Wednesday night. — Ken Barkley
Trend No. 1 to know: Houston became just the 10th team since 2005 to lose a playoff game when favored by double digits. The previous nine teams went 8-1 straight-up in their next game, but 5-4 ATS. — John Ewing
Trend No. 2 to know: The Jazz shot at least 50% from the field in the first two games of the series. In both the regular season and postseason, teams listed as home underdogs after shooting at least 50% from the field in consecutive games have gone 97-68-1 ATS (58.8%) with a profit of 24.3 units since 2006. — Evan Abrams
Trend No. 3 to know: The Rockets shot 27% from 3-point range in their Game 2 loss to the Jazz, matching their lowest 3-point percentage in the playoffs so far. (They shot 27% in Game 1 vs. Minnesota and won by 20 in Game 2.) Over the past two seasons, Houston is 19-12 ATS after shooting less than 30% from 3-point range in their previous game — the second-most profitable team in the NBA over that span, covering the spread by five points per game. — Evan Abrams
---
Top photo: Clint Capela and Chris Paul