Public Bettors All Over Yankees, Sixers Monday Night
Credit:
Bill Streicher-USA TODAY Sports
Rain has already knocked two MLB games off of today's board, but thankfully public bettors can look elsewhere for action tonight, and that's just what they've done.
Found using the betting percentage data from an Action Network Pro membership, two of the public's three favorite games tonight come by way of the hardwood.
New York Yankees (-315) vs. Miami Marlins
6:35 p.m. ET
The Yankees are by the biggest favorites on today's baseball board, but 72% of bettors are still taking a shot on the Pinstripes, making them also the most popular MLB bet tonight. Despite their support, the Yanks are only backed by 19% of dollars, and they've fallen from -350 to -315.
Why the public loves the Yankees: They're at home, behind their ace, and they're playing the team with the lowest expected win total entering this season. Need I say more?
Philadelphia 76ers (-7) vs. Miami Heat
8:00 p.m. ET
With only two NBA games to choose from tonight, the public has zoned in on the 76ers in Game 2 of this series. Seventy-nine percent of bettors are behind Philly, but the Sixers have only received 71% of spread dollars, and have fallen to 6.5 at some books.
Why the public loves Philly: The public tends to bet based on the last thing they saw, which in this case was, well…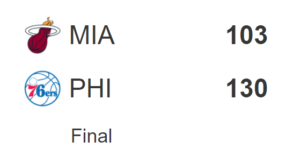 San Antonio Spurs-Golden State Warriors Over 205.5
10:30 p.m. ET
Seventy-seven percent of both bets and dollars have landed on this over, but it's actually fallen a bit from its opening number of 207.
Why the public loves the over: The public is likely to be on the over regardless of who's playing, but bettors tend to think of Golden State, behind all of their offensive weapons, as a particularly good "over team". That's not exactly the case, however, as Warriors games have gone over the total in only 40 of their 83 games this season.
Photo: Ben Simmons