Friday NBA Playoffs Guide: Stevens Is Boston's Biggest Mismatch
Credit:
Credit: Brad Rempel-USA TODAY Sports. Pictured: Brad Stevens
Want to help us make The Action Network better? Take our brief user survey.
LeBron James was an animal in Game 2 but didn't do enough to get the Cavs a cover. You know the age-old saying: Good teams win; great teams cover. The King is going to need a smidge of help from his teammates, I reckon, or else they won't be covering any time soon.
Meanwhile, the Raptors and Celtics look to keep the momentum riding on the road. Here's what you need to know for Friday's three playoff games. — Mark Gallant
All info as of Friday morning. Check back throughout the day and keep an eye on our Twitter handle for any updates.
If there's a specific matchup you want to jump to, click the quick links below. For live spreads and bet percentages, check out this page. Follow the latest injury info on our industry-leading news feed. To get access to our premium betting tools, subscribe here.
---
GAME 3: CLEVELAND CAVALIERS AT INDIANA PACERS (-1) | O/U: 208
Series Tied 1-1
7 p.m. ET | ESPN
What I'm watching for: In Game 1, the Pacers went at James. They sent wave after wave of defenders to challenge him, and it left him with little but frustration and turnovers. (And 24 points because he's LeBron.)
My thought was that the Cavs would adjust in Game 2 by having him handle the ball more. Instead, Cleveland used him off-ball just as much, but changed its angles and spacing.
The Cavaliers overloaded the weakside consistently to give James more breathing room, and LeBron punished Thad Young for going under screens in a way he didn't in Game 1:
Both the play above and the one below show the same type of dribble-hand-off (DHO) action with LeBron. The Cavs are using this DHO to get the switch they want with Myles Turner, and this time, James doesn't rush the layup like he did in Game 1.
And he hit the jumper to keep them honest about going under the screen:
This is pick-and-pop action with James. We saw very little of this in previous postseasons from him:
How about using him as the hand-off man, then having him roll? Look at the space this creates, something James never sees when he's isolating:
Bojan Bogdanovic is having a rough time this series because he has to guard James so often. He turns his head for a second and — bam — here comes off-ball LeBron:
The Pacers either have to blitz the ball-handler more aggressively in these situations with James rolling, or switch. Neither is appetizing. Give the Cavs a 4-on-3 with the two defenders occupied, and you're getting a 3-point attempt a lot of the time. Switch, and the Cavs will start using a guard in the action to force the switch of a smaller defender on him.
You'll notice all these plays came in the first quarter when James started them off with a 16-0 run. James became more ball-dominant as the game went on … and the Pacers crawled back into it. But the fact that the Cavs have these kinds of weapons in their pocket is a big deal. The question is how much is James willing to work as the tip of the spear and not the engine of the car? — Matt Moore
Metrics to know: The Cavs' starters scored about 55.0 points per 100 possessions in the first game of the series. In Game 2, the main unit of George Hill-Kyle Korver-J.R. Smith-LeBron-Kevin Love scored at a rate of 168.7 points/100 and posted a net rating of +63.3 in 16 minutes together. In general, lineups that included LeBron as the primary shot creator plus maximum spacing with shooters around him did well. The game was closer than Cleveland probably wanted, but the blueprint for success was certainly clear: Outscore opponents by flooding the floor with 3-point options. That main unit posted an .873 true shooting mark despite operating almost solely within half-court sets.
That said, the Cavs still have zero answers for Victor Oladipo on the other end of the floor. He's been perhaps the most important player of the first round: The Pacers have posted a net rating of +22.5 with him on the court. Take him off, and both the offense and defense fall off a cliff. The main unit of Darren Collison-Oladipo-Bojan Bogdanovic-Thad Young-Myles Turner has outscored the Cavs by 35.0 points/100 in 38 minutes so far. The next most-used lineup, with Lance Stephenson and Cory Joseph at the guard spots, has been outscored by 44.1/100. Bring back Collison for Lance, and it's just as bad: That lineup has posted a -63.7 net rating in eight minutes. Dipo is the key to this series, and hopefully Nate McMillan will let him play through foul trouble and shooting slumps — something that didn't happen in Game 2. If Dipo is able to go 35-plus minutes, the Pacers will be an incredibly tough out. — Bryan Mears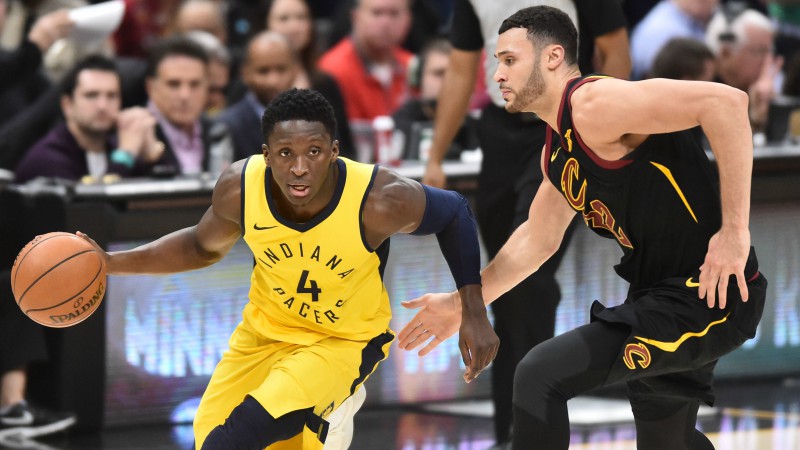 Ken Blaze-USA TODAY Sports
DFS nugget: James went absolutely bananas in Game 2 of this series, scoring 46 points on 17-of-24 shooting, but the Cavs managed to win the game by only three points. If they want to make it out of the first round — let alone return to their fourth straight Finals — they're going to need to find LeBron some help as this series moves to Indiana. The obvious candidate is Love, who has been extremely quiet offensively through their first two games. He's averaged 12.0 shots per game this series, which is right in line with his season average, but he's shot a paltry 33.3% from the field. Much of that can be chalked up to dealing with Young as his primary defender, who graded out as one of the best power-forward defenders during the regular season per Defensive Real Plus/Minus. Young has limited Love to just 2-of-11 shooting when matched up against him, and as a result, Love has averaged 10.5 points fewer per 100 possessions than his season average in that matchup. Young held Love below his season average when matched up with him during the regular season as well, so the Cavs may need to look elsewhere for some help for the King. — Matt LaMarca
Trend to know: In James' playoff career, he has excelled against the Eastern Conference when he is less than a three-point favorite (or an underdog). With the Cavaliers (both stints), James' team is 28-12 ATS (70%), covering the spread by 4.5 PPG (including five straight covers). With the Heat, LeBron was barely over .500 in the spot, going 9-8 ATS. — John Ewing
---
GAME 3: TORONTO RAPTORS AT WASHINGTON WIZARDS (-1.5) | O/U: 218
Raptors Lead 2-0
8 p.m. ET | ESPN2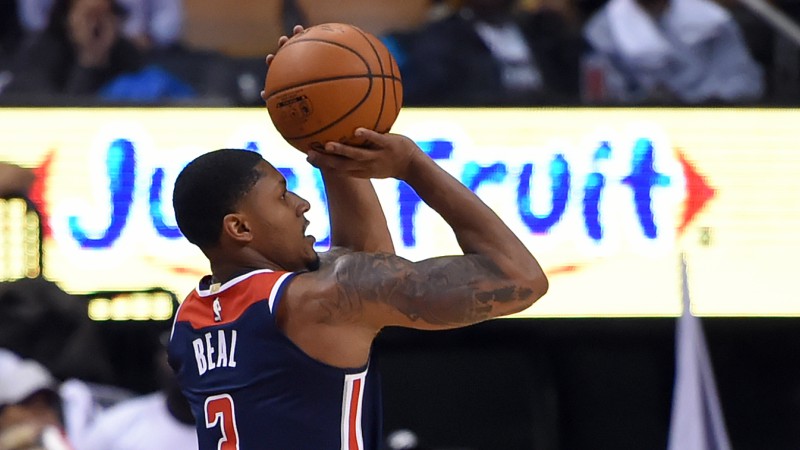 Dan Hamilton-USA TODAY Sports
What I'm watching for: The Raptors are getting anything they want in this series, but if the Wizards are going to climb back, they have to be able to cut off either the Raptors' spot-up shots or shots at the rim. Currently, they're getting gouged on both. The Wizards have given up the second-most points per game at the rim of any team in the playoffs behind the Blazers.
Here's an interesting set of numbers for you …
Toronto's field goal percentage with Wizards player on vs. off.
Marcin Gortat on: 60.0%
Gortat off: 66.7%
Mike Scott on: 58.3%
Mike Scott off: 73.9%
Markieff Morris on: 70.5%
Markieff Morris off: 46.7%
Now, the opposite effect happens with Scott in the game, where Toronto's spot-up shooting goes way up. But the defensive lineups with Scott and Morris are doing much better than Gortat and Scott or Morris and Gortat. Better perimeter discipline, and the Wizards might have a real chance to play small … if Scott Brooks will go to it. — Matt Moore
Metrics to know: For all of the (rightful) buzz about the Raptors' bench during the regular season, it's been the starters who have dominated so far in the playoffs. The main unit of Kyle Lowry-DeMar DeRozan-OG Anunoby-Serge Ibaka-Jonas Valanciunas has scored at a rate of 124.9/100 and posted a net rating of +24.7. The main bench unit, for reference, has been outscored by the Wizards by 22.4 points/100 through two games. The big reason for the Raptors' dominance has been the play of their big men. Per NBA.com, Valanciunas and Ibaka have some of the highest net ratings in the playoffs at +28.0 and +24.3, respectively.
The biggest reason the Wizards are down 0-2 has been Bradley Beal. He's been essentially a no-show so far in this series, garnering a playoff-worst -30.8 net rating across 32.9 minutes per game. He's posted a .477 true shooting mark on low 20.9% usage. A lot of that is just poor shooting from the outside: He's hit only 27.3% of his 3-pointers through two games. But it's also been a lack of aggression. Take a look at his free throw rate over his four playoff seasons:
2013-14: .227 free throw rate
2014-15: .295 free throw rate
2016-17: .236 free throw rate
2017-18: .107 free throw rate
If he's unable to improve his play, I wouldn't expect this series to get back up above the border again. — Bryan Mears
DFS nugget: Brooks hinted that there could be some personnel changes coming in Game 3, and one possible option, as Matt mentioned above, is replacing Gortat with Scott. The Wizards have been substantially better with Scott on the floor this postseason, outscoring the Raptors by an average of +16.1 points per 100 possessions. Meanwhile, they've been outscored by 14.4 points per 100 possessions with Gortat on the floor. Scott erupted for 20 points on 7-of-10 shooting in Game 2, but it's fair to question if he can carry that sort of efficiency into the starting lineup. He has destroyed Raps backup PF Pascal Siakam when matched up against him, shooting 8-of-9 from the field, but he's yet to find the same level of success when matched up with Ibaka. Either way, Scott figures to see big minutes in Game 3 after averaging 27 minutes through the first two games, which makes him a viable option at just $3,800 on DraftKings. — Matt LaMarca
Trend to know: Historically, one of the most profitable trends in the NBA playoffs has been betting home favorites following an ugly loss (10 or more points). Washington fell to Toronto on the road, 130-119, in Game 2. Since 2005, teams in this situation have gone 100-72-5 (58%) ATS in their next game. However, the betting market has caught up to this trend: In the past five seasons, home favorites following an ugly loss have gone 22-29 (43%) ATS. — John Ewing
Did you know? Since 2015, John Wall is 8-1 SU and 6-3 ATS at home in the playoffs, including winning six consecutive games straight-up. He's averaging 26.8 PPG and 10.8 APG with a plus-minus of +61 at home. — Evan Abrams
---
GAME 3: BOSTON CELTICS AT MILWAUKEE BUCKS (-4.5) | O/U: 205
Celtics Lead 2-0
9:30 p.m. ET | ESPN
What I'm watching for: Burn the small-ball.
The Giannis-at-the-5 lineups are popular because of the spacing they provide. But they're getting gouged in this matchup.
Eric Bledsoe-Khris Middleton-Giannis Antetokounmpo-Tony Snell is a -1.0 in net rating this series. Swap out Snell for John Henson, and their net rating jumps to +16. The Bucks cannot go to those small-ball units.
All lineups with Snell and without Henson get torched.
Henson has done a great job of containing the Celtics on defense. Watch these three sequences, and then notice that Henson handles Terry Rozier and Al Horford … but the Bucks can't get the rebound:
Henson is one of the Bucks' few advantages in this series, and he needs more minutes. — Matt Moore
Metrics to know: Perhaps the most underrated storyline of the playoffs has been the coaching edge in different series. There have been some terrible decisions — yes, hello, Thibs — but the starkest contrast in coaching quality has certainly been between Boston coach Brad Stevens and Milwaukee coach Joe Prunty.
Judging by talent alone, Milwaukee should win this series. Unfortunately, Prunty isn't playing his best players together. The Bucks' best unit is probably a combination of Bledsoe-Malcolm Brogdon-Snell-Middleton-Antetokounmpo. It is their best lineup by far in terms of maximizing two-way ability and offensive firepower. That unit dominated in Game 1, scoring at a rate of 141.1 points/100. Giannis with the ball surrounded by shooters is absolutely deadly, and it was clear that lineup gave Horford the most fits. It was a huge tactical advantage that Prunty stumbled upon for seven minutes late in Game 1. So what did he do in Game 2? Well, he played it exactly ZERO minutes, of course. It's hard to win a series when your best players don't actually ever share the floor together. — Bryan Mears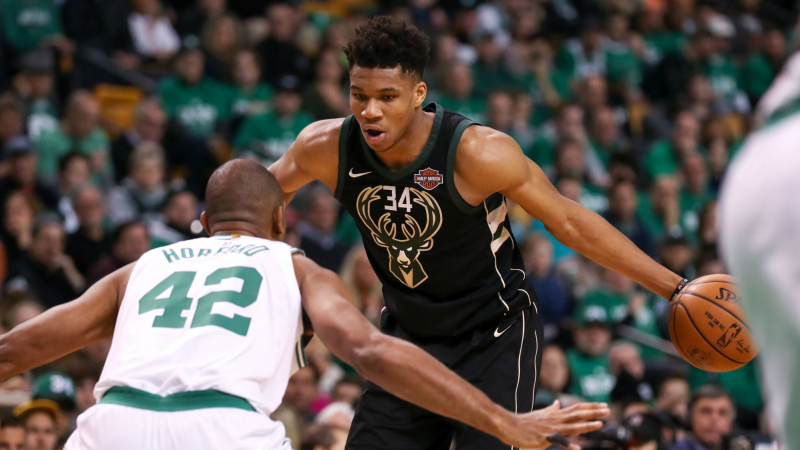 Paul Rutherford-USA TODAY Sports
DFS nugget: The Bucks need to explore some changes heading into Game 3, and one possible option is some additional playing time for Sterling Brown. He played just eight minutes with the starters in Game 2, but those were some of the best minutes that the Bucks have played all series. They outscored the Celtics 24-20 over that time frame, giving Brown a net rating of +16.5 in this series. It helps that Brown doesn't have to clear many hurdles in the Bucks' rotation either. Snell and Jabari Parker have both been horrendous, with Parker in particular looking like he barely belongs in the NBA at this point: The Bucks have been outscored by a ridiculous 58.9 points per 100 possessions with him on the court. — Matt LaMarca
Trend No. 1 to know: Teams down 0-2 have crushed the first-half spread in Game 3. Whether it's due to desperation or another factor, teams in this situation are 74-39-2 (65%) ATS since 2005. — Evan Abrams
Trend No. 2 to know: The Bucks shot 7-of-17 from the free throw line in their Game 2 loss. Milwaukee was eighth in the NBA in free throw percentage during the regular season, so regression may be coming. Including the regular season and playoffs, teams that shot under 50% from the line in their previous game and over 75% from the line as a team are 19-30 ATS (38.8%) for -11.8 units over the past decade in their next game. That mark includes a 1-7 ATS mark for teams favored by six points or more as well. — John Ewing
Top photo: Brad Stevens