Mega NBA Betting, DFS Guide for Every Wednesday Game
Credit:
Joe Camporeale-USA TODAY Sports
The Beard. The Brow. They're not playing against each other or nothin' … they just both happen to be playing tonight. And, with AD playing so well recently, some folks are tossing him into the MVP conversation.
Which superstar is worth rostering tonight? Which one has a better shot at leading his team to a cover? Find out all that and then some in tonight's NBA guide. 
— Mark Gallant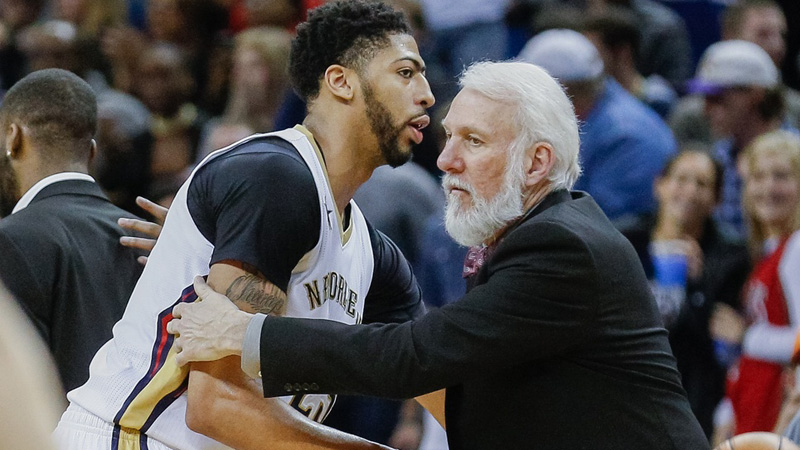 All info as of Wednesday afternoon. Check back during the day and keep an eye on our Twitter handle for any updates.
If there's a specific matchup you want to jump to, click the quick links below. For live spreads and bet percentages, check out this page. Follow the latest injury info on our industry-leading news feed. To get access to our premium betting tools, subscribe here.
MIL-DET | GSW-WAS | NOP-SAS | HOU-LAC | Quick Hits on the Rest of the Slate
---
The Main Events
MILWAUKEE BUCKS AT DETROIT PISTONS (-1.5) | O/U: 207
7 p.m. ET
What the metrics say: The Pistons are reeling hard, losing six of their past seven games after starting the Blake Griffin era with three straight wins. Let's dive into that time frame and what's gone wrong. The quick answer is a little bit of everything. During those seven games, the Pistons rank 26th on offense, 25th on defense, and 26th with an atrocious -11.6 net rating. They haven't been able to buy a shot, ranking 29th with a terrible 51.6% true-shooting mark. Stan Van Gundy has mostly rolled with the starting lineup, and in 136 minutes, it has posted a -3.1 net rating. The big issue is what happens when the starters come off:
Those net ratings don't even seem real. And, unfortunately, the bench doesn't seem like an easy fix at the moment. — Bryan Mears
What I'm watching for: Milwaukee is on a back to back against the Pistons, but Detroit has been lost on both sides, as Bryan mentioned.
The Pistons need this one. A home game vs. a rest-disadvantaged team playing under an interim coach. But Detroit just haven't seemed to have any awareness of a plan on either end and it is short on weaponry offensively.
It's never just on one person. But Blake Griffin is 24-of-89 from the field on jump shots with Detroit, and 21-of-42 at the rim on non-post-ups. The idea of Griffin having half the number of shots he has on jump shots at the rim is mind boggling. Detroit needs to reinvent itself in two months time if it wants to make the postseason. — Matt Moore
DFS nugget: Andre Drummond has dismantled the Bucks in their first three meetings this season, exceeding salary-based expectations by 9.43 points on DraftKings. The dominance makes sense: Drummond is the league's best rebounder, pulling down 26.3 percent of available misses, while the Bucks have the third-worst team rebound rate in the league. He's an appealing option on DraftKings given his Bargain Rating of 93 percent. — Matt LaMarca
Trend No. 1 to know: Joe Prunty took over as coach of the Bucks on Jan. 22, and this is already his fourth game on a back-to-back. Milwaukee is 3-0 SU and 2-1 ATS in those games, and that holds true to its season-long trend. The Bucks are 9-3 SU and 8-3-1 ATS in back-to-backs, having won six consecutive games SU in the spot. — Evan Abrams
Trend No. 2 to know: Detroit has failed to cover its past eight games and has gone 6-19 ATS (24%) since Jan. 1. Griffin arrived Feb. 1 and simply hasn't been able to right the ship. The Pistons are an atrocious 1-10 ATS since that point, failing to cover the spread by 7 points per game. — Evan Abrams
---
GOLDEN STATE WARRIORS (-9) AT WASHINGTON WIZARDS | O/U: 225.5
8 p.m. ET | ESPN
What I'm watching for: The Warriors defense is back. In the past five games they own a defensive rating below 100, good for second-best in the league. With that in mind, Washington is not catching the Warriors at the right time. They're motivated to finish this off, rob Houston of home court, which they know it needs, and they're fully healthy compared to the Wizards without John Wall.
The Wizards have been great without Wall, but this is the ultimate test. — Matt Moore
Betting market: The public is piling on the over, but Mark Gallant breaks down several factors that have caused the total to drop from 226.5 to 225.5.
DFS nugget: Bradley Beal leads all players on FanDuel with 16 Pro Trends, which is a number we don't see that often. Only five other players have had at least 16 Pro Trends this season, and players with a comparable number of Pro Trends have historically exceeded salary based expectations by an average of 2.85 points. Beal has become a much more well rounded player with Wall out of the lineup, handing out at least six assists in each of his past seven games. — Matt LaMarca
What the metrics say: The Wizards played the Warriors close in their first meeting this season, losing by just three in Oracle. However, that was with Wall, who played 38 minutes and had 20 points and 14 assists. This will be a much different game. The questions I'm looking at tonight are whether the Wiz can clean up the glass and defend the 3. In the first game this season, the Dubs, who rank just 23rd in offensive rebound rate, grabbed 35.4 percent of their misses; that would be in the 91st percentile of games this year. It goes without saying that you can't give the Golden State shooters multiple chances. And on that note, the Wizards have been the second-best defense this year in 3-point percentage allowed. They can cover at home if they take care of those two important areas. — Bryan Mears
Trend No. 1 to know: The Warriors took down the Knicks at MSG, covering the 12.5-point spread Monday night. Since 2005, teams with a win rate of 60 percent or higher are 32-45-1 ATS (41.6%) the game after covering in MSG — the fourth-least profitable location in the NBA over that span. The third-least profitable spot is Brooklyn/New Jersey. Combined since 2005, teams with a win rate of 60 percent or higher are 64-93-2 ATS (40.8%) after covering on the road against the Nets or Knicks. — Evan Abrams
Trend No. 2 to know: As a head coach in the NBA, Scott Brooks is 30-20 ATS (60%) when on a back-to-back and facing a team with a win rate of 60% or higher. That includes a 23-14 ATS (62.2%) mark in that situation as an underdog. — Evan Abrams
NEW ORLEANS PELICANS AT SAN ANTONIO SPURS (-5) | O/U: 219
8:30 p.m. ET
What the metrics say: During the past six games, Anthony Davis has scored 249 points. In 39 games this year, Tristan Thompson has scored 241 points. During that six-game stretch, the Pelicans been excellent with their starting lineup of Rajon Rondo-Jrue Holiday-E'Twaun Moore-Davis-Emeka Okafor, posting a +12.7 net rating in 53 minutes. However, they've been absolutely unstoppable when they put in Nikola Mirotic for Okafor and slide Brow over to center. During those 45 minutes, they've posted a 114.1 Offensive Rating and 90.5 Defensive Rating — good for a +23.6 net. The metrics say Anthony Davis is damn good at basketball, especially when he plays his correct position. — Bryan Mears
DFS nugget: It's incredibly tough to look past what Davis has done recently. He's gone for more than 90 fantasy points in two of his past three games and has averaged a ridiculous 1.70 fantasy points per minute over the past month. That said, he's been priced up to $12,500 on FanDuel and has a brutal matchup today with the Spurs. The Pelicans' implied team total of 106.75 points in more than five points lower than their season average, and the Spurs have historically been one of the few teams to contain Davis. Some fade consideration could be warranted. — Matt LaMarca
Trend No. 1 to know: This is the first time since drafting Davis that the Pelicans have won six straight. Teams on long winning streaks (five or more games) playing on the road in San Antonio have gone 18-10 ATS since 2005. — John Ewing
HOUSTON ROCKETS (-8) AT LA CLIPPERS | O/U: 227
10:30 p.m. ET | ESPN
What I'm watching for: Having been in the building for the annual "Boban Marjanovic has his annual game before drifting back under the lagoon until next year" game vs. Denver, I would sell pretty hard on LA here. They're on a back to back vs. a team that they embarrassed last time. The Clippers have beaten Houston straight up twice this season so maybe they just have their number, but it seems more likely a regression is coming.
Watch out for Montrezl Harrell, who has been quietly excellent for the Clippers vs. his old team, and don't be surprised if there are more hijinx with Austin Rivers, even if the super secret fight tunnel is monitored closely this time. — Matt Moore
What the metrics say: Somehow the Clippers rank second in the league this year in percentage of shots from the rim, which is impressive considering they also rank just 28th in transition offense. That means they attack the rim in the half court, which could be an area to exploit against the Rockets' defense. Houston ranks eighth in half-court defense but just 27th in frequency of shots allowed at the rim. The Rockets haven't been that great at defending those either, ranking 21st in field-goal percentage allowed there. The Clips have been incredibly hot on offense, but they are on a tough back-to-back after playing the Nuggets last night. This will be an interesting test for their still new-look offense with wings instead of Blake Griffin. — Bryan Mears
DFS nugget: The Clippers have the potential to be pretty short-handed today. Avery Bradley has already been ruled out, Tyrone Wallace has been sent down to the G-League, and Danilo Gallinari is questionable after missing the last two games. That could result in a big role for CJ Williams, who was just called up from the G-League to replace Wallace. He's priced at just $3,500 on FanDuel and $3,200 on DraftKings, and his cheap salary could help you fit two studs into your lineup on a slate loaded with star power. — Matt LaMarca
Betting market: The Rockets aren't seeing a ton of bets, as 63% of tickets are on them. However, nearly 90% of dollars have pushed them from -7 to -8 at Bookmaker and -7.5 to -8.5 at Pinnacle. — Mark Gallant
Trend No. 1 to know: Under Doc Rivers, the Clippers are 24-14-1 ATS when facing the best teams (win rate of .750 or higher) from the Western Conference. — John Ewing
Trend No. 2 to know: Under Mike D'Antoni, the Rockets are 12-21 ATS (36.4%) when playing an opponent that is on the second leg of a back-to-back. Houston is 3-13 ATS in its past 16 games in the spot. — Evan Abrams
---
Quick Hits on the Rest of the Slate
TORONTO RAPTORS (-9.5) AT ORLANDO MAGIC | O/U: 221.5
7 p.m. ET
Trend to know: Toronto (42-17) has won more than 70% of its games this season, while Orlando (18-42) has won only 30%. When teams like these meet, betting the squad with a bad record has gone 353-279-11 (55.9%) ATS since 2005. — John Ewing
INDIANA PACERS (-5) AT ATLANTA HAWKS | O/U: 213.5
7:30 p.m. ET
DFS nuggets: Victor Oladipo looks like an intriguing buy-low candidate on today's slate. He was limited to just 23 minutes in his most recent game, but he spent most of the first three quarters sitting on the bench with foul trouble. He should return to his normal minute count today in an awesome matchup with the Atlanta Hawks, and his $9,000 salary on DraftKings comes with a Bargain Rating of 98 percent. — Matt LaMarca
Trend to know: It's hard for bookmakers to account for tanking teams like the Hawks. To wit: Late in the season, betting on a team with a winning record that's playing a bad home underdog (won fewer than 40% of their games) has gone 345-245-11 (58.5%) ATS since 2005. The Pacers have won and covered against the Hawks in both games they have played this season. — John Ewing
CHARLOTTE HORNETS AT BOSTON CELTICS (-7.5) | O/U: 209
7:30 p.m. ET
Trend to know: Boston beat Memphis on Monday. Under Brad Stevens, the Celtics are 72-51-2 (58.5%) ATS following a win facing a conference opponent. — John Ewing
PHOENIX SUNS AT MEMPHIS GRIZZLIES (-1.5) | O/U: 217.5
8 p.m. ET
What I'm watching for: Memphis is fully vested in the tank at this point. Phoenix really has more to play for with its young core, which is a pretty shocking statement. — Matt Moore
DFS nugget: It's tough to trust the Grizzlies given their recent play, but this is a potentially awesome spot for them. Their implied team total of 109.75 points is an increase of nearly 11 points when compared to their season average (98.8), and the Suns defense has been a dumpster fire with Tyson Chandler off the floor this season. JaMychal Green is the most logical target, but Marc Gasol also makes a lot of sense on FanDuel given his Bargain Rating of 99 percent. — Matt LaMarca
Trend to know: Over the past five years, when two bad teams (.333 percent win rate or lower) play in January through April, the under is 49-31 (61%). — John Ewing
OKC THUNDER (-5) AT DALLAS MAVERICKS | O/U: 209.5
8:30 p.m. ET
Trend to know: Dallas snapped a four-game losing streak with a win over Indiana on Monday. The Mavericks are 6-12 straight-up after a victory this season but 12-6 ATS. — John Ewing
Top photo via Kyle Terada-USA TODAY Sports