Early Look at Rockets-Warriors (-7) Game 3: All You Need to Know
Credit:
Thomas B. Shea-USA TODAY Sports. Pictured: Warriors guard Stephen Curry.
The Highlights
The Warriors opened as 7-point home favorites vs. the Rockets in Game 3.
Houston ran Golden State's best lineup off the floor on Wednesday night. It helped that the Rockets were making shots.
The Warriors have earned a ton of trust with the way they've responded to losses in the playoffs.
---
HOUSTON — I keep thinking of that dumb slogan from the Clippers last year: "It takes everything." That was a terrible moniker for a team that had been slowly disintegrating as if it was telling Mr. Stark it didn't feel good for years, but the words still keep echoing in my head when I think about the Rockets trying to beat these Warriors.
It takes everything. Precision. Effort. Intensity. Shot-making. Some luck. And a little bit of old-fashioned complacency from the Warriors.
Houston got all that and more in its 127-105 beatdown of the Warriors to even the series 1-1 Wednesday night. We don't have a series yet; we need a 2-2 split going back to Houston for that to be the case. Otherwise, we just delayed the inevitable Warriors Finals berth. But the first step happened not only in Houston's victory, but the dominant, straight-up teeth-kicking the Rockets handed the champs.
Which leads us into Game 3, which isn't until Sunday. (Thanks, NBA, this is a horrible system.) The Warriors predictably opened as 7-point favorites in the pivotal Game 3, after closing at +2 and +1.5 in the first two games.
A case for the Rockets (+7)
Houston's offensive "crisis" that Mike D'Antoni mocked after the game (and rightfully so) was solved with a little bit of column A (improved pace to prevent getting too deep in the clock), a little bit of column B (role players such as Eric Gordon stepping up) and a lot of column C (guys hit shots).
The Rockets ran the same number of isolation plays in Game 2, per Synergy Sports, as they did in Game 1 (33). They actually scored less efficiently (38 points to Game 1's 45), but they picked up the pace to find better opportunities and get more guys involved, and most importantly, they hit their spot-ups. Houston scored a horrifying nine points on 18 spot-up attempts in Game 1. On Wednesday night, that number jumped to 39 points on 20 possessions.
They were sharper, they were more aggressive. They hit first. They made shots.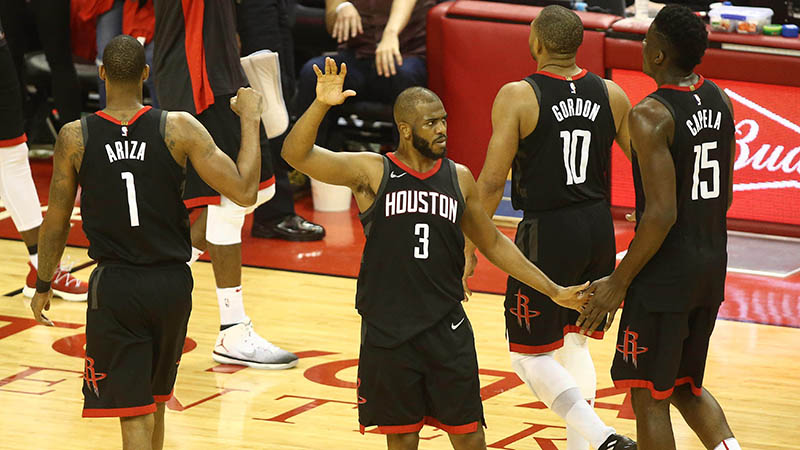 Pictured: Trevor Ariza, Chris Paul, Eric Gordon, Clint Capela. Credit: Troy Taormina-USA TODAY Sports
---
They also beat the snot out of the Hamptons 5.
The Warriors' premiere "five-best-guys" lineup got rocked in this game, giving up a 137.9 defensive rating per NBA.com and scoring just 102 points per 100 possessions. Meanwhile, the Rockets' "Tuckwagon" lineup with Chris Paul, James Harden, Eric Gordon, Trevor Ariza and P.J. Tucker went off, outscoring Golden State by 13.
When you're running the best lineup on the planet off the floor, you're doing pretty well. If the Rockets can continue to win that matchup, it's a swing. If Gordon keeps giving them great minutes, it's a swing. If Curry is hurt the way he definitely appears to be, it's a swing. If the shots are falling, it's a swing. There's a lot of momentum for Houston going into Oracle, where the Rockets are not afraid to play. They have to get one, and Game 3 might be their best chance, making that 7-point spread a little high if nothing else.
A case for the Warriors (-7)
Steve Kerr wants the Warriors to have joy. He wants them to play with spirit. He wants the ball to find energy.
He just wishes they could do it without acting like fools every now and again. Kerr openly said in his quarter interview that the Warriors win a game and get sloppy. There were signs of that all over. These kinds of breakdowns simply dont happen for the Warriors:
Draymond Green talked about a lack of discipline with the game plan. Kerr said the Warriors "let (the Rockets) get going" with their sloppy play. The tone is pretty obvious.
Golden State let this one slip. Now, the concern is always that you go to the well and the secret elixir is not there. In the past, the aforementioned Hamptons 5 lineup was the secret cure-all, but it got thrown through the front window like it was getting bounced from a roadhouse. But the Warriors, quite simply, can play so much better.
The Rockets deserve credit for their improved play, but let's be clear: The Warriors didn't give the performance they needed. Both things can be true. They screwed around in a game vs. the Spurs, came back, and closed out the series. They screwed around in a game vs. the Pelicans, came back, and closed out the series. Now they have a chance going home after getting the split. If they take both games at Oracle, the series is effectively done.
There are bigger-picture concerns — Curry's health being paramount. But if their execution improves while the Rockets' role players shoot like role players shoot on the road, Golden State will be in good shape.
The 7-point spread may seem high, but here's the reality: If the Warriors bring their A-game in Oracle's first Western Conference Finals game, it's going to get out of hand in a hurry. At this point, the Warriors have earned more trust in responding to a loss than Houston has following a good offensive performance.
Houston made the mighty Warriors bleed. They're mortal. But now it's their turn on their turf, for a team that tends to send clear messages in these situations.