How Legalized Sports Betting Could Help the Warriors Sign Anthony Davis
Credit:
Derick E. Hingle-USA TODAY Sports
Sign up for The Action Network's daily newsletter for the best sports betting insight and analysis delivered to your inbox.
People are understandably excited about the very real prospect of sports gambling being legalized in the next 18 months, whether at a state or federal level. It's an enormous opportunity, not only because the user base is expanding, but think about how technology opens up so many more revenue streams than it would have existed even, say, 10 years ago.
You can count the NBA among those that are in support of federal legislation for gambling, albeit under certain conditions. With the Christie v. NCAA Supreme Court case expected to be decided anytime in the next three months, an entire industry is set to explode if the Professional and Amateur Sports Protection Act gets overturned. That would clear the way for states to legalize sports betting, with multiple bills already ready to go.
Commissioner Adam Silver has been upfront in the past several years on his position. He's not pro-gambling, but he understands where this is headed, and the NBA would prefer a federal law that sets up parameters. As part of that, of course … the league will want its cut. Speaking to the New York legislature in January, an NBA rep proposed a 1-percent "integrity fee" on every bet wagered. The league is adamant this is necessary for education, enforcement, and monitoring to make sure nothing illicit is going on with teams or players.
Predictably, there's already been pushback from bookmakers, which Silver firmly smacked back at during his All-Star press conference:
"I would only say from the NBA's standpoint we will spend this year roughly $7.5 billion creating this content, creating these games. Those are total expenses for the season. So this notion that as the intellectual property creators that we should receive a 1% fee seems very fair to me."
What's interesting is the gap between how gaming business experts and NBA media think this will play out. Those of us who have covered the league for some time all agree: The league is going to get theirs. They aren't going to support this huge industry, which involves their content and costs them money in monitoring, unless they're getting a slice of the pie. And in reality, the league being involved only makes for a safer, more secure, better built system.
Gaming experts, on the other, hand see this as a huge hold up. Jeff Ma — Vice President of Data and Analytics at Twitter and former gambling celebrity — said at the Sloan Sports Analytics Conference that this kind of fee could hurt the overall growth potential of the legal market, as bookmakers would almost assuredly pass off those additional costs to the consumer. There's a lot to figure out here.
But this is all gambling business minutiae. What matters to NBA fans should be a question very few are asking.
What happens to the NBA salary cap if sports betting is legalized nationally?
THE BIG IDEA
If the NBA collects an integrity fee, that's revenue generated by their content, which is the games, which players participate in. There is a very strong reason to believe that the Player's Union will want — perhaps demand — that this figure gets included in the Basketball Related Income (BRI).
BRI determines the salary cap. Fifty percent of that figure (roughly — it's complicated and I don't want to get into the exact percentage) gets divided among the 30 teams and sets the salary cap. Percentages of the cap are then used to establish max contracts, the mid-level exception, etc.
So the trick here is to figure out what the gambling royalty fee might generate for BRI. And if I'm being honestly, that's an impossible task, but you can be certain of one thing: It's a lot.
Like a whole lot.
Like an absolutely obscene amount of money.
Let's put it this way: Nevada saw $4.8 billion wagered on sports in 2017, according to the Nevada Gaming Control, per ESPN. Basketball (college and pro) accounted for $1.4 billion of the total handle, a record figure. In the interest of being conservative, let's say that the NBA comprised 40 percent of that figure. That'd come to $560 million bet in the state of Nevada, in one year, which would have translated to $5.6 million for the NBA via the 1-percent figure. That's not enough to even shimmy the salary cap. That barely gets you a two-way contract.
But remember: That's just legal sports betting in one state, brick and mortar.
If wide-spread legal changes go through, the potential for mobile betting is quite simply insane. Tech startups would start popping up all over the place. Existing offshore books could legally accept wagers.  Major industry leaders would develop their own apps, and restrictions on DFS would evaporate. There are huge complications, like the inter-state commerce act and more. But if those issues are covered, you're talking about a number that simply can't even be calculated by a layman like me.
What does this have to do with the NBA salary cap? Let's work backward.
ANTHONY DAVIS AND GOLDEN STATE A.K.A. WHAT YOU CAME HERE FOR
The NBA salary cap spiked by $24 million in 2016, an unforeseen, unprecedented event. The result? After making a few moves, the Golden State Warriors had the cap space to sign Kevin Durant, effectively reshaping the league and cementing their title status for potentially the next four years.
NBA gambling revenue would have to be around $144 billion to cause a $24 million cap spike for all 30 teams, assuming the league gets the 1 percent integrity fee.
That's a lot of money, even with the industry's sky-high potential.
Much of this may depend on what happens with international partners. If gambling is legalized in the United States, the NBA might push to acquire that 1 percent fee from licensed international partners as well. That could generate literally hundreds of billions in global revenue.
That's before the potential for sponsorship from established betting houses for teams and/or the league, if they're willing to go down that road.
At the earliest, some systems could be put in place by the end of the year, meaning that 2019 could see a cap spike of some kind. But if the industry doesn't really get off the ground for a while, the first major jump could occur in 2020.
Anthony Davis is a free agent that year.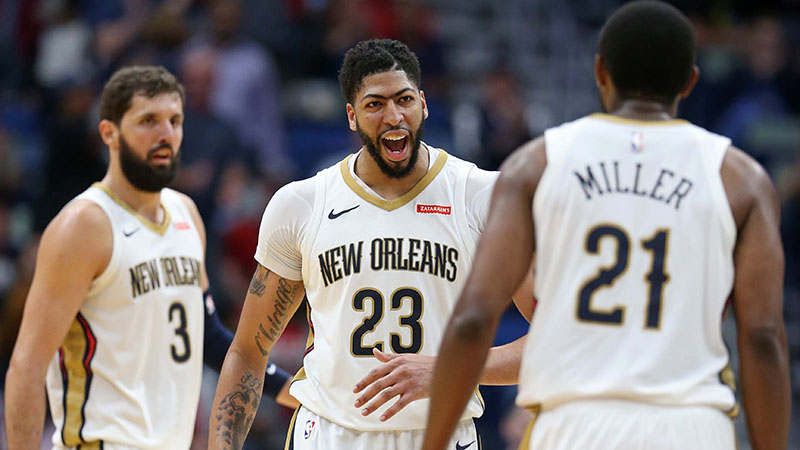 It's the worst kept secret in the league that there appears to be a race between the Pelicans, Warriors and Celtics for the the Brow's services. If the Pelicans can become a contender, they can stave off the threat of poachers and keep their franchise star. If the Celtics can get in the door with the Pelicans facing his impending free agency and offer the best return for him (which will eventually wind up looking horrible for New Orleans because Danny Ainge is a witch, apparently), he could cement the Celtics as the new dominant force in the East.
Klay Thompson is up in 2019 for Golden State, and he'll need a new big money deal. Draymond Green is up in 2020, however. Kevin Durant will be a free agent either this summer or next summer, and will of course need a max deal.
If Durant took a two-year deal this summer, and if Thompson agreed to a one-and-one to take advantage of a potential cap spike from the things we've talked about here, that opens a door for the Warriors to keep all their guys … and sign Davis.
So that's the scenario. Now, there's a world of stuff that would have to go right here:
To actually maximize revenue and not just generate it from a dozen states, Congress would have to enact a federal law, and one that establishes the 1 percent integrity fee. Raise your hand if you think Congress can actually get something on this scale done, given its track record.
The global revenue has to be something from which the league can begin to earn revenue.
The players have to work within this framework. If Thompson says he wants a five-year deal for security, if Durant asks for the same, the money gets tight and it might not be possible.
The Warriors have to avoid the ego and chemistry issues that have derailed so many franchises.
The NBA gambling handle has to reach, again, $144 billion. That seems like a lot, even for those of us who are bullish on the industry.
The NBPA would have to hold to its position of resisting cap smoothing. The Great Cap Spike of 2016 resulted in one year of great contracts for players, but the backlash last summer was stifling. The union has maintained it does not regret resisting smoothing, but if the league really pushes the issue this time (to avoid specifically a scenario like the one described here), it could ease that opportunity.
Jeff Ma said at Sloan that if the integrity fees and other mechanisms of getting league's "hands in the cookie jar" will mean the black market may maintain its status as a preferred entity because the margins for bettors will remain beneficial.
So the odds may not be great. The most likely scenario remains that the Warriors, should they have the opportunity and desire to pursue Davis, will have to choose between the Brow or keeping Thompson and Green.
But the revenue estimates are so high across the board, and with technology opening up more potential than ever and sponsorship opportunities looming, it's not science fiction. Then you have the DFS input from companies like DraftKings and FanDuel, not to mention all the major entities that would then want to get involved.
The potential is there for gambling revenue to drive another spike. Even if the amount isn't like it was in 2016. Even if it's just a $12 million jump, half of what it was in 2016, or only $8 million, that's going to create a lot of opportunity for teams to make major moves.
Anthony Davis may not be headed to Golden State to join Durant, Curry, Thompson and Draymond, but it is very likely that should the Supreme Court rule in favor of New Jersey and legalized sports betting becomes a reality this year in some form, we will eventually see significant effects on the NBA salary cap. If the league gets its integrity fee, and is able to build another global revenue stream from this?
All bets are off when it comes to the future of NBA free agency.
Photo via Derick E. Hingle-USA TODAY Sports