Twenty-one dimes. You can change that in for a $2 bill and still have one dime left over. Although Rajon Rondo can't shoot to save his life, "Playoff Rondo" can still find ways to make a difference. And if he can do it again today, we may have ourselves somewhat of a series, folks.
Meanwhile, the Rockets just took any hope the Jazz had and smashed it into a thousand little grains of salt. If the Jazz don't win Game 4 … they're cooked. Here's what we need to pay attention to for the two games out west today. — Mark Gallant
All info as of Sunday morning. Check back throughout the day and keep an eye on our Twitter handle for any updates.
For live spreads and bet percentages, check out this page. Follow the latest injury info on our industry-leading news feed. To get access to our premium betting tools, subscribe here.
---
GAME 4: GOLDEN STATE WARRIORS (-6) AT NEW ORLEANS PELICANS | O/U: 231.5
Golden State Leads 2-1
3:30 p.m. ET | ABC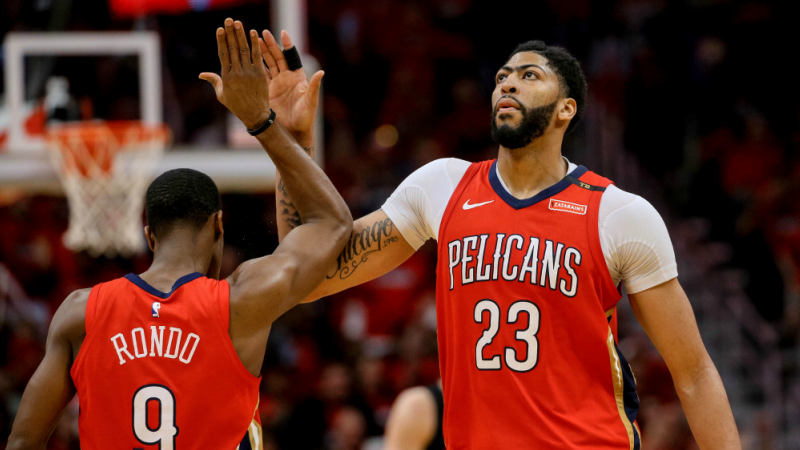 Derick E. Hingle-USA TODAY Sports
What the metrics say: The Warriors in Game 3 were very unlike themselves, scoring only 84.9 points per 100 possessions in the half court (per Cleaning the Glass) and posting an atrocious 42.9% effective field goal mark. So was that just fluky? Or can that happen again? The answer is a bit of both.
Take a look at how the Dubs shot on 3-pointers depending on how close the defender was to the shooter:
2-4 feet (tight): 1-for-12 (8.3%)
4-6 feet (open): 2-for-8 (25.0%)
6+ feet (wide open): 5-for-9 (55.6%)
On one hand, they were probably a bit unlucky on open shots, hitting just 25% of them. On the other hand, they took a ton of contested ones, and per Cleaning the Glass only two of their 31 three-pointers were the uber-efficient corner-3 variety. The Warriors are the Warriors, and Stephen Curry and Co. can go nuclear at any time, but the Pelicans defense does deserve credit here. — Bryan Mears
GET THE ACTION NETWORK
EDGE
Unlock this article and all betting insights for only $3.99 a month
Be A Better Bettor for less than the price of a stadium beer.
START MY FREE TRIAL
Already an EDGE member? Sign In