Thursday NBA Guide: Will Shots Start Dropping in the East Series?
Credit:
Bill Streicher-USA TODAY Sports
Well, well, well. I guess that's why you don't make LeBron a 7-point dog in the second round of the playoffs.
Now, he's a … 6.5-point dog …
Is it worth hopping back on the Cavs, or does history suggest otherwise? Plus, we have Game 2 in Boston. Those trustworthy 76ers were no match for Brad Stevens and Co. in Game 1. What did the young stars in Philly learn for tonight's affair? — Mark Gallant
All info as of Thursday morning. Check back throughout the day and keep an eye on our Twitter handle for any updates.
For live spreads and bet percentages, check out this page. Follow the latest injury info on our industry-leading news feed. To get access to our premium betting tools, subscribe here.
---
GAME 2: CLEVELAND CAVALIERS AT TORONTO RAPTORS (-6.5) | O/U: 212.5
Cleveland Leads 1-0
6 p.m. ET | ESPN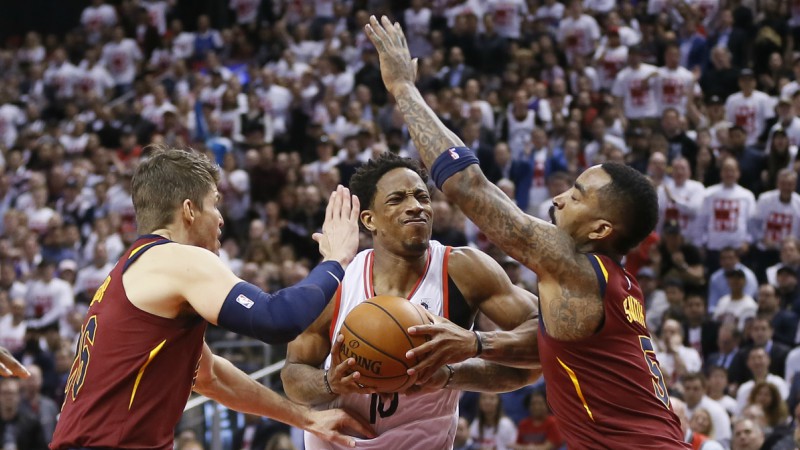 John E. Sokolowski-USA TODAY Sports
What the metrics say: Game 2 is the game of impending regression. The problem is both teams probably consider themselves a bit unlucky. Let's start with the Raptors: They took a whopping 48% of their shots at the rim, which signifies good offense; that's in the 97th percentile of games this season. Unfortunately, the lid was closed the entire night: They hit just 18-of-39 shots at the rim (fourth percentile) and 9-of-28 from 3 (32nd percentile). Cleveland ranked dead-last in effective field-goal percentage allowed this season, so Toronto won't be that bad shooting again. That said, LeBron James was exhausted after Game 7 against Indiana and shot just 12-of-30, including 1-of-8 from the 3-point line. That won't continue either. Which team will have regression hit the hardest tonight? — Bryan Mears
DFS spin: Kevin Love has been essentially nonexistent for the Cavs during the postseason, and he's been priced down to just $6,000 on DraftKings for Game 2 against the Raptors. That represents a decrease of $1,600 over the past month, which could make him worthy of consideration as a buy-low option. Unfortunately, this matchup doesn't set up well for him. He was guarded primarily by Jonas Valanciunas and Serge Ibaka in Game 1, and both players combined to limit him to zero points on 0-for-6 shooting from the field.
Things weren't much better for him in the regular season, as both players limited him to at least 6.1 points per 100 possessions below his season average. The Cavs posted a net rating of -10.9 points per 100 possessions with Love on the floor in Game 1, and if that number doesn't improve as the series moves on, it's hard to see the Cavs emerging victorious. — Matt LaMarca
What Locky is betting: Do I really have to back Toronto here? Please tell me I don't.
Look, I don't believe in a lot of through-the-years "this team has their number"-type stuff, because so many variables change along the way. TNT was hyping the Sixers-Celtics series as the renewal of a rivalry, for example, and Ben Simmons and Joel Embiid weren't even born the last time the series mattered. Do you think they care whatsoever about ANY of that stuff?
But on the other hand, it's just so hard to explain Game 1 of this series without buying into some of that voodoo thinking. The Raptors missed a million shots down the stretch that they usually make, they still have no one to give LeBron any real difficulty defensively, and here we are: Cleveland is up 1-0.
The one thing I will buy into, though, is the idea that LeBron, on some level, cares about energy conservation. There is a part of me that thinks Cleveland is more than happy with a split in this situation, and (a la Game 6 in Indiana) the Cavs may not come out with the motivation required to win Game 2 on the road. They don't need this game whatsoever. On the other hand, you're asking me to believe that the two best players on the other team, who have a long, detailed history of not showing up in big spots, and are now in a spot where they are 6- to 7-point favorites, are going to show up here? Cleveland may not need the game, but the stink of Game 1 and playoffs past can't wash off Toronto here enough for me to buy in. If anything, the number is correct, and Toronto wins a reasonably high percentage of the time. Pass.
With the total, one thing I find interesting is that in Game 1 the under got bet down pretty heavily by game time, and it was really the correct side before overtime. Now they've opened the total one point lower (212.5) than the closing Game 1 total. The pace in Game 1 was not particularly fast, and the teams also shot a higher-than-average number of free throws, making a higher-than-average number as well. Look for news on the officiating crew: As long as it's not one that's particularly prone to calling a lot of fouls, I'd lean under at 212.5. — Ken Barkley
Trend No. 1 to know: After losing Game 1, the Raptors are now 2-9 straight-up against the Cavs in the past three postseasons. Toronto has gone 2-8-1 against the spread in those games, failing to cover on average by 7.8 points. — John Ewing
Trend No. 2 to know: Toronto is a 4-point first-half favorite. Since 2005, home teams getting little public support (less than 45% of spread bets) following a playoff loss have gone 141-101-5 (58%) ATS in the first half of their next game. — Evan Abrams
Trend No. 3 to know: The Cavaliers had just five turnovers in their Game 1 win in Toronto. Since the 2007 playoffs, teams that won Game 1 of a series with fewer than 10 turnovers have gone 22-13-2 ATS in Game 2, covering the spread by 3.8 PPG. Regardless of the result in the previous game, teams have gone 36-21-2 ATS in the playoffs in Game 2 since 2007 after committing fewer than 10 turnovers in Game 1. — Evan Abrams
Trend No. 4 to know: The Raptors' early series playoff trouble has been well-documented throughout their franchise history: Toronto is 9-20 SU and 10-17-2 ATS in the first two games of a playoff series and 6-11 SU and 3-13-1 ATS under coach Dwane Casey. Where Toronto has really struggled under Casey is outside the first round: In the first two games of a playoff series in the second round and conference finals, the Raptors are 0-7 ATS under Casey, failing to cover by 9.2 PPG. — Evan Abrams
---
GAME 2: PHILADELPHIA 76ERS (-4) AT BOSTON CELTICS | O/U: 206
Boston Leads 1-0
8:30 p.m. ET | TNT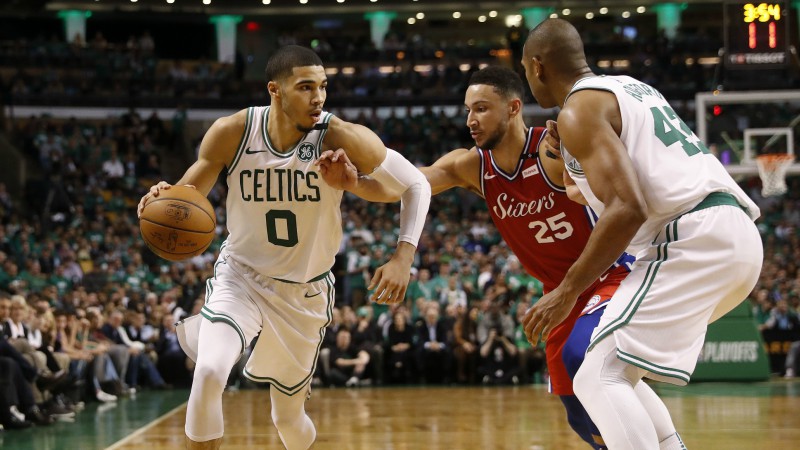 Winslow Townson-USA TODAY Sports
What the metrics say: In the series preview, I talked about how dominant the 76ers' starting unit has been this season. The specifics: "In 600 minutes together, that fivesome scored at a rate of 117.1 points/100 and allowed just 95.7/100 — good for a +21.4 net rating. It was literally the best five-man unit — by a mile, too — among guys who played at least 400 minutes together." That unit should have a sizable advantage against Boston, and that was even the case in a brutal Game 1. The main unit scored at a rate of 123.3/100 and posted a +13.1 net rating.
The problem was the bench units, which couldn't hit a shot to save their lives: Philly finished with an atrocious 46.9% effective field-goal rate on the game. Now, some of these guys — it's not superuncommon for role players, in fact — to have stark splits in wins and losses. Marco Belinelli, for example, is a +12.8 in wins and -16.0 in losses this season. His shooting splits are equally shocking. If the 76ers' main lineup can continue to crush, and their role players actually get even just a bucket or two to drop, they'll be in business. — Bryan Mears
DFS spin: The Celtics somewhat surprisingly stole Game 1 without Jaylen Brown, and he's expected to be unavailable for Game 2 as well. That could create some value with the Celtics from a DFS perspective, despite the fact that they have the lowest implied team total on the slate (101.0 points). Terry Rozier has exploded over the past two games without Brown, posting an average of 54.5 DraftKings points per game, but he's benefited from shooting an unsustainable 61.8% from the field and 70.6% from 3-point range.
On the other end of the spectrum, Marcus Smart has shot just 26.3% from the field over the same time frame, so he could be a good bet for positive regression. He's seen a team-high usage bump of +5.0% with both Brown and Kyrie Irving off the floor this season. Aron Baynes also figures to play a more prominent role in this series after taking a bit of a backseat against the small-ball Milwaukee Bucks. He played about 30 minutes in Game 1 and is priced at just $3,700 on FanDuel.  — Matt LaMarca
What Locky is betting: I was the person holding the losing Philly -3 ticket in Game 1. Sometimes you get the best number and you get smashed anyway. Although the market seems to indicate everyone is thinking "OK, but THIS time Philly will really win," I am hesitant to buy into that. In Game 1, I was much more interested in playing off the Celtics' grueling series ending two days earlier, along with their missing Jaylen Brown for the first time in the playoffs. Now, there's been two days of prep time for Brad Stevens and Co., and they already have a massive home-court advantage as well.
Philly needs to win a road game this series to win (duh), but this doesn't feel like it HAS to be the one. With everyone expecting a bounce-back (or zigzag, which I am not at all a fan of), what if the Celtics are able to execute even better with the extra prep time and continue to take advantage of some favorable matchups, such as Jayson Tatum on J.J. Redick? (Are we really going to see that again?)
Everyone's expecting the bounce-back. I have no confidence one is coming in this spot. I don't even think Philly needs to win this game to win the series. The Sixers are going to win all their home games; they just need to pick off one in Boston along the way. Who says it has to be now? I'm passing but would lean Celtics at the current numbers as both a public fade and a refusal by the market to adjust the line to what we saw in Game 1 that wasn't 3-point-related. — Ken Barkley
Trend No. 1 to know: The 76ers made just 5-of-26 (19.2%) 3-pointers in their Game 1 loss. Since 2005, playoff teams that made 20% or less of their 3s in the previous game have gone 95-76-6 (56%) ATS in their next game. If the team is favored after the poor shooting performance, they have gone 47-31-4 (60%) ATS. — John Ewing
Trend No. 2 to know: The Celtics became just the second team since 1995 to win Game 1 of a playoff series as a home underdog, joining the Pacers in the 2014 Eastern Conference finals against the Heat. Indiana ended up losing the series in six games, including Game 2 SU and ATS, including the first-half spread. — Evan Abrams
Trend No. 3 to know: Stevens and the Celtics have faced 10 teams at home this season (including in the playoffs) with a win rate of 60% or higher: Boston is 9-1 SU and ATS, covering by 6.8 PPG. — Evan Abrams
---
Top photo: Ben Simmons and J.J. Redick