NBA Win Total Odds & Pick: Have the New-Look Atlanta Hawks Improved?
Credit:
Francois Nel/Getty Images. Pictured: Trae Young#11 of Atlanta Hawks.
Check out this post for updated season win total odds for all 30 NBA teams.
---
Atlanta Hawks Win Total Odds
| | |
| --- | --- |
| 2023-23 Win Total | 45.5 |
| Previous Season's Wins | 43 |
The Case for the Over
Dejounte Murray Reshapes the Team
Improved Defensive Effort
Weak Schedule
How much better does Dejounte Murray make this team? That's your guide post for this bet. If you believe he's a transformational component to this team, you should bet the over. If you don't believe his impact makes that much of a difference, you should probably stay away.
The Hawks were one of the most disappointing teams in the NBA last season. Fresh off an Eastern Conference finals appearance, they could never get it together, especially on the defensive end, where they finished 26th in defensive rating.
There were moments throughout the season in which player were unable to explain their woeful performance. The offense was still elite, second in adjusted offensive rating, but it never felt as dangerous as the season prior.
There are a number of personnel problems that explain the defensive issues. Trae Young is a bad defender, though I actually thought his effort level early season wasn't bad. Clint Capela was once a very good switch defender, but minutes and injuries have forced him to play drop coverage, where he's much less effective.
Is the addition of Murray enough to improve the overall quality of a team that was already elite offensively and has limitations defensively?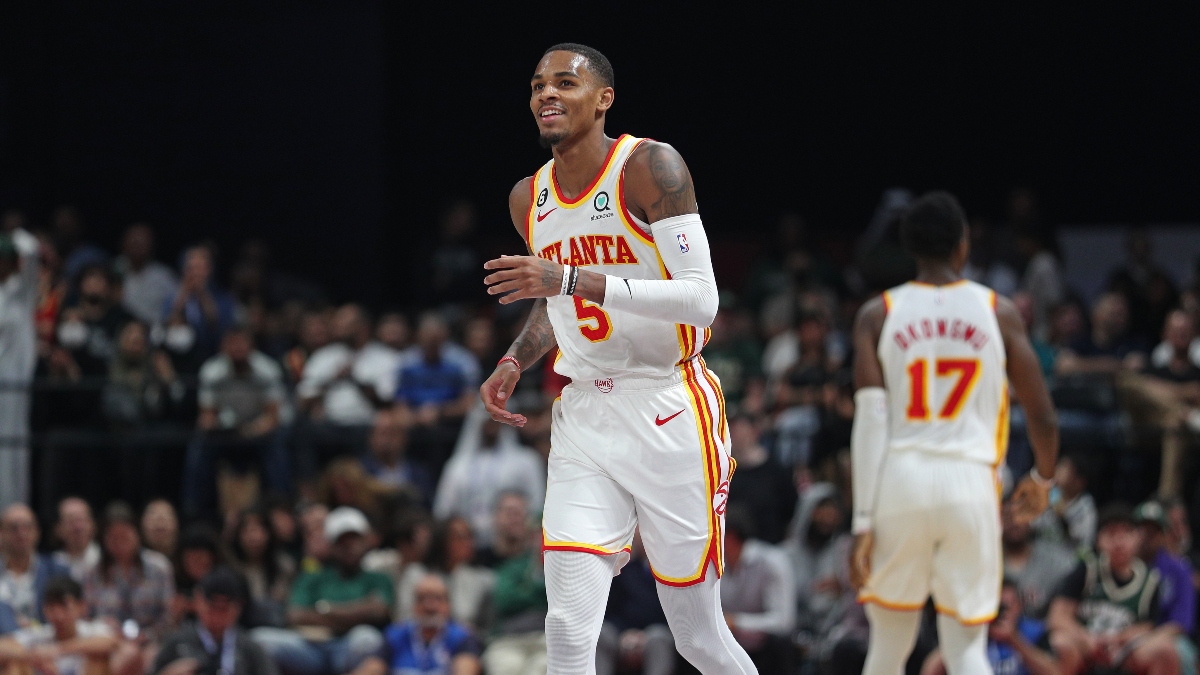 The upside is that there are pretty clear changes that the Hawks can make to spark improved defense. Whether they will make those changes is unclear.
The Hawks shopped Capela in the offseason, and league sources believe they have a lot invested in the long-term future of Onyeka Okongwu. His defensive numbers are stellar — defensively the Hawks were 5.1 points better per 100 possessions with him on-court last season. Okongwu allows them to use more coverages against pick-and-rolls as well, like switch and at the level, which Atlanta was much better at per possession.
Murray raises the offensive ceiling for the Hawks, particularly in a postseason environment. In theory, Murray can take some of the burden off Young and let him operate as an off-ball threat, where Young is as close to automatic as it gets (48% on spot-up 3s, a ridiculous number).
He provides a ball-handler to run the bench units in staggered lineups and gives Young breathers, which could theoretically help all parties have more energy for the defensive end.
Young is one of the most effective and efficient offensive engines in the league. He averaged 28 and 10 on 46-38-90 splits. Young always exists in a state of being simultaneously overrated and underrated. He's considered a defensive liability (true) and selfish (false) while being praised as one of the best pure hoopers in the league (true, but what does it matter) and as good as any superstar (false).
If the Hawks defense is improved by simple virtue of better connectivity and a shakeup of the roster, the offense is good enough to win 45-plus games.
Atlanta has the fourth-easiest Strength of Schedule per Positive Residual, with the most rest advantage games and the eighth-fewest miles traveled. A should-be-good team with a good roster and a number in the mid-40s. The cards are all there, they just have to play them.
Teams with a preseason win total that is two or more wins higher than their actual wins the previous season and below 50 are 42-37 to the over for 53%.
---
The Case for the Under
Central Dysfunction
Where does Murray Improve Them?
The Underachiever Trend
Multiple sources around the league expressed surprise the Hawks didn't make more changes to their roster. Atlanta traded Danilo Gallinari and draft assets for Murray and dealt Kevin Huerter to the Sacramento Kings.
However, they didn't pull the trigger on a deal involving Capela or Bogdanovic and once again passed up on all offers for John Collins, who might as well list his address as "The Trade Block" and keep his stuff in luggage.
What cause do we have to believe that the same combination of personalities and talent that resulted in a frustrating and inconsistent season will result in an improved win total? The addition of a star point guard who will take touches and minutes away from the others?
Oh, and by the way, that star guard is one of Young's best friends. I wouldn't call this situation combustible, but I wouldn't keep it near an open flame, either.
Now let's talk about the addition vs. the subtractions.
As discussed above, the Hawks offense was already elite. Adding Murray helps with the playoffs and will help with balance, but it's not going to likely result in higher offensive efficiency.
The key changes they made were on the bench and particularly in terms of shooting. The Hawks gave up multiple 40% shooters in their tradeoffs. The players they sent out were defensive liabilities, but they weren't the only defensive liabilities.
It's here that I will pause to note that despite being a huge fan of Collins' game, he stands out for allowing high efficiency on both spot-up attempts and in isolation. Between his deficiencies and the slide of Capela in drop coverage, the Hawks still have major issues defensively.
OK, so the defense is still a question mark. But Murray's an A-grade defender. Won't that help?
Well, he's a point guard. Will it help by putting a plus defender in the starting lineup? Yes. Can it raise the floor of the defense the way a wing or a big man can? Absolutely not. For starters, in high-leverage situations, teams will still involve and target Young.
If coach Nate McMillan decides to switch up the defensive coverages, that will help. If the Hawks pull the trigger on a trade to send out Capela (who is still very serviceable and effective), that will help. But all of these things and a strong season from Murray and De'Andre Hunter will be necessary to get them where they need to go.
The Hawks finished 1.6 wins below their Pythagorean expectation last season, meaning they won fewer games than they should have based on point differential vs. strength of schedule.
However, oddly enough, research shows that win totals have a higher correlation over the last 10 years to those Pythagorean numbers than the actual win totals. As a result, the win totals are inflated. That's why teams with a -1.6 differential between win total and Pythagorean wins have gone 32-25 (56%) to the under.
At this point, you have to ask if the Hawks have earned your trust to get to a high-40's number despite the talent on board.
Hawks Win Total Bet
It's a pass for me. At 49.5, I would be looking under, at 44.5, I'd have to play an over. The range currently is an improvement over last season (when they underperformed), but not so much of one as to be unrealistic.
There's value on the Hawks at +190 or better for the division, their ceiling is solidly in the 50's. Their floor, however, is closer to last season at 43. If you reply "But they added Murray," I would respond by asking where exactly Murray specifically improves their regular season performance.
There are a number of ways this goes wrong and the Hawks still go over their win total. There are a number of ways they make the strides they need to defensively and the offensive regression drops them under.
The Hawks will be interesting to watch, fun, explosive, and better suited for a playoff run. They also may make moves that put them closer to what they need. But from where we're at now, they need to be a stay-away.
How would you rate this article?
This site contains commercial content. We may be compensated for the links provided on this page. The content on this page is for informational purposes only. Action Network makes no representation or warranty as to the accuracy of the information given or the outcome of any game or event.