The Making of an NBA Internet Hero: 1-on-1 with Boban Marjanovic
Credit:
Kelvin Kuo-USA TODAY Sports. Pictured: Boban Marjanovic
LA Clippers 7-foot-3 center Boban Marjanovic plays just 11.7 minutes per game, but he has gained a cult following in NBA circles.
Rob Perez (aka @WorldWideWob) sat down with Boban to find out how he's embracing being the NBA's next great Internet hero.
Becoming an NBA Internet hero isn't easy.
The formula of assembling this supernatural being is like putting together a Frankenstein basketball player, but there are only a limited number of body parts to choose from and if so much as one digit is sewed on out-of-place — the entire experiment fails.
Before we dive in further, who are some Internet heroes of the past and what do they all have in common?
JR Smith
JaVale McGee
Lance Stephenson
Michael Beasley
Metta World Peace
… just to name a few.
At first glance, the answer is superficial: They're all walking, breathing blooper reels with countless off-the-court stories associated with them. They make us laugh. They make us cry. They never fail to entertain because we never know what they're going to do next.
But it's so much more than that.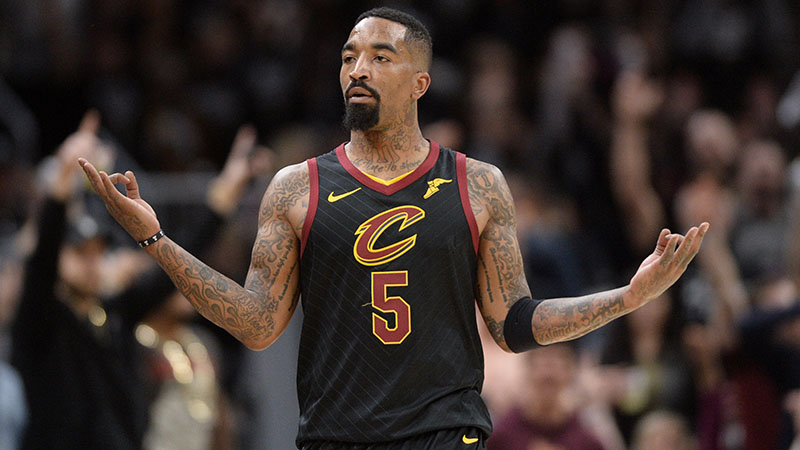 Leaving the court to dap up someone from the other team or blowing in your opponent's ear doesn't automatically qualify you for this honor. It is a lifestyle — and it requires 24/7 work on and off the court.
You have to live your life the same way you play the game, similar to wrestlers never abandoning their ring personas.
There has to be something special about the player we can't find anywhere else; elements that make him unique, unprecedented, flawed and most importantly: relatable.
Let me introduce you to Boban Marjanovic.
Unique
Standing 7-foot-3 and weighing a light 291 pounds, the Serbian giant has become a fan favorite overnight no matter what team you root for.
He is so massive, he can dunk barely having to jump off-the-ground …
"I [still] must jump to dunk," Marjanovic told me in our sit-down interview. "But when I land, you catch the rim, that time I can touch the ground. If I dunk now, I cannot hold the rim and stand on the floor."
… and simultaneously makes 6-foot-10 defenders look like day campers hopelessly trying to steal the ball from their adult counselors.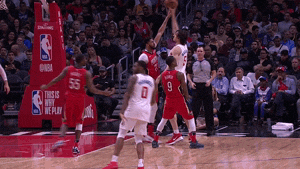 From time to time, Boban also enjoys staring down his prey and reveling in the fact that there isn't a human anywhere in the arena who can stop him when he's within an arm's reach of the rim.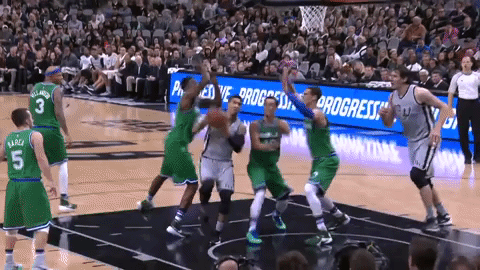 He's also great for defending inbounds passes, serving as a human Fenway Park Green Monster. You might as well just hand the ball back to the ref because there is no chance you're getting it in.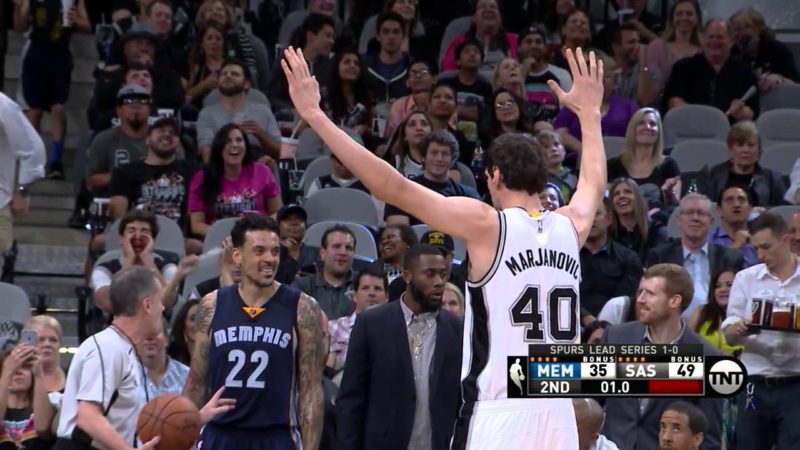 And there is an entire reddit page dedicated to him holding things with his gargantuan hands.
Whether it's fair or not, Boban has become basketball's version of "Andre The Giant" — an attraction wowing fans with his unfathomable size and athleticism.
When asked whether he hears the "OHHH!"s and "AHHH!"s from the crowd when he heads to the scorer's table to check into the game, Boban answered:
"I hear it. It's so impressive. When you sit on the bench of course for like five, 10 minutes, then you play 10 minutes on the floor — your body feels stiff. You must try to stretch. You must run up and down so fast after that. Then you hear the fans "HEYYYY", I was like my body [still] warming up. Blood goes everywhere. It's like warm blood. You're just happy. Like when you jump in the car and say "LET'S GOOOO!!".
Unprecedented
This is not the first time the NBA has had a man with these physical qualities in the league.
Manute Bol, George Muresan, Yao Ming were players all taller than Boban, but there's something that separates Marjanovic from his predecessors: He has, multiple times throughout his career, held the title as the most efficient basketball player in the history of the league.
"Good group to be", he says.
Now, is there an extreme difference in sample size? Absolutely. Jordan and LeBron have been performing at this level for decades and Boban has barely played 150 NBA games total.
There is no doubt this number will regress at some point, but when?
As Chris Herring from ESPN's FiveThirtyEight points out, he was at the top of the league in points per touch last year (0.453) — second to only Shabazz Muhammad (0.468).
In one preseason game this season, Marjanovic played only 15 minutes and recorded 14 points and 12 rebounds.
In his first regular season appearance, he dropped 18 points and grabbed 8 rebounds in just 18 minutes.
The per minute averages are jaw-dropping.
He can even run POINT GUARD for you, and look great doing it:
Boban, on his now famous baseline-to-baseline gallop:
"I'm really good handling the ball. I can say it for myself, I'm really skilled. Sometimes you must keep [the ball] low because if you do too much, everybody will be like 'what's this guy doing!?' The pass was really good. The handling was really good … basically, I have that in the bag. I can handle the ball, I can shoot 3s like everybody else … maybe better."
Flawed
So if he is that good, why isn't Boban on billboards across Sunset Blvd next to LeBron, playing more than 11.7 minutes per game, or ever being talked about as an MVP candidate?
His size, while many times an advantage vs. opposing big men, is a double-edged sword in today's NBA — one in which the smallball revolution, Pace & Space offenses, and stretch 4 big men have overrun the league like the 11th biblical plague of Egypt.
Simply put: Boban, as noted by Clippers Head Coach Doc Rivers, still has room to improve in regards to staying in front of assignments who can stretch the floor with perimeter shooting.
"The biggest step for him probably is if he can guard guys that can pop and shoot … That's a tough one for any big let alone Boban, but even on that, if the guy's making shots who's doing that, but not 3s, you still leave him out there because maybe Boban creates more problems on the other end."
Boban concurred with Doc's assessment, and reiterated his willingness to learn anything to help the team succeed:
"I didn't find a solution yet. I'm joking, but it's a team sport. If I really needed to be on the court [I would]. I support my team from the bench, [on the court], or in the locker room. That's why we practice. We play together … I think I'm different because I love my teammates, I'm not selfish and thinking about myself. I'm here for my team."
This is no fluke. Not just one of those "he's just saying that to look like a good team player and keep the executives happy" statements.
Boban has always leaned on and trusted his mentors, describing in detail the day he sat with Gregg Popovich, the first head coach Boban ever played for in the NBA, and essentially asked if he should leave the team to take the bigger contract he received in free agency from the Detroit Pistons:
"Yes. It was big, big stuff. At the end of the year, you're supposed to sign the contract … I was having the discussion of where you going, where you going, what you can get — that type of stuff. We talked one time and [he said] looked like 21 [million] is not like 5 [million], and I think [he was thinking] do you need to take care of your family? But it's not just about that. He gave me great advice. I really am thankful for that. He's not just a coach. He was a mentor, and told me that advice like a friend. That's what meant a lot [to me]. I spent one year with that person and he was my head coach."
Relatable
Being flawed is what actually makes Boban so relatable, and why the basketball world has joined in unison to support him.
While he will certainly strive to improve his weaknesses and become the next great NBA center, the holes in his game emit human-like characteristics that he is a work in progress, just like the rest of us.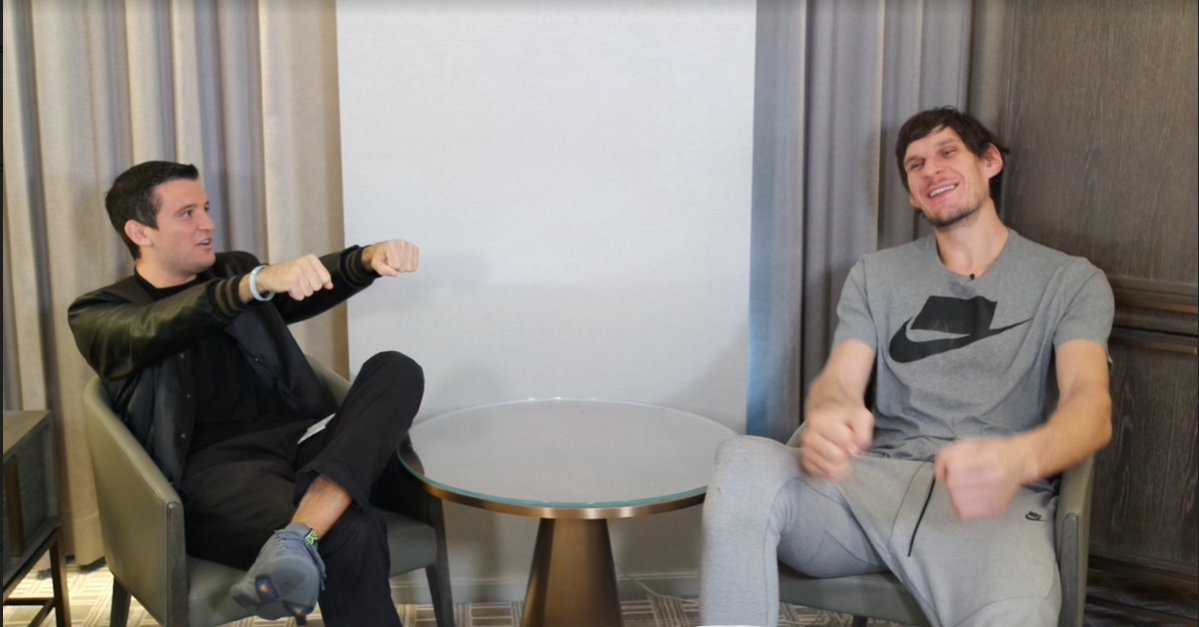 Furthermore, you have to understand that this is a man who spent the majority of his life growing up/living in war-torn Serbia and spending almost 10 years playing professional basketball in various Eastern European/Asian countries — including his own, Russia, and Lithuania.
Before he came to the United States full-time, he had a decent sense of American culture and music — describing how 50 Cent would always be playing in the arenas before his games and he'd always be listening to the lyrics.
Since he's arrived, every day brings a new opportunity to learn or hear something new:
"My favorite song is 'You see me rolling' [Chamillionaire- Riding Dirty]. I don't know why but it's my song. One of them [also] is 'Tell me what you want what you really really want' Spice Girls. When you drive the car put Spice Girls on 'Tell me what you want what you really really want'. When someone pulls up next to you: [say] 'what's up?'"
I didn't know how magnificent it would be to speak with someone just hearing a "NOW That's What I Call Music!" CD for the first time. It exceeded all my expectations, because the conversation turned to one thing he did love to do — "smile and dance."
Remember when Forrest Gump hears Elvis playing the guitar in his mother's bed and breakfast? "It made me want to move my hips," he says as he starts shuffling his feet in a way that is natural to him without any sort of care if it's acceptable in public.
Now imagine that famous scene but with a 7-foot-3 Serbian learning 'The Milly Rock'…
…and 'Chicken Noodle Soup':
It is such an innocent, guilty pleasure watching him have no clue what he's doing yet not give a single damn because it makes him happy.
"I come to his [Tobias'] house to pick up some stuff. And he says I have a song for us. It's so good. You must remember this song [Chicken Noodle Soup] and know the dance. I was like uhhh OK. I said show me the song. I don't remember [the name] but it's so good and so easy to remember. That was the first song we danced [to]."
His "teacher," as Boban refers to him, is Tobias Harris — a 6'9" small forward born in Islip, N.Y., who you'd figure has few things in common with a man from the complete other side of the globe.
But that's exactly what brought Boban and Tobias together when Boban showed up to Pistons camp before the 2016-17 campaign. Their radically different backgrounds, the similar interests they do share, and an irresistible desire to experience each other's culture eventually blossomed into "The Bobi and Tobi Show" web series, when the two were traded to Los Angeles in the blockbuster Blake Griffin deal.
The bromance translates to productivity on the court as well:
There will always be a genuine curiosity about Boban, mainly because of his size and unprecedented performance, but being apart of his life journey and witnessing his assimilation into the surrounding basketball culture as if he's a 7-foot-3 puppy running through snow for the first time — is the real attraction.
"So far I've [and my family have] really enjoyed my life here. Sometimes I would really want to go on a roller coaster. I'm usually [too] tall."
He is working on his game every day with the Clippers' coaching staff to improve his foot speed and earn more playing time.
He says he wants to dunk on "Tobias Harris and Trez [Montrezl Harrell] at the same time. Because they say 'I put you on the free throw line you cannot dunk.' I fight every time. So you have a dunk."
He is starring as an assassin in the upcoming action thriller "John Wick 3: Parabellum."
But most importantly, for us basketball lovers, he is going to continue to be the same Boban we've known and fell in love with since Day 1.
"When I dunk on somebody [and stare at them] I get two technicals. Now just the dunk. Now I know you can't do that."
A cup of humility, a tablespoon of curiosity, and a splash of personality. This is Boban Marjanovic's recipe of becoming one of the most popular players in the league.
The next great NBA hero isn't just an urban legend anymore …
… he's here.