Bucks vs. Raptors Game 3 Betting Preview: Will Toronto Protect Home Court?
Credit:
Nick Turchiaro-USA TODAY Sports. Pictured: Toronto Raptors guard Kyle Lowry (7) during the 2019 NBA Playoffs.
Game 3: Milwaukee Bucks at Toronto Raptors Betting Odds
Spread: Raptors -2.5
Over/Under: 220
Time: 7 p.m. ET
TV Channel: TNT
Series Score: Bucks Lead 2-0
---
>> All odds as of Saturday evening. Download The Action Network App to get real-time odds and live win probabilities on your bets.
---
The Bucks have been dominant through two games against the Raptors and will look to take a commanding 3-0 series lead on Sunday evening.
Are the Raptors worth a bet in a must-win situation? Our experts weigh in.
Betting Trends to Know
The Raptors return home in an 0-2 hole. Oddsmakers list Toronto as a favorite in Game 3, but a majority of spread tickets are on Milwaukee. It has been profitable to bet unpopular favorites in the NBA Playoffs since 2005. — John Ewing
The Raptors were blown out in Game 2 by 22 points. Can Toronto bounce back? Since 2005, home favorites that lost their previous game by double digits have gone 115-81-5 (59%) against the spread in the playoffs. — Ewing
The Bucks are simply dominating in the 2019 NBA playoffs. They are 10-1 ATS, beating opponents by 7.4 points per game. Since 2005, there have been numerous teams in the playoffs that had a win rate of 70% or higher and an average scoring margin of 10-plus PPG in their last 10 games … but just a handful were listed as an underdog, like the Bucks in Game 3.
Teams with that profile and listed as an underdog are just 5-13-1 ATS (27.8%) in the playoffs, failing to cover the spread by 5.3 points per game. When those teams are favored, they are 63-49-1 ATS (56.3%). — Evan Abrams
The Bucks are 8-4 straight up and 9-3 ATS when listed as an underdog this season. Three of the 12 games the Bucks were listed as underdogs have come against the Raptors entering Game 3 in Toronto:
Jan. 31, 2019: Bucks (+2.5) win in Toronto (105-92)
Dec. 9, 2018: Bucks (+4.5) win in Toronto (104-99)
Oct. 29, 2018: Bucks (+2) win at home vs. Toronto (123-108) –– Abrams
The Raptors head home down 2-0 in the series against the Bucks. Since 2005, teams that are down 0-2 heading home for Game 3 are 79-38-1 (67.5%) against the first-half spread; they are 28-6 (82.4%) in this spot over the last four seasons. — Abrams
---
Locky: How I'm Betting Game 3
I spent most of Game 2 trying to figure exactly how much chocolate and peanut butter ice cream I wanted to consume before going to bed. That's how dramatic the actual game was.
It was close only in that Milwaukee occasionally got tired of winning by so much and wanted to be winning by a little less. But even that didn't last very long. Just like my ice cream.
The really scary part was the way Milwaukee won.
Kawhi Leonard scored 31 points, albeit not very efficiently. The Bucks didn't shoot particularly well from 3; in fact, only one player (Khris Middleton) shot better than 50% from beyond the arc in the game.
After being relatively contained in Game 1, Giannis was decidedly NOT contained in Game 2. And you can't really shake the feeling of the Boston series either, during which the Bucks got walloped in Game 1 and then were completely unstoppable for the rest of the series. Once Milwaukee got used to what Toronto was doing, it sure looked the same this round as it did last round.
One other trend that isn't in Toronto's favor: Kawhi Leonard's minutes.
I mentioned this before Game 2 as well, but he isn't ACTUALLY a robot, as much as we jokingly like to call him one. And he can't be on the floor for the entire game, as much as Nick Nurse would love that.
Eventually his minutes have a diminishing return, and I think in his 38 minutes in this game, you saw some of that at times. He can't be that dominant every single night — not against this defense.
That level of effort was required to beat the Sixers (who would probably be putting up a better fight right now), but we all sort of knew it wasn't sustainable for six weeks.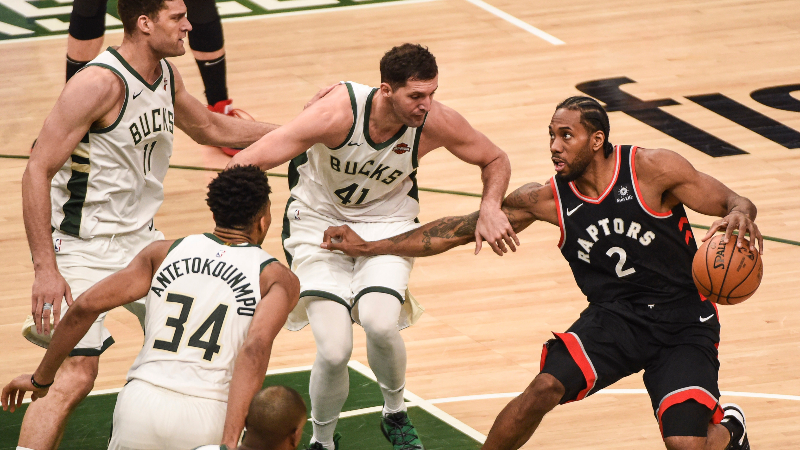 What is compelling about the Game 3 spread is that not only has the customary adjustment been made for the flipping of home court, but extra credit has been given to Toronto in this game down 0-2 the series. The Raptors were +6.5 in both Games 1 and 2, and even if I give a healthy three points of home court to each city, that still makes the Raptors only about a pick here in Game 3.
There is extra motivational juice built into this number, and that is scary. Because as much as we see teams down 0-2 come out with extra motivation early, that can't possibly last if there is as big a mismatch in this series as we are currently seeing.
The first-half trend is compelling, and books are skewing their numbers in that direction as well to support the money they anticipate on that side. But as for the full game, all the Drake high-fives and Jurassic Park cutaways in the world can't prevent what I think is another Milwaukee victory.
Their performance in Game 2 wasn't just awesome — it was also insanely repeatable, over and over again, until this series is over. — Ken Barkley
---
Editor's note: The opinions on this game are from the individual writers and are based on their research, analysis and perspective. They are independent of, and may not always match with, the algorithm-driven Best Bets from Sports Insights.