NBA Playoffs Betting Odds, Picks & Predictions: Heat vs. Bucks Game 1 (Monday, Aug. 31)
Credit:
David Sherman/NBAE via Getty Images. Pictured Giannis Antetokounmpo.
Heat vs. Bucks Odds
Looking for Wednesday's Game 2? Click here.
Odds as of Sunday evening and via DraftKings. Get up to a $1,000 sign-up bonus at DraftKings today or see more offers and reviews for the best online sportsbooks.
---
After completing a gentlemen's sweep of the Orlando Magic, the Eastern Conference's top seed Milwaukee Bucks move on to the second round to take on the No. 4 seed Miami Heat. Miami looked mighty impressive against the Indiana Pacers, and also won the season series against its second-round opponent.
The Heat took two of three from Milwaukee during the regular season, one in the first week of the season in overtime, and then an impressive 16-point win in March, a game in which the Heat were 5-point home underdogs.
In the bubble, Miami had built up a 23-point second half lead before the Bucks outscored the Heat 38-18 in the fourth to cover the 9.5 spread, 130-116.
Now, we enter the postseason with two teams that provide fascinating matchups for one another. Both teams have counter punches for each other, and this series is set to be closer than it may appear. Onto it:
---
Check out our free NBA odds page, which automatically surfaces the best line for every game. Subscribe to our new NBA Insiders tool at FantasyLabs to beat the market with our cutting edge player projections, injury news and betting thresholds.
---
Miami Heat
The Heat were efficient in their sweep of the Pacers behind a balanced attack and a flame-throwing set of wings. Miami posted the best rating outside of the the top two seeds in each conference in the postseason, 8.8 points better than Indiana throughout the four games.
Miami did this by amplifying what it did during the regular season. A top-five rebounding team his year at 51.2%, Miami grabbed over 55% of available rebounds in the first round, up 4%. Limiting Milwaukee to one chance is going to be key to slowing down one of the most efficient offense in the league.
If Miami controls the rebounding battle, it can determine the pace and gain a significant leg up on the top seed. In the regular season, Erik Spoelstra's team played at the 27th fastest pace in the league. Compare that to Milwaukee's fastest pace, Miami is going to try and slow this one down and make it a half-court battle.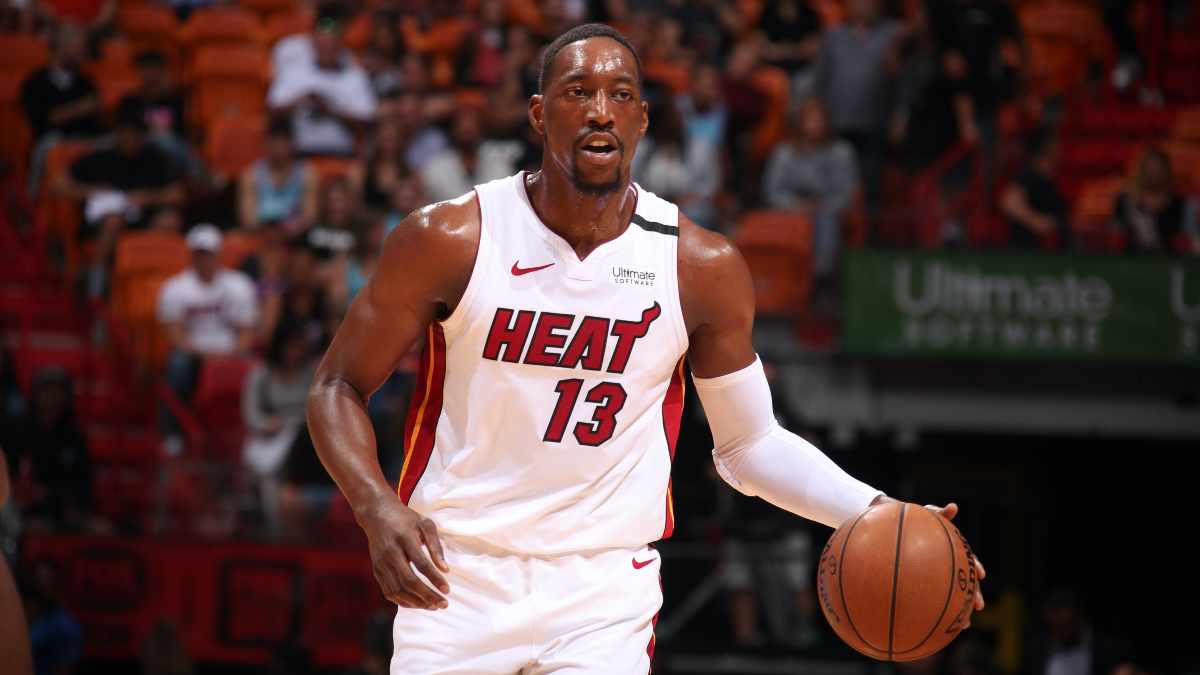 The Heat surrounded Jimmy Butler with deadeye shooters. Duncan Robinson has carved a role as a fearsome gunner with some of the most respect as a catch-and-shoot threat in the league. Tyler Herro is a deadly shooter as a rookie and Kelly Olynyk is a reserve big man that can stretch the floor and a player who I could see playing pivotal minutes.
The other inside threat is rising star Bam Adebayo. A fantastic passer for a big man, Adebayo is a confident and smart shooter. He shot 55% this season on more than 11 attempts, but his defense is going to be the most key. Posting a defensive win shares mark of 3.9, 5th best in the league, Adebayo is going to be marking Giannis Antetokounmpo all series long.
Lastly, Spoelstra has a lot of different lineups to throw at a Milwaukee team that is deep, but firm in its beliefs. Whomever wins the coaching battle between a former NBA champion in Spoelstra and NBA coach of the year in Mike Budenholzer will gain a serious edge in this series. I am going to say that I trust Spoelstra making in-series adjustments over Bud considering their respective track records.
Milwaukee Bucks
It wasn't the cleanest effort, but it was still a pretty dominant performance from Milwaukee in its 4-1 series win over the Magic. Orlando, despite shocking the Bucks in a Game 1 rout, could not generate clean looks and its lack of offensive creativity ended up being its downfall.
In this series, Miami presents a unique challenge for the Bucks. Milwaukee prides itself on locking up the paint; it led the league in points in the paint allowed by nearly three points. Both Giannis and Brook Lopez force teams to shoot over them from distance and prevent teams from getting to the rim.
However, the Heat ranked seventh in the NBA in three-point rate and top-five in points contributed from deep. The Heat are going to look to attack from deep and try to pull Lopez and Giannis away from the rim and play a perimeter battle. This can become an issue for Milwaukee as Miami can bend the defense and pull the Bucks out of their comfort zone.
Coach Budenholzer has a deep roster, but also may be playing them a bit too much and may have to start tightening the rotation. In the postseason, the bench is still comprising of around 40% of Milwaukee's minutes, the most in the league behind the Lakers who are still tinkering through some rotation issues. That is not to say that Milwaukee's bench is not very good, but it may be time for the coach to let his MVP loose and play him close to 38-40 minutes a night to secure the Eastern Conference Finals bid.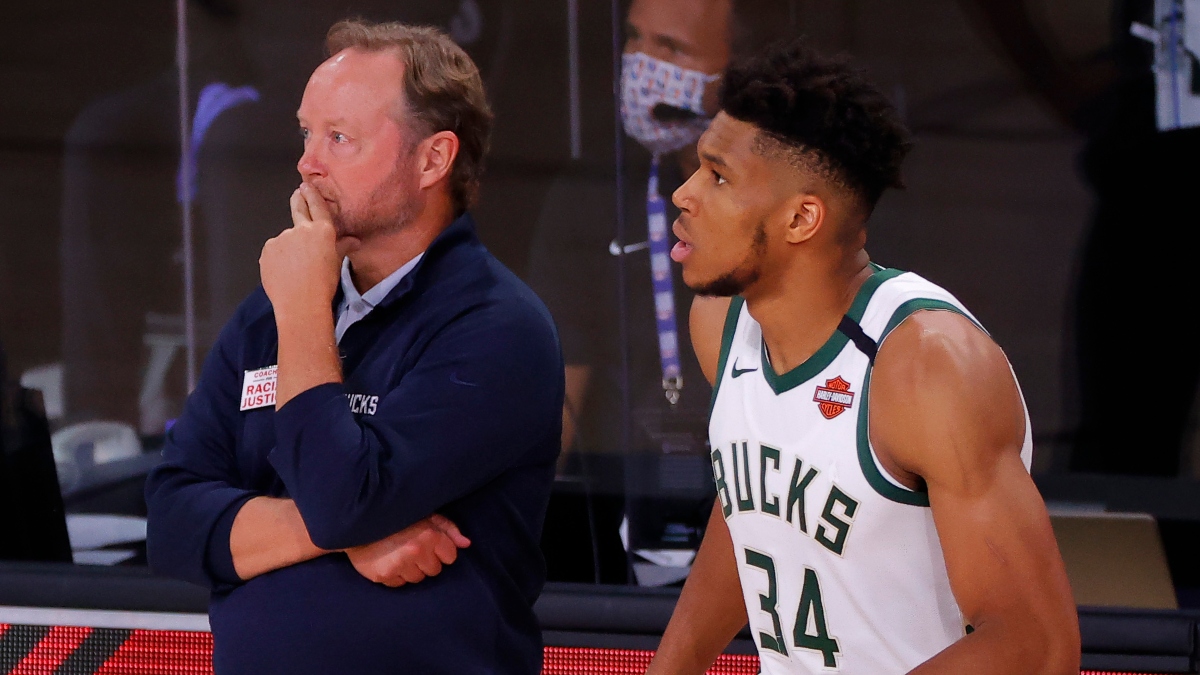 With Giannis running the break, the Bucks were a top-5 fast break team this season. This team likes to grab the rebound, turn around and run. Matched up with a slower Miami team, Milwaukee is going to need to clean the glass to jumpstart its transition. In the half-court, I fear that this game is going to come down to if Milwaukee can find clean enough shots. Adebayo can cause a similar issue for Giannis as the Raptors did last year. In the Toronto series, Milwaukee fell in part because Nick Nurse had figured out how to build a wall in front of Giannis and dare anyone else to beat him.
Khris Middleton had a rough series against Orlando, and it won't get any easier with Jimmy Butler in his jersey for a series. Middleton did have success in the 3 games against the Heat this season, averaging 21 points 6 rebounds and 4 assists on 51/40/91 shooting slashes. Before a strong Game 5 performance, Middleton was averaging 13 a game on 33% shooting from the field, 37% from 3 in the Orlando series and that won't cut it against Miami.
Betting Analysis
In Game 1, I'm going to be on Miami. I think that the long layoff in this bubble setting, especially given what transpired since Miami completed its sweep is a big advantage. Milwaukee is only getting one day off before starting this series, and while the Orlando series may have been wrapped up, you still have to play the game. While Jimmy Butler seemed to injure his shoulder in Game 4, he should be all systems go, but make sure you keep tabs on Bet Labs page for updates.
Budenholzer is 3-8 ATS in Game 1's, while Spoesltra is 11-11. I lean with the rested, and in my opinion, better coached team come playoff time. Give me the Heat with the points to set the tone in this one. I also find myself trusting the Heat bench more than the Milwaukee reserves currently, this will be an underrated but exciting part of the series, watching bench studs go at it.
Looking at the series as a whole, I do think there is value in taking Miami. The series price is unsurprising as Vegas isn't budging off of its Milwaukee respect. Milwaukee opened as -400 with the Heat sitting at +300 (implied probability of 25%). The Bucks are as low as +300 still to win the title and are being priced as such despite Miami getting a lot of buzz as a dark horse Finals team in recent days.
While I am a pro-Milwaukee guy, this price is too long on Miami. I think that there is a better than a 25% chance that the Heat get past the Bucks given the roster construction and who is coaching each team. I think that the Heat have a counter for what Milwaukee throws and is a bit more amorphous, while the Bucks have been steadfast in its beliefs thus far. If Bud shows he can make meaningful adjustments, that changes things.
I do think that the Bucks pull this series out with Middleton rounding into form. But like I said, this price is too good to pass up. I will be playing the Heat to win the Series at +300 with the idea of buying back on Milwaukee if the price falls closer to -150. I will also try and get down on some game spreads such as +1.5 games for Miami when those are released.
For Game 1, take the more prepared team off some rest to set the tone that this is going to be a tough, and long, series.
The Pick: Heat +5.5, down to +5
How would you rate this article?