Moore: Why I'm Betting the Heat to Beat the Bucks In Round 2 of the NBA Playoffs
Credit:
Jesse D. Garrabrant/NBAE via Getty Images. Pictured: Tyler Herro
There's no sense burying the lede here.
I'm betting the Miami Heat to beat the Milwaukee Bucks and advance to the Eastern Conference Finals. This has been coming for some time.
To understand my position, I've been high on the Bucks since head coach Mike Budenholzer took over last season. I will go to my grave believing they were the best team in the league last season and would have won the title were it not for an unsustainable shooting stretch from Toronto's Fred VanVleet.
They are, by any measure, the best team in the league.
But this matchup has been one I've been worried about for months, dating back to January. And the model for a Heat victory is not complicated.
The Bucks give up the most 3s in the NBA. The Heat are the best shooting team left in the playoffs.
The Bucks leave shooters open on drop coverage. The Heat tear up those coverages.
I can't believe in Budenholzer to come up with counters. I can't trust the Bucks' shooters to keep up. I can't trust the breaks to fall for a small market team with a superstar on the verge of his max extension, which, if declined, would signal Giannis Antetokounmpo's intention to opt out in the summer of 2021.
And on top of all that, you're getting plus money on the Heat.
It's not often I put myself out on a limb like this. Everything in the NBA is probabilistic, but I'm willing to go down with the ship here by betting against the NBA's best team by any measure.
Here's why.
The Cruelty of the Rims
Back before the restart, I looked at Milwaukee and how they fared going in.
I shared these two charts, which I think matter: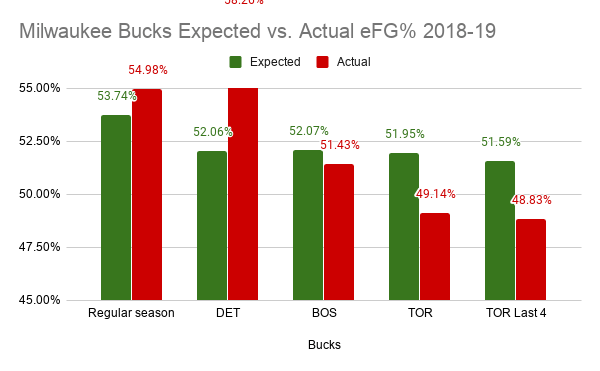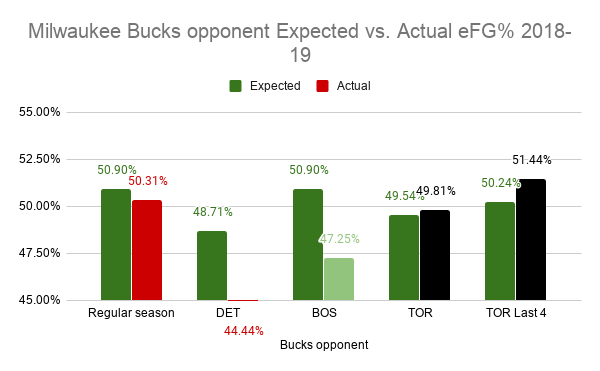 Maybe you're curious how this went in the restart. I whipped those up for you to consider as well: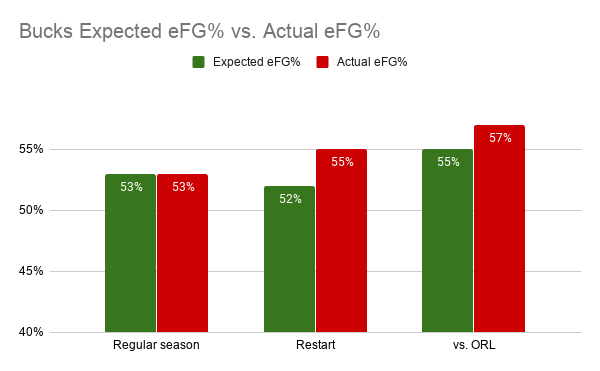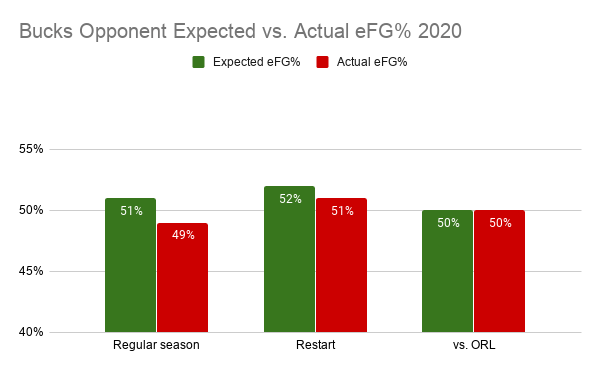 On the surface, everything's great. They held opponents below their expected percentage — even with the crazy hot shooting during the seeding games — and kept the Magic within the expected range. Meanwhile, the Bucks shot better than expected.
Back to what I wrote in July:
One posit of the Bucks' defense is to drop consistently. This isn't new, I harp on it with every team. Most squads do this in the regular season because it's the easiest scheme to manage weaknesses and prevent 3's. But in the playoffs, it allows guards to come off screens, rise up from mid-range, or deeper if they have the range, and take uncontested shots.

In short, star players can destroy you if you play this coverage.

Miami in particular is terrifying in this aspect. Not only do they have Jimmy Butler to take over the game in spots, not only were they third in eFG% in the regular season, but Miami generates 9.6 possessions per game from handoffs, by far the most in the league.

They also run off screens incredibly well. Playing drop against these kinds of sets leads to doom, hence Miami going 2-0 vs. the Bucks.
This one, in particular, concerns me. It's a simple pick-and-pop with Kelly Olynyk. Look how far off Brook Lopez is:
The Bucks switched this up a bit in the bubble game, their lone victory vs. the Heat this season, having Antetokounmpo guard Olynyk:
Except, notice that the screener for Olynyk there is Derrick Jones, Jr., who played just 43 minutes in the four-game series vs. Indiana. That's because in this game, Goran Dragic and Jimmy Butler were both out.
Butler's presence naturally disrupts this, as Giannis will have to spend time defending him, as will Wesley Matthews, and Khris Middleton.
Speaking of Matthews, he spent the majority of his time chasing around monster shooter Duncan Robinson in the bubble game. I actually don't expect Robinson to have a big series, because Milwaukee will sell out to stop him.
He can hit both of these looks, but look how hard Matthews and company are selling out to try and slow him down.
Robinson might just hit the contested ones anyway. He shot 43% against the Pacers with a defender considered "close" per NBA Advanced Stats, and 44% on guarded catch-and-shoot shots per Synergy Sports.
But the Bucks will devote an inordinate amount of time to preventing his shots, just as they did with Danny Green vs. the Raptors last year. In the end, though, it wasn't Green, or the Raptors' spot-up shooters. It was Fred VanVleet and Kyle Lowry, above the break and often off the dribble, that did them in.
And that's where Dragic comes in. He enters this series as the No. 1 spot-up shooter in the playoffs, knocking down 13-of-20 for a 95% effective field goal percentage.
That's pretty good. But Dragic is also healthier than he has been in years. He's able to beat his man off the dribble, even against a very good Pacers defense.
Watch what happens when he collapses the defense, kicks out to Robinson, who the defense overreacts to, and then relocates:
Many of Kendrick Nunn's 3s against the Bucks will be replaced by those from Dragic, Robinson, Jae Crowder, and Andre Iguodala, along with Butler, as Nunn has only played in one playoff game so far. Heat head coach Erik Spoelstra has gone to his veterans and it is working, with the exception of his use of Tyler Herro.
But this is the essential problem with Miami for the Bucks: they have too many shooting weapons to guard with the Bucks' scheme.
If you told me you knew with 100% certainty that Budenholzer was going to switch up his coverage, throw in blitzes and switches, and deploying lineups with Giannis at the five vs. Bam Adebayo, I'd take the Bucks and look closely at Bucks-in-five prices. But I have no reason to think that. Budenholzer has never won a series where one team made the adjustments on him and he counter-balanced after going down in the series.
This is a problem.
Meanwhile, on the offensive end of the ball, the Bucks still have guys you don't trust as absolute knock-down guys. Whether you want to single out Eric Bledsoe, Wesley Matthews, Pat Connaughton, Lopez, or Marvin Williams, there's a belief that these are not 16-game players.
I love all those guys, I've followed their careers and seen how good they can be. But when things got tough last year, the Bucks didn't have guys who could make the tight, contested shots they needed, and I can't trust in Matthews or Williams to be the difference.
With Bam Adebayo as the primary defender via the NBA's admittedly-wonky matchup data, Antetokounmpo shot just 43% this season, including 0-for-7 from 3. Antetokounmpo went 13-of-13 overall from 2-point range in the bubble game, setting an impressive late-game tone. He slammed the door on the Heat. Repeatedly.
But overall, it's clear that Adebayo does a good job on him, as one of the rare people on the planet who can handle both Antetokounmpo's strength and speed:
Butler will play free safety in helping off to attack Giannis' dribble, disrupting things, and helping to lock down Khris Middleton. The Heat defense has been considerably better in the restart since going to the veteran lineup.
They can throw Butler, Adebayo, Iguodala, Crowder, and Solomon Hill on Giannis with various levels of expected success on the edge, while bringing help and then running off shooters.
The blueprint's all there.
The implied odds for +375 (BetMGM) for the Heat series price at 21%. I think this is closer to a 60-40 series in favor of the Heat. The matchup is that bad.
We've seen shooting dominate in the bubble. We've seen coaching matter a ton in the first round. The Heat have the edge in both. I think Milwaukee takes two games; I'm not betting the Game 1 line for this reason. There's value on Miami.
Heat in six games, +1100 at DraftKings.
[Bet the Heat now at 11-1 at DraftKings and get a $1,000 sign-up bonus.]
How would you rate this article?