Over/Under: Carmelo Anthony 98.2% Chance to Make the Hall of Fame?
Credit:
Russ Isabella-USA TODAY Sports. Pictured: Carmelo Anthony
It's been a popular recent public debate of whether Carmelo Anthony deserves entrance into the Hall of Fame.
Basketball Reference's probability model gives him a 98.2% chance of making it.
Is that too high, too low, or about right? Based on his awards, he seems like a shoo-in.
Let's first define the argument here. This is not a piece in which I'm arguing whether Carmelo Anthony is a good teammate, whether he's underrated or overrated by advanced plus-minus metrics, or whether he should be historically dinged by a seeming unwillingness to evolve his game.
It's unclear (at best) if those things matter to Hall of Fame voters, especially with the data we have, which shows that raw numbers and awards most certainly do.
Now to Melo's career accomplishments:
NCAA champion at Syracuse
NCAA Final Four Most Outstanding Player
Consensus second-team college All-American
NBA All-Rookie First Team
4x Third Team All-NBA
2x Second Team All-NBA
10x NBA All-Star
NBA scoring title in 2013
3x Olympic gold medalist
Olympic bronze medalist
Not a bad list of achievements, and I think even his biggest detractors would admit his resume is unimpeachable.
If you want to set up thresholds, there have been 42 players with at least 10 All-Star appearances. All of those players are either already in the Hall or are surefire bets to make it — guys such as LeBron James, Dirk Nowitzki, etc.
Sure, thresholds aren't perfect — Derrick Rose will likely be the first NBA MVP to not make the Hall of Fame when his career is over — but this many thresholds covering a variety of awards … plus a national title in his only year in college … that's hard to argue against.
And that's why the number 98.2% is in the headline of this piece. Basketball-reference.com has built a model to predict a player's odds of making the Hall of Fame: Variables include All-Star game selections, peak win shares, leaderboard points and NBA titles.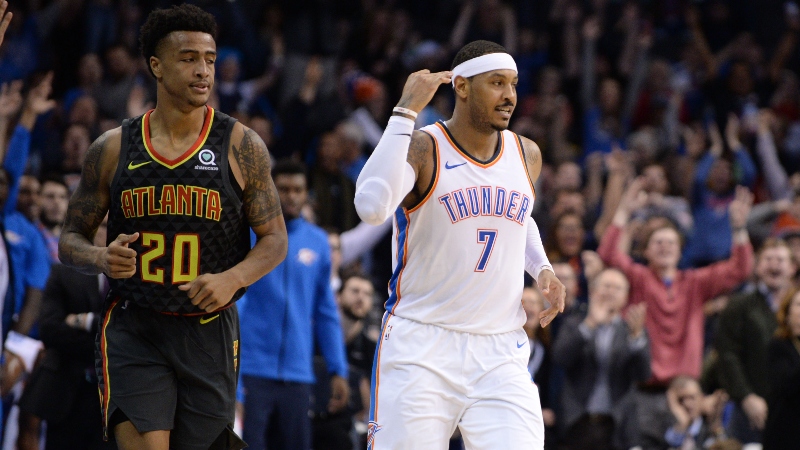 Credit: Mark D. Smith-USA TODAY Sports. Pictured: Carmelo Anthony (7).
Melo obviously doesn't own any titles, but he's definitely Hall worthy in every other predictive variable. His peak isn't as high as LeBron's (whose is?), but his 10.7 peak win share season in 2013-14 in New York should be solid enough, especially considering his other honors.
So let's not be silly: Melo, Dwight Howard and Russell Westbrook — three of the more divisive players in the public's eye — are clearly HOF worthy. Vince Carter and Tony Parker are both projected to be shoo-ins by Basketball Reference as well, with probabilities of 94.6% and 93.9%, respectively. More interesting players to debate are guys such as Kevin Love (67.6% currently), Joe Johnson (50.6%), and Rajon Rondo (40.7%).
---
>> Sign up for The Action Network's daily newsletter to get the smartest conversation delivered into your inbox each morning.
---
Even the Golden State guys are intriguing to discuss. Kevin Durant (99.9%) and Stephen Curry (99.6%) are locks, while Klay Thompson (24.7%) and Draymond Green (27.3%) aren't at the moment. They'll have the titles — and they could definitely rack up All-Star appearances — but their peak seasons are diminished by how loaded their teams are.
Thompson, for reference, has never gotten particularly close to a 10-WS season; he was at 8.8 in 2014-15 and 8.0 in 2015-16. He was at just 4.9 last season with Durant fully integrated. They'll likely all get in once their careers are said and done, however, if they keep picking up titles.
Of course, it's possible as the public gets smarter in analyzing basketball and players — we're definitely in an analytics renaissance currently — that voters will come to value things other than just straight raw stats and awards. But I'm skeptical that'll be the case, especially considering how much we're biased to remember the past with such rose-colored glasses as humans.
Awards are messy data points, but they're data points nonetheless, and I would be surprised if they suddenly become less important to voters anytime soon.
So, over/under Melo 98.2%? Definitely over. He's getting in.