Celtics-Bucks Betting Preview: Will Milwaukee Continue to Cover?
Credit:
Photo credit: Tommy Gilligan-USA TODAY Sports. Pictured: Khris Middleton
Spread: Bucks -5.5
Over/Under: 227
Time: 8 p.m. ET
TV Channel: TNT
---
Let's be honest: Giannis Antetokounmpo was robbed of the All-Star Game MVP. He could get the NBA MVP this year, however, and he'll restart his campaign after the break with a home matchup vs. the Celtics.
Where's the value in this matchup? Our analysts dive in.
---
Betting Trends to Know
The Bucks have the best against-the-spread (ATS) record in the NBA this season, going 34-20-3 (63%) ATS. Bettors shouldn't bank on Milwaukee continuing to cover. In the past five seasons, teams that covered 60% or more of games before the All-Star break went 151-168 (47%) ATS after. — John Ewing
Under Brad Stevens, the Celtics are 65-41-1 ATS when getting five or more points, including 54-29 (65%) ATS in road games. — Ewing
Not only have the Celtics excelled under Stevens as decently-sized underdogs, but no coach has been better against the best teams in the NBA.
Since 2015 under Stevens, the Celtics have faced 26 teams that have a win rate of 75% or higher; Boston is 17-8-1 (68%) ATS in those, covering the spread by 3.8 points per game.
In that span, Stevens is the most-profitable coach in the NBA against top teams, winning bettors 8.3 units. When the Celtics have faced an opponent with that high of a win rate in December or later in that span, they are 7-1-1 ATS, covering by 6.1 PPG.
The Bucks come out of the All-Star break with the NBA's best record and the No. 1 seed in the Eastern Conference. — Evan Abrams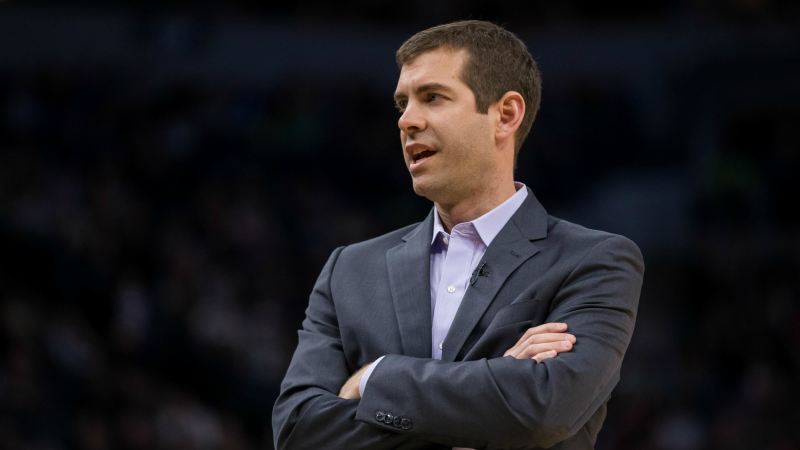 In the first game of the second half, the Bucks face a big test vs. the Celtics. So far this season, Milwaukee has dominated good conference opponents, but will that continue against Stevens and the Celtics?
The Bucks are 11-3 straight-up and 10-3-1 ATS when facing conference opponents with a win rate of 50% or higher this season, covering the spread by 7.6 points per game.
One of the Bucks' three straight-up losses in this spot came in November in Boston, with Milwaukee listed as a 2.5-point underdog. — Abrams
---
Moore: What I'm Watching For Tonight
Huge test for the Bucks here. They're at home, and they have Nikola Mirotic to give them another wrinkle to small-ball lineups to counter Boston with Al Horford at the 5.
Can Brook Lopez win that matchup outright this time? If not, will Mike Budenholzer be willing to switch that up in a regular-season matchup to try out that Giannis-at-5 lineup? Can they play Mirotic with Giannis and D.J. Stephens?
There are a ton of key matchups to watch in this one and it should be a great chess match.
Watch out for foul trouble: With Marcus Smart in the starting unit, he'll be matched up on Antetokounmpo, who is offensive-foul prone while Smart is a prolific flopper.
That can change the complexion of this game in a hurry. — Matt Moore
---
Mears: How I'm Handicapping Tonight's Game
At the risk of being too reductionist, I think this game ultimately comes down to Boston's success from the 3-point line.
I wrote a big feature on the Bucks and Celtics defense last night, and my takeaway was that those units are really selling out to protecting the paint in lieu of giving up 3-pointers. Milwaukee ranks first by a mile in limiting shots at the rim this season but dead last in 3-pointers allowed.
That's by design, though, as I wrote in that piece. The Bucks are playing a traditional pick-and-roll scheme, which means that Brook Lopez — or whichever big is guarding the roll man — is going to drop instead of either switching or hedging out to bump the ball-handler.
That means the big men for Boston will be wide open for 3-pointers if they want them. In the Celtics' win against the Bucks this year, they shot 45.3% from 3, and a lot of that was because Al Horford, who is averaging just 3.1 three-point attempts per game, shot 11 and hit a respectable number of them.
This shot…
… will be wide open all day for Horford and the Celtics bigs. Look how far Henson dropped in that play, selling out to contain Kyrie and not worrying at all about Horford taking the 3.
Boston is a really good 3-point shooting team this year, ranking fourth in attempts and sixth in percentage. But Milwaukee will make the Celtics bigs hit them — not Kyrie and Jayson Tatum. They're certainly capable of doing that — Marcus Morris is a 40.9% shooter this year; Horford is at 36.9% — but in a one-game sample, the variance is high.
It is notable, though, that the Celtics continue to have somewhat drastic home/road splits.
Overall on the season, they're fifth in effective field goal percentage. They're also fifth specifically in home games. But on the road that number drops to 14th, and they really rely on shooting because they're typically so bad at rebounding the ball.
Given all of those factors, tonight's number is probably about fair, but if I had to lean one way it'd be toward Bucks -5.5.
Mirotic will make his season debut for Milwaukee tonight and should provide another impactful shooter at the big man spot. — Bryan Mears
---
Editor's note: The opinions on this game are from the individual writers and are based on their research, analysis and perspective. They are independent of, and may not always match with, the algorithm-driven Best Bets from Sports Insights.