Celtics-Thunder Betting Preview: Which Offense Figures it Out First?
Credit:
USA TODAY Sports. Pictured: Paul George and Jayson Tatum
Betting odds: Boston Celtics at Oklahoma City Thunder
Spread: Celtics -1
Over/Under: 215.5
Time: 8 p.m. ET
TV channel: TNT
---
>> All odds as of 10:30 a.m. ET. Download The Action Network App to get real-time NBA odds and track your bets
---
These two teams with high hopes are a combined 2-5. They've been some of the worst shooting squads in the league, struggling on offense in the midst of a league-wide offensive explosion.
Will that change on Thursday? Our analysts are here to discuss that and more.
Moore: What I'm Watching for Tonight
Welcome to the Struggle Games! These two teams are a mess. OKC, a great defensive team year in and year out, is lost on defense. Boston, loaded with offensive firepower, can't find water if it fell out of a boat. But these two squads are too talented to play badly for long.
The matchups here are awfully weird. Human cannonball Russell Westbrook takes on the basketball specter of Kyrie Irving. Smash-and-Grab Steven Adams takes on the human automated security system in Al Horford, and Paul George takes on Gordon Hayward.
Boston's defense was in real trouble vs. the Magic. Aron Baynes is out, and that gives its defense a lot of issues. The Magic essentially forced a switch of Jayson Tatum playing smallball-4 onto Nikola Vucevic and punished him over and over. Will the Thunder pick up on that? They are not great at identifying and attacking mismatches that aren't Westbrook-related.
Meanwhile, OKC has no spacing, no shooters and nothing much to offer. The Thunder should play a better defensive game, but something has to give. At this point, it seems more likely that the Celtics offense find its stroke before the Thunder, without Andre Roberson, find their offense. The team that loses this game is going to be looking in the mirror awfully hard. — Matt Moore
---
Locky: Betting on a Bounceback
Two teams coming off really embarrassing performances — the Celtics losing at home to Orlando as an 11-point favorite and Oklahoma City losing to Sacramento.
Both might not turn it around right away either: The Thunder need time to reacclimate to Westbrook's crazy high usage and shot attempts, and the Celtics still need to define their roles better.
I think the fact that Brad Stevens had practice time with his team off a bad loss means it is likely you are going to get an improved effort here.
The Thunder's problems might be harder to solve because at least Boston has pieces it can plug in. Oklahoma City is playing Terrance Ferguson, Jerian Grant and Patrick Patterson and has no choice but to do so.
I like the Celtics in a bounce-back spot here more than I like the Thunder to suddenly solve their talent concerns.
As an additional note, the total scares the heck out of me, with both these teams hitting unders, and hitting them by wide margins. Now for this game the total opened 209, and got bet up to 215, which would be the largest closing total for the Celtics thus far. Not sure what's going on there, but I'm staying out of it. — Ken Barkley
---
Mears: Will the Thunder Offense Get Better?
As Matt mentioned, this Thunder team has been awful through three games, going 0-3 and sitting 28th with a -10.9 point differential, per Cleaning the Glass. The biggest negative has been on offense, as they rank 29th with a 100.0 Offensive Rating and dead last with a 43.8% effective field goal rate.
It's mostly shooting: They're last in 3-point shooting at an atrocious 24.3%. Some of that is variance, but some of it is schematic. Sure, they've hit just 30.3% of their open (defender 4-6 feet away) 3s, but those are also just 11.7% of their attempts — close to the bottom of the league.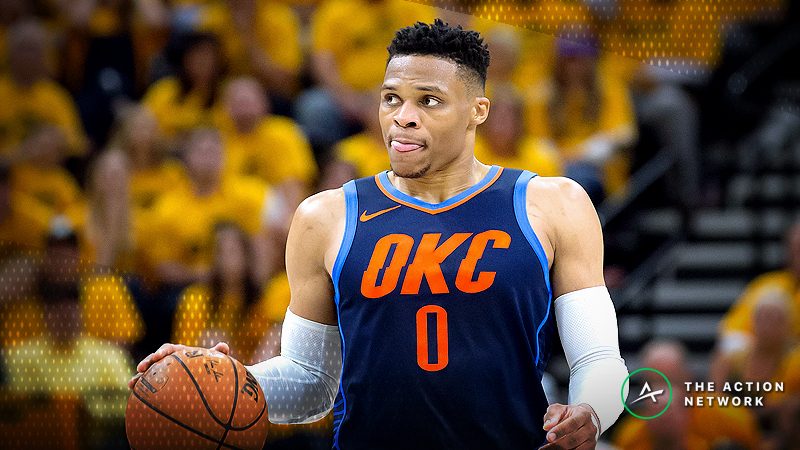 Westbrook getting healthy will change the offense; even if he doesn't have the shooting gravity of a Steph Curry, he attracts attention and can get into the lane at will thanks to his speed and athleticism. But there just aren't a lot of shooters on this roster, and even if they get back to league-average in 3-point rate, that still might not be enough to have a good offense. The Western Conference is tough, and while it's only three games, there's not a lot of time for OKC to figure this out. — Bryan Mears
---
Betting Trends to Know
Boston lost to Orlando 93-90 on Monday. Under Stevens, the Celtics are 108-99-3 (52%) ATS following a loss. Boston has performed better when favored than it has when getting points:
As a favorite: 54-39-2 (58%) ATS
As a underdog: 54-60-1 (47%) ATS — John Ewing
Since the Celtics' thrashing of the Sixers on opening night, Boston is 1-2 SU and 0-3 ATS, just squeaking out a win by two points at MSG. In those three games, Boston is shooting 40.4% from the field and shooting less than 41% in all three games. Under Stevens, when the Celtics shoot less than 41% in three straight games, Boston is 37-23-1 ATS (61.7%) and 36-24-1 against the first-half spread in its next game.
It might be too simple to say the Oklahoma City Thunder need Westbrook to record a triple-double to win, because every team's odds of winning increase with a triple-double. But it's hard to ignore facts:
Westbrook triple-double: 20-5 SU (80%) (won last nine games SU)
Without Westbrook triple-double: 28-32 SU (46.7%) — Evan Abrams
---
Editor's note: The opinions on this game are from the individual writers and are based on their research, analysis and perspective. They are independent of, and may not always match with, the algorithm-driven Best Bets from Sports Insights.