Moore: Ranking Conference Finals Odds, Futures, Exact Results for Warriors-Blazers and Bucks-Raptors
Credit:
USA Today Sports. Pictured: Giannis Antetokounmpo, Steph Curry, Kawhi Leonard
Matt Moore ranks the NBA Conference Finals odds and futures featuring the Golden State Warriors vs. Portland Trail Blazers and Milwaukee Buck vs. Toronto Raptors.
The 2019 NBA Conference Finals begin Tuesday. The East features a titanic matchup between the Raptors and Bucks, while the West features a Kevin Durant-less Warriors vs. the upstart sweetheart Blazers.
We're down to the Final Four. Let's take a look at the best futures remaining on the board.
1. Milwaukee Bucks to Win the Title (+175)
This could be your last, best chance to bet the Bucks to win the title.
What haven't they done? What haven't they proven? Best regular-season record. Best regular-season net rating. Best playoff record. Best playoff net rating. Top five offense. Top five defense. Swept the Pistons, something none of the remaining teams did. Beat their second-round opponent in five games, something none of the remaining teams did.
They have the MVP. They have the likely Coach of the Year. They have matchup advantages over all remaining opponents. And you're getting them at plus money.
I went in on Rockets in 6 and got burned, so I get it. It's the Warriors. I do, I understand. But even that Houston series was more defined by Houston's failures in Games 1 and 2 and the weirdness of how the KD injury changed things for Golden State. The Rockets had their chances and they did what they always seem to do: They fell on their face. Milwaukee hasn't done that this season.
You're getting 1.75 return on the best team in the league to win the title.
2. Golden State Warriors to Win the Title (-125)
But … it's still the Warriors. And without KD, the mojo of this team changed.
They're playing with more fire, more heart. They seem re-energized, happy to make this run. Who knows how that changes when KD comes back, maybe it carries over and sweeps him up in it along with them. Maybe DeMarcus Cousins changes matchups. Maybe the Raptors beat the Bucks giving them an easier Finals opponent and homecourt.
Even if it's the Bucks — for everything I said above — if they don't win Game 1, how screwed are they? They're not winning two in Oracle, most likely. Then all the pressure in the world hits a young team that's never been here, trying to retake homecourt (and keep it) vs. the most dominant team in the sport's history.
You're only having to lay the 125. That's a sweetheart of a deal, no matter the injuries, fatigue or general blahness they've played with — especially given their resurgence to finish off Houston.
3. Raptors to Win Series vs. Bucks (+260)
Toronto does have arguably the best player in this series in Kawhi Leonard, and has faced a tougher challenge than Milwaukee … at least on the surface. (I think Boston was a tougher challenge than Philly in all honesty, but Raptors gonna Raptor.)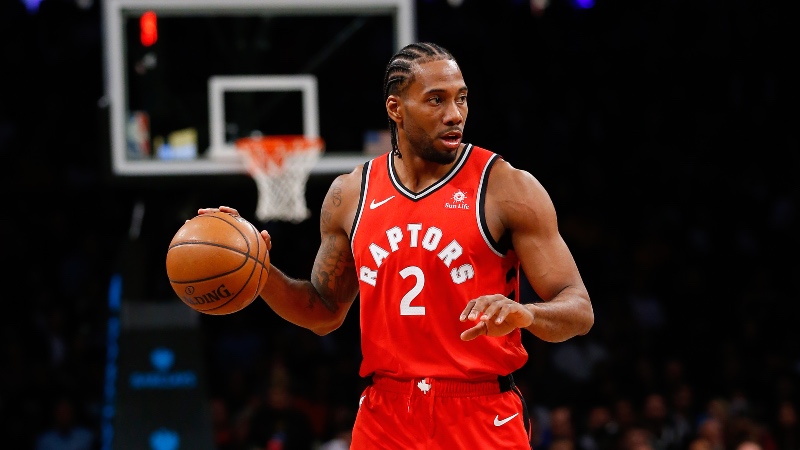 You're getting 260 for a well-balanced team with matchup edges where Milwaukee has no real counter for Leonard and Pascal Siakam could get the better of Giannis Antetokounmpo if he helps off too much.
If the Bucks' shooters go cold, the whole series flips. There's value here.
4. Raptors to Win the Title (+700)
Similarly, it's 7-1 for the Raptors to beat a Golden State team they've given fits to throughout the past few seasons. Leonard is one of the few players the Warriors genuinely fear for what he's able to do on both ends.
The Raptors have Marc Gasol to counter Kevon Looney and/or Cousins, and Siakam-Serge Ibaka to counter the smallball lineups with Draymond Green. They have shooting from Danny Green, and the Warriors' bench is so bad it doesn't really hurt the Raptors much.
It's at least enough of a discussion to make getting 7-1 return worth it if you think Toronto can get past Milwaukee.
5. Warriors to Win Series vs. Blazers (-500)
It's a steep price, but the Warriors should stomp up and down on this team. They've beaten Portland twice in the playoffs before. Rodney Hood is on the shelf to start the series along with Jusuf Nurkic.
The Blazers have played over their heads in these playoffs, which is a testament to their character, will to win, coaching and top-level talent in Damian Lillard and CJ McCollum. But OKC missed everything under the sun with a clearly very-injured Paul George, then the Nuggets missed good shots in Game 7 at home.
The Blazers earned this Western Conference Finals appearance and are understandably celebrating it as a major accomplishment. But Golden State is a vastly superior team, and four of the top six players play for the Warriors.
6. Warriors in 5 Exact Result (+225)
A few reasons I love this one:
A. The Warriors simply do not have enough motivation to sweep the Blazers. You have to really want it to do that, and Golden State respects Lillard and Portland.
B. The Warriors will screw around enough in one game, probably once Durant comes back, and give one up.
C. Golden State will take the first two at Oracle without Durant, then try and get the third one without him. If the Warriors do, they'll keep him out for Game 4, and probably drop it. If they lose, they probably bring KD back for Game 4, probably win it, closing it out in Oracle.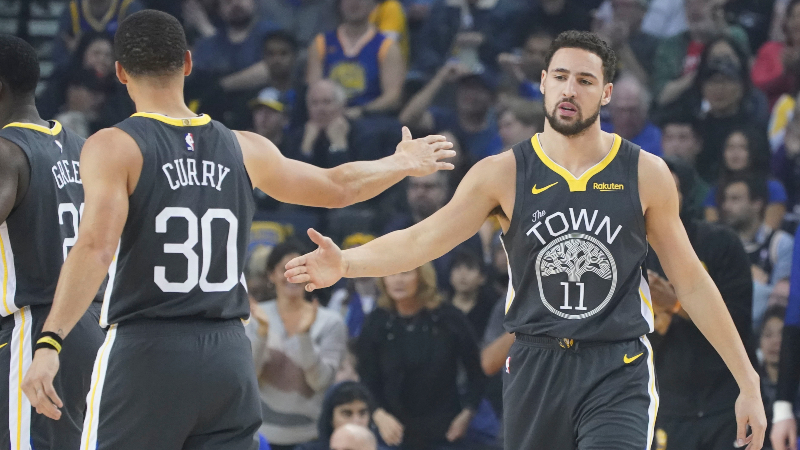 There are all these scenarios in which they get one emotional win, then reality smacks them in the face.
7. Bucks in 5 (+275)
This is a bold one, but if Milwaukee holds serve at home and takes one from Toronto, we're on the cusp.
Let's assume Game 2 is a coin flip, with Milwaukee taking Game 1. If the ball bounces right for Milwaukee and it keeps homecourt, Toronto has to win at home both times, when it's already lost twice at home and nearly lost Game 7.
ScotiaBank has never been a fortress for Toronto, and if it's 3-1, I would want to hammer Milwaukee in that Game 5. Getting +275 for the Bucks to win three home games and take one on the road seems very doable.
8. Raptors in 6 (+600)
On the other hand, this is the best spot for Toronto.
Closing out at home after being up 3-2 after Game 5 (however it happens). Imagine the Raptors steal Game 1 the same way Boston did, only they don't get ran over in Game 3. The Celtics did have several leads in those final three games. If Toronto fires back, closing out Milwaukee at home means the Raptors figured out how to slow down Giannis and the Bucks' shooters are missing.
Not bad value.
9. Blazers in 7 (+1200)
No Kevin Durant. Damian Lillard is America's Sweetheart. The Warriors have no bench. The Warriors' defense is questionable. Enes Kanter is big. McCollum has reached cheat code mode. If the Blazers can get it to a Game 7, wouldn't this be the kind of storybook finish you could only dream of — and isn't that what the Blazers have been doing consistently in these playoffs?
You're getting 12-1 vs. KD on a bad leg and Curry on a bad hand with a bad defense. Worth a flyer, right?
10. Warriors in 6 (+350)
Golden State went six vs. the Clippers, then six vs. the Rockets. Giving up a Game 1 shocker with Curry's injured hand (and without Durant), then running two before getting KD back in Games 5 and 6 makes the most sense here if you don't think the Warriors steamroll the Blazers.