NBA Win Total Odds & Pick: Can the Dallas Mavericks Ascend in the West?
Credit:
Tom Pennington/Getty Images. Pictured: Luka Doncic #77 of the Dallas Mavericks.
Check out this post for updated season win total odds for all 30 NBA teams.
---
Dallas Mavericks Win Total Odds
| | |
| --- | --- |
| 2023-23 Win Total | 48.5 |
| Previous Season's Wins | 52 |
The Case for the over
Luka Doncic Finally in Shape
Wooden Reinforcement 
Defensive Sustainability
This should be the best version of Luka Doncic, ever.
Doncic has been a top-5-to-10 player in the league since he entered, a ready made franchise superstar. He was the favorite to win MVP entering last season as he is this season.
He is verified, certified, already crowned in a way that young players rarely are. There's no resistance to the idea of him being truly elite.
However, he's also consistently entered started slow in previous seasons. Conditioning and being in shape has been an issue. (Who among us, I ask.) It was no secret that he basically has played himself into shape the last few years, exacerbated by shortened off-seasons thanks to the pandemic.
No such concern this year.
Doncic played for Slovenia in EuroBasket in early September, then went straight from to Mavericks training camp. . He's already in better shape than he may have ever been as an NBA player.
This matters because last season was objectively disappointing for Doncic by his standards. He finished the season over the last four months as one of the four best players in basketball. Doncic averaged 30-10-9 the last four months of the season, shooting 46% from the field and 36% from 3-point range.
But overall, he ranked in the 46th percentile on individual possessions per Synergy Sports (basically all possessions except assists). He was in the 14th percentile in transition, scoring just 0.888 points per possession on what is supposed to be the easiest possessions to score on. He shot 33.6% on spot-up attempts, 20th percentile.
His pick-and-roll, post-up, and ISO numbers (especially, 90th percentile) were excellent, but the 10,000-foot view is that he did not have a great year relative to what we expect of a player of his caliber.
Now, coming into camp in shape, after a Western Conference playoff run, with mostly the same team that won 52 games, Doncic is well positioned to have a career season.
The team is downgraded in the market mostly off losing Jalen Brunson for nothing. Two things can be true at once: The Mavericks badly mismanaged the Brunson situation — from failing to reach an extension, to saying publicly they were going to retain a player they did not, to getting nothing in return when he left for the Knicks — and the resulting downgrade was too steep relative to Brunson's impact.
Brunson was terrific last season in a contract year, and was pivotal in the Mavericks' first-round win over the Jazz with Doncic out to start the series. The Mavericks were better with Brunson on-court for the entire season in point differential than they were with Doncic. (This was not true after Jan. 1 when Doncic lost weight and went supernova.)
But given that Brunson was the only significant loss for the Mavericks, this is expecting a five-game drop year over year based on Brunson alone, and Brunson simply isn't worth five games.
Their big addition this season was Christian Wood, who comes with a huge number of concerns, chief among them his attitude and effort.
Having watched him in Detroit and Houston, my snap analysis of Wood is that when the team has a real chance to win, he engages and tries defensively even if he's not a good defender. When the team is tanking, he checks out, plays selfishly, and is a problem in the locker room.
Despite all of his drama last year, he was the best player on Houston, talent-wise, last season. That's saying something given how bad his approach was.
Wood is the best big man Doncic will have ever played with, and yes, I'm including Kristaps Porzingis. Wood scored less, but took fewer shots than Porzingis while shooting more efficiently from the field and 3-point range. He's an athletic finisher at the rim and a capable pick-and-pop weapon.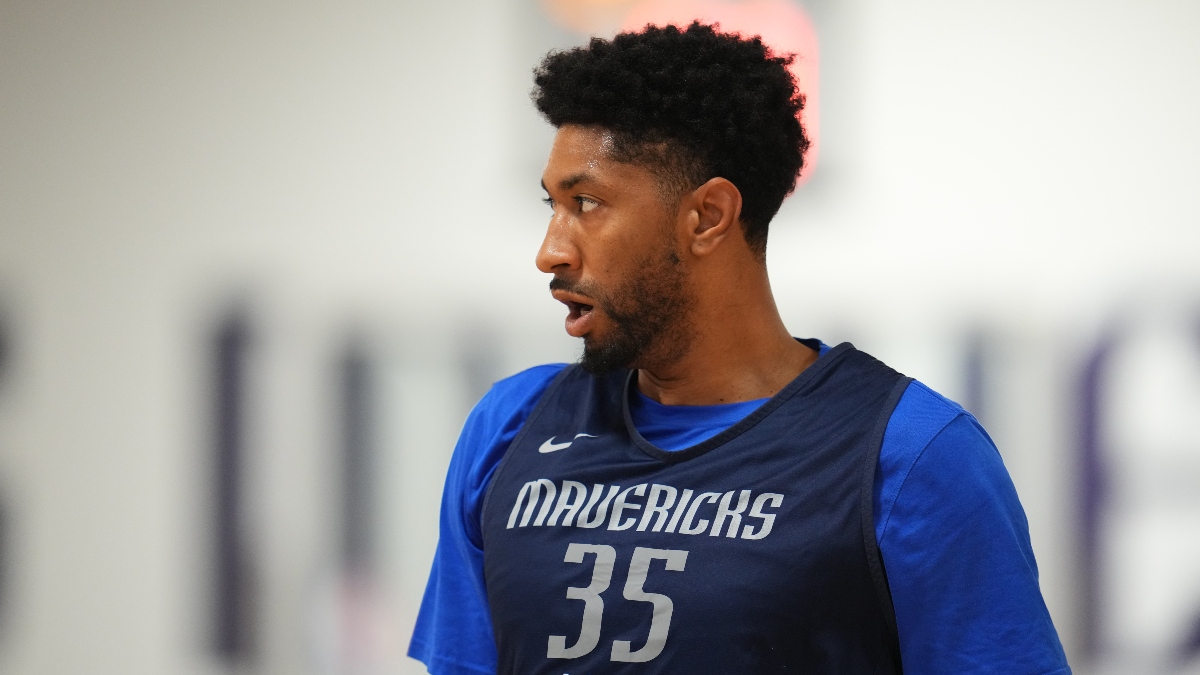 Wood is like combining the rim gravity of Dwight Powell with better size and athleticism with the spacing capability of Maxi Kleber. The early word out of Dallas is that the plan is for Wood to come off the bench with JaVale McGee starting.
This is a terrible idea.
McGee has rim gravity, but so does Powell. The numbers in pick-and-roll last season with Kleber or Powell as the screener were better than the Suns' with McGee. The same is true on the defensive end.
However, the essential reason the Mavericks won last season was their defense. Dallas was just 14th in offense last season and seventh on defense in Jason Kidd's first season.
The Mavericks made a huge leap defensively last season after being 17th, 20th, and 20th in the three seasons with Doncic prior. Trying to nail down why the Mavericks improved so much last season defensively is difficult. Dorian Finney-Smith became a top-tier defender, yet the Mavericks' defense was actually 7 points worse per 100 possessions with him on the floor.
The Mavs played a more aggressive scheme on the perimeter. Usually you do that with better rim protection, but after trading Porzingis, the Mavs kept it up. They basically dared teams to beat them by challenging the rim, at the cost of how much the Mavericks challenged and contested at the perimeter.
There are no red flags in terms of opponent luck. Opponents shot second-worst relative to expected eFG% on 3-pointers vs. Dallas, but if you go that route you also need to believe the Celtics (No. 1) will regress.
I can't, despite all the time spent on analysis, tell you why the Mavericks were so much better defensively last year, and it's a real concern for this. But this formula is simple: Luka Doncic in a career year plus a better big to pair him with in Wood plus a solid defense that even if it slips to 10th-13th is good enough to get to 50 wins.
Here's the key trend to note with Dallas: Teams that won 50 or more games and then had a win total of less than 50 wins the following season were 9-6 to the over in the last 10 years.
The Case for the Under
Year 2 Jason Kidd
Defensive Regression
Doncic's Vulnerability
The book on Jason Kidd is that he uses aggressive schemes and wears out his welcome. I'm not sure how fair or accurate that is looking at his previous stops. He left the Nets after one season (after an unsuccessful power play on management, yikes), struggled in Year 2 in Milwaukee, and that's it.
I bet against the Mavericks last season based on Kidd as a coaching downgrade and it burned me. If Kidd does wear out his welcome, this could get rough. The Mavericks didn't blitz ball-handlers like Kidd's Bucks did, a scheme you can gameplan against once it's on film for a year.
However, the Mavericks gave up the ninth-most shots at the rim last season. Their rim protection is McGee (a quality shot blocker who sometimes overpursues) Kleber (athletically limited), Powell (undersized), and Wood (a poor defender overall).
The Mavericks also had the second-best differential in opponent eFG% vs. expected eFG% factoring the shooter, location, and contest level. So they had 3-point luck in that respect.
Here's Dallas' Defensive Rating in each season of the Doncic era:
2019: 17th
2020: 20th
2021: 20th
2022 (Kidd): 7th
Is Kidd the difference in a perennial below-average defense and a top-10 one? Is that sustainable?
Even if the Mavericks regresses positively to the mean on offense with the addition of Wood and the return of Tim Hardaway Jr. (and despite the loss of Brunson), a dip in defense could push them further towards 45 wins than 50.
Finally, I've made the case for Doncic having a career, and potentially all-time, season. However, the structure of the team is such that Dallas is even more dependent on him. This is where Brunson being gone, and the Mavericks' inability to land Doncic's Slovenian national teammate Goran Dragic, hurts.
Dallas went 8-9 without Doncic last season. If that win percentage drops and Doncic misses more than 17 games, that's enough to drive a slight under. Injury risk is inherent in any win total play, but Dallas' hyper-dependence on Luka makes it an exceptional case. Teams whose win total dropped by at least three wins vs. their actual win mark the season prior have gone 35-27 to the under (56%).
Mavericks Win Total Bet
I lean over, but it won't be a play for me. If my analysis is on point and Doncic has the type of year I'm expecting, the better play will be on Doncic to win MVP. I'll be looking for Mavericks under on seedings (so if 4.5, to be top-4).
I think there's slight value on Dallas to win the division at +125 or better, but again, the ROI is not enough to make it a play relative to New Orleans, who I think is in the same tier as Dallas.
How would you rate this article?
This site contains commercial content. We may be compensated for the links provided on this page. The content on this page is for informational purposes only. Action Network makes no representation or warranty as to the accuracy of the information given or the outcome of any game or event.