Wob: Dame vs. Kyrie and the Guide to Ending Every "Who is Better?" NBA Argument
Credit:
USA Today Sports. Pictured: Damian Lillard and Kyrie Irving
Damian Lillard crushed the soul of the Oklahoma City Thunder on Tuesday night, nailing a 37-foot, series-ending 3 as time expired.
Rob Perez (aka @WorldWideWob) settles the Dame vs. Kyrie debate and lays out the blueprint for solving every "Who is better?" NBA argument.
OK so we've all drowned in one of these conversations by choice or not — who's better: Player X or Player Y?
The sport doesn't even matter — these debates usually start civil, go nowhere, result in each side repeating themselves, escalating the volume of those same points with the intention of using their aggressiveness to represent themselves as the alpha, and end because someone said something so ludicrous that the court room had to adjourn without any resolution.
Essentially: Twitter. Subjective warfare, where nobody is ever wrong.
I unfortunately found myself on the western front of one of these battles this past weekend after both Damian Lillard and Kyrie Irving went off for their respective teams. The question was simple: who is the second best point guard in the NBA behind Steph Curry: Dame or Uncle Drew?
It went as predicted, a lot of GIF shaming, regrettable hypotheses, and Kyrie Game 7 highlights — but a very important settlement was signed by both parties: The framework of how to determine if one NBA player is better than another.
"Who's better?" is simply an irresponsible question to deliberate; it is vague without any sort of context for what the players are actually better at. To determine the winner, we must investigate 10 different sub-questions, score them, and use the electoral college method versus the popular vote.
Before we continue, I need to disclose where I stand with Kyrie. Buckets are my god. Irving is, pound-for-pound, the most prolific individual finisher I have ever seen play the game. He makes shots that are simply inexplicable and his basketball porn handles turn real NBA games, with mutant athletes twice his size, into an AND 1 mixtape. He is clutch, he fights wars with every dribble, and if my life was on the line and I died if the team did not score that possession, I am nominating Kyrie as my champion 10 times out of 10.
Does that mean he's "better" than Dame? Let's write the rules, score it as a boxing fight, and find out.
---
Who are you starting a franchise with?
This prompt grants you the powers of being the general manager of an expansion team, and you must choose one of two players with whom to start with your team. No, you do not get to take the player's teammates with him — this is strictly the individual.
This question goes beyond on-court skills: Who do you want as the face of your business? Who can best handle all of the hype and distractions and scrutiny of being the franchise cornerstone?
STATS THAT MATTER: VORP (Value Of Replacement Player), PER (Player Efficiency Rating), TS% (True Shooting Percentage), WS (Win Shares).
Score: Lillard 10, Kyrie 9
---
Who you going to for the game-winning bucket in Game 7?
Kyrie is responsible for making arguably the most clutch shot in the biggest Finals moment since Michael Jordan vs. Byron Russell in 1998 or Ray Allen in the corner during Game 6.
If there is ever legitimate discussion about changing the logo to a new silhouette, you have to think Irving's step back is going to be one of the finalists. It was no fluke either, we could create a 50-chapter YouTube video of his clutches moments and that may not be enough to recognize them all — but for as nails as Irving is, he's not THAT far in front of Dame.
It feels like an eternity ago, but Lillard's buzzer-beater against the Rockets put him on the map.
It evolved into "Dame Time," a nickname used to illustrate his nightly performances at the end of the fourth quarter when he takes over games with a bombardment of eye-popping deep threes.
And then on April 23, 2019 — he did this:
It wasn't some random Hail Mary he forced up because the game was about to end, it was a conscious decision to pull from 37 feet … and not just pull, a god damn STEP BACK with the Defensive Player of the Year frontrunner in his face playing it perfectly.
It is the single greatest series-closing buzzer-beater in NBA history since Michael Jordan's "The Shot" in 1989 vs. Cleveland.
The circumstances of MJ's moment will never be conquered, but in terms of shot difficulty and including all the off-the-court drama that lead to this moment — Lillard's may never be topped during our lifetime. This is not a prisoner of the moment situation, either; it was that tough of a bucket.
Dame has yet to do it in the Finals, like Kyrie, but don't let that cloud your judgement. The difference between these two in the clutch is now non-existent.
STATS THAT MATTER: FG% in final minutes of games with a margin of equal to or less than 10 points.
SCORE: Kyrie 9, Lillard 9
---
Who's the better locker room guy?
The only people who can honestly answer this are the players themselves. It feels like every time we read something about teams not being happy with each other behind closed doors it's usually the result of an aggregated, out-of-context headline or post-produced video clip designed to drive clicks.
There is plenty of legitimate reporting out there, but how many times did we hear that Kyrie was ready to go to war against the Celtics' young core or Damian Lillard walked into Paul Allen's office demanding a trade?
What's reported is a big part of this, though: The media is the only way fans get their information. And in the case of Lillard vs. Irving, Dame has fewer "Sources" skeletons in his closet.
SCORE: Lillard 10, Kyrie 9
---
Who makes his teammates better on the court?
This is the LeBron theory — a player so good that he not only could get to the Hall of Fame on his own, but simultaneously extract the maximum potential out of his teammates every time he's on the court.
Daniel Gibson, Sasha Pavolvic, Matthew Dellavedova, J.R. Smith … just a couple of names that undoubtedly never sniff a Finals if they aren't teammates with James … and they didn't make the Finals just because they got lucky and were on the right team at the right time (i.e. Nick Young and the Warriors), but they were legitimate contributors. LeBron makes everyone better.
Who does more for the greater good in terms of basketball production only?
STATS THAT MATTER: NET RATING, ON/OFF
SCORE: Lillard 10, Kyrie 9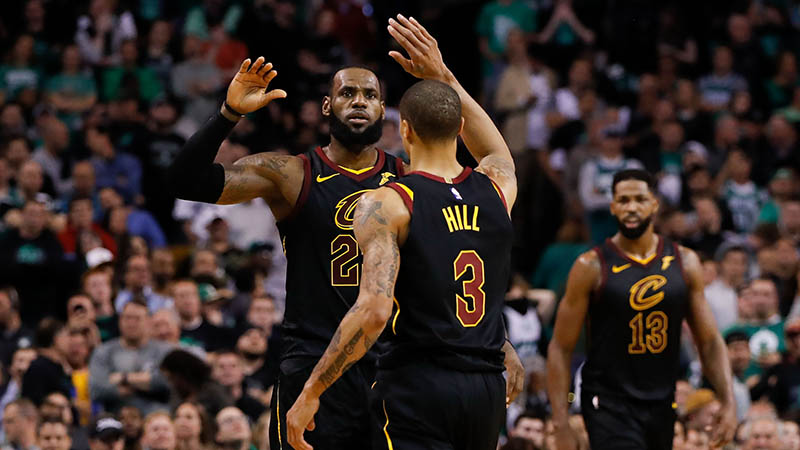 Who's the better defender?
Believe it or not, defense still matters in 2019. Just ask the Toronto Raptors and Denver Nuggets.
SCORE: Kyrie 10, Lillard 9
---
Who's better for their team's culture?
This encompasses everything: on-court performance, locker room, with sponsors/season ticket holders, in the community, with the media … which player is the best representation of his city and franchise?
SCORE: Lillard 10, Kyrie 9
---
Who has proved it?
Who's got the longer track record of success? Who has the most "holy shit" moments that will run on loop in the Hall of Fame rotunda one day?
STATS THAT MATTER: W/L Record, Playoff PER, Playoff WS, Playoff Net Rating
SCORE: Kyrie 10, Lillard 9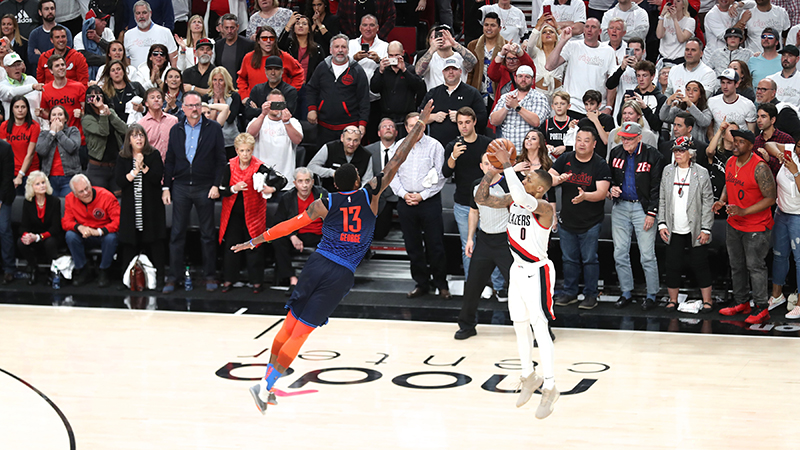 Who is more durable?
You can't be the better player if you're not on the court to help your team. It is the most overlooked statistic in the game, we just assume these superhero perfectly-engineered physical specimens can go out there and perform at peak performance for 48 minutes every night.
Durability is responsible for more careers ending short or extending into borrowed time than any single advanced statistic.
STATS THAT MATTER: Games played vs. Games missed
SCORE: Lillard 10, Kyrie 8
---
Who do you trust to make the right decision?
After Game 7 on June 19, 2016, I will never not trust this man for the entirety of his career.
SCORE: Kyrie 10, Lillard 9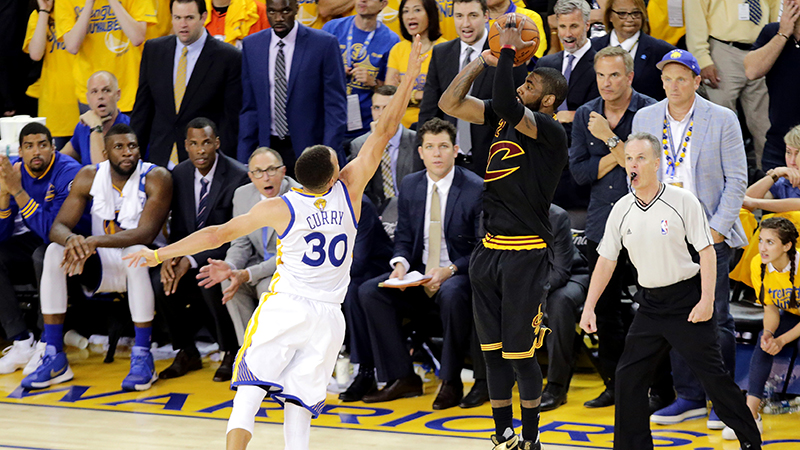 Who's got the rings?
Because this is how every argument has ended, currently ends, and will end throughout time — whether you like it or not. Despite his brilliance and recent events, Dame still hasn't gotten past the second round once. Kyrie did it to win the Finals. No prisoner of the moment will be pardoned for demoting an achievement of this magnitude.
SCORE: Kyrie 10, Lillard 9
---
It is written.
FINAL
Let this guide you through any drunken bar argument you may ever face.
How would you rate this article?