'It's Really Just Timing': DeAndre Jordan and the Art of the Jump Ball
Credit:
Andy Marlin-USA TODAY Sports. Pictured: DeAndre Jordan (6).
I am sitting in front of greatness. Jordan is here at Brooklyn Nets practice in their pristine Greenpoint facility overlooking the skyline of the New York City metropolis. He emerges from the training room after running some drills with the first team.
How is this not a bigger story? I'm talking about DeAndre Jordan… who did you think I was referring to?
How soon we forget that the Nets center has made the All-NBA team three times, the NBA's All-Defensive team twice, led the league in rebounding twice, holds the NBA record for best career field goal percentage at 67% and is a former All-Star. Regardless of what your opinion of Jordan is now, you can't ever take that away from him.
But that's not why I'm meeting him today.
For proper context, I have to tell you a quick story about my time living in Los Angeles and how my buddies and I made pretty decent beer money blind-betting every single Clippers game many years ago. Since they were always on local TV, we were always watching and caught on to something: this guy DeAndre Jordan never loses jump balls, or so it seemed.
Our next move, without any thought of study or analysis, was to foolishly blind bet every single "First team to score" prop when the Clippers played. If they always got the ball first, the chances of them scoring first had to translate — right? Honestly, it won only a couple more times than it lost, and we moved on once the season ended.
It wasn't until Jordan's first game as a starter this season, when he lined up at half court in Memphis, face-to-face with Jaren Jackson Jr., that it finally made me ask the question: Is he the greatest jump-baller of all time?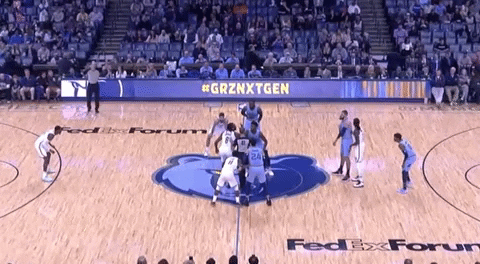 There has to be a stat for this. I mean we are just making up acronyms for the NBA now and calling them advanced analytics. There has to be something that proves this hypothesis to be true.
Thanks to a tool integrated on FanSided's network, there is, and the results with data archived through the 2017 season are eye-popping (we added data through the present): Jordan has won 469 of 711 total jump balls throughout his career, translating to a 66.0% win rate.
In regards to total jump balls won, he ranks fourth among active NBA players behind Marc Gasol (501 won, 63.1% win rate through 2017), Tyson Chandler (570, 57.3%) and Dwight Howard (693, 63.9%), all three of whom have a minimum of 150-plus more attempts than DeAndre each. To give you some context of how truly great Jordan's efficiency is, the best tip-off winner of all time is Shaquille O'Neal, who grabbed 72.4% of his tip-offs (815 of 1,125).
Considering Howard, Chandler and Gasol are at the ends of their primes and are seeing only rare jump-ball appearances, Jordan becoming the active player quantity leader is a mathematical inevitability considering his weighted average and projected sample size of upcoming attempts.
However, he does not stand alone. His biggest rival is Detroit's Andre Drummond, who has a better win percentage than DeAndre with a smaller sample size (369 won, 74% win rate).
Head-to-head throughout their careers, Jordan and Drummond had each won seven jump balls against each other in 14 contests. It is Godzilla vs. Ghidorah every time they enter the half court circle.
And then on Nov. 2, it happened. The showdown.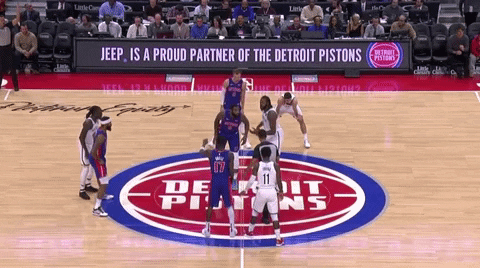 When informed of who the active player was who just surpassed him in the head-to-head matchup:
"I knew it. I knew it, man, damn. Andre. We both trying to win tips. I love Andre, I love playing against him. He's a great talent. We have our own little personal battles on the floor. Nothing malicious, just competition that's great for us and bigs in the league."
Despite this having a very "Magic Johnson losing to MJ in the Finals" feel to it, every statistic proves it to be true that these two are in a class of their own.
So how does he do it?
"For me, it's a timing thing. There are obviously some guys who feel like you're more athletic than, taller than at times, and I know I can get these. But with some guys, they're the same athletically as you … guys like Andre Drummond, Rudy Gobert, Tyson Chandler … some have little tricks … bumping into your arm, going into your body, stuff like that. I'm not going to say their names because I don't want them to pick up on it. Then there are certain guys who I'm like, 'I know what you do,' so I gotta adjust how I'm going at this tip. Some people will dump your arm before you go up or hit your body. They know who they are, because I'll see them and be like, 'OK, I know what time it is."
Jordan's commitment to this aspect of the game is wondrous, as he elaborated on different referees' styles of throwing the ball in the air:
"The refs, too… different refs have different ways they throw the ball up. Some people throw it with one hand, some over their heads, some [volleyball] set, some go quick."
Does he keep track of each refs' style?
"Oh yes. For sure."
It goes that deep?
"Yeah, there's one ref who will always go, 'I'm not gonna say when,' but then he just throws it up quick. Every time I see him, the other guy may not know it, but I'm like, OK, well I'm ready right now, too, because I know it's going up and other players may not know that."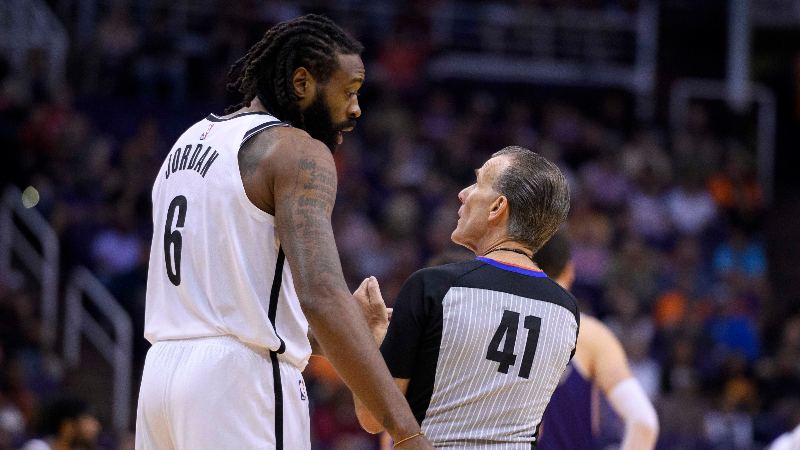 Now, this being a betting website and everything, is there a way to profit off of this for real? If DeAndre is always winning tip-offs, that means his teams must always score first, right? Was my beer money experiment scalable or just a fantasy?
Assuming the juice on Jordan's team to win the "First team to score" prop is -120, you need to win the bet 54.5% just to be even. While it is a significant advantage to have the ball first during a "First team to score" bet, having first possession does not guarantee the ball actually going through the hoop before the other team gets their chance to do the same.
To turn a profit on blind wagering on something like this, you would need to factor in Jordan's team winning the tip only 66% of the time, and then the chances of an NBA team scoring at least one point per possession, which dividend the odds out to a number not nearly significant enough to justify.
At the end of the day, this is all just part of the job for Jordan.
Without revealing his secret recipe of success, he did provide some advice for anyone wanting to improve this facet of their game:
"I definitely want to scout where I'm tipping it to. See what pockets I got open. If there's just one guy on that side, I'm not going to tip it over there. Sometimes I feel like my positioning is better to tip it with my left, sometimes my right. My teammates do a lot of help with that, go two on one side and give me a good window to tip it through. It's really just timing man, getting to it first."
I'd be lying to you if I said I didn't try and start some beef between him and Drummond before I left.
I love chaos; it's a flaw of mine.
The bloodline to the tip-off crown is highly-disputed, so it certainly felt within the boundaries to inquire whether he had a message for Drummond before they meet again on Jan. 25. While remaining respectful of his long relationship with Andre as competitors and colleagues, he reiterated: "We play them three more times."
It's up to the basketball gods now.
How would you rate this article?