NBA Win Total Odds & Pick: Will Nikola Jokic and the Denver Nuggets Remain Elite?
Credit:
Bart Young/NBAE via Getty Images. Pictured: Nikola Jokic #15 of the Denver Nuggets.
The Denver Nuggets and reigning MVP Nikola Jokic are expected to be at the top of the West with an over/under of 47.5 wins.
Matt Moore analyzes the Nuggets' win total odds below.
Check out this post for updated season win totals and this post for my other 29 season win total picks.
Denver Nuggets Win Total Odds
The Case for the Over
Fun fact: Michael Malone's Nuggets have gone over on their win total every full season he's been coached. The lone exception was the Bubble season, where they were on pace, and then half their team was out in the bubble due to COVID.
A young team in 2016 with no discernible talent? Over. Lost Jamal Murray in March last season? Over. They have constantly beaten expectations without any significant regression.
This number is indicative of how broad stroke considerations of teams reflected in the win total fail to incorporate how the regular season works.
Yes, Jamal Murray is out until February, and that will hurt them vs. the top teams. Game by game, you lose a floor-setter. If the other Nuggets shooters aren't hitting and the defense can single-cover Jokic, you lose the ability for Murray to just bail them out with a big game.
However, against bad teams, the Nuggets are good enough to sustain pretty easily. Denver was 26-8 against teams under .500 last season, tied for second-best record against bad teams in the West.
Denver's talent level plus Jokic is just more than your Magics and Pistons can handle on most nights. Denver had the sixth-best record vs. middle-10 point differential teams and the fifth-best vs. bottom-10 teams.
Their losses to bad teams were loud; early in the season, they lost to the Kings three times in the first two months. But ultimately, they evened out and took care of business.
Jokic is among the very best in the league in raising his teammates. No rotation player had a negative net rating on the floor; every combination with Jokic outscored their opponents overall.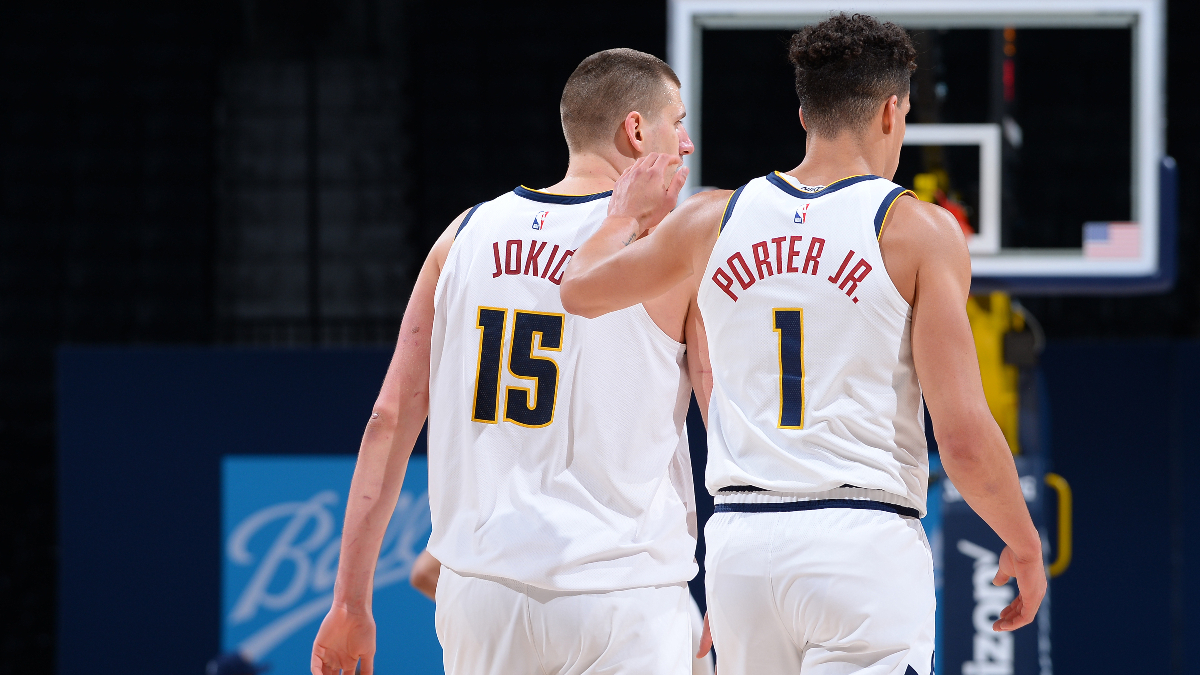 Even without Murray, Denver still has firepower. Michael Porter Jr. is a 6-10 50-40-90 shooter who is the favorite to win Most Improved Player. Aaron Gordon gets an entire training camp to be integrated into the offense, an impossibility without practice time last season.
Will Barton's numbers next to Joker are good; he's primed for a bounce-back season. First-round pick Bones Hyland has generated buzz in the preseason open runs.
Murray doesn't have a firm timetable for his return, but the expectation is sometime in February. That will still give them roughly two months with the entire roster and while there will be some struggles early as Murray gets up to speed, they also absolutely annihilated teams in the short time between trading for Gordon and Murray's injury. They looked legitimately like the best team in the league.
The schedule's not a problem, either. The Nuggets have the second-easiest rest-adjusted schedule per PositiveResidual.com and are tied for the fewest back-to-backs in the league. They also have just two back-to-backs after the All-Star break and play 14 of their 23 games at home in that span.
So there's a good chance they start slow and then ramp up but then go on a long winning streak. Having a more manageable schedule later in the season is specifically helpful for when Murray gets back to deal with the shock of his return to the rotation.
Jokic has played a lot, it's true. Two postseason runs in a calendar year, one of only a handful of players to play all 72 last season, then heavy minutes in the playoffs.
However, Jokic returned early to Denver for the birth of his child and has been at the Nuggets' conditioning sessions and open runs looking slim and fast. He seems to have moved past the immaturity that hurt his conditioning early in his career.
Denver's expected-wins-per-82 games mark last season was 54 per CleaningTheGlass.com. So we're looking at a six-win regression with Jokic, MPJ, Gordon, Barton, and a decent bench rotation? Nah.
The Case for the Under
Denver went 13-6 after the injury to Murray. Just six of those 19 games were vs. teams top-10 in point differential. Their schedule is more front loaded this season. They have two rest advantage games to six rest disadvantage games before Christmas and half their back-to-backs in those first two months.
So there's a good chance the Nuggets are chasing wins late in the season, which is not what you want. It's harder to make up wins even vs. an easier schedule.
Plus, while the schedule getting easier when Murray is back helps with integrating him, those are still games where they will be vulnerable. The Nuggets have struggled getting rolling after injured players returned the last few seasons. They have thrived when shorthanded and then struggled at full strength out of All-Star breaks in the last few seasons.
Nuggets Win Total Bet
They still have an unbalanced roster. They don't have a backup center if Jokic goes down, and two-big lineups will probably feast. They'll be without their second-best player, but there's too much talent here, with really good coaching.
I'd be surprised if Denver won fewer than 50 games. This is a best bet.
How would you rate this article?
This site contains commercial content. We may be compensated for the links provided on this page. The content on this page is for informational purposes only. Action Network makes no representation or warranty as to the accuracy of the information given or the outcome of any game or event.