Warriors-Rockets Betting Preview: Fade Golden State in a Potential Western Conference Finals Preview?
Credit:
USA TODAY Sports. Pictured: Warriors guard Stephen Curry (30), Rockets guard James Harden (13).
Spread: Rockets -3.5
Over/Under: 230
Time: 9:30 p.m. ET
TV Channel: ESPN
---
The Warriors and the Rockets have been headed in different directions over the past 10 games. Houston carries a nine-game winning streak into this matchup with Golden State and has won all three of its meetings against the reigning champs.
Can the Rockets close out their season series with the Warriors and extend their streak? Our analysts discuss.
What's at Stake
To put the Rockets' season in perspective consider that they were 11-14 at their lowest point this season just before Harden's 30-point scoring streak began.
In the 42 games since, the Rockets are 31-11 and have the second-best winning percentage in the NBA behind the Milwaukee Bucks. The Rockets sit just 3.5 games back of the Warriors in the Western conference standings with the Nuggets one game back of the top spot.
This matchup could very well determine whether the Rockets have a realistic shot at winning the West and getting homecourt in the playoffs.
Betting Trends to Know
The Warriors lost to the Suns as 16-point favorites on Sunday. Teams that have lost their previous game as a double-digit favorite have gone 158-147-7 (52%) against the spread since 2005. When the next game was against an opponent with a winning record after losing as a double-digit favorite, the teams have gone 80-59-2 (58%) ATS. — John Ewing
In the past two seasons since acquiring Chris Paul, the Rockets are 5-1 straight up and ATS in the regular season against the Warriors covering by 9.9 points per game. Houston is 3-0 SU and ATS against Golden State this season. — Ewing
Since Kevin Durant signed with the Golden State Warriors at the beginning of the 2016-17 season, the Rockets and Warriors have played a total of 17 games, with the Rockets 9-8 SU and ATS in those games.
For just the fourth time in that span, Durant will miss a game against the Rockets. In the previous three games, the Warriors are 3-0 SU and ATS and as the Warriors always do, they beat the Rockets in the third quarter in all three games. — Evan Abrams
In the Durant-to-Golden State era, the under is 12-5 (70.6%) in Warriors-Rockets games, going under the total by 6.3 points per game. The under has cashed in nine of their past 11 games, with one of the two games that went over the total, doing so in overtime. — Abrams
Mears: How I'm Betting Tonight's Game
Evan's note above about the Warriors beating and covering against the Rockets is compelling, but the data between last season and this season is stark enough to wonder whether it's a truly representative sample.
Durant was very good at basketball last season. But his On/Off marks were actually pretty average, likely because the team was so loaded. In 2309 minutes a year ago, the Dubs were just 1.6 points per 100 possessions better with him on the court vs. off — just the 61st percentile of all players.
This season, though, the Dubs have been a ridiculous 16.3 points/100 better with him on vs. off — the 98th percentile of all players. The Warriors have increased their effective field goal percentage by 5.8% with Durant playing, and they've gotten to the free throw line 8.9% more often.
So why the difference?
The most obvious answer is that the rest of the roster has regressed and the bench has gotten worse. Klay Thompson and Draymond Green have been worse than in years past, which makes Durant more important, even with DeMarcus Cousins in town.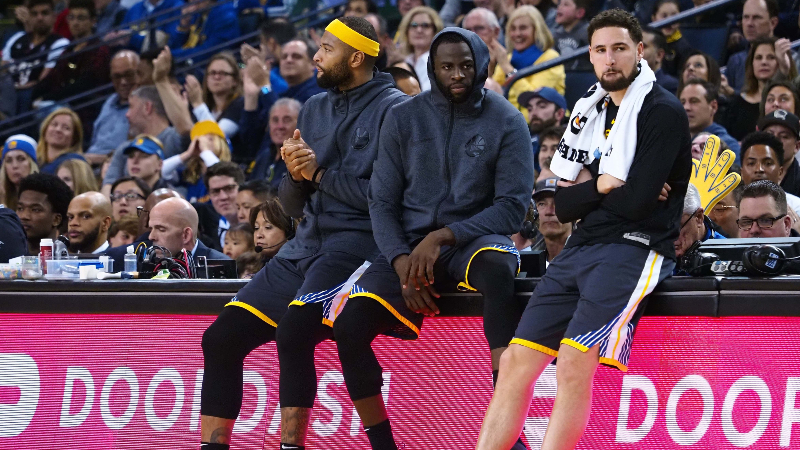 Another reason is the offense this season. The Dubs have had a fairly unoptimized offense, forgoing shots at the rim in favor of more mid-rangers. Green had difficulty shooting and getting to the rim this year, and Thompson is addicted to mid-rangers despite being one of the best 3-point shooters in NBA history.
This season, the Dubs have taken 2.9% more mid-rangers with Thompson playing, including 4.1% more long 2s. They've actually decreased their 3-point rate by 3.4% with him playing, which is … not ideal.
Offensive optimization is always important, but it's especially so as the talent pool decreases. The Warriors can get away with inefficient shots, for example; the Nets cannot. The true greats like Durant can overcome non-optimization.
So to back the Warriors, a couple things need to happen: 1) they just get hot, which is always a possible with Stephen Curry and Thompson on the court or 2) they become more optimized with Curry fully leading the offense.
That second one is a tough. Can an offense just switch into something it hasn't been for a year? Perhaps, although it's probably unwise to bet on it.
Further, the Rockets are playing well and remain the pinnacle of offensive optimization, taking nearly 50% of their shots from beyond the arc and another 34% at the rim. Only 3.8% of their shots are from that dreaded long 2-point range, which is obviously the lowest mark in the league.
So while it feels strange to not back the Warriors — one of the most dominant teams ever — as an underdog, this line is warranted. The question is whether there's value. I think there's probably still a point or so value on Houston at -3, but otherwise it's about right.
Moore: Does Durant's Absence Gives Warriors More Value?
Durant will miss this clash of titans with an ankle sprain, so it's time to back the Warriors.
Have I mentioned how little sense this season makes?
The Warriors are missing their second-leading scorer, their second-leading assist generator, their second-most impactful player and the player with the best on-off net rating on the Warriors. Usually, that's a deterrent, but they're playing the Rockets.
It was bizarre watching it in the Western finals and it has continued in Golden State's three losses to Houston this year. The most intricate, high-powered offense in NBA history falls into a trap of simply submitting to exactly what Houston wants time and time again.
The Rockets run a pretty basic switch scheme vs. the Warriors. Players runs a screen, the screener's man takes the ball-handler and the ball-handler's man takes the screener. Same deal off-ball. Every time there's movement almost of any kind, they just switch.
That scheme is designed to make you attack in isolations. It encourages one-on-one action. And that's exactly what the Warriors wind up doing.
For the season, the Warriors average 7.5 isolation possessions per game. Against the Rockets, they average a staggering 16 per game. Of those 48 per game?
Twenty-four, come from Kevin Durant.
And sometimes, it's an understandable move. He's got Austin Rivers, smaller defender, on an island. Kaboom:
Or he's got Harden one-on-one, and while Harden is a good isolation defender (he's terrible off-ball), KD can still get what he wants:
This is all great … except for two things:
Kevin Durant averages 1.039 points per possession on isolations this season. Against the Rockets, he averages 0.896.
Doing so inherently takes the Warriors out of the pass and motion-centric offense that has made them historically great, even with their accelerations towards at-rim cuts and mid-range jumpers this season.
No one moves. No one cuts. No one's sharing. There's no energy.
Just a bunch of guys watching one dude dribble. And sometimes it's jut a mess. He misses Thompson here with time left to try at the buzzer:
It's not just Durant, though. Thompson falls victim to it. Here he's ISO's, against Harden, but drives to the weak side where the two non-floor-spacers for the Warriors are, the easiest place for the help to come.
Here, the Warriors have KD, Steph Curry, and Thompson all on the floor and instead, Andre Iguodala tries to attack Harden — again, a decent ISO defender — to no avail:
And they can generate the kind of looks they want. Look at how open Curry is here when they get a switch of Kenneth Faried onto him:
He misses, but look at how open that shot is. Here he cans one off the same kind of action that Curry usually uses to be, you know, Steph Curry:
So now we turn to Wednesday's matchup. It's weird to see the Warriors with at least three of their stars as underdogs even against the Rockets.
Durant's absence is a boon here. There's no easy answer. It's not "Oh, they switched, so I guess we'll just let KD go to work here." Durant's absence by necessity means the Warriors will have to move more. They'll have to pass more, they'll have to play closer to Warriors basketball.
And there's a chance that even though Cousins has been a disaster so far in many ways, that they actually do what they failed to do in the last matchup, and force a switch onto smaller defenders like Eric Gordon and Rivers instead of what they opted to do in the first two games and just post him vs. Nene and Faried, the two players best-suited to defend him in the post.
Defensively, there are other issues and losing Durant leaves them with one less body to throw at Harden. But Golden State's biggest issues were how pedestrian and predictable they became in the first three matchup — games they had a chance to win I might add. The Warriors' bench is a disaster, and Kerr won't shorten his rotation for a regular season game.
But a different play style and a move towards Warriors basketball gives me enough confidence to think the value lies with the Warriors +3.5.
---
Editor's note: The opinions on this game are from the individual writers and are based on their research, analysis and perspective. They are independent of, and may not always match with, the algorithm-driven Best Bets from Sports Insights.