Moore: How The Warriors Could, Once Again, Be Light-Years Ahead of the NBA
Credit:
Stephen Gosling/NBAE via Getty Images. Pictured: Stephen Curry #30 of the Golden State Warriors.
You're never going to believe it, but the Golden State Warriors are going to look light-years ahead of the rest of the league again in about a year, assuming that anything in American sports returns to anything close to normal.
There are four different moments to examine over the next calendar year when it comes to the Warriors, and they're all in their favor.
The Start of the 2021 NBA Season
The NBA will very likely start next season on Christmas Day. It's the NBA's biggest holiday, it's "their day" (even though the NFL currently has a game scheduled that day as well). But let's imagine that the playoffs take long enough that the league decides to begin on New Year's Day.
The last game Steph Curry will have played was on March 5, a nearly nine-month gap. The last game he played before that March 5 game was on October 30. So from the end of last year's NBA Finals through January 1, 2021, Curry will have played five total games. Draymond Green will have played 43, with the last game back on February 27. Klay Thompson will have not played in an NBA game for 18 months.
Is that a lot of rust? Surely.
Will they be well-rested? More so than just about any potential contender. The Warriors made it perfectly clear in discussions with the league that they have zero interest in taking the team to Orlando with an assumed obligation to actually play their stars with nothing to gain.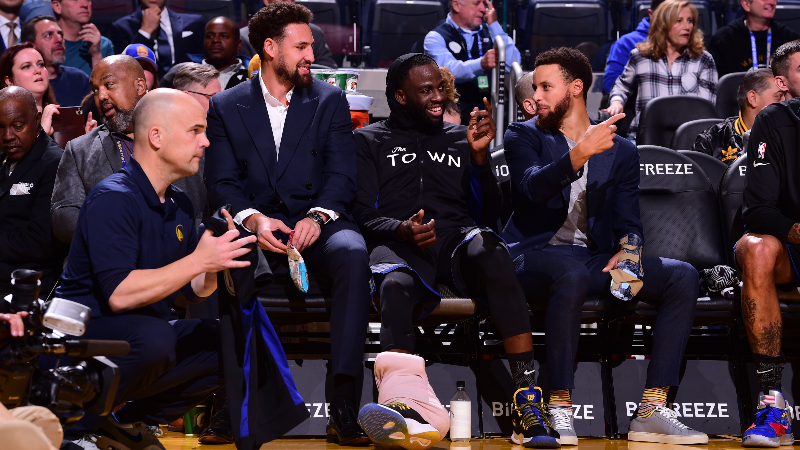 Instead, they won't deal with the travel, the stress of a quarantined bubble, the wear and tear of a short schedule, the training, the conditioning, any of it. They'll get a full nine months off, something they've been desperately in need of after five consecutive NBA Finals appearances.
Meanwhile, consider the teams they'll be competing against. Four Western Conference playoff teams will be playing into late September, one into October. They'll have about a month and a half off before the next training camp starts.
The Warriors are going to be significantly ahead of the curve in terms of rest. Just the process of conditioning takes it out of the body and mind. The stress of playing in a COVID-19-generated bubble is hard on the mind and stress is hard on the body. The Warriors are exempt from all this.
The NBA Draft Lottery
Since the Warriors will not be in Orlando, they will have the No. 1 slot in the lottery. Sure, the odds have been flattened and we've seen various teams sneak up to get the top spot. But the Warriors will have a 52% chance of a top-four pick.
All this for a team that still has Curry, Green, and Thompson.
Say they add LaMelo Ball or James Wiseman, players who can play off the other stars and learn their way in the system. The big thing is that the Warriors will no doubt, even in a terrible draft year, get a player likely to be an impact player if not a star, on a team where they already have three. They're not adding a megastar like Kevin Durant (can you imagine?), but they're still adding a valuable addition to the team.
If the player is a bonafide superstar? Great. If not?
The Giannis Decision 
Giannis Antetokounmpo is a free agent in the summer (well, I guess probably fall, now, of 2021). If the Milwaukee Bucks fail to win the title in this weird, disrupted event in Orlando, the discussions around Antetokounmpo leaving will reach a fever pitch.
Let's imagine that Giannis, in a fit of frustration after this year's playoff run ends without a title, goes to management and lets them know he's leaving next year.
Golden State is first in line.
They can offer Andrew Wiggins' contract and potentially the No. 1 overall pick. They can offer Wiggins, Draymond Green, and potentially the No. 1 overall pick. And if Antetokounmpo says he won't re-sign with anyone but Golden State, as so many stars have done before?
Well, we know how that works out.
Let's make this ultra-clear: Antetokounmpo has never indicated he wants out. The Bucks have built a title contender around him. There's every reason for Antetokounmpo to build his legacy in Milwaukee with the team that believed in him, put him in position to win MVP.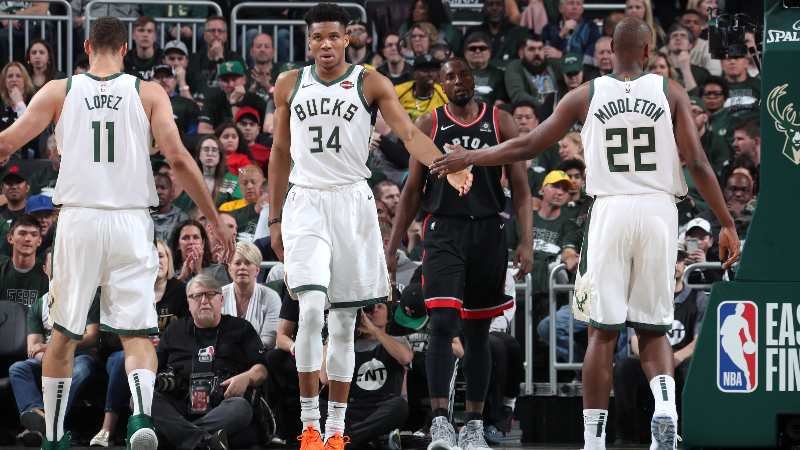 But this is the NBA, and this is how stuff works.
A team with a fully rested Warriors core and the reigning MVP? I mean, we saw 2017 and 2018 and that team was on fumes.
Now, if Antetokounmpo keeps an open mind and enters free agency? The Warriors will have likely had a deep playoff run, still have all those assets, still have Steph Curry, and still have the ability to make room for Giannis by packaging the rookie with Wiggins. Or if they can just move Wiggins and/or Green, they can add Antetokounmpo and keep that pick.
This is a lot of money following a global pandemic, of course, which brings me to the last point.
The New Collective Bargaining Agreement
The NBA will come to an agreement with the player's union on a new CBA sometime before the start of next season. The expectation based on league sources' interpretations of preliminary talks works out very well for the Warriors.
These discussions are fluid, constantly changing and not at all established. But there are three expectations: leniency on the luxury tax for at least one season, a potential "smoothing" of the cap implications over the course of several seasons so there isn't a massive drop-off, and a likely reduction or removal of revenue sharing for at least one year.
All of these things benefit the Warriors. The Warriors are among a handful of teams expected to be profitable this season, even amidst a suspension of the league in the wake of a global pandemic. The Warriors, because of their market, popularity, and a robust, excellent business machine, make money hand over fist.
So all the advantages afforded by these mechanisms benefit them. Meanwhile, the smaller teams deep in the red following the basketball disaster this season will be forced to jettison talent in free agency or trades, particularly when the revenue sharing doesn't ease that hurt.
Who do you think will be acquiring these players? Teams like the Warriors, Lakers, and Clippers. (The Knicks should be in a position to capitalize on this, but unfortunately for Knicks fans, James Dolan is a thing.)
The cap will be tighter, but the punishment for exceeding it will be lighter, and by the time that amount really hurts, the Warriors, should their upside opportunities pay off, will be so dominant as to make those punitive measures into pocket change.
All in all, the Warriors are poised to benefit from every angle of an unfortunate situation. They're not playing in Orlando. They'll be one of a few well-rested teams when next season begins. They'll have trade assets to acquire the MVP (or another superstar if that doesn't work out and one comes available). They'll have mechanisms to ease the financial hit of a superstar team, and the revenue from their market to make it easy to handle anyway.
No one beyond the Bay seems very eager for Golden State to instantly reclaim the position of dominance they've held over the past five years, but that's exactly how circumstances are lining up.
There are worse bets than planning ahead with a 2021 Warriors title bet when the odds come out.
How would you rate this article?