NBA Finals Game 3 Odds, Picks & Predictions: Expect a High-Scoring Lakers vs. Heat Matchup (Sunday, Oct. 4)
Credit:
Kevin C. Cox/Getty Images. Pictured: Los Angeles Lakers star Anthony Davis and Miami Heat forward Kelly Olynyk.
The Los Angeles Lakers look to take a commanding 3-0 lead against the Miami Heat tonight in the NBA Finals.
Raheem Palmer takes a deep dive into the Game 3 showdown and gives his top play.
Check out his full game breakdown and pick below.
Looking for the guide to Game 4? Click here.
---
Lakers vs. Heat Game 3 Betting Odds
Odds as of Sunday at 8:30 a.m. and via DraftKings. Get up to a $1,000 sign-up bonus at DraftKings today or see more offers and reviews for the best online sportsbooks.
---
The Los Angeles Lakers took a commanding 2-0 lead in the NBA Finals with their 124-114 victory over the Miami Heat on Friday night.
Without the services of point guard Goran Dragic, who tore the plantar fascia in his left foot, and Bam Adebayo, who missed the game with a strained neck, Miami is essentially drawing dead.
Fortunately for sportsbooks, the point spread is gambling's greatest equalizer. Oddsmakers opened the Lakers as 9.5-point favorites over the Heat, with the total set at 219 points.
So where's the betting value in this matchup? Let's take a look:
Los Angeles Lakers
LeBron James and Anthony Davis have reached levels of dominance we haven't seen from a duo since Shaquille O'Neal and Kobe Bryant two decades ago. According to the Elias Sports Bureau, the Lakers have a 20-1 record when James and Davis combine to score 60 points or more.
With Davis averaging 33 points, 11.5 rebounds, three assists and 1.5 blocks and James adding 29 points, 11 rebounds, nine assists and a steal per game, Miami doesn't have much of a chance, especially with their skill sets making them ideal candidates for beating a zone defense.
Considering how well the Lakers perform when both stars show up,  the most interesting battle taking place appears to be who will be the Finals MVP.
Davis appears to be the front runner due to the fact he's been shooting lights out from mid-range and there's no evidence it's going to stop. According to Cleaning The Glass, Davis is taking approximately half of his shots from mid-range and shooting 80-of-151 (53%), well up from his regular season average.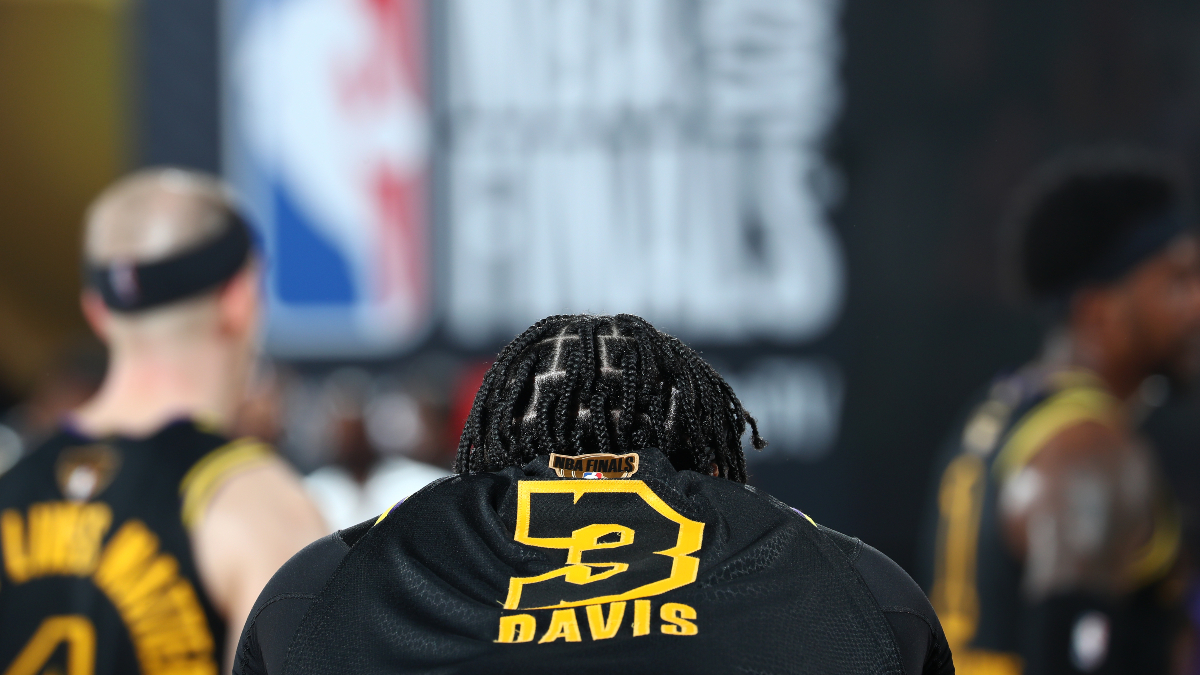 To put this into perspective, Kawhi Leonard had a mid-range frequency of 43% and shot 98-of-218 (45%) during the Toronto Raptors' championship campaign.
As a whole, the Lakers are scoring at will and it hasn't mattered what defensive scheme the Heat have played. Through the first two games, the Lakers have a 127 Offensive Rating. Without Adebayo, the Heat are just too small for LA. The Lakers have scoring an astounding 56 points in the paint, highlighted by 21 second-chance points in the Game 2 victory.
The Lakers weren't as locked in defensively in Game 2 as they were in the series opener, allowing the Heat to shoot 50% from the field and giving up a defensive rating of 125.1. It didn't matter, though.
The Lakers rebounded 38.8% of their non-garbage time misses and took 26 more field goal attempts in a game it won by 10 points. You'll have a hard time defeating any NBA team, let alone one with James and Davis, if they have more than two dozen extra opportunities to score.
Miami Heat
What adjustments can the Heat make at this point?
They have little chance of stopping James and Davis. Without a healthy Dragic and Adebayo, it only gets more bleak for the underdogs.
Dragic turned back the clock this postseason with play reminiscent of his 2014 season, in which he dragged a 48-win Phoenix Suns team to the playoffs in a tough Western Conference. With his absence, the Heat are missing one of their best playmakers and their second-leading scoring at 19.9 points per game.
Kendrick Nunn had an outstanding rookie season, but has yet to find his form since the restart after contracting the coronavirus in July. He scored 13 points on 3-of-7 shooting, but they'll need a lot more from him to compete against the Lakers.
As for Adebayo, Miami is missing its best rebounder (10.9 RPG in the playoffs) and has no rim protection against perhaps the biggest team in the league that is completely ravaging them in the paint.
Chris Haynes of Yahoo Sports has reported that Adebayo plans to return for tonight's game, so that should provide some much needed help for a Miami's front court.
The Heat were -15.4 points per 100 possessions when both Dragic and Adebayo were out of the lineup during the playoffs, while being +6.1 with lineups featuring Adebayo and no Dragic. Given the dropoff from Adebayo to the players getting his replacement minutes (Meyers Leonard and Kelly Olynyk), his looming return should help the Heat tremendously.
Jimmy Butler aggressively looked for his shot in Game 2, scoring 25 points on 7-of-17 shooting, He also went 11-for-12 from the free-throw line, which is a great sign going forward.  Unfortunately, Heat's inability to stop the Lakers from scoring and their failure to keep them off the boards means that even if Miami can find enough offense, it still has no hope on the other end of the floor.
Betting Analysis & Pick
In Game 2, the Heat shot 40% from three-point range, 50% from the field overall and had a 125.1 offensive rating. Yet, Miami still lost by 10 points in a game that required a Olynyk lay-up at the buzzer in order for Miami to backdoor cover the closing line of +10.5.
Bottom line, the Heat are just flat out overmatched.
Adebayo's pending return should make an impact great enough to alter the value on the point spread. Unfortunately, this puts us in the precarious position in determining if he will actually play and waiting to see where the line will end up — you can keep updated on his status here. That said, I would rather not play the side given the uncertainty.
For me, the value is on the total.
The Heat have shown no signs of stopping the Lakers' offense. And even without Dragic and Adebayo, the Heat aren't having trouble generating their own offense.
The Lakers and Heat have hit the first-half over in both games this series. Going back even further, the Lakers and their respective opponents (Heat, Nuggets, Rockets & Blazers) have scored more than than 109 points in the first half of 15 out of their 17 playoff games.
There's a clear trend in Lakers' games where we see a ton of points in the first half, with scoring slowing down in the second half. After Game 2, oddsmakers adjusted the total of the full game from 216 to 219 points. Fortunately for us, they haven't adjusted the first half enough.
The Pick: Lakers-Heat 1H Over 109.5
How would you rate this article?