Draymond Green's Suspension Wasn't Warranted, But Here's What It Means For Game 3
Credit:
Mark Blinch/NBAE via Getty Images. Pictured: Draymond Green #23 of the Golden State Warriors.
The league surprised not only fans but media outlets late Tuesday night, announcing a one-game suspension for Golden State Warriors forward Draymond Green for his stomp of Domantas Sabonis after an altercation where Sabonis grabbed the former All-Star forward by his leg during the Kings' Game 2 win in Sacramento Monday night.
The suspension was brought, according to a league statement, partially due to Green's expansive history of altercations, including technicals and various incidents of "excessive" force or contact in game situations.
Here are five thoughts on the suspension and what comes next for Kings vs Warriors Game 3.
1. Green's Stomp Was Neither Acceptable Nor Surprising
We'll get to Sabonis' side of this in a minute, and it's important to note that Sabonis does share the blame for this — he grabbed Green's leg while Green was attempting to sprint in a fast break. Players shared their view of that being improper and dangerous on Twitter after it occurred Monday night.
However, in the rush of constant whataboutism we see in fan discourse online, we can get lost in the muck and lose sight of the simple and most important facts: Green stomped on a guy's chest.
The Kings announced that Sabonis is questionable with a chest contusion (a bruise) for Game 3. This is, in all likelihood, gamesmanship, even if Sabonis is significantly bruised, which wouldn't surprise me.
(Please note that if Draymond Green ever stomped on my chest, even a little, even lightly, I would pop like a confetti-filled balloon. I'm not buying the idea some are selling that it didn't hurt at all.)
A player cannot just stomp on a dude's chest. That's going to have repercussions.
And we shouldn't be surprised. Green does indeed have a wide-ranging history of these incidents: Kicking Steven Adams in the groin in the 2016 run, tapping LeBron James in the groin in the 2016 Finals (which earned him a suspension due to his technical foul accumulations and not directly for that act, it's important to note), to his punch of teammate Jordan Poole in the preseason.
Green operates on an emotional edge. It's what makes him a future Hall of Famer. It's what makes him a legend. It's what makes him great. But if you operate on that edge over a long enough span, you will wind up on the other side of it often. Green knows that and accepts it; the cost-benefit analysis works for him.
There is an idea that each incident should be viewed independently. But that's simply ignorant of the purpose of punishment, which is to deter future incidents. The league is trying to indicate to Green they don't want to see and don't plan to tolerate any more of these incidents from him. It's on him to adapt to that.
2. The Suspension Wasn't Warranted, Regardless Of Green's Violation
This suspension doesn't hold up under scrutiny. I'm not debating that Green's history justifies it. But weighed against the prospect of punishment for a player to deter future behavior is the impact said punishment has on a series.
Green was already punished. He was assessed a flagrant two and ejected from a game his team had serious momentum toward winning. A fine on top of it would have been the cherry on top and been enough to send the appropriate message.
In suspending Green, the league has tipped the balance of not just a playoff series, which is always important, but an important series. This is the defending champions, trying to climb back from their first 0-2 series deficit in the Stephen Curry era.
Just as the league's strict ruling on bench players stepping away from the bench tipped the Spurs-Suns series back in 2007, robbing the Suns of their best chance at a title since Charles Barkley played for them, this is a suspension intended to deter behavior beyond the scope of this series without consideration for how important these games are.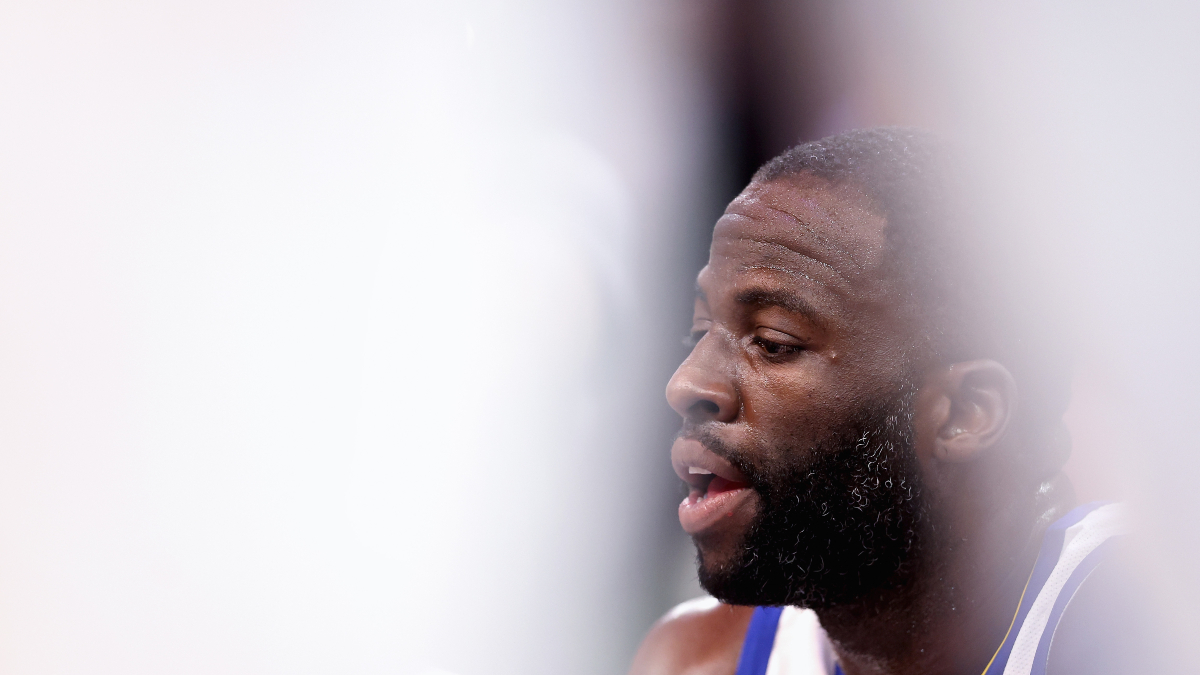 Furthermore, the fact that players and every real hooper I've talked to or heard from have said that Sabonis' grab of Green's leg was dangerous and a borderline/over-the-line dirty tactic clearly indicates that Green was right to feel aggrieved and there wasn't an even distribution of punishment for Sabonis.
Green's attempt at justifying it with "my foot has to land somewhere" is hilarious, but doesn't pass the test. Green should have fallen to the floor, which likely would have just drawn the flagrant on Sabonis.
But even then, Green suffered the punishment. He's now being punished not one game, but one game plus the time missed in Game 2. That's too much, even for an intentional stomp, given the stakes of these games.
3. This Takes Away From the Kings
The Kings aren't just trying to win their first playoff series since a Bush was in the White House; they are trying to vanquish the team that has ruled the NBA when healthy since 2015. This is a legendary team making what could very well be its last run together.
And now, if the Kings do best them in this series and defeat the stage boss that so many have failed against, Warriors fans and pundits will always say, "yeah, because Green was suspended for Game 3."
As if this was something that just occurred and nothing could have been done to stop it. But that will be an enduring part of the story of this series, thanks to the suspension.
To be the man, you gotta beat the man, and the Kings have proven they're up to the challenge and can beat the defending champs, fair and square. They've been better. Point blank. The league, in suspending Green, not only shifts the emotional tenor of the series, which could very well help the Warriors in their two home games (either rallying them without Green in Game 3 or rallying them in his return in Game 4), but denies the Kings the satisfaction of slaying the dragon on their own terms.
4. The Warriors MIGHT Be Screwed
If we get to the basketball side? Woof, the Warriors might be screwed here. The Warriors have won Steph Curry's minutes in this series, as I thought they would when I picked the Warriors to win in five (welp).
This chart, from PBPStats.com, shows the breakdown of how the Warriors have performed per 100 possessions when Curry, Green, and Klay Thompson are on the floor together and without one another.

The notable thing there is the Warriors can't survive almost a single minute without Curry, but even in the minutes with Curry and Thompson, they've lost without Green. This was true in the regular season as well. The Warriors lost by over 10 points per 100 possessions in the regular season, with Curry and Thompson on the floor without Green.
If we move beyond the numbers, Green's ability to set the tempo and get Curry moving in mid-transition, which panics the defense and opens up all the movement and action the Warriors want to do, is vital. There is no other player that can run those dribble hand-offs the way Green does. There is no other player who can switch one through five while also quarterbacking the defense and making the hustle plays Green does on a consistent basis.
Curry is one-of-one, the icon, the legend, the engine, the star burning in the Warrior's planetary system. But Green is the gravity around that sun that locks the planets in orbit.
The Kings smell blood; that much is clear from the first two games. The Warriors look old and tired, and their reinforcements can never give them a lift. Thompson will likely play better at home, it's possible a few Warriors role players will shine in San Francisco. But losing Green is a loss in leadership, heart, on-court strategy, and playmaking.
The Warriors' best chance at beating the Kings was to be the smarter, tougher, more experienced team. Much of that comes from Green. What can they be without him that is better than the younger, hungrier, faster Kings?
5. Harrison Barnes, Not Sabonis, Benefits Most
Sabonis doesn't really benefit from Green's absence; most of his minutes have been played against Kevon Looney and Sabonis is shooting just 6-of-18 when guarded by Looney in this series.
But Harrison Barnes has had a tough time. Barnes has shot just 1-of-6 with Green matched up on him, and Green's physicality is exhausting.
This might be a time to play Barnes overs on points + rebounds props with Green on the shelf. Jonathan Kuminga has not looked ready in this series and has especially struggled on the glass.
The Warriors won't roll over. Curry may very well decide to win this one for Green. The crowd will be on top of the Kings, especially Sabonis, and this is a tough situation for a young team to try and hit what is effectively the fatal blow to the Warriors' hopes of extending the dynasty. However, the Kings have been a. the best road team in the West this season and b. way more ready than most of us gave them credit for coming into this series.
Without Green, the Warriors may face the uncomfortable reality that beyond Curry and Green, there's just not enough there to reach the Finals for a fifth time. And once that doubt enters a team's collective mind, it leaves an imprint, like the imprint of a sneaker crashing down on a ribcage.
How would you rate this article?
This site contains commercial content. We may be compensated for the links provided on this page. The content on this page is for informational purposes only. Action Network makes no representation or warranty as to the accuracy of the information given or the outcome of any game or event.